Posted by Cass Art Staff on 9th Feb 2022
We caught up with our friends at Artfinder on Grad Week 2021, their showcase of the best of emerging talent from US and UK art schools. This year curator Helen Buckley has joined Alice Phillimore on Artfinder's curation team and they have spent many months scouring art schools in both the US and UK. After much deliberation, they selected 24 exceptional graduates, who are producing exciting, dynamic and critically engaged work. Helen chats to three of the artists below about their work, favourite materials and top tips for students.
MIRET HABIB - UNIVERSITY OF THE ARTS LONDON, CHELSEA COLLEGE OF ARTS
Hi Miret! Could you tell us some more about your background and your creative journey so far?
I am Miret Habib, a British-born Egyptian based in Hertfordshire. I recently graduated from Fine Art at Chelsea University of the Arts London and my creative journey so far has been all but stagnant. I have begun taking part in exhibitions, selling my art, and working on commissions. Understanding who I am as an artist and developing my body of work have become integral as I venture on this exciting journey.
What is the inspiration behind your work?
I am interested in the relationship between the depiction of a culture and my experience of it: I embody the role of an interpreter and witness. My body of work examines the personal in which it draws inspiration from cultural memory and images that I associate with Egypt. I am motivated by historical motifs and the stereotypes I was surrounded by growing up that focus on Egyptian culture being nothing more than the Pyramids and Tutankhamen. The bias of the Western gaze and the hierarchy of images and visual representation of my culture is examined. In my practice, I prioritise the idea of how much we can learn about a culture through observation and depictions: taking the motifs as they are- unfiltered. My work is essentially an unobtrusive glimpse of a vibrant space. A space that I consider home.
What materials do you use to create your work?
My practice is multidisciplinary, and I work with a diverse range of materials. Currently, my body of work encompasses paintings and charcoal drawings. To produce my paintings, I use the Winsor and Newton Gesso Primer on 12oz canvas which I stretch in my studio. I tend to use oil paint much more frequently than any other painting medium. Winsor and Newton Artists and Winton oil colours have been staples to my artistic palette. During the painting process I use Winsor and Newton refined linseed oil mixed with turpentine which enhances colour and workability. My brush collection is incredibly vast, and I use many different brands including Pro Arte, Daler Rowney, Cass Art and Winsor and Newton.
Additionally, to fabricate my black and white drawings, I use Derwent Charcoal pencils on Cass Art Heavyweight Cartridge paper or the Daler Rowney Fine Grain drawing paper. Once the work is complete and ready to be framed, I seal the drawing using the Winsor and Newton fixative.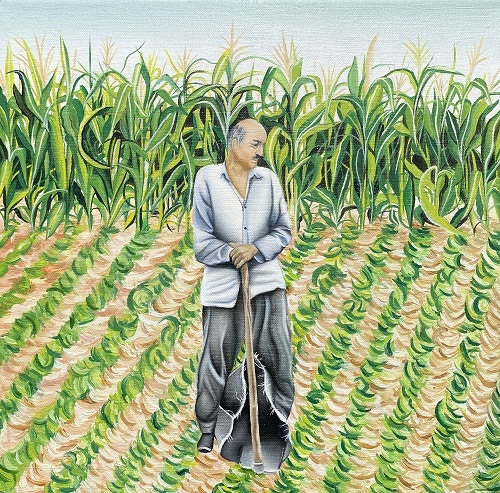 Do you have any advice for students who are graduating next year?
Graduation is an exhilarating moment. However, soon after, you experience withdrawal symptoms as you enter a new stage of life. My biggest advice would be to trust in yourself. You got yourself to this point and deep inside you, you already know what you need to do to pursue your goals. Learn From Everything. Pay attention when things go well but pay further attention when they don't. Do what you love and know that hard work never goes unrecognised.
Thanks Miret! Find more of Miret Habib's work at www.artfinder.com/artist/mirethabib
DAISY ILES - GLASGOW SCHOOL OF ART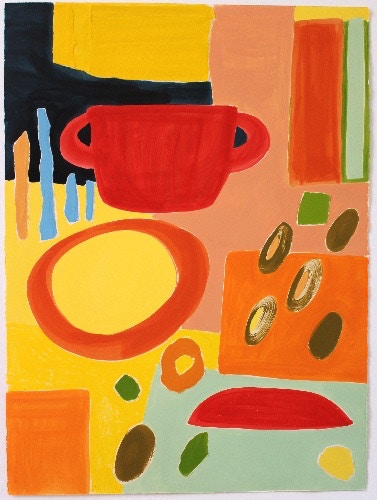 Hi Daisy! Could you tell us about your background and your creative journey so far?
I'm a 2021 Painting and Printmaking graduate from the Glasgow School of Art. From a young age I was encouraged to draw, paint and make. I grew up in a creative household surrounded by art and books. I always knew I wanted to go to Art School. When I was 18 I started studying at GSA on the Portfolio Preparation Course, drawing is its foundation. I loved my time on the PPC, it was a fun, inspiring and creative environment to learn in. I then joined the Painting and Printmaking department at GSA in 2017. My experience of the department was great. However, this past year was challenging. Throughout my final year it was not easy working in isolation. I was encouraged to make the most of the unfortunate circumstances and experiment within my practice. I ended up really enjoying what I was doing, and this translated into my work. I was happy with the paintings in my Graduate Degree Showcase. They were honest and communicated my experiences. I
graduated with a First-Class Honours Degree and I was awarded The Armour Prize for Still Life. Since graduating, I am continuing to make new work and I am trying to find my place in the art world. My main aim is to enjoy what I create. At this moment, I feel rather optimistic about it all.
What is the inspiration behind your work?
I make work to communicate my experiences. I work from memory and from observation. Drawing is at the core of my practice. I use it as a tool to capture moments through colour, form and texture. I try to communicate the materiality of things and my enjoyment in them. I draw with collage. I paint from drawings. When I work from memory I start by making a list, I then paint from it. I tend to write the list on a piece of scrap paper which I carry with me. This is what is on the list right now; clean shoes, shapes in the kitchen, charge phone, scissors, everything between 5 and 10pm yesterday, jewellery, tidy and change bedsheets. Torn isolated shapes and their edges play an important role in my paintings, they create a collage-like aesthetic. I am interested in the process of abstraction. My work is honest and communicates a joy in ordinariness.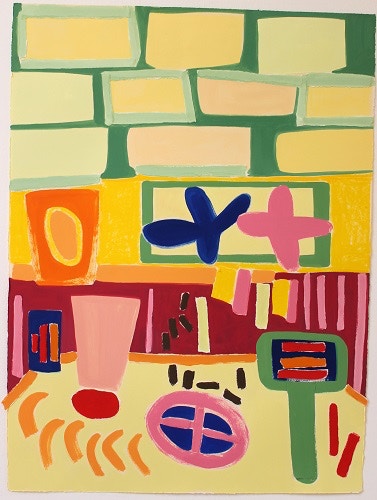 What materials do you use to create your work?
I am always drawing. I love the Seawhite Eco Portrait Sketchbooks in 150GSM. I like to use small sketchbooks, I go for A6 size. I mostly draw with my Sennelier Oil pastels, however sometimes I use my Caran D'Ache Coloured Pencils. My most recent paintings are on printmaking paper, I love the way the paper absorbs oil paint. I have been using Michael Harding Oil paints and Winsor and Newton Professional Oil Synthetic Hog Filbert, Flat and Round Brushes. I prefer to use paint brushes with long handles as I don't like to work too closely to the ground I am painting on. This past year I have discovered Oil Sticks, they are amazing! I love the texture they add to my compositions. My favourite Oil Sticks are from Sennelier, and my most used colour is Cadmium Yellow.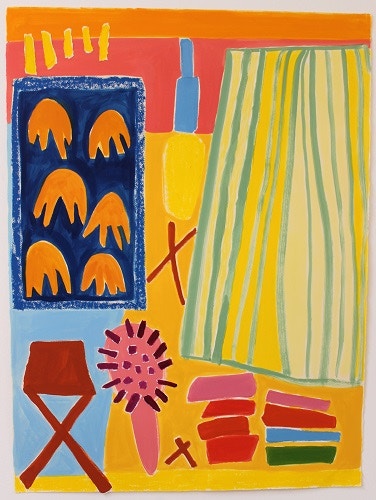 Do you have any advice for students who are graduating next year?
Make the most of your final year and continue to experiment with your work. Stay focused and be confident in your decisions. The best advice that I was given was to just continue making, take some time to think and don't forget to draw!
Thanks Daisy! Find more of Daisy Iles's work at www.artfinder.com/artist/daisyiles
KARESE FOGOE - DE MONTFORT UNIVERSITY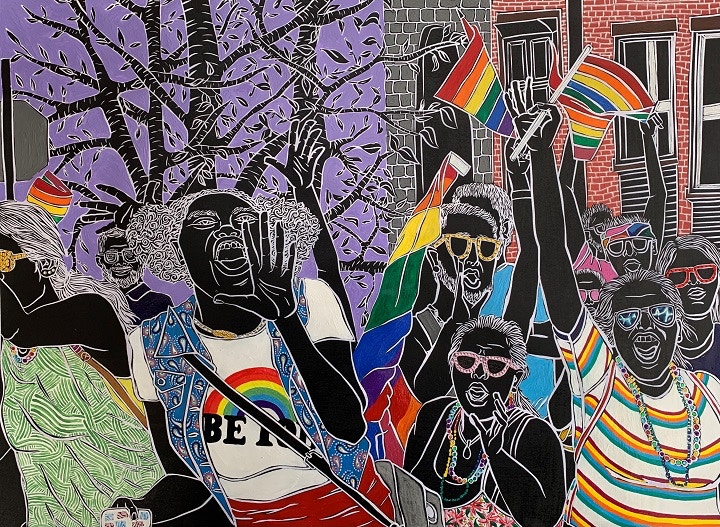 Hi Karese! Could you tell us about your background and your creative journey so far?
My name is Karese, I am currently based in Birmingham, UK. My creative journey has mostly been educationally based as I have just recently graduated with a 1st Class Honours Degree in Fine Art at De Montfort University located in Leicester. I have always had a strong love and passion for creating artwork throughout my childhood.
In my first year in uni I found myself stuck in my comfort zone of acrylic and oil portraits. However, after visiting a Faith Ringgold exhibition in London over the summer I knew I wanted to revisit print in my second year. That is where I saw my artwork truly developing through experimenting with collaborations of print and paint. Over the course of my journey I can now say I am happy with the work I create, I have gained far more confidence in my work and have expanded my knowledge and skills of materials.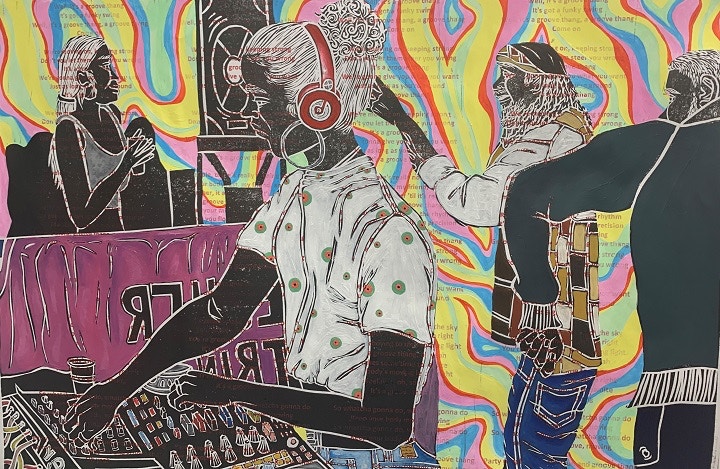 What is the inspiration behind your work?
Recently, my work has been inspired by wholesome communities around the world. Over the last year I have been reminded how important it is to socialise and appreciate what numerous cultures bring to society.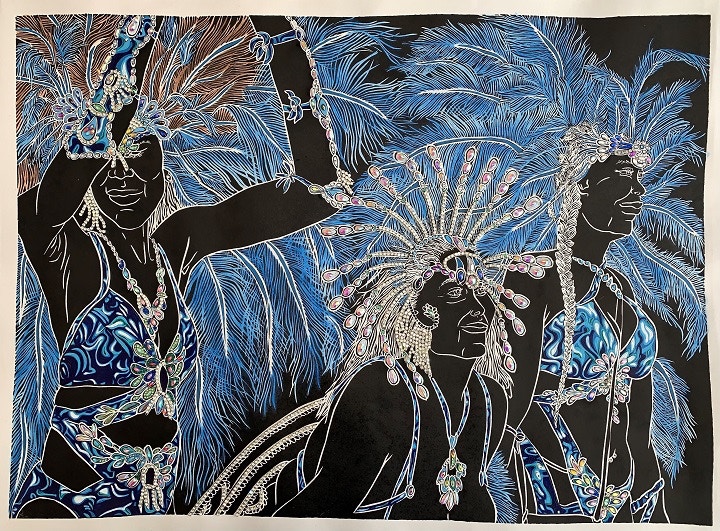 What materials do you use to create your work?
I have used a variety of materials in my work including Reeves Acrylic paint, Daler-Rowney Acrylic paint, Rhinestones and Gold Leaf, Gallery Frames from Cass Art, Gorilla Epoxy glue, Arzeta acrylic markers and Reeves Watercolours.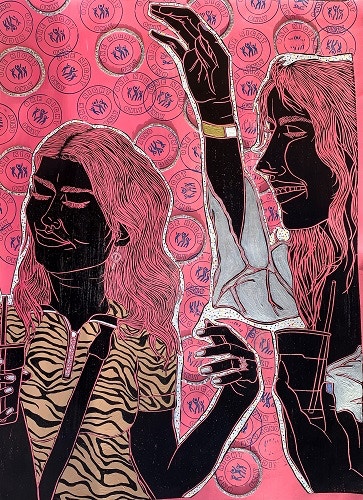 Do you have any advice for students who are graduating next year?
Some advice I would give for students who are graduating next year is to use their time wisely, get into workshops as much as possible because for the past two years workshops were truly missed by students during lockdown, explore, experiment whilst you still have time, enjoy your studio spaces to the fullest and stock up on any free supplies you can get!
Thanks Karese!
Find more of Karese Fogoe's work at www.artfinder.com/artist/karese-fogoe
Feeling inspired?
To see all 24 graduates' work visit Artfinder's Grad Week.