Do you dream of having a special place for your creative projects? Having a space that's uniquely yours and dedicated to what you love doing can do wonders for helping you feel more inspired, focused and productive. No matter your surroundings, here are our top tips for creating your very own creative nook…
Optimise your space
Is your home office (or lack thereof) taking a toll on your creative practice? Don't despair. By making a few simple adjustments to your workspace, you can maximise your productivity today whether it be from your bedroom, office or studio here's something you need to know about working from home: lighting can have a massive impact on our productivity, health and wellbeing – words we use a great deal, but which carry a lot more meaning at the moment.
Daylight's mission has always been to listen, develop and create lighting solutions specific to the needs of the customer. The brand focus has been on creating ergonomic designs that are also stylish, robust, innovative, and above all, provide the 'right quality' light needed for a task – i.e. correct colour temperature, correct light intensity, minimal glare and heat.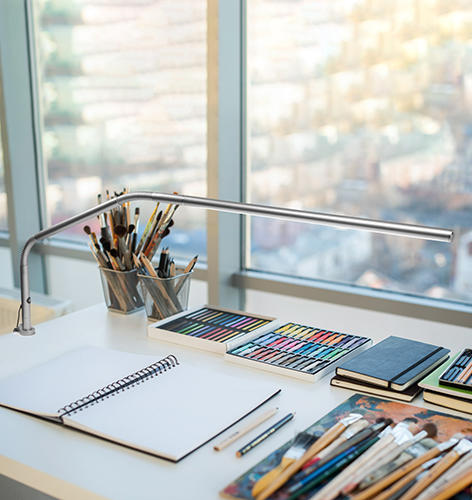 The third generation Daylight Slimline Table Lamp comes with superb additional features, taking the original Slimline to another level. The new aluminium shade emits a brighter light with better diffusion. A four step dimmer allows brightness control.
The clamp has been re-designed to be even less obtrusive and comes in brushed steel for a sleek look and feel, while the round switch adds neatness to the finishing touch.
Features:
- Aluminium shade with full length diffuser. Emits a brighter light with better diffusion than the previous Slimline models.
- Bright Daylight (6,000°K) LEDs ensure true color matching. 4 brightness levels.
- Flexible joints for perfect positioning. Light reach: 73cm, ideal for large work surfaces.
- Brushed steel finish. Measurements: 76cm (W) x 65cm (H) x 2cm (D). Weight: 0.9kg.



---
Choose the right light for your environment
Set up near a window if possible, but if not, make sure you have lamps with high quality, white light such as our Daylight products so you can create your best work, no matter where you are or what time of day it is. Consider investing in one of our Wafer Lightboxes so you can benefit from light below your work as well as on top.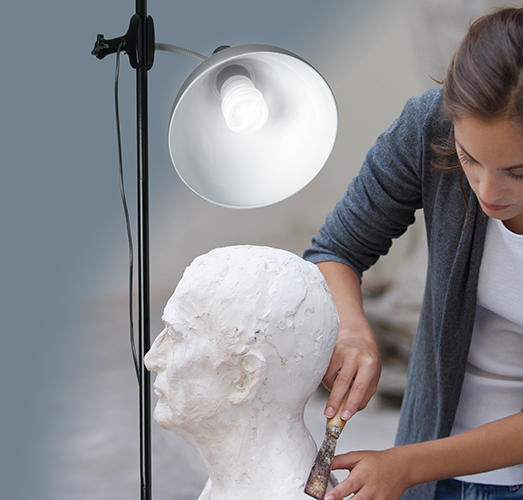 This Artist Studio Lamp from the Daylight company is of a stylish high quality, brushed aluminium finish attached upon a 2.2m tall sturdy tripod. Not only is this lamp extremely powerful (18W energy saving Daylight bulb included) but it also spreads the light across large areas, making it ideal for working in open spaces or with large paintings or sculptures.
Features:
- The natural bright daylight technology also reduces eyestrain and glare and also allows for truer colour matching.
- Light Source: LED LED rated life (hours): 50,000 Lux at 30 cm: 5,000
- Replacement bulb: D15800 (18W) Dimensions: 222 x 26 x 28 cm (86.6 x 10.2 x8.5 inches)
- Maximum Reach: 16 cm (6.3 inches) Weight: 2.1kg (4.6lbs) Cable length: 3m (118.1inches)
---
The Daylight Luminos Lamp is a powerful LED lamp that provides the ultimate in high light output, with an exceptionally wide spread of light, that is dimmable.
Ideal for work benches and illuminating large surfaces. Wide shade of 65cm (25 1/2 inches) 120 LEDs for true colour matching Free-motion joints for head and arm
Long reach of 112cm (44 inches) Three brightness levels
Dimensions:
60 x 65 x 75cm (23.6 x 25.6 x 29.5 inches) Weight: 3.2Kg (7.1 lb) Cable length: 2.4m (94.5 inches)
---
The MAGnificient Lamp from the Daylight Company is ideal for all types of detailed work. This lamp is cleverly designed to be used in three different height positions to suit a variety of working methods or environments. The Daylight LED's provide high contrast and accurate colour matching, making it easier and less tiring to read, work and see detail with clarity. The LED's never need replacing and they also use very little energy, with the large 14.6cm semi-rimless 1.75X magnifying lens close working activity making this magnifying lamp perfect for those working in fine detail.
---
Kasper Købke is a professional and award-winning Danish Pencil Artist who works internationally, creating very realistic, highly detailed and often large-scale art drawings, all done by hand using graphite and colour pencils. Whether his art is drawn on a regular canvas, directly on walls or on 3D-sculptures, it's always drawn by hand. He also gives many public speeches and facilitates many drawing workshops, courses and lessons for schoolchildren, companies and adults in Denmark and abroad.
Here he takes us on a tour of his own studio and gives us an in depth look at the Daylight Company range.
If you want to explore the full Daylight range click here.