The National Saturday Club gives 13–16-year olds the opportunity to discover the subjects they love on a Saturday at their local university, college or museum. Cass Art was delighted to support the National Saturday Club's annual London Visit in November 2022, which launches the 2022-23 programme.
THE LONDON VISIT
Club members from across the country come together for the first time to visit their capital city and to attend specially arranged tours of some of the UK's leading cultural institutions.
Club members also create self-portraits in advance of the special day, exploring themes of identity and self-expression using a wide variety of creative media. The self-portraits are then shared in an exhibition hosted at Central Saint Martins. We visited Central Saint Martins to view the varied and impressive self-portraits on display. Below are a selection of some of our favourites…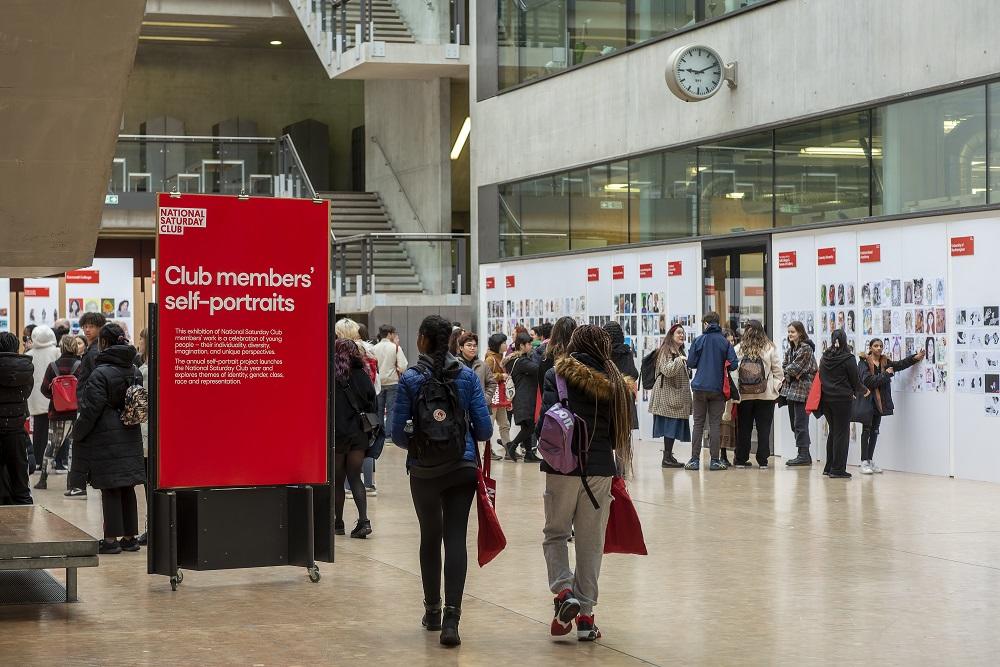 CLUB INFORMATION
Cornwall College - Art&Design Saturday Club
Cornwall College Saturday Club members have the opportunity to use the college's art and design facilities to explore Photography, Drawing and Painting, 3D and Ceramics, Textiles and Print, and Digital Design.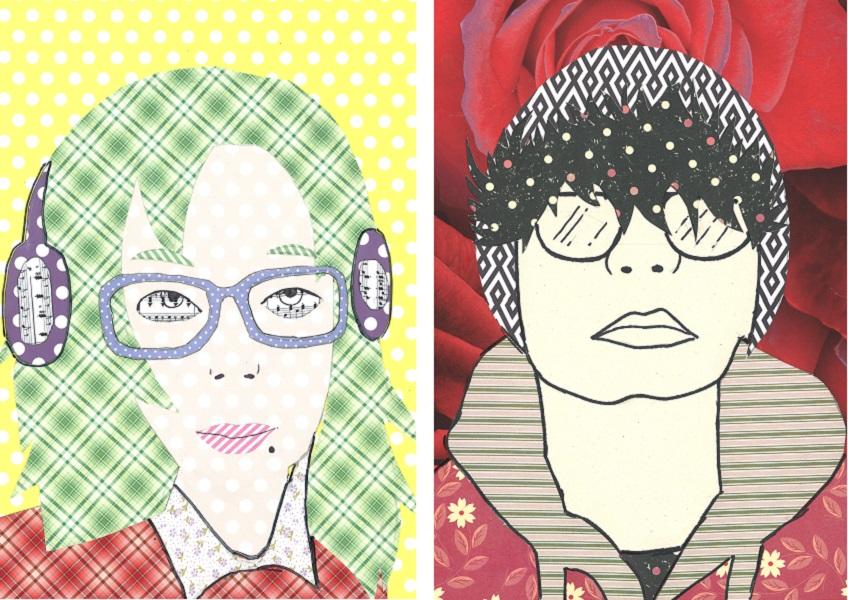 "This year our themes is 'All Things Japanese'. It worked out that our first session had to be the session we made portraits, and we only had one week to get them done! I chose for us to make our portraits in the style of Yayoi Kusama, one of my favourite Japanese artists. We used paper template to divide the faces into shapes and piece them back together." – Hazel McGregor, Club tutor
Hull College Institute of Art, Ferens Art Gallery - Art&Design Saturday Club
This Saturday Club is a collaboration between Hull College – Institute of Arts and the Ferens Art Gallery. Club members have access to the College's professionally equipped Art and Design Studios and the Ferens Art Gallery. The Saturday Club explores Drawing, Mixed Media, Printmaking, Painting, Repeat Pattern, Ceramics and Glass.
"The group has been introduced to a range of approaches to self-portraiture, from simple appearance and likeness through to exploring their thoughts, feelings and emotions. The body of work here has been produced using mono print to develop their use of expressive mark-making." – Lynne Bennet, Club tutor
The Northern School of Art, Middlesbrough - Art&Design Saturday Club
The Northern School of Art is a great opportunity for Club members to explore their creative potential. Members work with highly experienced tutors as well as industry professionals to learn about the creative industries. Projects are fun, inspiring and challenging and Club members are free to explore and express their creativity, discover their skills and talent and meet new friends in a supportive, friendly, inclusive and specialist art and design environment.
"We have taken a very person approach to the portrait project this year, initially asking our students to reflect on aspects of their personality and physical appearance that are important to them and form their identity. These aspects then became the main focus of their self-portraits. Students have been encouraged to use the most appropriate mediums according to what they were trying to communicate. The result being a lively, engaging and eclectic assortment of mixed media self-portraits. We hope you like them!" – Andrea Goodwill and Jayne Elwell, Club tutors
Northbrook College - Art&Design Saturday Club
The Art&Design Saturday Club at Northbrook College offers an exciting and varied range of creative workshops using facilities at the West Durrington Campus. Club members explore multiple creative practices, such as printmaking, ceramics, costume, fine art and prop making.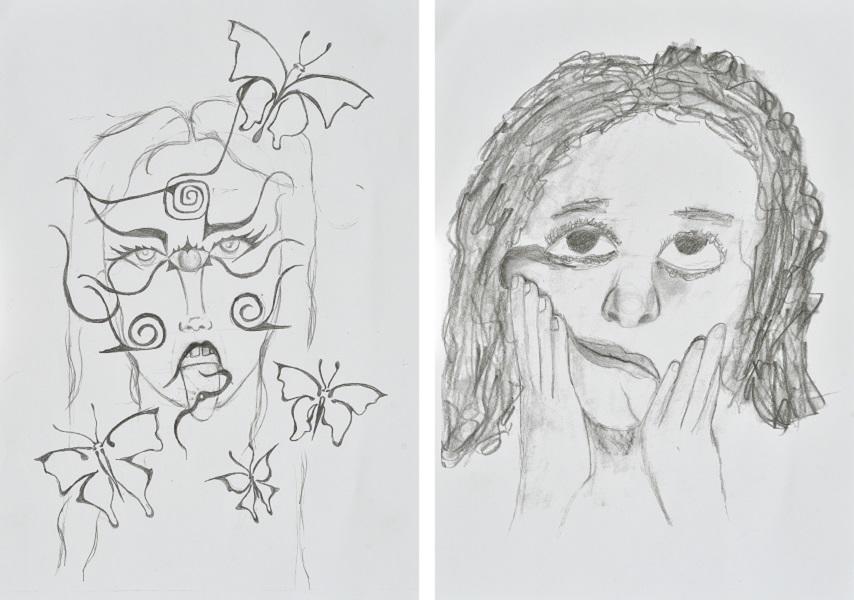 "The Clubbers were asked to use just pencils or charcoal to experiment with mark-making. They were asked to use these tools to best represent who they are on paper." – Victoria Waldron, Club tutor
University of Central Lancashire - Fashion&Business Saturday Club
The University of Central Lancashire Fashion&Business Saturday Club runs exciting and engaging creative workshops exploring a variety of fashion and textiles processes. Club members experiment with a variety of materials, ranging from fine liner pens to kitchen utensils and processes such as fashion illustration, collage and surface pattern.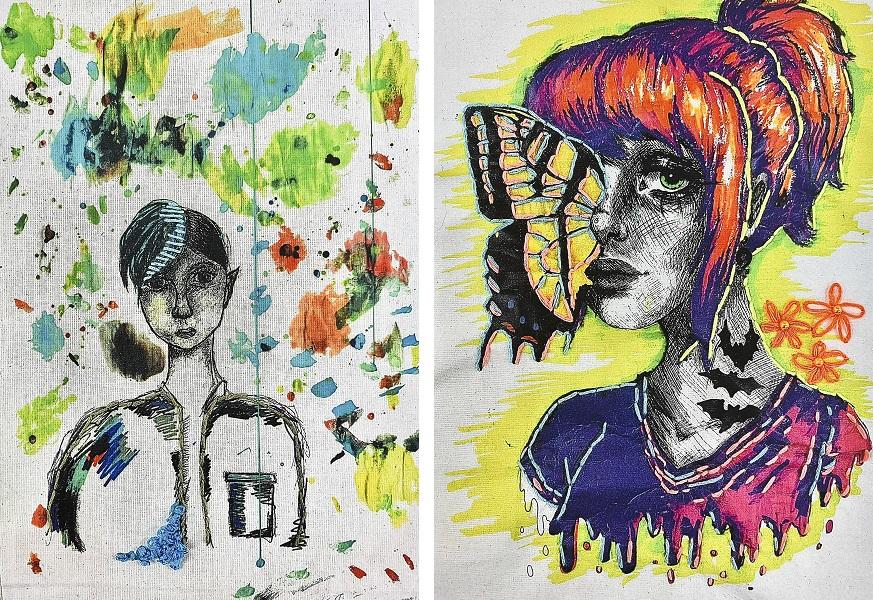 "We experimented with different fashion styles inspired by Thom Browne's shapes, Karl Lagerfield's speed with marker pens, and Alber Elbaz's cartoons. We drew our self-portraits, then printed them onto calico paper to embroider into them." – Catherine Greenwood, Club tutor
Time and Tide Museum - Art&Design Saturday Club
The Art&Design Saturday Club at Time and Tide Museum of Great Yarmouth Life explores Great Yarmouth's heritage through the museum's unique collection of objects and exhibitions. Their 2022-23 programme investigates eco-friendly artworks, in partnership with Vattenfall, a sustainable energy company investing in windfarms.
"Club members experimented with AI image generators, including Starryai and Dall-E, to create computer-generated likeness of themselves, often animalistic reincarnations which toy with fantasy and make-believe." – Alex Day, Club tutor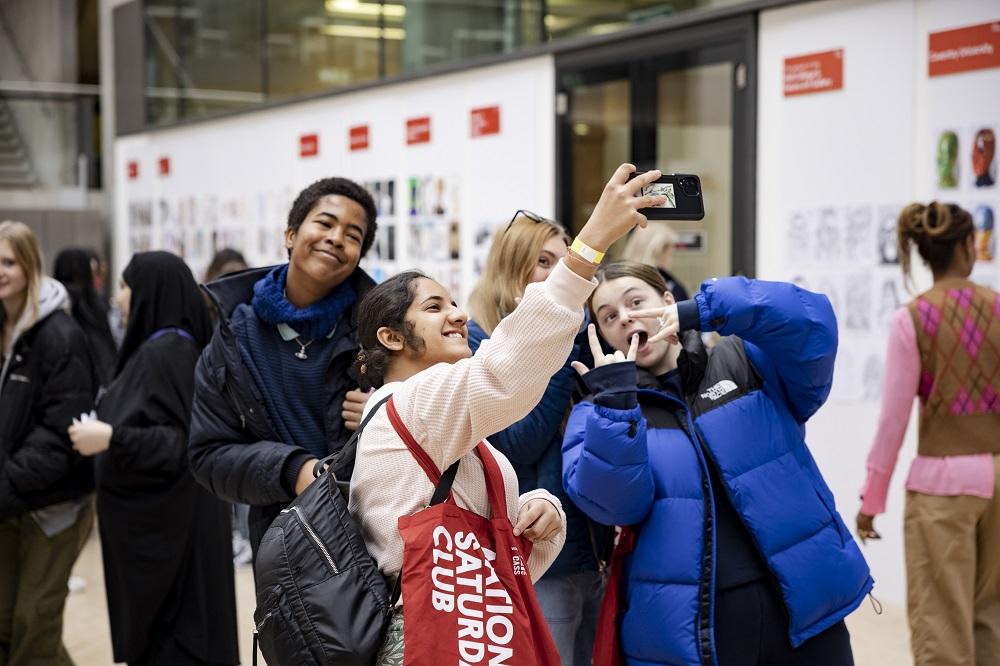 The self-portraits created by Saturday Clubs members nationwide are available to view online.
---
GET INVOLVED
The National Saturday Club network is growing and there are multiple exciting ways to get involved:
Start a Saturday Club at your university, college or cultural institution
For more information please contact paul@saturday-club.org
Lead a Masterclass for the National Saturday Club
For more information please contact dhikshana@saturday-club.org
Encourage a 13–16-year-old to join their local Saturday Club
Find a Club near you and apply to join