Posted by Cass Art on 6th Mar 2018
It's the Final Heat and things are really hotting-up on Sky Arts Portrait Artist of the Year as we head towards the semi-finals! This week nine more professional and amateur artists were tasked with creating a portrait in just four hours from a live, celebrity sitter, for their chance to win a £10,000 commission and £500 of art supplies from Cass Art. This week's celebrity muses included actor, novelist, playwright and producer Meera Syal, actor Derek Jacobi, and interviewer and presenter Kirsty Wark.
We interviewed Jonathan Luxon, winner of Heat Eight, to find out how things went and talk about his work beyond the show…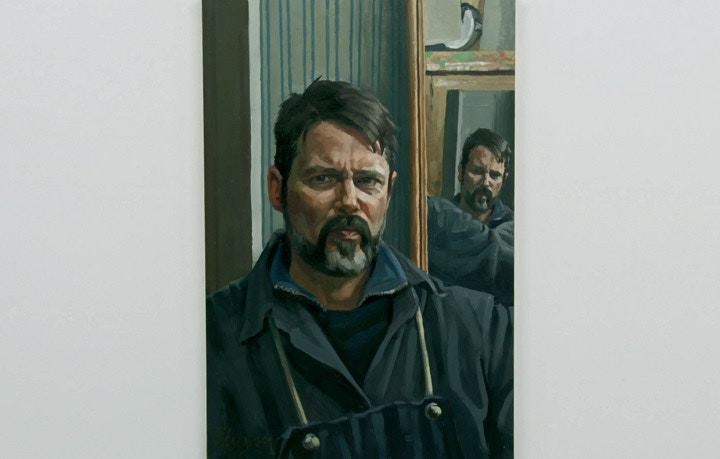 Tell us a bit about yourself, where do you live, what is your background, where did you study and how long have you been an artist?
I grew up in Hertfordshire but now live in Moray, North East Scotland. I studied Fine Art and Music at Canterbury Christ Church University. My college work concentrated on working (mostly drawing) from the life model. After graduating I pursued a career as a guitarist/guitar teacher but after getting repetitive strain injury, had to give up (I'm glad that happened now!). Then I went back to painting mainly as a hobby while having other paid jobs. After moving to Scotland I got involved in and helped to run regular life classes in the Findhorn community. In 2009 I officially became self-employed as an artist. I started painting landscapes in the start of 2016, exploring my local area of Findhorn Bay and the Highlands.
Your submission piece was really interesting, with two portraits of yourself in one painting thanks to the refection in a mirror. How did you decide on the composition and did you paint it from life?
I painted my submission from life without other references. As I didn't have much time I was just aiming at a straightforward head and shoulders portrait. I thought of putting the mirror in after the painting was well underway, the painting was looking too boring. Luckily I was working on an oversized bit of board which allowed me to extend my original composition. I've started doing this now, that way you can leave composition options open and crop the finished painting down to whatever size you want after it's dry.
You seemed very comfortable painting in front of a live audience and all the cameras, but your submission piece took 35hours - how did you change your process to make it work in just 4?
That was the main challenge as I knew my normal approach wasn't going to work. I spent 4 weeks beforehand figuring out an approach by practicing 4 hour portraits - from life, photos and other artists' paintings. It was a fantastic learning experience. I experimented a lot to see what approach would allow me to get the initial likeness in the fastest possible time. I figured that getting the drawing stage done fast would be critical.
What did you find particularly interesting about painting Meera?
It was great to do what was nearly a full profile, I haven't done a profile for a long time. I loved the contrast between her complexion, dark hair and the intense light blues of the background and her scarf. It was very harmonious in a bright, exciting way which I wanted to present very boldly with strong contrast.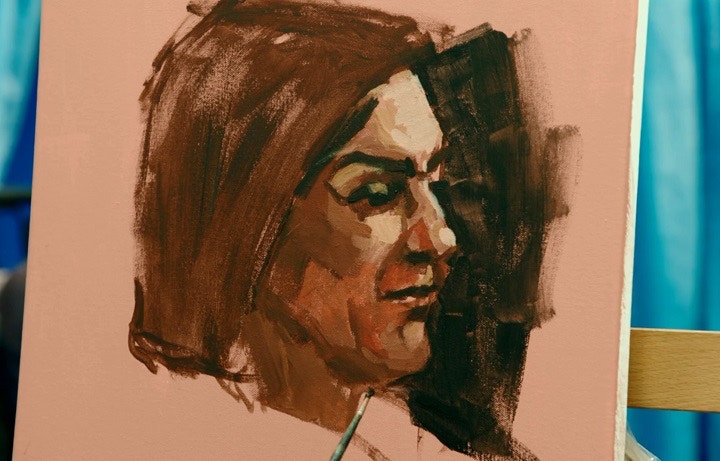 You started by blocking in colour with acrylics to try to capture a likeness in the early stages of the painting. Why do you switch to oils and at what stage do you start applying them?
In recent years I only ever use acrylic for the underpainting. Often I do the underpainting in oil too but I decided, for the sake of speed, that acrylics would serve better on the day. Acrylics generally don't suit my way of working because they dry too fast and I much prefer the qualities of oils, I like to work wet on we as much as possible. I start into the painting stage when I'm satisfied with the likeness although I usually end up making later adjustments to the drawing too.
The judges loved your use of colour. You started with a pink under-layer of paint which you left showing through at the end. Do you always like to paint on that colour?
I never paint on white because I find it skews my judgement of tonal values. Usually I go for a neutral middle value with a warmish hue because If I was working on say - a cool grey ground, my brain will try and tell me that the colours I'm putting down for the skin are way too red or pink and hot and they must be wrong. Perception of colour and tone are both relative, stark contrasts with the background can really trick you into thinking something's wrong when it's actually right. The ground for Meera's painting was a bit pinker than usual though, I thought I'd try an approximation of "flesh tone" as I figured that when the tonal underpainting was done, it would already be an appropriate colour which would be a helpful place to start when I went into colour.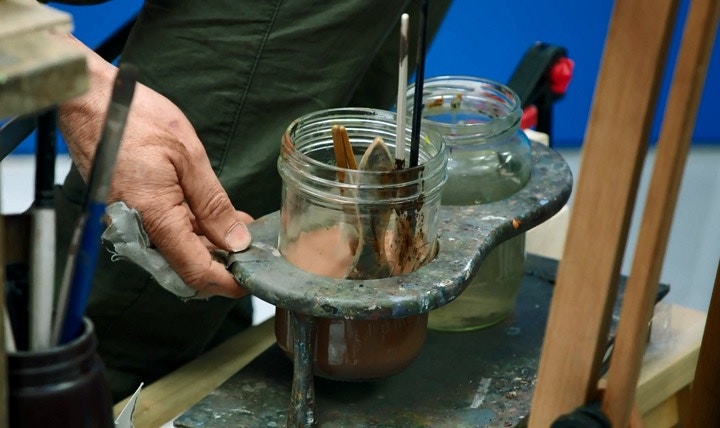 You have some wonderful hand-made gadgets to help you paint, including a jar holder and a 'colour checker' which helps you to match the colour you've mixed with the colour you're observing. Could you talk a bit about which colours you use for portrait painting and do you have any tips?
I enjoy thinking up ways (and contraptions) to make life easier and more efficient. Having all my materials exactly to hand where I want them helps me concentrate on the subject and ignore the "mechanics" of painting. I use a limited palette and mix mostly from primary colours. For portraiture I find if I have 2 yellows (Cadmium Yellow light and Yellow Ochre), 2 reds – a dark (Alizarin Crimson) and a light (Cadmium Red) and one blue (Ultramarine) I can usually get all the colours I need. In addition I use one brown (Burnt Umber) and one green. I use Hookers Green because it's good for mixing deep darks and it's not as overpowering as most other greens. For me, using a big range of out of the tube colours is too confusing. For a long time I only used red, blue and yellow, plus one brown (and of course, white), I also think it also helps develop a good grasp of colour mixing.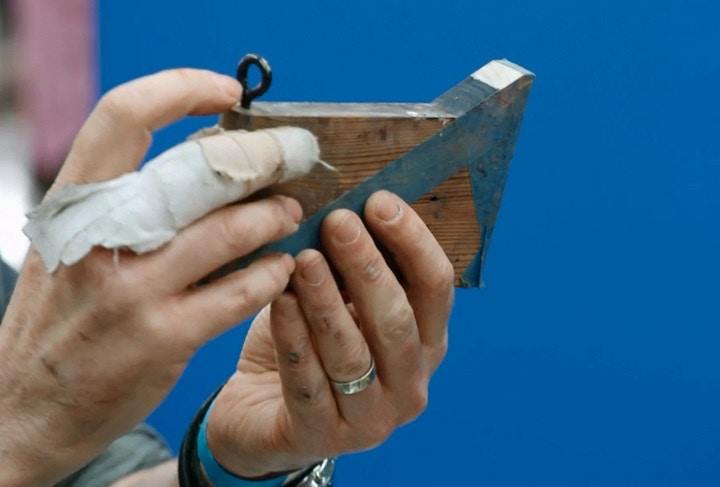 The colour matcher is a great thing to try. There's a natural tendency to over- exaggerate modulations in tonal value, this can make a painting look amateurish. I have a tendency to do this and using the colour checker in the early stages helps.
Some tips for oils: in the early stages of a painting, mix up a much bigger quantity of each colour mix than you think you're going to need. If you can keep hold of all your initial colour mixes all the way through to completion it really helps maintain consistent colour relationships which can especially go awry with paintings done over a period of days/weeks. A bit of discipline controlling, organising and "re-booting" your palette really pays off, it can all too easily turn to mud. I always use palette knives for mixing colours and spend some time mixing in advance the colours I will use for a given area/s before I start putting anything down.
What are the other essential tools and materials in your studio?
As a medium I use stand oil mixed 50/50 with solvent. The solvent I use is
Zest-it
, a safe turps alternative made of citrus oil. I was really having health problems because of the fumes from white spirit and it works great. Adding a bit of
linseed oil
helps the sediment settle out between sessions.
Good lighting makes things a lot easier, getting enough light and the right kind of light on the painting and palette. As well as windows I have 2 overhead high wattage bulbs which hang down over my easel, one spotlight clipped on to the side of the easel and one clipped on my palette, all with full spectrum
daylight bulbs
, it's really important that all the bulbs have a similar colour temperature. I discovered that combining different bulb types can really confuse your colour perception. I recently bought two photographic box lights for photographing my work which I can use too. It's getting a bit like a football stadium, but a lot more cramped!
Which other artists both historical and contemporary inspire you?
That's hard because there are so many. Traditional: Sargent and Zorn in particular, contemporary – Euan Uglow, Tai Shan Schierenberg, Mark Carder.
Tell us a bit about your other artworks.
This was a commission I did in 2016, it was done from photo sources from a shoot at the location where the client works in the law courts at Lincoln's Inn, London (for which I had to get permission from the photographer). The shot that I chose to base the composition on had a blurred background and I had to take a virtual walk around the area on Google Earth to try and discover the location where the photographer was standing and what buildings were in view so that I could search online for additional photographic sources taken from the same spot (London being too far to go and take my own!) which felt like an adventure.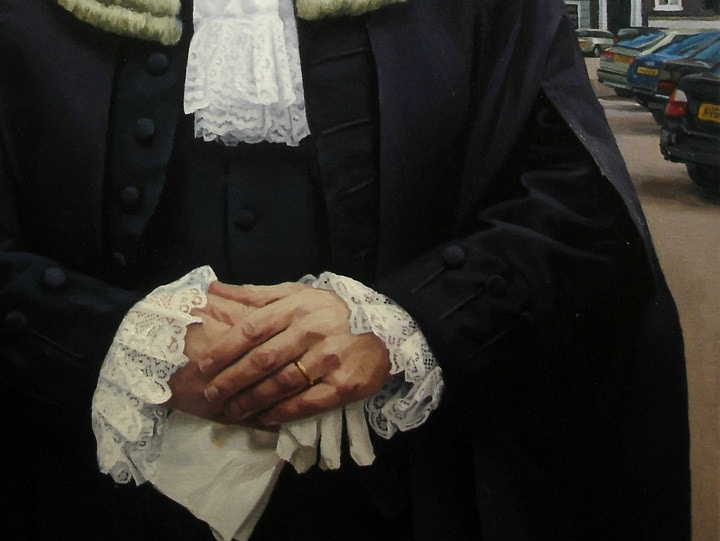 I was challenged by the very fine lacework on his cuffs. After some unsatisfactory attempts to give an impression of lacework I had to go into minute detail and just do exactly what I was seeing which took me 5 or 6 hours. At the time I felt disappointed that I didn't have the panache or skill to render a painterly impression, but now I think it's my favourite bit.
"The Raising": I became A Christian in 2009. My life changed so radically, suddenly and wonderfully, I wanted to express something of my experience of coming to know Jesus Christ. The scene is the raising of a dead girl portrayed in Mark Chapter 5. In the New Testament the experience of being "born again" is likened to passing from death into life, and that's just how it was for me. I wanted the focus to be on the witnesses and their reactions at that moment. In the New Testament (and now) one way the identity of Jesus is powerfully revealed is through the responses of individuals and his impact on them. Painted in acrylic using raw umber, ultramarine and white.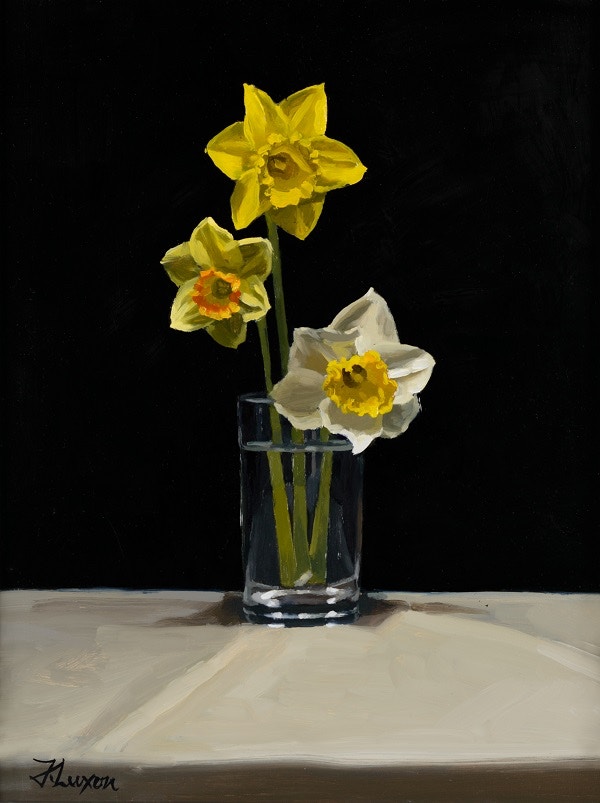 "Daffodils": The second still life I did using my home made lightbox. It's an ideal way to practice techniques of realism with a static subject, strong chiaroscuro and constant light conditions.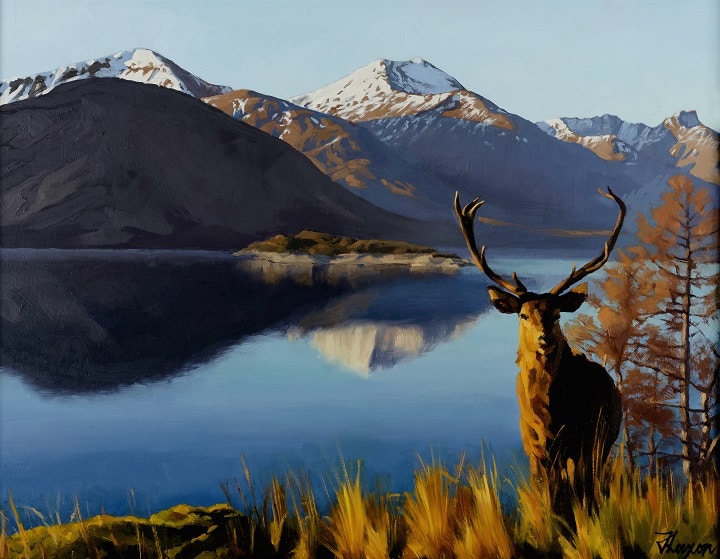 "Loch Quoich": Painted from a cracking photo taken by a friend who happened to see this scene on his way through the highlands out of his car window.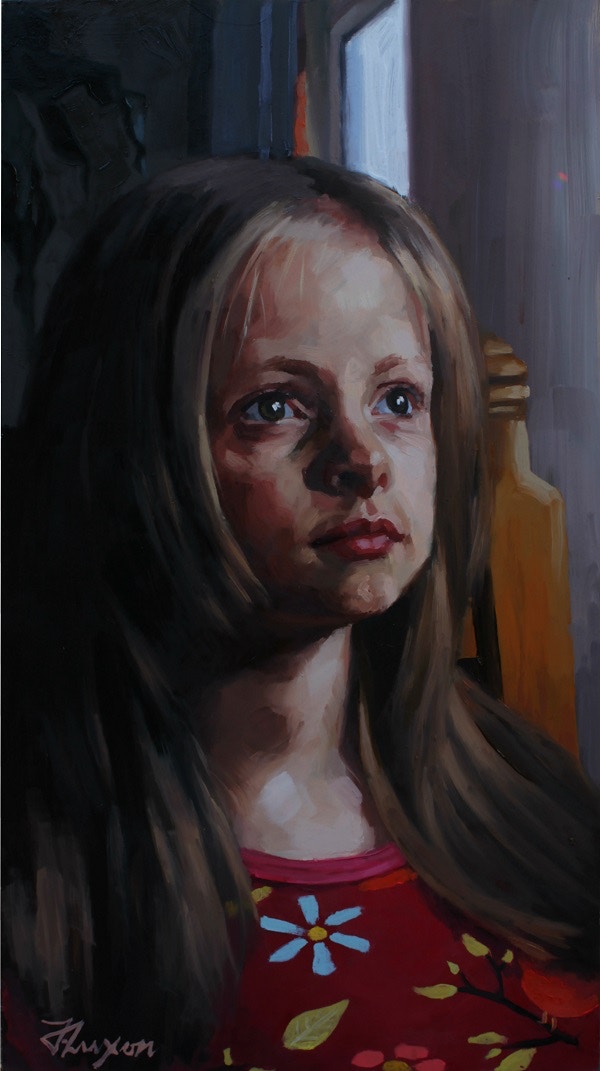 "Girl by a window": My most recently finished portrait, my daughter is the sitter. Another occasion where I used an oversized offcut piece of board which was a long rectangle (61cm x 32cm). I started painting a standard A- size image intending to crop off the unused bottom section but realised the elongated proportions really suited the subject. It encouraged me to think a bit more out of the box when it comes to composition.
What are your plans for the semi-final? Will you do anything differently?
Lots more practice. Also I am going to bring a range of ready mixed skin tones in pots, I reckon this could save me 10 minutes.
What advice would you give to other artists thinking of applying to take part in Sky Arts Portrait Artist of the Year?
Go for it! It's an exhilarating experience. Watch past episodes and prepare yourself for the time frame. Map out a rough schedule of where you want to be at the end of each one hour session. Think about what approach is going to be best for you and get clear about what your goals are. My primary goal was to get as near completion as I could in the time frame, but I don't think that's necessarily the only or best strategy for everyone. I saw one episode where the winner was not hurrying at all but following his own usual slow and deliberate method. The result was one of the most unfinished paintings, but it won. Because of his method, the unfinished work was very interesting and effective in its own right and you could see it was going to be great. Other people's painting style really doesn't come together until the later stages. It depends how you work. Good luck!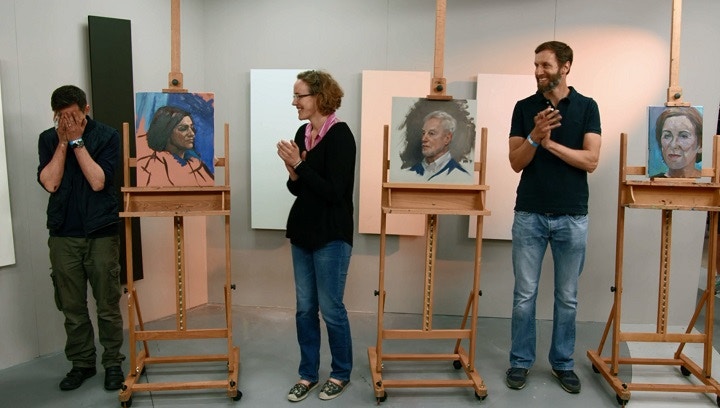 Feeling Inspired?
Image credits: All artwork images © Jonathan Luxon