Posted by Cass Art Staff on 2nd Oct 2021
The Net Gallery is a London-based digital arts platform that uses cutting-edge scanning technology to turn physical exhibitions and art spaces into immersive 3D virtual experiences. Viewed by more than 140,00 virtual visitors, their interactive walkthroughs showcase exhibitions and exclusive behind-the-scenes content to a global community of artists, curators, arts professionals and art lovers. The Net Gallery is also the home of Artist N Virtual, a unique digital directory that connects the art world, making it simple to profile what you do, share professional experiences and to follow and engage with people across the industry.
You can explore The Net Gallery's 3D studio tours and virtual exhibitions here.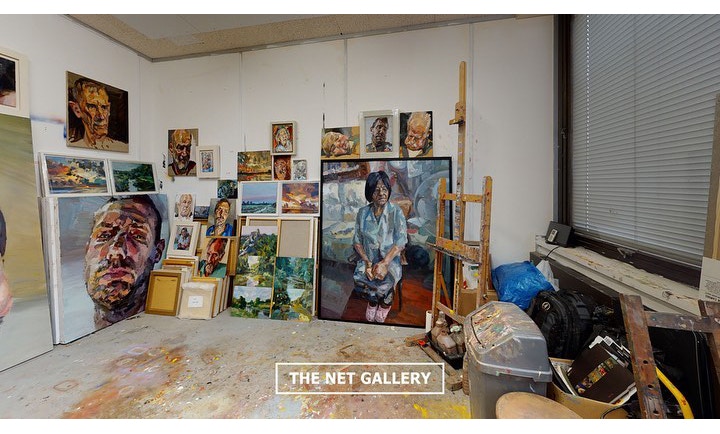 Tom Croft 3D Studio Tour
Tom Croft is a classically trained portrait painter based in Oxford. He has produced paintings for a wide range of clients, from Manchester United Football Club to Oxford colleges and family portraiture. His notable portraits include the first female Bishop Libby Lane, author Mark Haddon, former Home Secretary Jacqui Smith, BBC Arts editor Will Gompertz, Radiohead bass player Colin Greenwood, performing artist and humanitarian Octopizzo from Kibera, Ride drummer Loz Colbert, footballers Wayne Rooney, David Beckham and Ryan Giggs. Tom appears on Sky Arts Portrait Artist of The Year 2018. Tom is a member of the Oxford Art Society and opens his studio to the public during Oxfordshire Artweeks.
---
Sarah Jane Moon
Sarah has exhibited with the National Portrait Gallery, Royal Society of Portrait Painters, Royal Institute of Oil Painters, New English Art Club and the New Zealand Portrait Gallery among others. She has been a recipient of the Arts Charitable Trust Award, the Bulldog Bursary for Portraiture and in 2020 was made a candidate for membership to the Royal Society of Portrait Painters. Her portraiture has been featured in Time Magazine, The Guardian, Wallpaper*, Studio International and House & Garden Magazine.
Moon features in the documentary film 'She Is Juiced' (directed by Lois Norman) which premiered in 2017 at the Tate Britain. She has also been included in the Pride Power List, which celebrates the achievements of notable LGBTQI+ people and is a regular supporter of Stonewall UK, Terrence Higgins Trust, Pride in London and Art for Youth.
---
Samira Addo
Samira Addo is a self-taught artist with a love of portraiture. From Addo's perspective, portraits have the power to engage attention, evoke emotions and hold a level of relatability unlike any other genre. Addo's work often reflects themes and subjects she has a close association with: from moments with friends, to countries explored. She finds inspiration for her portraits in the subtleties of facial expressions, or by exploring the interplay of colour and construction. Predominantly working in oils, Addo's completed pieces can be considered as examples of contemporary realism, with the more figurative elements balanced by touches of abstraction.
In 2018, Addo was the the winner of Sky Arts Portrait Artist of the Year. The prize included being commissioned to paint a portrait of the actor Kim Cattrall, which now hangs in Liverpool's Walker Art Gallery.
---
Tim Benson
Tim Benson is a London-based artist who has won numerous awards and is highly respected as a painter of portraits and landscapes. Looking beyond simple representation, he seeks to permeate his work with emotive, visceral qualities that elicit the attention of the viewer. The standard of Tim's practice has been recognised in his receipt of many accolades, including being elected as President of the Royal Institute of Oil Painters in 2018, and as a member of the Royal Society of Portrait Painters in 2019. Tim is committed to raising awareness through his paintings, using his art to draw attention to important global issues. He has created work for a number of charity projects, including a series of portraits of children and adults who have received sight-saving eye surgery at the Kitwe Hospital in Northern Zambia, and a series focused on the people working on the frontline of the fight against Ebola in Sierra Leone.
Charley Peters
Charley Peters is an artist based in South Bermondsey, London. By juxtaposing the familiar sensibilities of the Hard Edge, Abstract Expressionism and Pop Art with aesthetics suggestive of the development of the information age, Peters' work references the language of High Modernism in the context of the recent phenomena of the high tech, filtered through the analogue act of painting. Her meticulously made paintings reflect the graphically complex world in which we now live, where we simultaneously see multiple 'windows' on computer screens, smartphones and digital tablets. Creating her work intuitively by dividing the canvas into distinct compositional areas and building up layers of paint, Peters seeks to explore our experiences of reading space, substance and abstract form in contemporary visual culture.