Posted by Cass Art Staff on 1st Sep 2021
From Connector Pens to Colour Grip Pencils, we've brought together some of our favourite videos from the Faber Red Kids range of art materials. Renowned for quality, innovation and a focus on safety and durability, Faber Red really know how to push the boundaries when it comes to kids' creativity. Watch these amazing videos with your kids to help inspire their next art project.
FABER RED CONNECTOR PENS
Connector Pens can be used for all sorts of projects. For little artists, they're the ideal tool that guarantees creativity, bright colours and all kinds of fun when drawing. The real highlight of these pens is that they can be connected using the specially formed caps and used to create animals, flying machines, fun toys and more. The imagination knows no bounds here! Here are three creative activities you can show your kids to get their ideas flowing!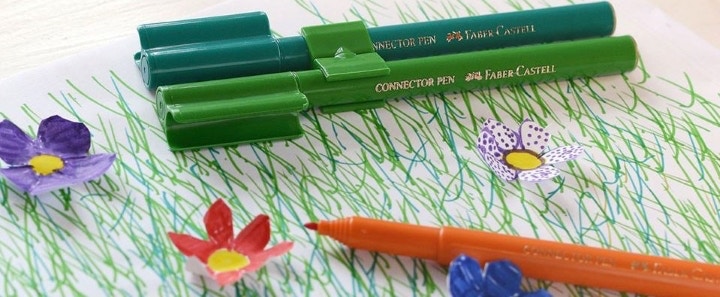 1. Create an Imaginative Rainbow
Check out the video below where the Connector Pens' bright and vibrant colours are used to create a beautiful rainbow. You'll see how the special connecting caps are clipped together to draw colourful parallel lines, while the vivid felt colours are used to draw intricate patterns within the rainbow.
2. Design your Own Crafty Helicopter
In this video the versatile Connector Pens are clipped together to form a helicopter shape. Watch the clip below to see how, with the help of some creative drawing and a bit of blu-tak, this flying machine comes to life. Guaranteed to impress friends and expand kids' creativity.
3. Build a Lady Bug
Perfect for lovers of nature and creepy-crawlies. Watch the video and discover how Connector Pens' lids can be joined together in the shape of a Lady Bug. Why not create a whole family of little creatures to take outside to play in the garden?
FABER RED COLOUR GRIP PENCILS
The Faber Red Colour Grip Pencil range is great for encouraging children to develop their manual skills in a playful way. The ergonomic triangular pencil shape with a soft-grip zone allows effortless and easy drawing, while the water-soluble pigments create beautiful drawings. Simply choose your colours, use a wet paintbrush to blend them and acheive fantastic watercolour effects. We've collated some of our favourite videos to inspire ideas.
1. Draw a Rainbow Inspired Garden
Watch the clip below and discover how the Faber Red Colour Grip Pencils are perfect for sparking the imagination of young creatives. Watch the vivid colours come to life a water is added to the drawing using a wet paintbrush.
2. Create a Multi-coloured Fairytale Castle
Take inspiration from the video below and create a castle from your favourite fairytale. Check out the wide variety of colours available and see how the rich pigments retain their vibrancy even after water is added.
Feeling Inspired?
Explore the full Faber Red Kids range
Read about the Faber-Castell brand story
Discover the ways in which Faber-Castell are engaging with sustainable practices in their production of pencils.