Posted by Cass Art on 15th Mar 2018
We caught up with Francesco to find out all about his journey in becoming a fashion illustrator, and why he is so passionate about watercolours.
Hi Francesco! Can you tell us a bit about yourself and your career as a fashion illustrator?
I have been drawing since my childhood, like many people who work in a creative field. My interest in fashion came about while I was studying for a Masters in Photography and had a particular interest in Fashion Photography - at some point mixing my passion for drawing and fashion became quite natural. Following my Masters, I moved to Paris and started working for a trend forecasting agency, as part of the womenswear studio – an experience which taught me a lot. Around the same time, I started my blog exclusively dedicated to fashion illustration and began building my career, which is still growing day by day.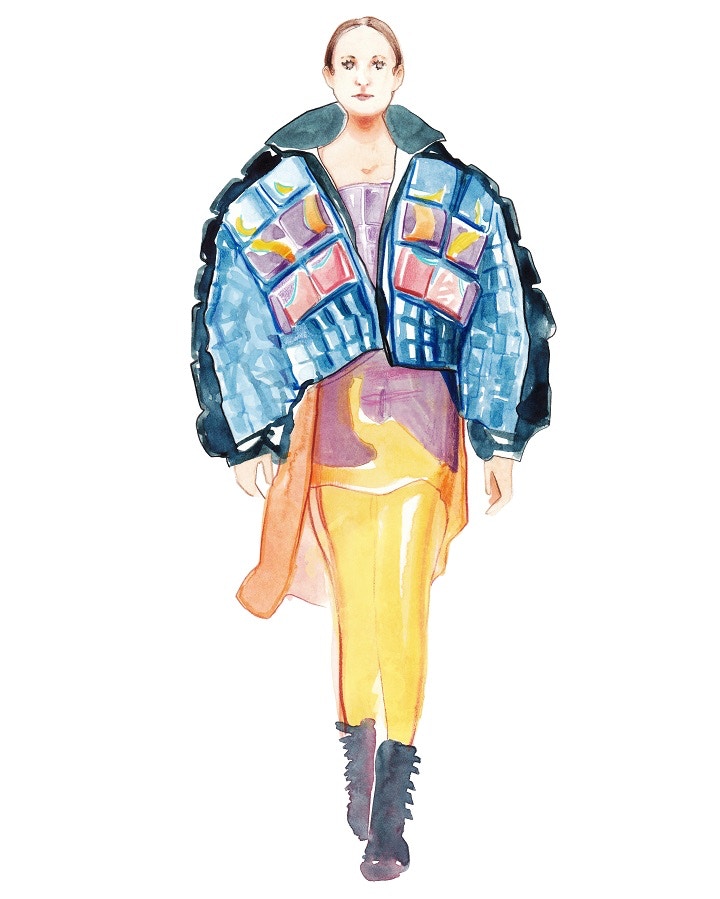 You created illustrations from a wide variety of recent fashion collections including the London, Paris and New York Fashion Weeks. What was that like?
Sketching during Fashion Weeks is maybe one of my favourite things to do as an illustrator. Living in Paris and London gave me the chance to attend a number of shows, which is great because you really get the whole idea of a collection, the quality and details of the garments, the vision of each designer. It is a great inspiration moment. It also allows me to follow the new trends and stay updated with the new propositions of designers, which I think is quite important as a fashion illustrator.
Do you think it's important to paint an accurate representation of the fashion collections on display?
Not necessarily. As an illustrator, it is also important to show your own vision. So you can choose to stay faithful to reality or not. I think it is really up to each illustrator. And that's how you also develop your own style, I guess. You can play with details, volumes, colours. In the end, it depends on what you want to achieve as an artist.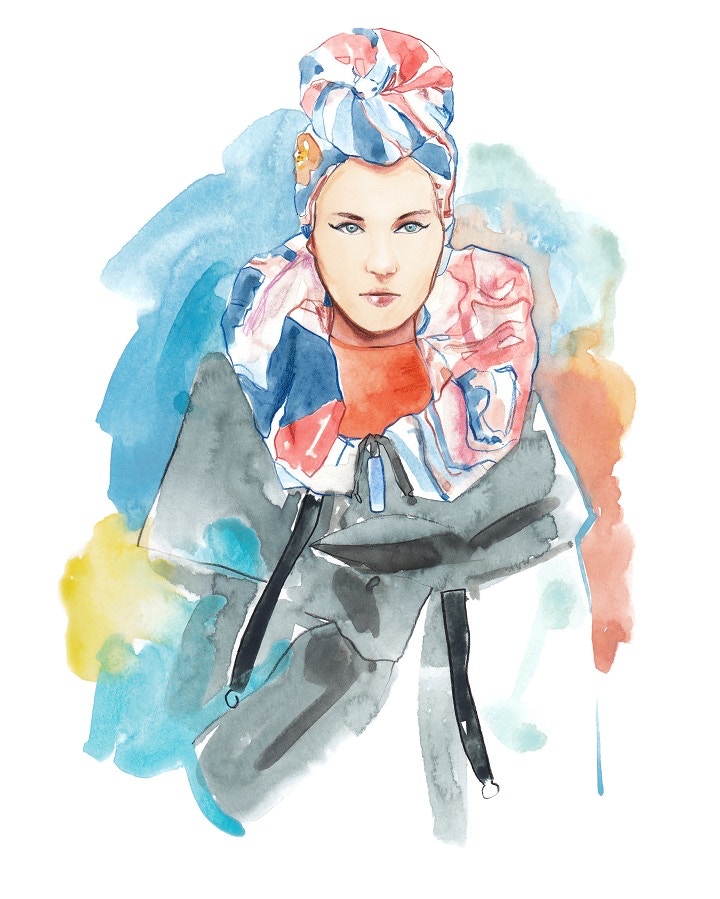 Watercolours are a great medium for painting on the go. What products do you always take with you to fashion shows?
I think I still need to learn to prioritise when I work during fashion shows. But since you literally have no idea of how the collection will be, I always try to bring with me a bit of everything in terms of materials, and colours too. Also, my way of working changes a little when I live sketch and when I draw in my studio. Mostly because during live events I need to be quite quick. I usually bring my Cass Art watercolour set, a few watercolour brush pens, some markers and some watercolour pencils. And of course, a lot of watercolour paper because you don't know how much you are going to need!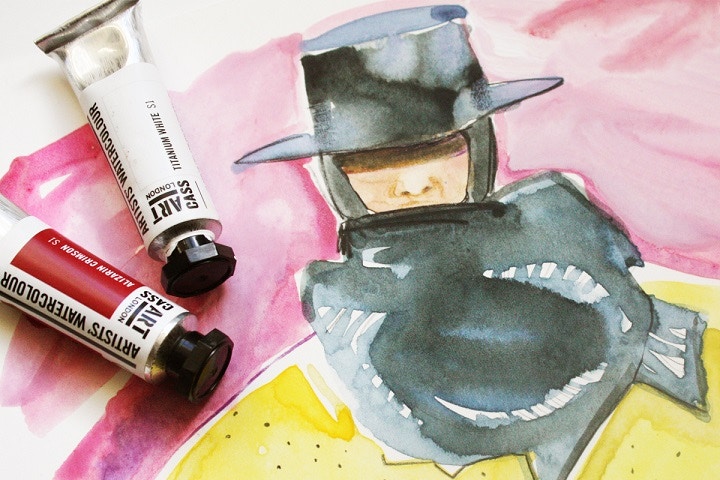 Do you think social media channels like Instagram are valuable tools for artists wanting to engage with their audience?
Personally, I think Instagram and other social networks are quite important nowadays for artists to network with others, a wider audience and also potential clients. I know for sure that Instagram is helping me a lot in my career. But I can understand if some artists prefer not to use it to promote their work. It is also something that takes a little of effort and time. For me, it is a valuable tool that is allowing me to connect with more and more people. For example, during last London Fashion Week, I was approached by some people because they knew my work through my Instagram account, and it was lovely to connect with them, especially considering also that I moved to London only one year ago. Above all, it is always good to receive feedback on your work.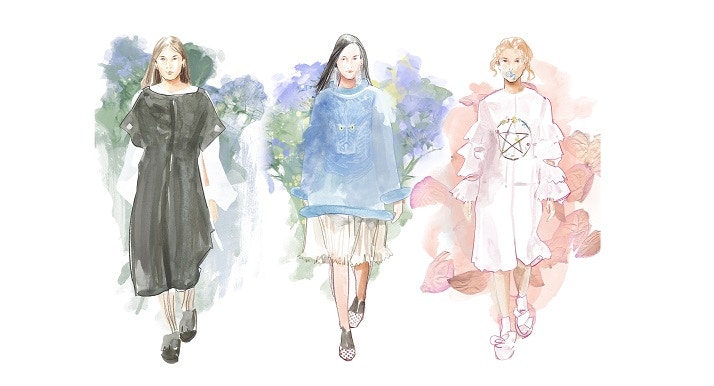 You host workshops where you teach fashion illustration to other people. How would you describe your teaching style?
Well, it is something I've been thinking a lot about lately and also before starting the monthly classes. Since fashion illustration can be seen and experienced in very different and multiple ways, I am trying to give very personal feedback and advice to each one. Also, each person that comes to my class has a different background, education, personal story and views about art, illustration and fashion. This translates with different ways of creating. I believe each one comes to my class with different expectations too. That's why during each session I try to approach every single attendee and get to know them, their artistic path and try to understand how I can advise, help, push or challenge them.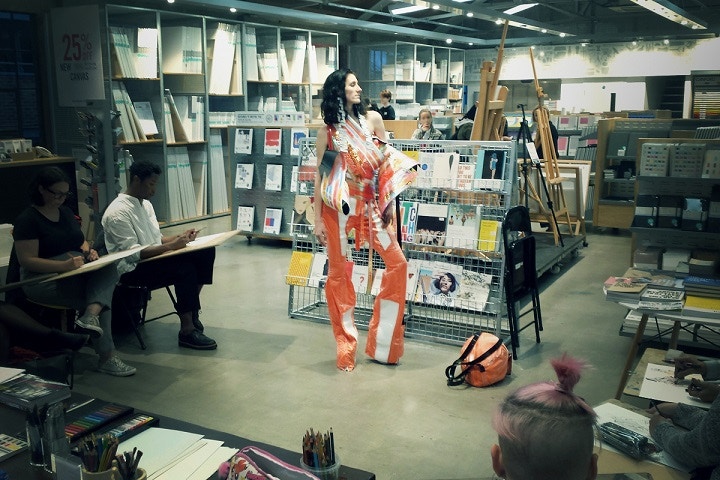 What is your best piece of advice for people wanting to develop a career as an illustrator?
Work hard! I really feel like I still have to learn a lot myself. But one thing is for sure, in this field, like in so many others, you really need to work hard and have a lot of patience.
What plans and projects do you have coming up?
Lots of things coming up! I am working on my online shop to start selling some of my work directly and I am planning on creating some little animations - since it is something that I would love to explore. I am also working on creating new content for my blog. And as for my Fashion Life Drawing Class, I am already planning next classes and reviewing new talented fashion designers.
Thank you Francesco!
Feeling Inspired?
Visit Francesco's website