Posted by Cass Art Staff on 28th Jul 2021
Emma-Leone Palmer is a portrait painter who explores the complexity of the human mind in her hypnotic original oil paintings. After graduating with a fine art degree in 2005, Emma moved to Umbria in Italy, where her love of figurative painting blossomed at a studio once used by the High Renaissance painter Raphael. She went on to hold a solo exhibition of 38 portraits at the Watts Gallery and appear as a contestant on Sky Arts Portrait Artist of the Year, where she painted the film star Richard E. Grant. Her work is also owned by the British Olympic swimmer Sharron Davies.
Spiralling across each of the large-scale paintings from her Afterglow collection is a seemingly chaotic entanglement of neon wires. Allegorising not only the complexity of our thoughts but the digital information we receive and process on a daily basis, these bursts of light illuminate the female subjects whilst deepening the darkness they inhabit. The scale is deliberately larger than life to impose and make us confront the feelings of the women.
Being a prolific oil painting tour de force we invited Emma to try our World Exclusive launch of Michael Hardings release of Pyrrole Red. You can watch how Emma got on exploring this new pigment whilst creating one of her latest stunning artworks below.
---
To give you an insight into this pigment the man behind the paint Michael Harding shares with us his motivation for creating this new shade which Emma has experimented with: "I get immersed in vivid colours. I wanted to add an affordable red to my product line that compliments my currents reds and provides another level of depth in the family of MH reds. While my first passion is pigments from the period of our grand Old Masters time, today's modern made pigments offers us yet another level of discovery and enjoyment. I feel Pyrrole Red is such a colour, an affordable, highly lightfast vivid red. My Pyrrole Red is like a lot of my oil product line, bold and bright yet with a cool, crisp undertone."
---
Here's a close up of Emma introducing Pyrrole Red onto her palette and experimenting with its tinting strengths.
Emma-Leone Palmer - 'Being a self confessed paint-addict I didn't have to be asked twice to try out the newest pigment from my all time favourite paint Michael Harding. Enter centre stage... 'Pyrrole Red'. What better way to acquaint myself to the characteristics than diving into making a painting using all those hot feelings this fiery primary gives us. After a day of squeezing, poking, dripping, mixing, wiping experiments (Dexter's lab vs. passion bomb) I started my canvas.
This is one serious high-chroma red! A 'main event' pigment from first squeeze. Buttery, strong, deliciously dangerous with the capacity for taming to the most delicate peaches and oranges. Used with confidence PR254's opacity and strength is powerful, only a little is needed, it travels cleanly and brightly through mixes giving popping pinks, fiery oranges and surprising browns. I found it dried better in mixes and in many ways it is a good swap to our classical Cadmium. Firmly keeping this on my palette, I look forward to further explorations into Pyrrole's intricacies of personality.
nb. The colours used for this painting/experiment are MH: Pyrrole Red, Magenta, Cadmium Yellow, Prussian Blue and Titanium White.'
---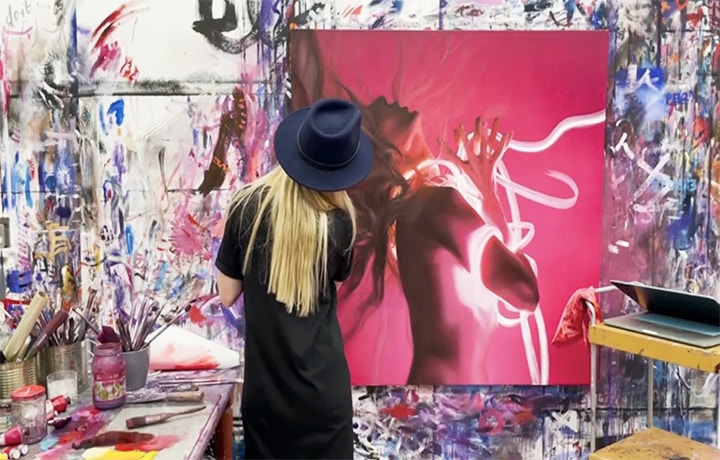 ---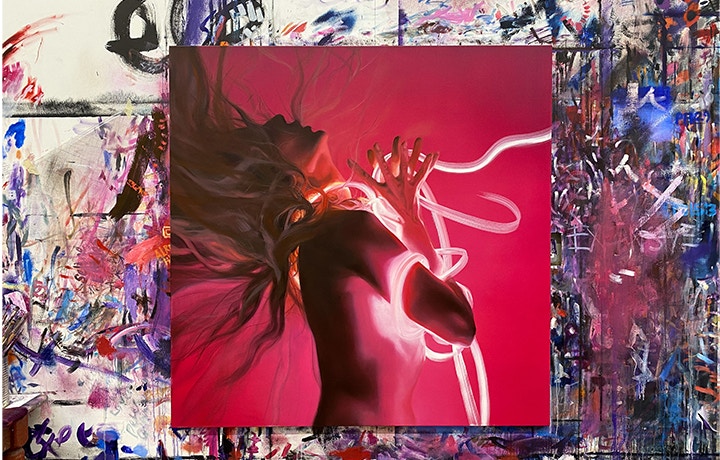 FEELING INSPIRED?
You can also read the full interview we did with Emma last year for our lockdown series Art in Isolation here.
See more of Emma's work here and be sure to follow her on Instagram and Facebook too.
---
Don't forget to hashtag #cassart on social media to show us your creations.