Posted by Cass Art Staff on 1st Jan 2022
As far as paint goes acrylic is a relatively new one having been created in the early part of the 20th centry, but recently through advancements in the development of the medium it has expanded the versatility of acrylic hugely. Here's a helpful guide to getting an understanding of the medium and discovering what's the best acrylic paint to choose for your practice!
So what is it made up of?
Pigment - pigments are granular particles which give paint its colour. They get milled to a tiny granular size and do not dissolve, but remain suspended in the paint.
Binder - This is the substance that keeps pigment in place after the paint dries. Acrylic paint has acrylic polymer as its binder and this forms a film after the water has evaporated.
Vehicle - this is the part of that carries the binder and pigment. Water is the vehicle for acrylic paint and when combined with the binder, it creates a polymer emulsion. Once the water leaves the system via evaporation or absorption, the paint dries, creating a stable clear polymer film full of trapped coloured pigment particles.
---
Quality
One of the first things to bear in mind when looking at the vast quantities of different acrylic brands is quality: student grade and artist/professional grade.
Below are some key difference be aware of before making a choice of what is best for you:
The first key difference in the quality of artist v student paint is the amount of pigment suspended in the binder. Artists' paints contain a greater, more concentrated level of pigment and allowing them achieve greater surface coverage than student quality. Because of this you'll also notice artist quality to be more vibrant once dry too with less tendency to fade over time.
Not all student quality paints use lightfast pigments as they do in the artists range, meaning the colours have potential to alter or fade over a period of time as mentioned above. You'll also find more Hues in the student range which means they can be imitations of a specific colour. For example in an artist range you'll find Cadmium Yellow, whereas in a student range you'll most likely find Cadmium Yellow Hue– in some cases there can be numerous pigments to make one colour as opposed to using that sole pigment as they generally do in artists range.
Unlike artists quality, student quality paints can contain fillers or extenders allowing there to be less pigment so you will require more paint to get the desired coverage.
Artist's quality paints have a much greater spectrum of colour to choose from as certain colours can be too expensive to make in student grade.
Another immediate difference in quality is reflected in the price. You will notice that all artists' quality paints are derived by series numbers. This is down the cost of pigment, you'll notice the higher you go up the series such as 1, 2, 3 or A, B, C the most expensive the colour is. Whereas student quality paint is one blanket price for all and not broken down into series numbers.
---
Viscosity
Along with quality control there are also many other factors to take into consideration to make it applicable for your practice. One of which being viscosity. Acrylics are widely available primarily in a number of different consistencies which you can see below:
Soft body/Open acrylic
Heavy Body acrylic
Fluid acrylic
High flow acrylic
Soft body acrylics have a relatively creamy consistency and are marginally more self-levelling than thicker heavier bodied paints. As they have a lower viscosity you're able to achieve a very smooth application, also allowing you to have the option to add an acrylic medium to create a thicker body. So these paints are more applicable to fluid continuous applications
Golden also have a range in soft body called Open acrylics. These have different behavioural aspects to them as they have a much greater extended drying time. As regular soft body acrylics dry quite quickly therefore can become unusable. Open acrylics can be kept for a much greater period of time, reducing waste and allowing much more time to rework on your painting. In some cases it can take 7 – 14 days depending on how much paint is applied to form a film. Thus allowing you to work on your piece whilst it is still wet if desired.
Heavybody acrylics have a much lower viscosity, somewhat similar to heavy cream as they have a much lower viscous binder holding the pigment together. These allow for very fine dispersion, flexibility, durability and very strong adhesion too. They can also be mixed with airbrush medium for most spray purposes. Initially these were actually made on a custom basis but due to popular demand they were so made available to the wider public.
High flow acrylics are extremely finely ground pigments in the binder. They have a similar consistency to acrylic ink but the main difference and advantage of the high flow is they are pigment based meaning being more lightfast as opposed to dye based which you most commonly find in inks. A lot people chose High flow for a more precise application of paint for very fine detailed work.
They are often used sometimes to imitate watercolour effects in terms of large highly concentrated washes, staining techniques but as they're considerably greater levels of opacity you will achieve a more concentrated finish than watercolour or inks.
Acrylic Gouache is creamy with a very smooth matt finish which levels out brush marks, ideal if you're looking for flat layers of colour Perfect for fine art, design and illustration, layering, solid colour blocking and mixed media. Not to be confused with regular gouache! Watch them in action below.
Acrylic Inks
Acrylic Ink is the most fluid of the acrylic paints. It is made of super fine pigments suspended in a state of the art acrylic emulsion that is as fluid as water. Acrylic Ink is intensely coloured and dries with a soft gloss finish. It can be applied using airbrush, pen or brush. This is the consistency of acrylic used to fill empty marker pens. Airbrush Acrylics are very similar to Acrylic ink, but are less likely to clog or impair the flow within airbrush equipment.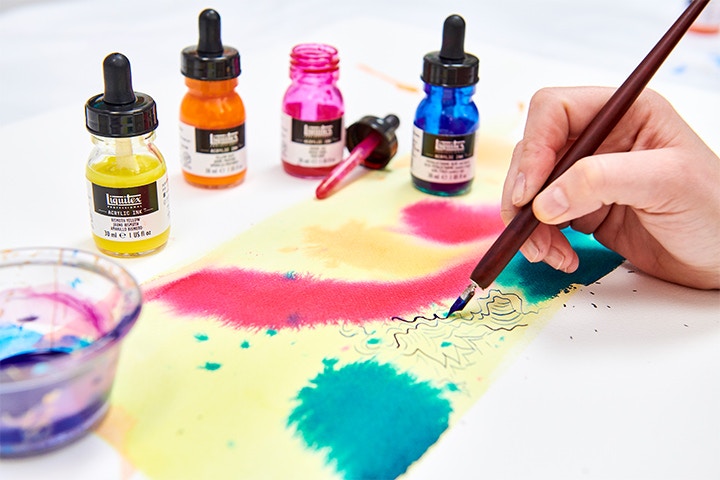 Acrylic Markers
Acrylic Markers are bright, bold, acrylic paint marker pens, perfect for those wishing to combine painting and drawing techniques. Acrylic markers are designed to be high covering, fast drying, water and abrasion proof. They'll make their mark even on already brightly coloured or painted surfaces and will adhere to most surfaces, from metal to paper.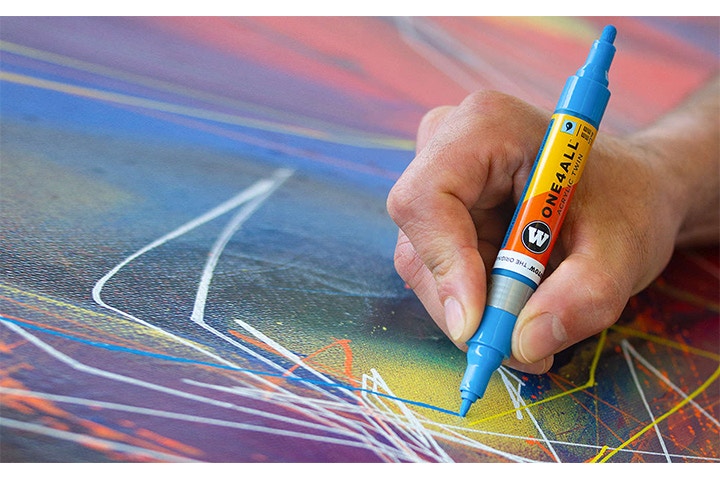 Acrylic Spray Paints
Acrylic Spray paint allows you to apply thin layers of bold colour onto a multitude of surfaces. Some acrylic sprays contain solvent – for these it is advisable to wear a fume mask or spray in well ventilated spaces. Some other sprays are water based and do not emit heady fumes, so are safe to use indoors. The low pressure handling system offered by some of the ranges allows you to control your applications of colour more carefully – it's possible to draw fine lines as well as broad splodges of colour with the right amount of pressure. Exciting to use on their own or alongside other acrylics such as markers and regular paint. You can read more in our blog all about spray paints here.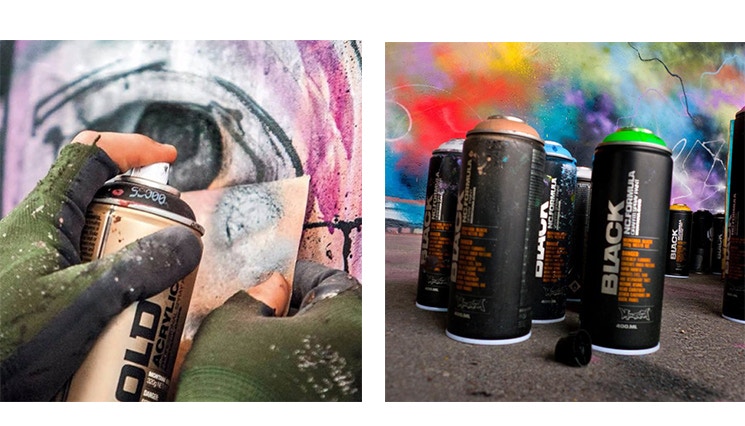 Acrylic Mediums
If you're looking to add to your acrylic styles and finishes, then why not explore the range of acrylic painting mediums available from us? Thanks to acrylic being extremely versatile in its application, you can either speed the drying time up if you need to create a project in a hurry, or you can slow it down to allow you to experiment further with the look and feel of your art piece, such as showing brushstrokes up clearly on the canvas for that traditional feel. We sell from your favourite brands from Liquitex, Winsor & Newton, Golden and many more. Acryllic medium are substance that is added to paint to change one or more of its properties. In acrylic mediums, these mixtures can be incorporated into the pigment to lengthen its drying time, make it thicker, or change the texture. Mediums are bought in addition to paints.
You can watch the vast array of acrylic mediums in action here.