Posted by Cass Art on 5th Mar 2021
Artist Antonia Showering is able to capture memories in the surface of her paintings with a colour palette that parallels with the season changes. There is clearly a great deal of skill in her painting process with her technique is one of morphing recollections of family members, landscapes, and encounters on top of one another, juxtaposing her past experiences with memories that she believes may be true, dealing with both themes of reality and fantasy. We were delighted to chat to Antonia about her painting process, how she's getting on in lockdown and what lies ahead in 2021.
Hi Antonia, Thanks so much for taking the time to speak to us. Firstly, how did you get into art in the first place? What was the draw?
Thank you for taking the time to interview me! I always find this quite a difficult question to answer as I've never not been into art. Whenever I watch old home videos, which I now try to do sparingly as it's frightening how quickly time is passing, I notice there is always footage of me painting. Both my brothers were very close, and I think this created space for me to find other ways of keeping myself occupied. You never feel alone when you're painting, when you're having a good day in the studio everything outside is muted.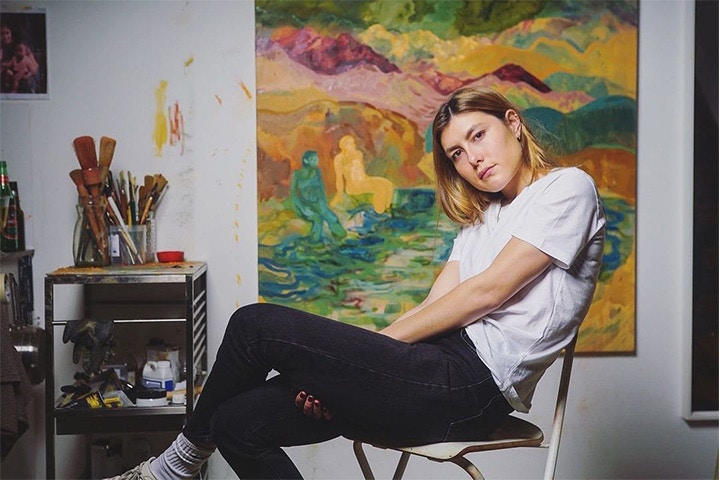 image: Jack Thompson-Roylance, DEADBEAT FILMS, 2021
A lot of your works are based off personal experience or memory. Can you tell me about the relationship between you and the subjects you depict in your work and how you choose them?
The figures inhabiting my work are almost always of people I love or have loved and on one or two occasions will love… but I won't go into that now. My process is quite transient, in that imagery is constantly shifting, a couple embracing could become a mountain range, fingers interlocking could later become the ripples in a lake. The same applies with who the figures are in my paintings, as the work develops the emotion, I am projecting onto the canvas may shift meaning the character I am describing will too. I have definitely noticed a couple of regular occupants appearing on my canvases, my younger brother as an example, and I have many personal reasons why but I think the way I describe him is purposefully not overly specific. This is because, for me, it is important the viewer will be able to see a familiar narrative relating to themselves within the work. Eventually, most of us end up enduring a couple of similar-ish experiences in life, like becoming a parent for the first time or not becoming a parent at all, like falling in love for the first time, holding the hand of someone new. These are all unique but shared experiences, integral to being human, and although my paintings may be drawn from personal experiences, I hope there's enough space in between for others to feel something from them.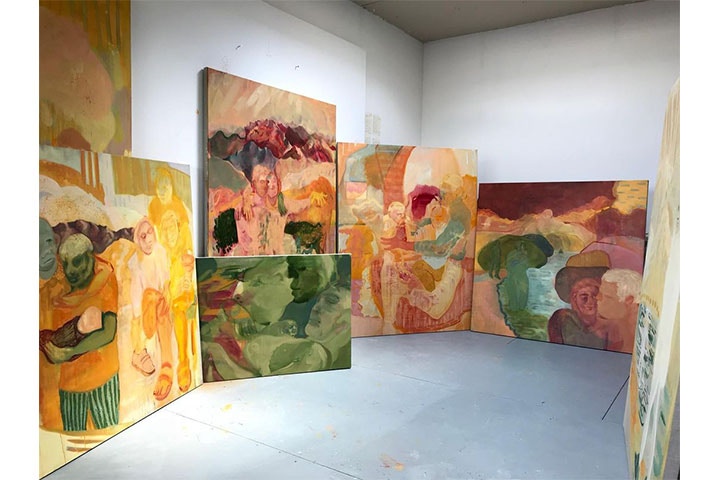 I've heard you describe that you want the canvas to act as a portal into your imagination and memory. This must create a deeply emotional painting process? Can you elaborate on how you're able to achieve this?
My painting process almost always starts with the canvas lying flat on the floor so I can pool colour onto the linen. It's a good way of not having too much control, allowing loose forms to arise. Then when the work has dried, I put the painting on the wall and see if there are any areas I could pull figuration out of. I keep doing this until the emotion I am trying to convey is present and sometimes a picture may seem completely finished but if it does not give me the particular feeling I wanted I will keep working until it is there. I've noticed if there's an urgency to make sense of a particular event, it often doesn't need too many adjustments or layers, but the journey can sometimes be much subtler. So with paint you are exploring something more abstract, sometimes there might not actually be a word that exists to describe what it is you want to say. Interestingly, other languages might have the word you were searching for, for example hiraeth is a Welsh word which loosely translates to English as a deep longing for a place that may no longer exist.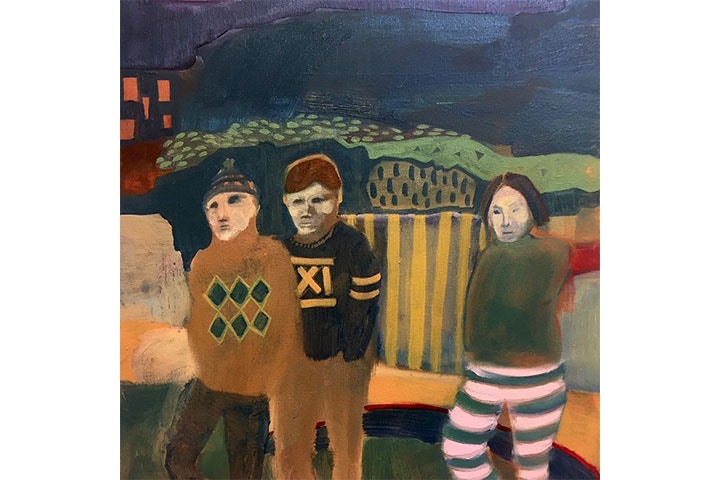 ---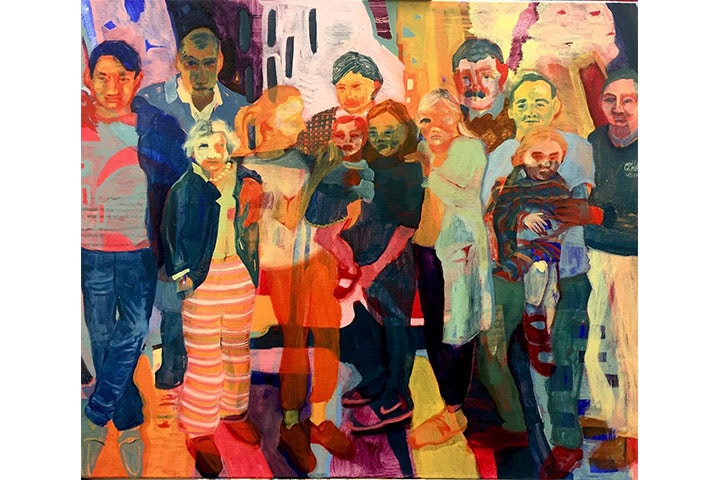 In your colour palette you have such a variety of tonalities varying form warm to cold. How do you approach a piece to decide which tone/colour selection will best capture the scene or memory you're portraying?
Colour is often reflective of my mood, and my mood is deeply affected by the season we are in. So the palette of paintings made in summer can seem warmer with braver colour pairings, but of course this isn't always the case because what life throws at you can really affect your mood too. I have five or six colours I really enjoy seeing together, but when you push out of this comfort zone and see two colours beside each other, ones you never thought would work but do, it ignites something it me. This sounds dramatic but it genuinely does!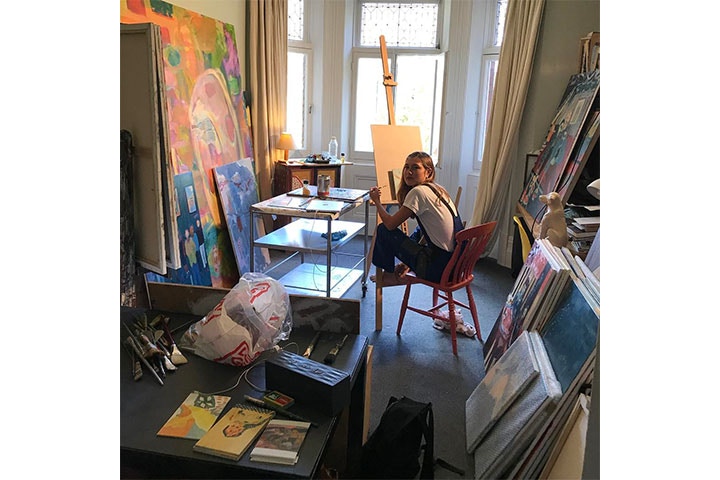 If we were to take a wander into your studio what would we find? What are your go to products, why?
If you wander into the studio quietly you might catch a glimpse of the mouse that chewed through a packet of biscuits! And then you would see lots of brushes varying in size collected over the years and also a diverse array of oil paints. I do enjoy painting with Michael Harding and Old Holland paint because their pigments are so dense and glide across the canvas nicely, but I also use less expensive brands like Winsor and Newton andGeorgian oils to build up the surface of the painting with thick impasto marks. Liquin, dammar varnish, Zest it solvent, turpentine, beeswax are my usual mediums and then fairy liquid to clean my brushes. I always have linen and a couple of stretcher bars stored as it's a good thing to do if you want to work but need to wait for something to dry - and to stretch you need a staple gun, canvas plyers, mallet, hammer, tape measure.
You have a very individual aesthetic; you can recognise your work immediately as an Antonia Showering. Who are your major influences as a painter?
Thank you. A work that really spoke to me when I was young was by Arshile Gorky, it was an early painting of himself as a child standing beside his seated mother. I later learnt he's best known for his abstract expressionist paintings, but this painting really hits you hard. It's so sensitively executed, the love and sadness pumps out of the image even if you see it through a phone screen. It's very powerful. I also find Alice Neel inspiring alongside Edvard Munch, Emil Nolde and Paula Rego. I feel very excited by my contemporaries too, people like Max Prus, Sofia Mitsola, Tom Polo and Emma Fineman.
We've been speaking to quite a few artists over the last 5 months about how lockdown has affected their creative production. Some found it quite productive, some found it a great time to reflect over their entire practice and others said their creativity was diminished by it. How have you found the last few months from a creative perspective?
At the start of the first lockdown I struggled creatively but then found my rhythm and was suddenly more productive than ever before, I did nothing but sleep, eat and paint. More recently I am noticing I'm looking for human contact, my work often explores intimacy and there definitely isn't much of that around town at the moment.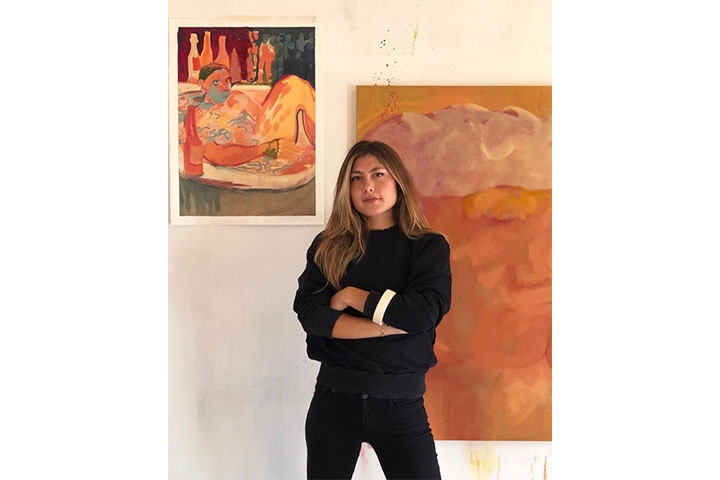 Can you tell us what's next on the cards for you? Have you any upcoming projects you can share with us
I'm excited to be included in Whitechapel Gallery's annual Art Icon auction, with a small canvas in March. I am also in Union Gallery's forthcoming group show opening in a few weeks, Art on a Postcard's charity auction (I donated two small works on paper) with bids starting 25th February and depending on the covid situation I may be doing a residency with Public Gallery and also Casa Balandra at some point.
Do check out Antonia's work on her website and give her a follow on her Instagram too.
FEELING INSPIRED?
---
Shop online for everything you'll need. Don't forget to hashtag #cassart on social media to show us your creations