Posted by Cass Art on 3rd Mar 2020
In this new series of blogs we're looking beyond the artwork and into the Artist Studio! Come inside the artists' studios and uncover the environment artists work in, tips on how to be inspired and find the 'flow state', what the studio means to each artist and how it influences their practice.
Artists' studios are mysterious creative hubs of liberation and creative endeavour. We want to unwrap the mystery and speak to the artists. For the first edition we're delighted to speak with the incredible Ania Hobson.
Ania Hobson is a Suffolk based portrait artist whose work is exhibited internationally. She has a degree in fine art and also studied at the Princes Drawing School and Florence Academy of Art. In 2018 she won the BP Young Portrait Artist of the Year, and is going from strength to strength with her international recognition. Read on to find out more about her practice!
Ania in her studio
Hi Ania, thanks so much for taking some out of your busy schedule to chat to us. Firstly, what inspired you to become an artist?
What inspired me to become an artist was from a young age, people seemed to like my work and asked me to do paintings for them quite early on - which lead me onto thinking it was something I could take further. Being a painter was always looked at as something that was never going to be easy or financially stable. I found these challenges rewarding, it's been a massive journey with lots of ups and downs but it's all part of your career and developing in your work.
When we look at your work one thing that really stands is that it has such a unique aesthetic to it, each piece is immediately identifiable as an Ania Hobson. You have an ability to create a style that has traditional and contemporary elements in it. Could you talk us through this and how you developed your distinctive style?
My style seems to have developed naturally through research and numerous gallery visits over the years. I never wanted to be seen as a traditional painter but if you're going to work with portraits and figurative work you will inevitably find yourself looking at the old masters, for instance I was massively inspired by Paula Rego, Alice Neel, Toulouse Lautrec and Otto Dix. My style has developed over time and the changes have never been a forced process but I think I found my style after a period of 'painters block'. I stepped back and took a month off from painting, and instead I watched artist documentaries and visited exhibitions to give myself some time to readjust and let my head breathe and once I was back to painting I felt that I had found my style that sat with my hand very comfortably.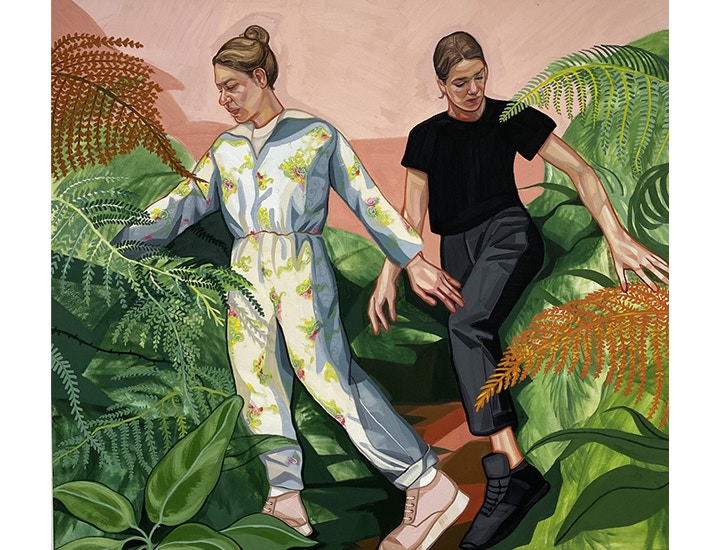 Another largely distinctive feature in your work is the specific manner in how you portray emotion. No smiles, frowns, your paintings are relatively devoid of emotion. Could you talk to us about this and your relationship with the subjects you use?
Painting a smile is really not leaving much to the imagination, it's one emotion that we can all read. Not smiling can mean many things, which always leads people onto say things like 'what are you thinking?' it doesn't necessarily mean you're sad or angry, It can be anything, it's more internal and secretive and it gives the viewers a take on your painting and to how they would like to read into It. Perhaps it also makes more of a story?
It's a nice way of involving the viewers in your work and letting them be part of it. I always paint the people closest to me, being comfortable with your muses is really important and it creates more fluidity in your work as there's less pressure.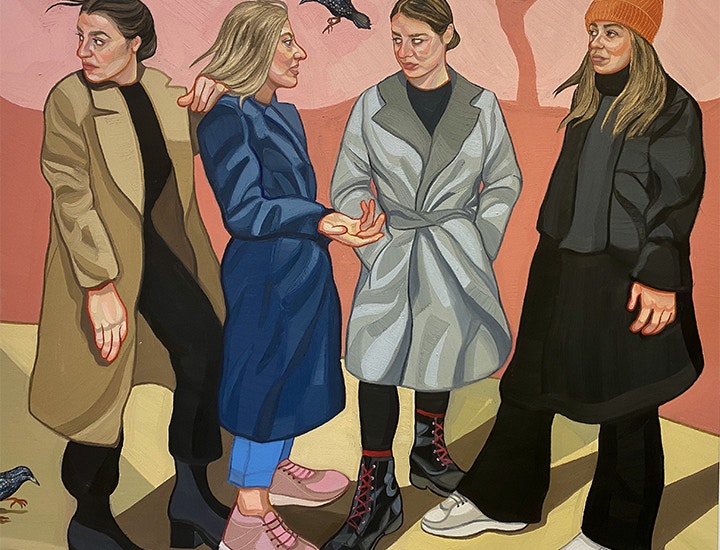 What materials do you use and why are they important to your practice?
I stretch my own canvases and pre-make all my skin tones in tubes. I work quite fast and I find it very time consuming to sit and mix all the colours before I start to work on the canvas, so I prefer to have them already made. When painting I like to use hog bristled brushes as I work with thick paint and they really lend themselves to keeping the texture and brush marks. I am terrible at keeping my brushes clean but I actually prefer using them this way as over time they become a little harder and I find it adds to the mark making.
How did you find your experiences at the Princes Drawing School and Florence Academy of Art?
My experience was very good at both the schools. I did the short courses as the technique teaching is more intensive. It's tiring but by the end of it I knew what colours to use for creating skin tones and experimenting with the cool and warm tones of the face. Being in Florence was the best experience as you're thrown into a beautiful city with not all the renaissance paintings and beautiful architecture. I still use these techniques today and am really grateful that I did these great courses.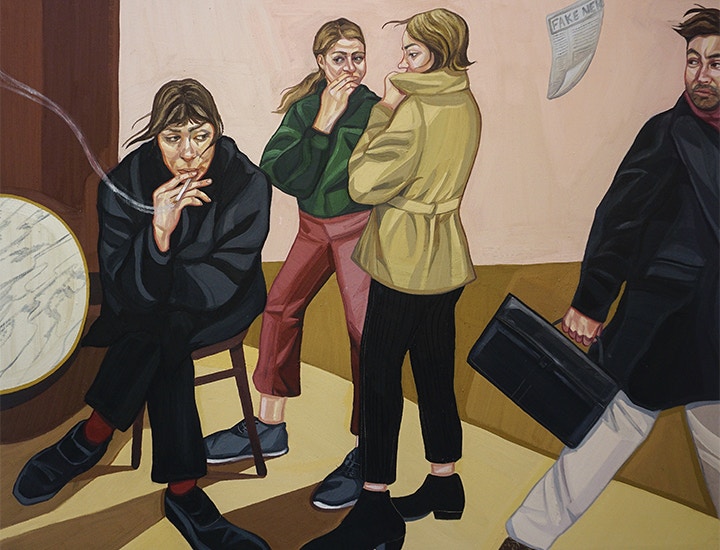 Your studio in Suffolk looks like a wonderful creative hub. Can you tell us a about it and why it's important to you?
I really enjoy my studio, I use to work from home but I think it's important to have a space that is your own and away from any distractions. It has a very high ceiling and a chequered tiled floor with lots of light coming through the roof and windows. You need to be able to look forward to going to work and that definitely puts me in the right mind set to paint.
Talk to us a little about your studio habits at all, how do you find a state which enables you to produce your work?
I like to feel relaxed when I paint, feeling under pressure or tense can really affect my work and even start to show in the painting. Sometimes I will listen to music or even podcasts. Once I'm in the studio I generally feel relaxed because it's my own space with all my ideas floating around and everything I have created is surrounding me. It's your own world in that one space and one that is in your own control.
In today's day and age where we're inundated with distractions it's maybe harder than ever to switch off and focus solely on your creative production. Would you have any advice for someone who is struggling to find that flow state?
It's hard to keep yourself away from distractions but I find having some ideas that you really want to get out there is enough for me, I need to feel excited about what I'm producing and naturally that will keep me focused. My painting is my job, I am full time so I have to train myself and create deadlines for myself. Taking a day off is always important, it allows me to reflect on my work and it makes me look forward to going back to the studio.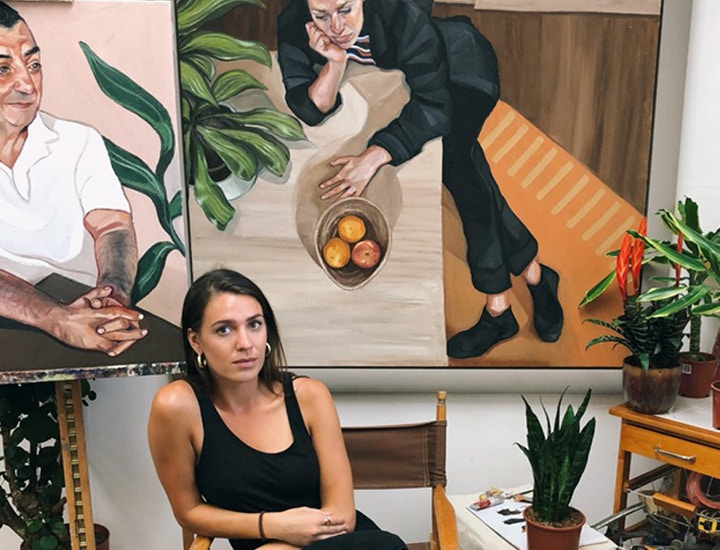 Anyone who follows your work will know how incredibly productive and busy you are! So what's the rest of 2020 looking like for you?
I am currently working towards my first London solo show which will be happening on the 14th May with the Catto Gallery in Hampstead Heath.
Thank you for taking the time to give us an insight into your practice and showing us your amazing studio. Very best of luck with your upcoming show in May.
---
Feeling Inspired?
You can see more of Ania's work on her website