Posted by Cass Art on 1st Mar 2021
Emma Leone Palmer is a prolific portrait painter who explores the complexity of the human mind in her hypnotic original oil paintings. After graduating with a fine art degree in 2005, Emma moved to Umbria in Italy, where her love of figurative painting blossomed at a studio once used by the High Renaissance painter Raphael. She went on to hold a solo exhibition of 38 portraits at the Watts Gallery and appear as a contestant on Sky Arts Portrait Artist of the Year, where she painted the film star Richard E. Grant. Her work is also owned by the British Olympic swimmer Sharron Davies.
---
It is wonderful to see how artists are pulling together and contributing to bringing a little joy to the NHS. I for one am painting for the #portraitsfornhsheros. If you are a portrait artist get on this wonderful initiative by fellow Sky Portrait Artist Of The Year artist Tom Croft asap.
---
Hi Emma, thanks so much for taking some time to chat to us. Firstly, could you tell us a bit about yourself and your journey as an artist?
Hey, it's a pleasure to talk with you guys at Cass Art. English artist and paint addict: I suppose you could say I was born with it on the end of my fingers. Hard to condense a journey with so many tangents, especially as there has only been a year and a half in my life, so far, when painting has not featured in some way or another. So, as brief as possible and highly censored, here goes:
It took a many roundabout routes for me to be authentic to my creative voice. After the well-trodden route – graduating with a Fine Art Degree – I set up a studio, with funding, in an Old Fire Station. I was doing different abstract paintings, tutoring, community projects, exhibiting, selling a lot of to interior designers, I even won a few awards (amongst others, 2 being what was to become the NOA) and, quite honestly, having more parties at my studio than really diving in deep. More often than not, I would have exhibitions and then travel with the proceeds. Truth being, I was creating what I thought I should make (it was all very 'naughties London') rather than what was true to my soul.
The big shift happened after my father, Michael Palmer, died. Following in impulse, with a bag of paint I moved to Umbria, Italy. A dark, formative, messy, enlivening episode, with a lot of nudity – I will leave this chapter for my book ;-) ! The shortened version was I was discovered by/given a studio by Italian artist and Opera director Lorenzo Fonda and amongst Montepulciano, and turpentine fumes, echos of Caravaggio and wafts of Verdi, my love of figurative painting was reignited big time.
Returning to the UK, I decided to be very off-trend and paint whatever I wanted 'traditionally'. My first exhibition was the complete opposite to my previous work (I'm sure it's hiding in the dark corners of the internet somewhere): 'The Faces of Compton' thirty something oil portraits – a 'Facebook of Oils' at the Watts Gallery and a big final snip to conforming to 'the scene'. It was a success; I even painted a few well-known people, but I quite quickly realised portrait painting alone was not going to sustain my curiosity and allow me to indulge in the quirks of my mind. After a pivotal self-portrait session in my studio, the 'Paint Play' series was born... and it grew LEGS.
With the prop of paint smearing, the rebellion, play and sensuality gathered force and I moved up to a small studio in Wimbledon – lots of hard work, lots of fun – entering a whirlwind of exhibitions including the Wallace collection, Ruth Borchard self-portrait prize, winning the London Contemporary Art Prize, getting more commissions than I could keep up with, being on Sky Portrait Artist of The Year, painting the film star Richard E. Grant, being featured on the BBC and ITN… with my work collected around the world, celebrity buyers, early Instagram success… yadda yadda.
So, we walk to the edge again, becoming burnt out with commissions and disillusioned with how I no longer felt ownership of my 'Paint Play' series. A huge (what was to be one of many) panic attack got me reassessing yet again where the hell I was going. Not feeling particularly brave, but doing it anyway, I went a year 'off grid', hunkered down in my new studio (an old industrial unit in Addlestone), and frenetically created a new body of large scale oil paintings 'Afterglow'. This became my largest solo show, launching Castle Fine Art's flagship gallery in Mayfair last November.
We are left at the point where I am about to be publishing a new range of prints with Washington Green/Castle Fine Art's galleries alongside revealing the new original oil paintings I have been making since December '19. NB. Whilst galleries are on pause you can still peruse art through Castle online.
---
"New rules are being written. We are artists and these times are what we are made for… and like a volcano we begin" - Emma Leone Palmer
---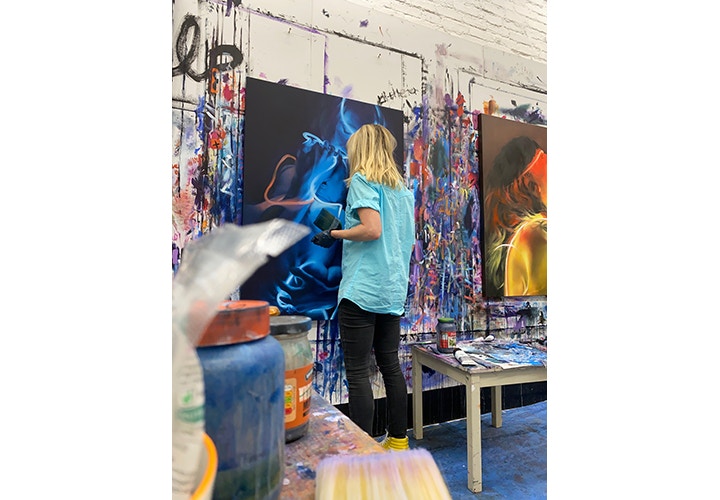 You take such a unique approach to portraiture; you seem to paint expressions almost as opposed to people. Could you talk to us about the process of production and how you achieve your aesthetic?
How often do you look at a picture of yourself and think... that's not 'me' enough? Have you ever felt that you are more accumulative emotions, memories, desires… you contain a magic even, rather than just how you are perceived on the physical surface. We are more than 'face value'. The interest lies in the in-betweens – surface vs. underneath. This is where the good stuff is, right? In an age of vacuous, selfie, click-bait filtered within an inch of who you really are we are losing sense of 'self'? of connection? of feeling? Our inner landscape is vast – it's where we organise and understand our experiences. Expressions give us glimpses into this rich territory. This realm is where the artists come alive.
From the moment I started sketching faces in my youth, it was hard to just do a static 'sat' portrait – somehow my doodles were filled with the animated or gestures of the people around me. Life models became like a 'bowl of fruit on a neck'. No disrespect but it's stuffy and done. Looking for more than likeness, I started looking for the twinkle, the otherness. The evolution from 'bust' to 'expression' came on a grim New Year's Day, surprisingly energised and working whilst the rest slept. A chance grabbing and smearing of paint on my face, during an investigative self-portrait, helped give presence to my feelings. The a-ha moment to use paint as a 'prop' to expose and trigger expression and as a metaphor for so much more: this was the beginning of 'Paint Play'. Pouring paint on yourself is wonderfully weird, sensual, vulnerable. It brings you back to yourself, both mindful and liberating. Playing in the dark with light and the evolution to 'the 'Afterglow' series just became the natural, farther fall down the rabbit hole – introspective and transcendent expression in our connection to energy – more fully experiencing ourselves.
Using photography as a tool to capture and document these voyeuristic sessions of discovery (a method I started using in Italy), I set up a safe space and time in my studio. Through movement, props, sensation and light, the self has the freedom to play, explore, express or meditate. The resulting painting captures glimpses of insights and moments. The intrinsic journey through sitting with these images reveals a connection to an emotion to me. Spending time lovingly making an oil painting and all the processes and battles is learning – an esoteric knowing through painting.
After 'The Portrait', if 'Paint Play' was a trigger to expression, 'Afterglow' transcends the expression into a human futuristic otherness and our relationship to energy, as we entangle and navigate our internal negative spaces.
What materials do you use and why are they important to your practice?
Self-proclaimed paint addict here… I believe you can paint with pretty much any paint if you know the handling properties of that medium/brand. But for me it's Michael Harding Oil Paint all the way. Lush Lush Lush. In fact, I binge bought a whole load just before the lockdown to make myself feel more secure. Phew. I do this all day – this is my life and obsession – so I use the best. I want the pleasure rich pigments bring, the consistency of that silky quality and the reliability and enjoyment of knowing that each time I use a colour, the individual characteristics and intricacies of that particular colour will feel like chatting with an old friend. I aspire to paint masterpieces that inspire souls and stand the test of time, so now I will not compromise. I use Michael Harding medium and/or make my own linseed oil for those deep and juicy glazes.
I go through waves of being paranoid about studio paint hygiene, having spun myself out regularly in the past with close spaces and toxic pigments. Now I indulge in a studio with a high ceiling, nitrile gloves and when I'm playing with new mixes (i.e.. turps based), I'm constantly ventilating and try to keep lids on the jars, conscientiously disposing of oil-saturated rags (soaked then into a lidded metal bin, self-combustion... not in my studio)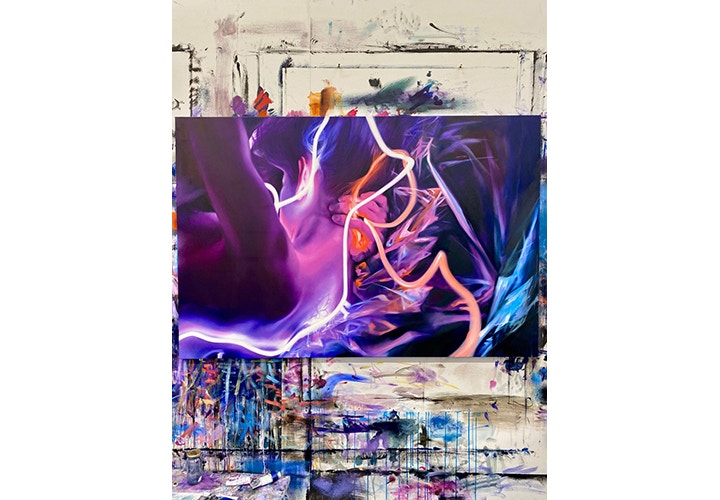 Can you talk to us about this period of self-isolation? What are you doing with your time, whether it be making or reflecting?
Self-isolation – an old friend! Clichés aside, I spend most of my time alone in my studio painting anyway – I thrive on it, mincing about in my own fantasy world. So, on the surface you would think nothing would change. I'm going to be completely honest: anything else would be hollow. The late days of Feb rolled on, with them an insistent voice inside was screaming 'a storm is brewing'. As a sensitive, the paintings took on a more dystopian edge, of waiting and holding on. When the lockdown happened, I thought 'well, my studio is only 1.5 miles from home. I can happily go for weeks without seeing anyone anyway'. But my 'painting through it' turned into trouble focusing... then complete and utter freeze. I couldn't paint! Nada! I sat and stared at the canvas feeling disorientated, weird, lost. Those first few weeks, art felt trivial to me in comparison, as this horrendous virus ricochets around. All deadlines were postponed anyway. My freeze was not 'block' – more a sense of being magnetised, heightened, but unsure how to channel it. A rough, raw, amygdala response and sadness and love and a see saw back again. So yes, I spent some reflecting, realigning, it took a while to get back to my own energy. I reorganised my studio three times and did a lot of staring and sitting still. Now, with a renewed sense of purpose and clarity I've been back on the brush for the last few weeks. I have commissions to finish and soooo many new images and ideas buzzing around.
I'd like to add- It is wonderful to see how artists are pulling together and contributing to bringing a little joy to the NHS. I for one am painting for the #portraitsfornhsheros. If you are a portrait artist get on this wonderful initiative by fellow Sky Portrait Artist Of The Year artist Tom Croft asap.
Why is this time important to you and your practice?
Besides a Carpe Diem, archetypal call to action, the last few years my focus has been exploring our personal relationship to energy and the Otherland we inhabit. It uses the implications/metaphors that light and electricity have for how we perceive and emit thought, organise our internal experience and receive the confusion of data swirling around us (with undercurrents of sensuality, touch and connectivity to spirit). For me, this present time takes my practice even deeper through the looking glass and not just for a slightly otherworldly, introspective look at how we might look back upon ourselves in this present stage of evolution. Also, there's nothing like a bit of 'Flow State' to chase the demons away.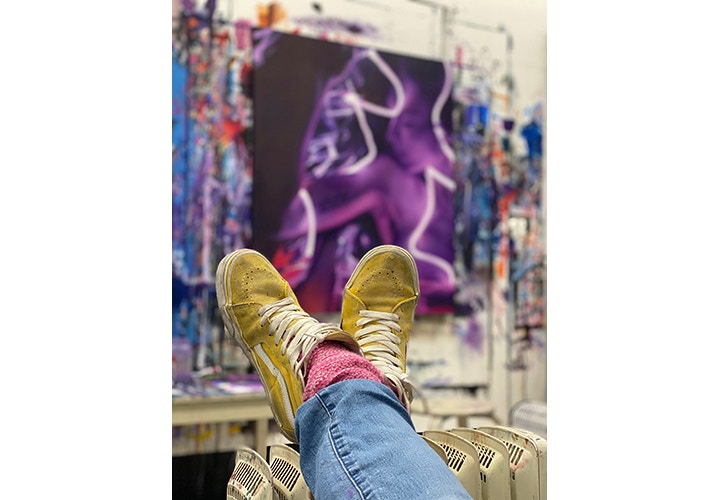 In the current climate I think it's always important to reflect on topics as broad as this. But why is art important to you?
We watch the news wishing we had the medical/scientific skills to ease the pain. When all is stripped back, we see what matters and what is important. Quite simply, for me, it's a reaffirmation that I am exactly where I am meant to be. I am no doctor nor key worker, but I can navigate this pivotal time with a brush in my hand: putting it all 'down' on the canvas. For me, Art is vitality and life force. We all go to Art in some way for peace, reflection, and escape. Art in times like these shows how human spirit rises up. We need that. It's another way of defying this invisible foe.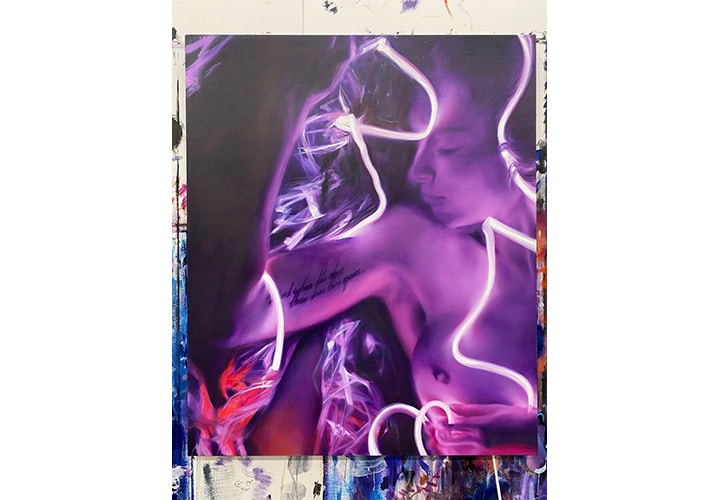 it's been such a strange 12 months, do you have any advice for anyone struggling with finding their creative flow?
Stop and just sit with it: listen to what is going on inside. You don't have to be Pollyanna about this – COVID-19 is scary. All our patterns are disoriented, and our old norms are increasingly fuzzy. Let yourself grieve and be complicated. Drink some rum, bake some bread if you really need to, or do some yoga app, if that floats your boat.
Then USE all this messed-up energy and start. Purge it. Let go. Jump off the creative F**k-it Board – what have you got to lose? New rules are being written. We are artists and these times are what we are made for…
…and like a volcano we begin
-ELP
Feeling inspired?
---
See more of Emma's work here.
"Every child is an artist. The problem is how to remain an artist once he grows up."
Pablo Picasso