Posted by Cass Art on 9th Aug 2019
Founded by Kit Hammonds and Angela Robinson in 1997, Xhibit showcases the best emerging creatives from UAL (University of the Arts London). Xhibit is open to all current students and is selected by an expert panel of creative industry professionals. There are no themes or constraints, and students studying at any level in any discipline can enter. The resulting exhibition reflects the diverse range of creativity at UAL and offers those involved a unique chance for collaboration, exhibition and development - championing their work to a wider audience.
Bunmi Agusto won the Cass Art Award for £500 of art supplies for her painting at Xhibit. We interviewed Bunmi to find out more about her, how her experience of growing up in Nigeria has influenced her work, and her use of mixed media...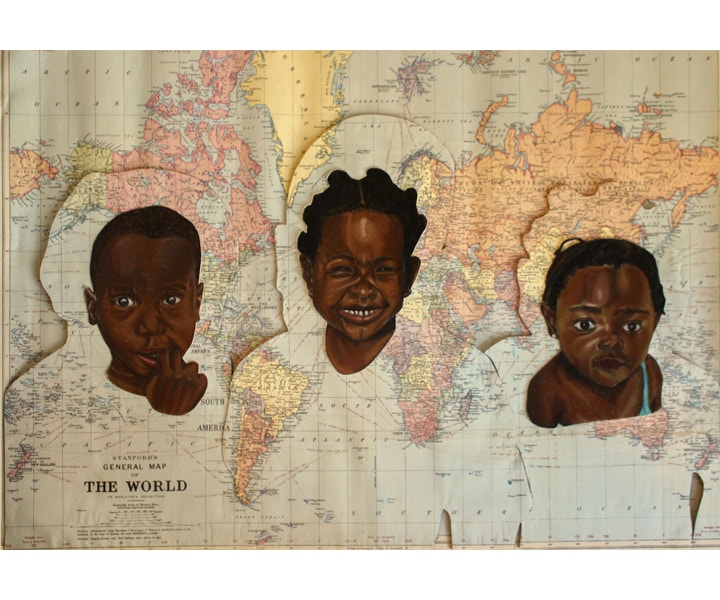 Introspection Illusion 2018 Chalk pastel on card & paper on cardboard
Congratulations on winning the Cass Art Bursary Award at Xhibit! Tell us a bit about yourself?
Thank you! Well, my name is Bunmi Agusto. I am a third year Fine Art student at Central Saint Martins. I was born and raised in Nigeria and still live there, so I bounce back and forth between Lagos and London. My practice is informed by the psychological effects of having to live in and between both cities and its nuances. As a result, my work often features a figurative chalked cutout clearly separate yet tethered to a contrasting background.
What do you have planned for the bursary?
I am now going into my final year at Central Saint Martins so I am on the road to the Degree Show. Therefore, I want to use the next few months to do my last round of experimenting before then so that's where the bursary is going to come in. I am planning to increase the scale of my work and possible be more crafty in my use of mixed media. Layering is an essential part of my practice so it will be fun to find new ways to approach it.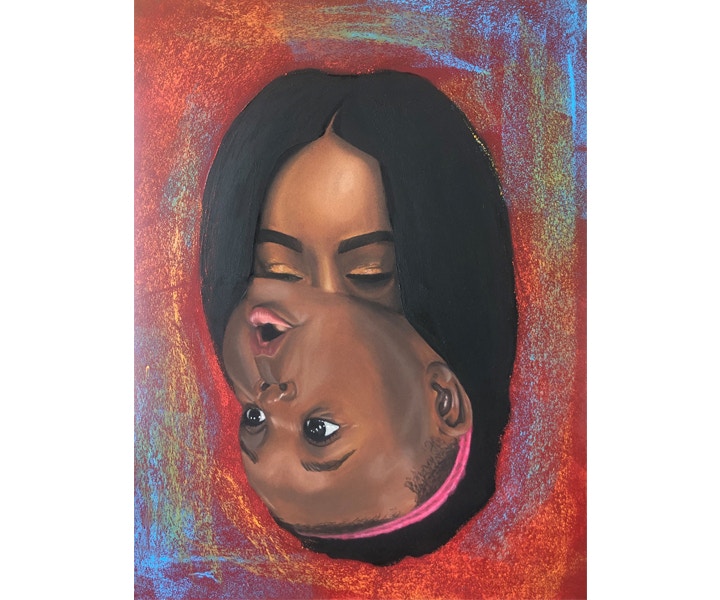 Asymmetry 2019 Chalk pastel, acrylic & oil pastel on pastel
What has your experience been of studying at Central Saint Martins?
It has been very contemporary. I think that's the perfect word. Before Central Saint Martins, I was in school in Nigeria then I did my Sixth Form in Kent. In Nigeria, art education can be very traditional and restricting in its own way so my experience in Kent bridged the gap between that and CSM. So far, the last two years have been the most open way I have studied art in terms of concepts and lack of limitations. What I like most here is that people are making art from loads of points of entry so there is never a dull moment. Studying at CSM is just constantly mentally stimulating.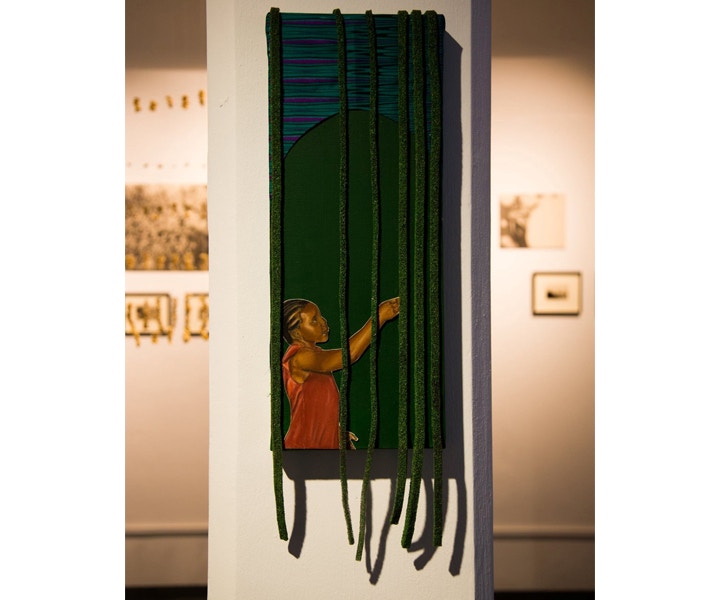 Introspection Within The Mental Landscape 2018 Chalk pastel on card, Dutch wax print, synthetic grass & acrylic on canvas (Image courtesy of Amber Muir)
We just loved your work! Particularly Introspection Within The Mental Landscape – could you speak a bit about your influences in your work and also the political references in many of your pieces?
Thank you! Like most of my works, this piece was actually made very instinctively within a matter of hours; I just let my subconsciousness to the talking and as a result, there are personal and political themes embedded in my work. When I reflect on each piece afterwards, they tend to be about existing in a cultural liminal space and the nature of interactions from a one-on-one scale to a cross-cultural one. For Introspection Within The Mental Landscape, it particularly looked at the self-exploration process I went through when I first moved to England. I felt the need to find a sturdier sense of self since I now lived in an even more vastly multi-cultural country, so I ended up going through family archives and my memories to further understand I thought I was in different contexts.
The last body of work I made whilst studying in Nigeria mostly consisted of two-dimensional paintings and drawings challenging the Nigerian quotidian culture and reflecting on how our traditions were stifling for both personal and national development. So at the end of the day, culture is something I both cling to and criticise often.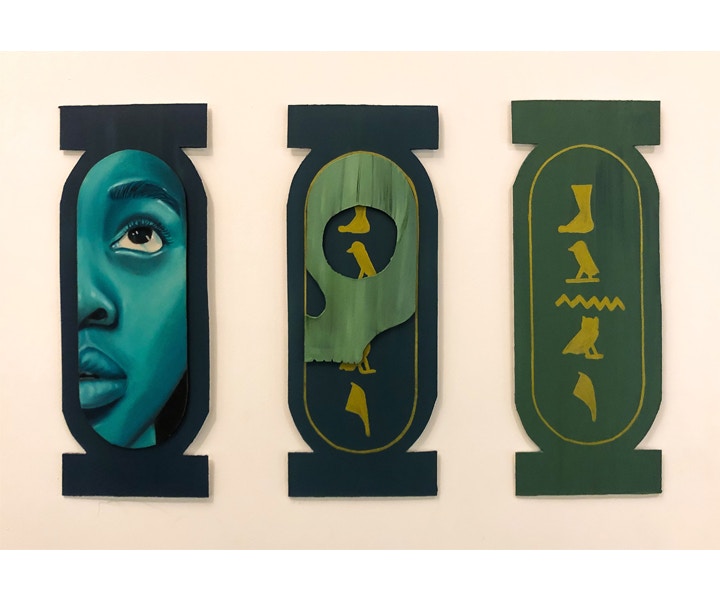 Only A Name Left 2019 Chalk pastel on card, acrylic & ink on mountboard
Would you say that you take a lot of your inspiration from your upbringing in Lagos, Nigeria?
Definitely. My sense of colour down to the facial expressions I depict all stem from Lagos. I still live there, I go back during the holidays so it is very interesting to constantly have to culturally recalibrate when I travel between Lagos and London. Also, most of my painting references are from photographs I have taken whilst in Lagos so it inherently plays a large role in my practice. It is a city with a great art scene within and outside the confines of the industry. When you constantly leave and come back, you become very observant of the quotidian culture and how it differs from others.
The use of mixed media in your paintings are fascinating. Whether through the use of maps and collage in Introspection Illusion, fabric in Role Models or braiding in Don't Touch My Hair. How do you approach selecting other materials and why do you think it is important to combine them in this way?
I mostly do what comes naturally to me. I am in the early stages of research into evocative objects and how certain items can essentially act as anchors for memories and ideas. An example is the fabric used in Role Models; before my art brain was trained to think of artists like Yinka Shonibare and Njideka Akunyili Crosby, these were the fabrics I was used to seeing my family members wear and occasionally to carry babies on their backs. Therefore, I have a very maternal attachment to ankara fabrics so it was effective for me when making a piece about the female role models in my life.
Sometimes, the material is a metaphor like in If A Politician's Mouth Exploded in which I had bubblewrap pouring out of my mouth in a self-portrait. There, the bubblewrap symbolised how careful I had become with my words over the years in my attempts to not hurt any feelings and to be politically correct.
Emotional Decolonisation 2015 Chalk pastel on card
What advice do you have for future art students and aspiring artists?
Follow your instincts. There are some techniques and risks I used to make when I was about 15 years old that I was told to stop that I now use in my practice e.g. the chalk pastel cutouts.
It's also important not to force development. I think that if you keep doing your research and opening yourself up to various types of art, the growth will happen organically. And that happens differently on your approach to your practice.
The most practical piece of advice I have is to always document. Have your sketchbooks, journals and an inventory of everything you have made. It is beneficial in helping you track the development of your ideas and for the business of your practice.
Tell Me Your Biography 2018 Chalk pastel on card & ink on paper
And finally, what's next on the horizon?
Besides graduating in June, I would like to participate in some exhibitions in London and Lagos, hopefully other cities too leading up to a solo debut exhibition. One thing I am particularly interested in doing is a residency in Lagos; I think it would be interesting to have to create whilst in a sort of 'homecoming' headspace. Afterwards, I'd like to do some more residences around the world and then pursue a Master's degree in the US. I have grown to love change and having to constantly relearn quotidian culture.
FEELING INSPIRED?
---
Follow us on Instagram to see our other highlights and don't forget to hashtag #cassart when you post on social media to show us your creations and for a chance to be featured on our feed!