Posted by Cass Art on 6th Mar 2020
Portraying Pregnancy (24 January–26 April 2020), at The Foundling museum in London - curated by Karen Hearn this major exhibition brings together for the first time rare examples of portraiture from the past 500 years. We caught up with Chantal Joffe RA, whose self-portrait is in the exhibition to discuss pregnancy, motherhood and being an artist. Read on to find out more about her relationship with the subject, and find out more about the materials she uses.
Why is it that you think artists today are still relatively reluctant to explore pregnancy in their work, or do you think that the work is being made it just doesn't have the same platform and we're just not seeing it?
I think there are quite a lot of artists exploring pregnancy but I think it is also true that they are not being seen. Rose Gibbs made a lot of very beautiful sculptures around the subject.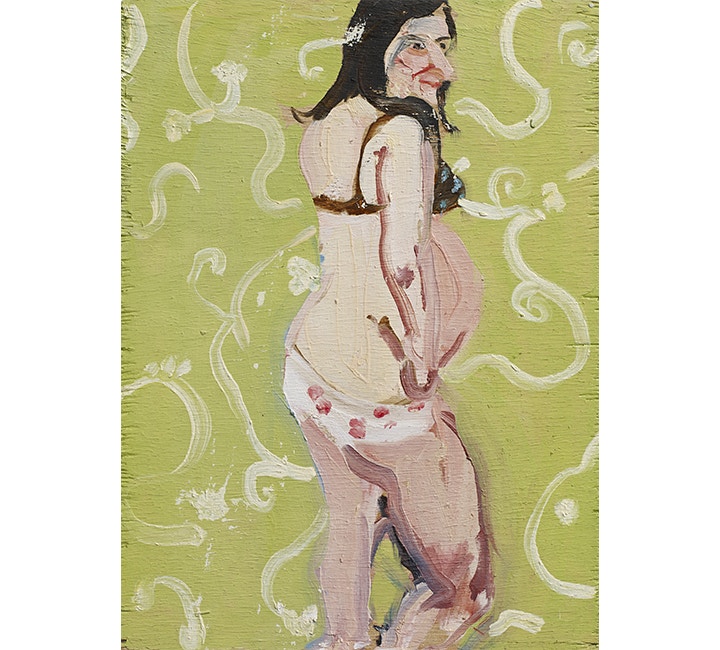 Chantal Joffe, Self-Portrait Pregnant II, 2004 Oil on board 29.2 x 21.8 cm
I love your observation about the dichotomy between the extremes of pregnancy and motherhood. What is it about the subject of pregnancy that particularly excites you visually as an artist?
I think for me it was most exciting to paint when I was pregnant - I still find it fascinating to paint other people pregnant but it had the most edge to it when I was pregnant myself.
There is something so extreme about what pregnancy does to the body; the lavish curves, the crazy depth of the bump as it arcs out from the body. It's like a journey someone is going on where you can't follow them. I remember a friend who was pregnant at the same time as me who had her son a week before me. I was so pierced with jealousy - they had both made it safely to the other side, they had both survived the birth, and I still had to get there...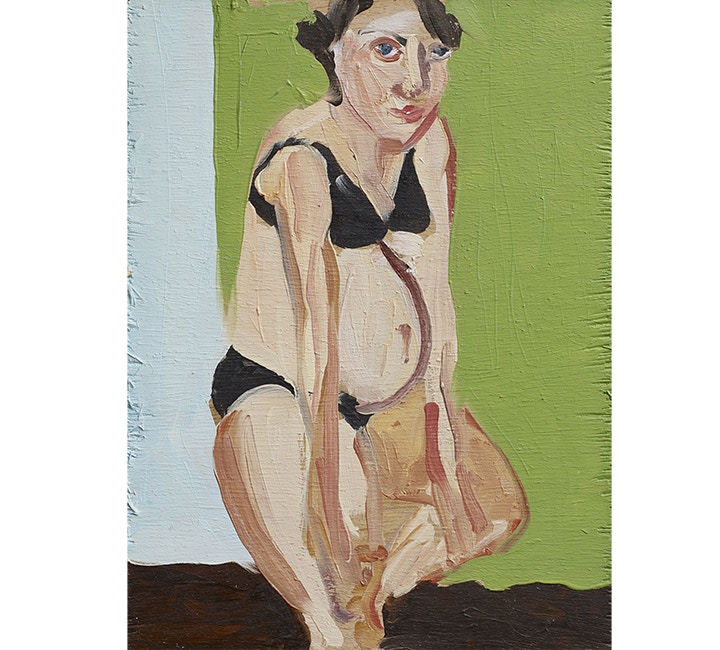 Chantal Joffe, Ishbel Pregnant, 2004 Oil on board 29.2 x 21.8 cm
Have you been exploring any new art materials recently?
I've been using oil sticks lately for making drawings - they have a roughness I like a lot. I can't make anything pretty or refined with them - I like that
What are your essential materials for painting?
I like Michael Harding oils, I like to buy a random assortment of colours like Amethyst or Crimson and Emerald. My favourite brushes are Pro Arte and I wash my brushes probably four times a day. My top tip for brush washing is Imperial Leather soap because it's hard. I use Cold Pressed Linseed Oil to help make my paints fluid and it helps to keep the colour clean. For me everything is about keeping the colour clean, as un-muddied as possible. If you muddy it you've had it from the outset. I don't use turps anymore because I don't like the smell.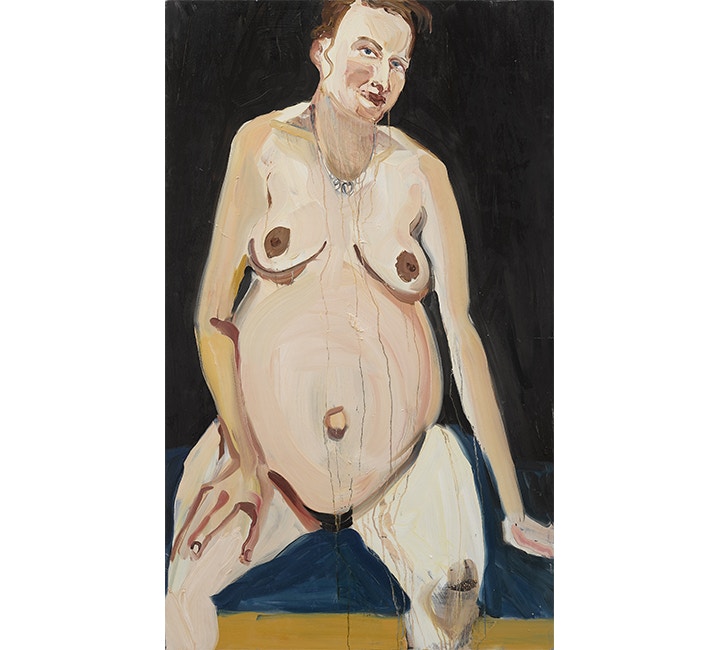 Chantal Joffe, Katherine (Eight Months), 2011 Oil on board 152.5 x 91.5 cm
And what else are you working on at the moment?
Currently, I am working on a show of paintings of my mother for IMMA which I will show alongside Freud's paintings of his mother Lucie this September (11 Sept 2020–Feb 2021).
We always champion creativity in all forms and from anyone, but at its International Women's Day this week do you have any female artists, writers or creatives you think our readers should be looking to for inspiration?
There is an extraordinary show of Charlotte Solomon at the Jewish Museum at the moment in London and Portraying Pregnancy: From Holbein to Social Media, at The Foundling Museum (until 26 Apr 2020) - it is strange that an exhibition about pregnancy should feel so radical. I am also very interested in Gabrielle Munter.
All images:
© Chantal Joffe Courtesy the artist and Victoria Miro