Posted by Cass Art on 29th Sep 2020
Chris Valentine is an artist & illustrator from Johannesburg, South Africa. His interest in illustration began at a young age with obsessive sketches of comic book characters and the making of action figures from paper, cardboard and whatever else he could find. As things currently stand, Chris has had the opportunity to work with many of his dream clients, including Nike, Apple and Coca-Cola whilst nurturing a love for oil painting and street art in his years as an illustrator. We spoke to Chris about the early stages of his art career, his unique style and his role as a Daler-Rowney Georgian Oil Ambassador.
Hi Chris, thanks so much for taking the time to speak to us. I read that your interest in illustration started at a young age when you would obsessively draw sketches of Asterix & Obelix and other comic book characters, what was it about this style of illustration that you were attracted to?
My absolute pleasure, thank you for taking time to interview me and showcase my work, it's always appreciated. I actually had to think hard about this one, and it's a different response to what I thought it might be. I think at the time it was less about the art style and more about the history. I was absolutely fascinated by the Romans and I was obsessed with armour and helmets and swords. I used to make my own Roman helmets out of paper and card. Perhaps I missed my calling as a concept artist! I think the art aesthetic came in more with superhero comic books, where the modern digital painted work was just exquisite in its detailing and its realism. I've always loved and admired representational art of any form.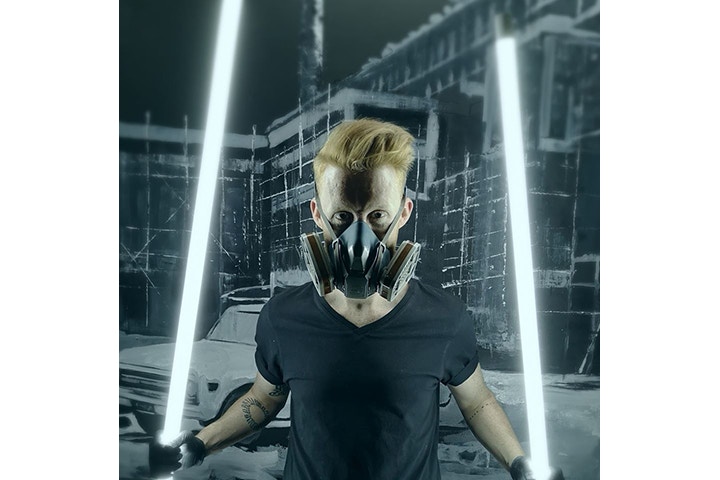 How do you go about choosing the subjects and content you depict in your paintings?
The first go-to for me is always great portraiture. The art I love the most from the past and present was/is portrait art and so this is always my first focus with paintings. Immediately thereafter would be my pop culture and movie interests at the time, as well as what's happening around me. For example, my solo show 'BLISS' was massively inspired by the TV show Mr Robot, with its wintery New York grading, as well as the whole hacker subculture, masks and their significance & protests.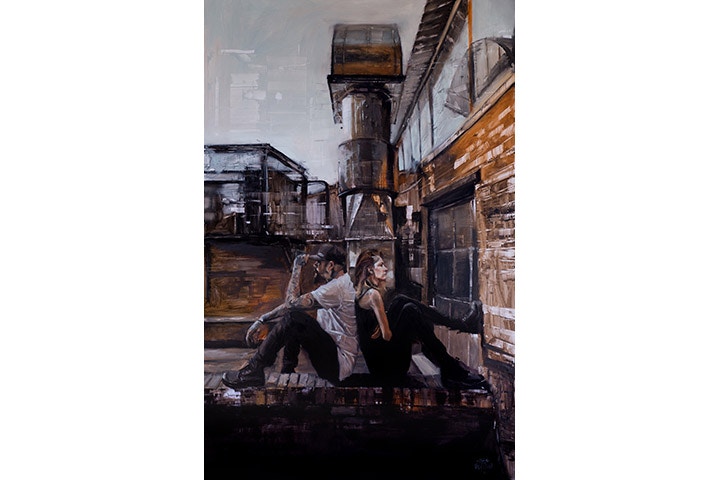 Your work has a wonderful juxtaposition of mixing the more traditional figurative elements with abstraction. How do you find this balance between the two?
Thank you! That's definitely the goal for me. I think the balance is something that's only found through experimenting, and sometimes knowing when to stop and when to leave a brush stroke alone. I think this just comes with practise and I've still got so much to learn. A lot of it has also come from studying contemporary painters who absolutely nail this juxtaposition, and thereby forming a more solid idea of what combinations work and when something is overdone or too subtle.
I've heard you say your 2 favourite things in life are art and music. Does one influence the other at all or do these 2 forms live separate lives in your creative output?
I definitely think they continually influence each other, whether I'm listening to music whilst painting and getting inspired, or listening to music and taking in the album artwork and getting ideas for new visuals. I've been playing guitar for about 14 years now and the artwork of the metal bands I love has always been a huge influence on me. I also love the notion of the concept album, something which hasn't quite maintained the heights it reached in the 70s. The idea of a concept album really resembles what I would love to do in my solo show – to take a theme and carry it through several pieces of work to form a cohesive body of work that tells a narrative of sorts, whilst looking awesome! One shouldn't judge a book by its cover, but I almost always do, as with albums.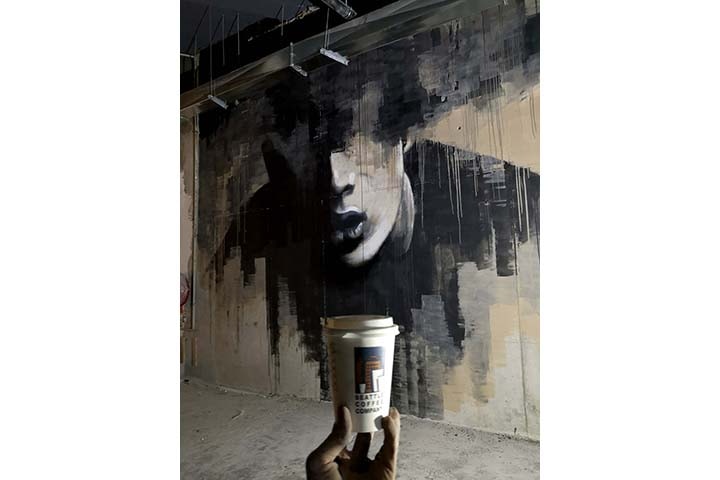 If we were to take a wander into your studio what materials would you find and why are these important to your practice?
I'm absolutely blessed to be an ambassador for Daler-Rowney (alongside my brother-in-art Stefan Smit), specifically their Georgian Oil range, so there is an abundance of beautiful high quality oil paint all over my studio. I've had many years (when I was younger) of utilising a smaller colour palette to save costs on oil paints, so it's a dream come true to have every colour I could imagine in Georgian Oils. I've also got quite a lot of Montana spray paints which I use for my murals, a large selection of PVA paints for the very same, some fabric paints for sneaker and jacket customs, some pencils and charcoal, as well as amazing Daler-Rowney brushes and some more obscure tools for mark making, like scrapers, ink brayers and squeegees.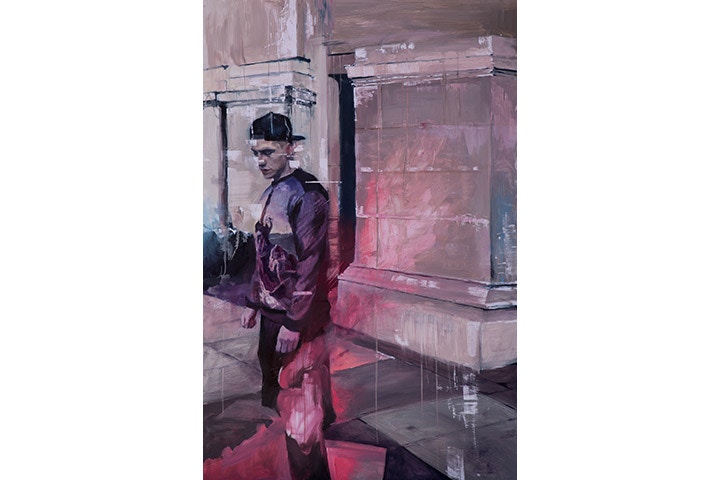 What is it about Georgian Oil paint that makes it ideal for your practice?
I think it's a combination of great pigments, a good oil/pigment ratio and overall great quality. The Georgian Oil range also has all of my favourite colours, my absolute favourite of which is Buff Titanium.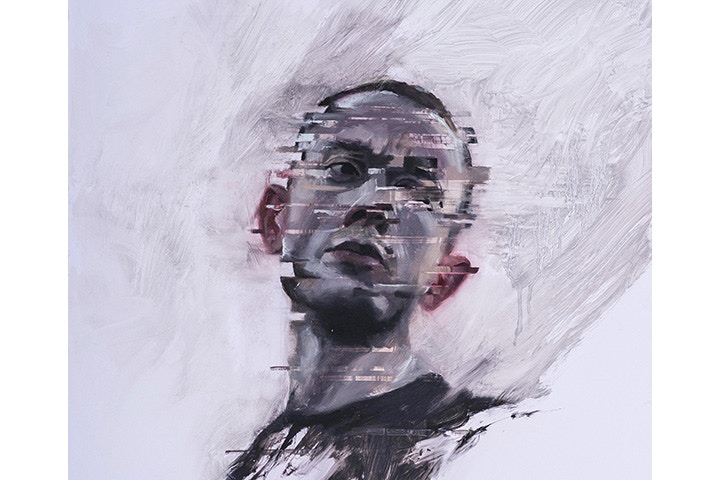 We spoke to Stefan Smit about your amazing collab project in the Hyde Park Parking Lot. Can you tell us about this experience?
What a great project. We wanted to do something unique for Daler-Rowney to showcase their Georgian Oil, and we both come from a background of mural and street art, so we proposed the idea of painting an oil paint mural, which still may be the biggest one in SA. Aside from the copious amounts of solvent we had to use, the project was such an amazing experience and we're so proud of the end result!
Finally, what has the rest of 2020 got in store for you?
After the madness of COVID this year I've been incredibly grateful to still have work and amazing clients commissioning me to paint for them. Going forward I have a few larger mural projects in the pipeline as well as a print release or two and hopefully a clothing line – more to come soon!
Follow Chris Valentine and his work on his Instagram here.
FEELING INSPIRED?
---
Follow us on Instagram to keep in touch with our community today