Posted by Cass Art Staff on 14th Jan 2022
At Cass Art we continue to support the next generation of artists through various prizes, awards and opportunities. Each year Cass Art, in partnership with Phoenix Art Space and University of Brighton, sponsors a free studio space for a year for one graduating student.
We caught up with Liberty Cheverall, winner of the 2021 award to find out how she's getting on, and hear more about her work and plans for the future.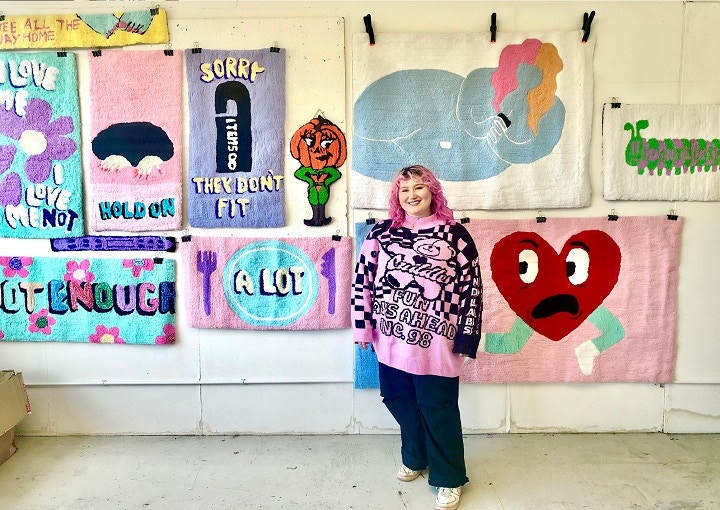 Hi Liberty! Firstly, congratulations on receiving the Cass Art & Phoenix Studio Award! How did you feel when you heard you'd been selected by the panel?
I was honestly shocked and amazed all at once. At first I was in slight disbelief, as I applied on a whim (which is what I still do with any applications), and didn't really fully understand that I had won. On the exact same morning, I had received an email from one of my favourite tufters, that she had filled the space for her internship, and that I wasn't chosen, the day before I was supposed to start. Then I left work and saw I had a million missed calls from my university tutor Suzanne, which was confusing, because at that point I had left uni for a good few weeks. I called her back, to which she gave me her congratulations. I was in the middle of the North Laines, overjoyed laughing and half crying at the same time. I guess it's true, once one door closes, another door opens.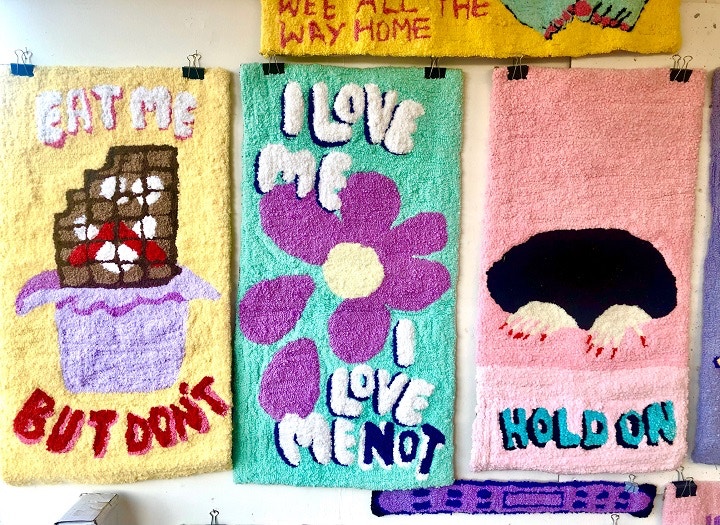 Can you tell us a bit about your creative journey so far? You studied Sculpture at University of Brighton, tell us about your time there and how your work evolved throughout your course.
So I've always been that annoying person, 'the jack of all trades'. I enjoyed most things (apart from Geography), which meant once I finished school I needed to choose what to focus on. I went to Brit School and did Visual Art and Design, and then was supposed to go to uni to do special effects makeup. At that time, I had some family circumstances which meant it wasn't the right time to leave home, so I stayed and did a foundation course. This was the best decision, and I really learnt what kind of artist I was, and producing that much work so quickly really pushed me to work extra hard on solely one thing.
It made me realise my love for sculpture and making three dimensional artworks. So applied for University of Brighton as it was one of the only unis that specialised in Fine Art Sculpture. Throughout my degree, I often fixated on the ideology of the Home and Domesticity. Which led to me making sculptures out of found objects and textiles, they were often cheap or free, but also full of history conceptually.
I used the carpet from my mother's house to make 'carpet house' in Second year, and then due to lockdown, I stayed at home, with my mother. This is where I collected wool from a home food delivery service. I was curious about the material and held on to it, then used it to later on create Untitled (2020). An artwork which consisted of the raw wool, which was hand stitched into a blanket, and placed on top a figure in the foetal position. All to represent the suffocating struggles of the pandemic in 2020.
I had enough of found objects, and I really wanted to make something new, something from scratch. I have always enjoyed illustration and bright colours, yet none of my work ever represented that. So I used my same themes but reinvented the way I presented them. I started my first rug when I was able to be in the studio, to which I specifically made a small frame that meant I could do it from home (in case I needed to). Which is exactly what happened, another lockdown, but at least now, I had a new form of making, that I could do from home. I also had extra funding through being from a low income family as well as it being my third year. This enabled me to be expressive through my material choices, and not have so much financial strain. Having that extra financial support was a big part of being able to sustain this process, as it is quite an expensive technique.
You've been in the new studio for a few months now, how are you enjoying the space and being part of the creative community at Phoenix Art Space?
It has been the best transition between university and working life. The studio enables me to have a step into my creative practice, whilst still being able to explore and learn. A year to grow within my art practice yet also moving into adult working life. I still have to work in retail part time to have a steady income, yet it's really teaching me how to produce art that can sell and how to sell it. It's another year to make mistakes and not worry as much financially.
The chance to see constant new artworks in a gallery just downstairs can really boost motivation and encourages me to make more. Having such genuine and supportive people working at Phoenix has really allowed me to fit in comfortably. Slowly I have been introduced to my studio neighbours and it has been lovely to network and connect with local artists.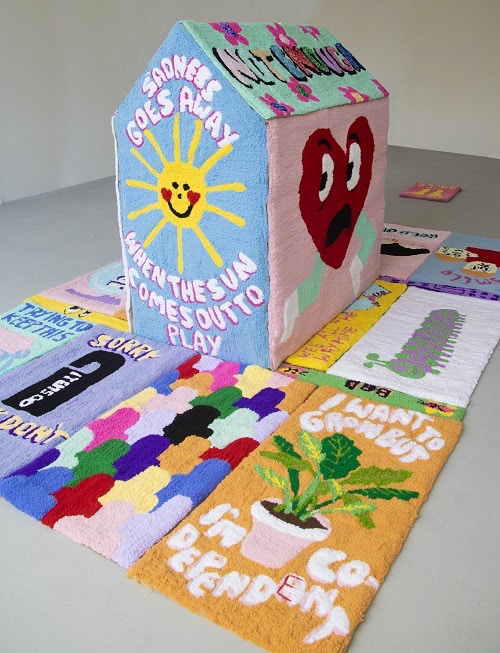 Your works focus on mental health, using contrasting vivid, happy colours and soft fabrics whilst conveying troubling negative thoughts. How did you come to make work like this and what would you like the viewer to take from your work?
So originally this came from hearing similar feelings from people around me. Lockdown has really affected many people, who may not have struggled as much mentally before. I wanted to create a space where people could feel like they relate to each other and know that they are not the only person who feels that way. Most of the topics that are presented in my work are actually what a lot of people go through. The general table conversation people were having had changed. This lockdown is something which a huge population of people can say they have experienced including many of the emotions lockdown brought out. The idea around talking about your feelings has shifted, and by no means is it anywhere it needs to be, but people are starting to become more open to having conversations they never used to feel as though they were ever able to. Which of course brings a revealing of emotions. All I have done is presented this change to an audience. I often like doing workshops which include other people and having a wider understanding within my research. I love learning about how other people process and feel and do differently to others.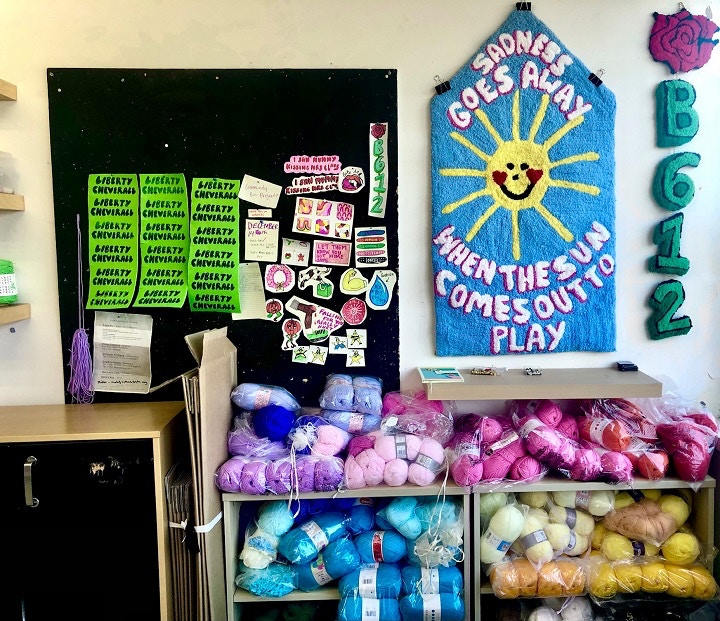 Can you talk us through your process, how do you create a work from start to finish?
For someone who can draw, I don't often spend too much time in the initial sketches and ideas. I make quick, silly and pretty s**** drawings to start with. The shapes and colours are always simple to give the child-like style. I used to recreate a more precise version of the doodle into a digital drawing and project that on to the hessian before I tufted. But the more rugs I made, the more confident I became with referencing the original simple drawings and recreating them straight on to the material. The more confident I was at just going for it, the better I was and happier I was at making rugs. I actually enjoyed the slight differences and imperfections that came with free hand drawing. Once drawn I then decide on the colours depending on the theme and what I think would work aesthetically.
The tufting aspect is basically an industrial colouring in, rather than a pen, it's with a machine that weaves wool in and out of the material. Then I glue the back so the wool stays in place and back the piece with usually felt or a simple calico to make it neat and sew around the edges. I also hand print labels which are sewn to the back of the pieces too.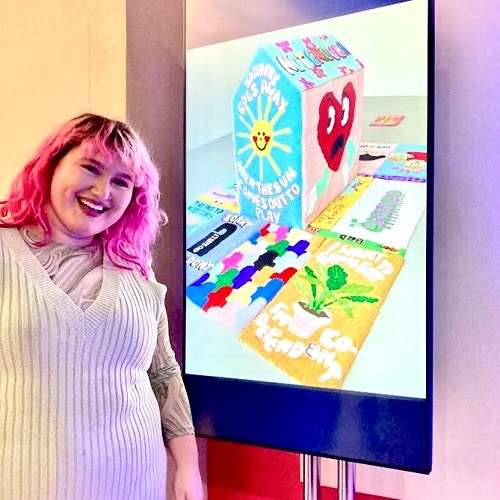 Beyond the University, you've had some great success already, exhibiting at Tate and Turner Contemporary, tell us about those projects.
These projects came from applying to EVERYTHING. You don't get it if you don't try, so even though my imposter syndrome kicked in, I often apply for things with the thought you never know. Any open call that came through my emails or if someone sent it to me, I more often than not applied for it. A lot of the time you don't get accepted and sometimes you do. But you'll never know if you don't just go for it. Luckily for me, mine happened to be the Turner Contemporary, Tate Britain and this award with Phoenix and Cass Art.
And finally, what's next for you?
My next project is in production now. Something slightly new for me but exciting. A little clue is to look out for the bins in Brighton. I will be part of the Cass Art & Phoenix Award Alumni show, where I will be displaying new unseen work in March, and then returning to The Brit School for their Alumni show highlighting old students who work with textiles in April.
Thanks Liberty!
See more of Liberty's work at libertycheverall.com or follow her on Instagram @libertycheverall
Feeling inspired?
Read our interviews with the Alumni from the Cass Art & Phoenix Studio Award, Sophie Hulf & Jessie Yates, Miranda Forrester and Hattie Malcomson.