Posted by Cass Art on 14th Mar 2019
Supporting artists in their creative production is at the heart of Cass Art, prizes and bursaries are one way in which we provide this support. As the lead sponsor of Artist & Illustrator Artist of the Year we were thrilled to catch up with this years winner Lucy du Sautoy, she stunned the judges with her painting Until the Lights Come On VII. Read on to find out more about her creative process and the themes behind her work:
Hi Lucy, thanks for taking the time to talk to us. Firstly congratulations on winning the Artist & Illustrator Art of the Year 2019, a fantastic achievement! What does winning the A & I Artist of the Year mean for your practice?
Thank you so much! Walking around the exhibition I was struck by the incredible standard of art on show, and I remember thinking "Well, it is great to be here but there is no way I have won!" I was stunned and absolutely thrilled to be named the winner. Apart from the obvious practical gains (I'm going to treat myself to a fabulous new easel for my studio with the prize money, and I am loving my new Rosemary & Co brushes) winning Artist of the year is true affirmation for my art and my practice. Being an artist can be a lonely business - so this kind of recognition means everything. It says to me…. People get it ….keep going!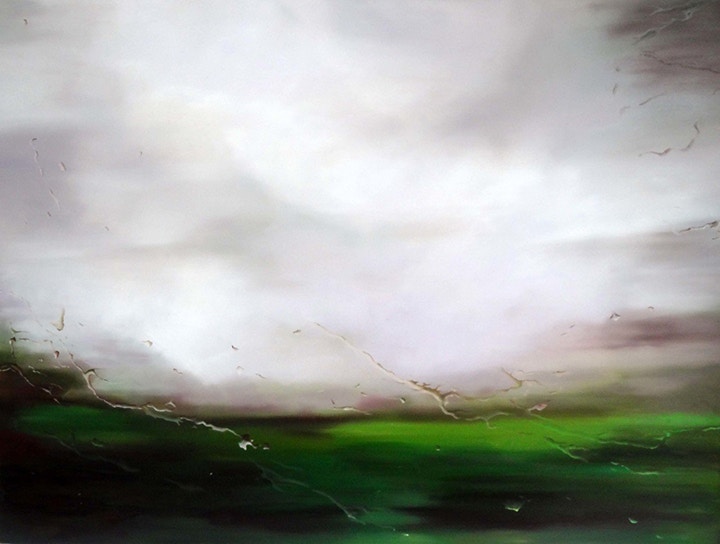 Lucy Du Sautoy, Daydreaming III, oil on aluminium
Your paintings have a wonderful balance of whimsy and playfulness, peppered by a slight sense of melancholy. They seem to often capture 'meanwhile' spaces – the blur of a rainy train carriage view in your Journey series, the trace of human touch on a window in your Condensation with playful noughts and crosses, smiley face or an I <3 U. As a viewer I am aware of this temporality when I contemplate the work - the scenery will quickly move past or the window will re-steam. Could you expand on the themes of your work?
Research has shown that we all live in a sort of parallel universe slipping between focused attention, and our own personal inner daydreaming world. We actually spend about half our waking lives daydreaming. Daydreaming is the mind wandering state that exists between conscious, task related, thought and sleep. Daydreams often occur during moments of routine and boredom; and can take the form of fleeting unstructured mental associations, or carefully imagined fantasies. In a 24/7 world where we spend much of our lives bombarded with information and images, daydreaming offers us an opportunity for freedom and escape. Daydreaming is actually pretty central to what it means to be human and alive today. It is kind of the only way we can cope!
In my painting I try to capture the absent minded, daydreaming in-between moments which punctuate our day-to-day existence, such as a the journey, or the absent minded doodling on a foggy window. I want my work to have a sense of familiarity which can resonate with the viewer on a level that is absolutely personal to them. For me, a painting is successful if it sparks a recognition that allows the viewer to overlay it with their own experience, creating hazy recollections and contemplations.
It is not only the transience of the image being painted but the method in which it is captured which interests me. You usually find these sorts of images captured on iPhones and shared on instagram rather that rendered in oil paint and hung on a gallery wall. Is it a bit silly to paint a smiley face in an oil painting? Yes! There is a lot of self important painting out there, and far too many artists who feel like they have to tell a story or make an argument in order to be valid. For me, the silliness is kind of the point. I am most happy when people say "I saw your painting and it made me smile." I think we all need a bit of that in our lives!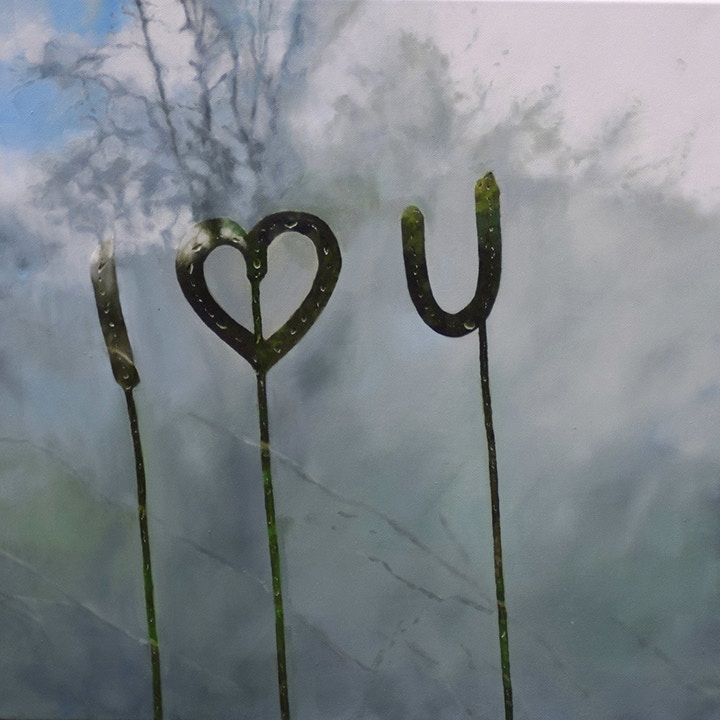 Lucy Du Sautoy, Until the Lights Come On VII, oil on canvas
Could you talk us through your painting process, how do you approach a blank surface? And do you have any tips for those who might struggle to make that first mark.
Grrrr the blank canvas - I tend to paint straight on to a plain white gessoed surface. I try to keep the work pretty light because I want as much light to come through as possible, and I find painting on a coloured ground kind of kills this lightness. But what this means is that the early stages of the painting involve a sort of battle against the white.
Making that first mark is always the hardest part - were to put it and what it will mean for the others that follow. It is like putting down the first pieces of the jigsaw puzzle. Once you get going and gain momentum the balance slowly tips and the painting starts to win through. From there it is a question of building up layers with glazes.
I try to emulate the way our eyes might see while we are daydreaming where the focussing facility of our eyes undergo some perceptual challenge and we become fixed on some detail to the exclusion of all else – or become unable to really see anything at all. Depending on my mood I will work on detailed areas with small brushes (like raindrops) or have some fun with larger brushes - deliberately blurring areas to vert the feel of condensation.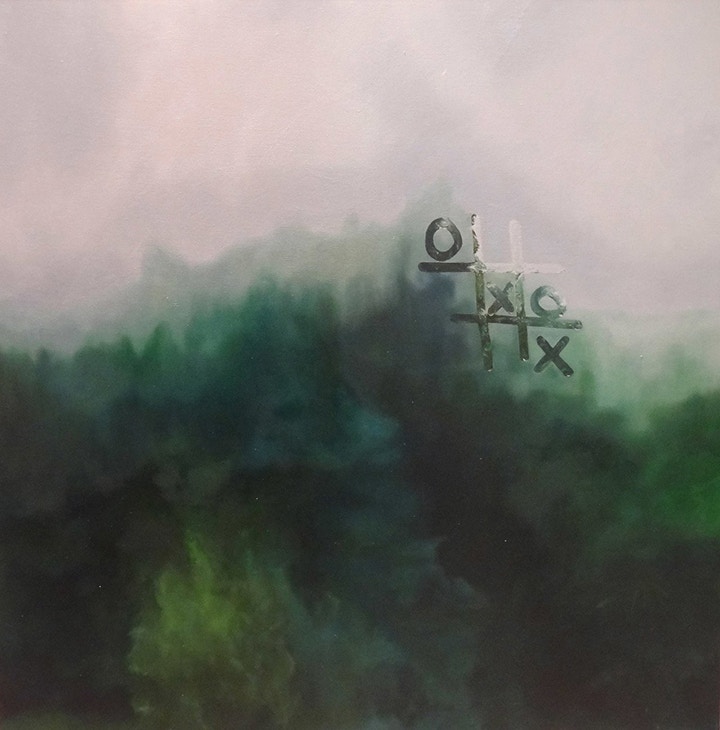 Lucy Du Sautoy, Now You See Me IV, oil on canvas
And if I delved in your studio which materials would I find?
A total mess! Rags and baby wipes everywhere, stray palettes and canvases propped up against the wall. You would probably be quite appalled and wonder how anything remotely resembling a finished painting can emerge unscathed from such a space and I would feel embarrassed and a bit ashamed! But you would also find Winsor & newton Artists' Oil colour and also some Michael Harding.
Lucy Du Sautoy, Until the Lights Come on I, oil on canvas
And finally, what's next on the horizon?
Painting and more painting! I have just been showing at Affordable Art Fair Battersea with Gala Fine Art and am currently finishing off work for Signet Contemporary which will be shown at Affordable Art Fair in New York later this month. This is the first time my work has ever officially been shown outside the UK so it will be interesting to see what our friends across the pond make of it! Of course I am really excited at the prospect of a solo show with Panter & Hall Gallery, who were on the panel of judges for Artist of the Year. Always, I hope to be brave and not be afraid to keep pushing my painting forward.