Posted by Cass Art on 14th Aug 2019
A graffiti artist with a particular love of female portraiture and the cross-over of Liquitex Acrylic, Myles Allanson is one to watch. He's applied for UpFest 2015 and he's taking part in the live illustration battles in Bristol, but we are also proud to have him as a staff artist in Cass Art Bristol.
With our START campaign in full swing, we wanted to ask Myles his top tips on using Liquitex Spray Paint, and delve a little deeper into his bright, abstract portraits. Who puts the street into street art? Maybe it could be you, with Myles's great pointers. (As long as it's all legal, of course.)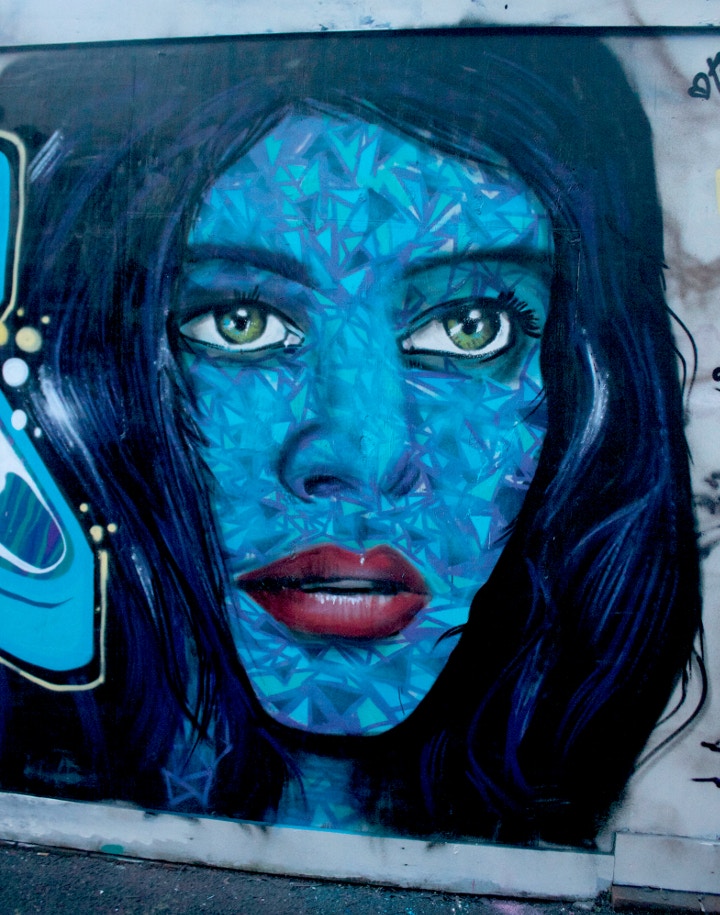 Hi Myles! Can you tell me a bit about the style of your street art?
I consider myself as an artist and muralist but am often referred to as a street artist or graffiti artist due to the style of my work. My main style is a combination of portraiture and abstract art. I like to paint mainly female portraits but using bright graphic shapes instead of skin tones. I have always had more of a fascination for drawing female portraits as I find it a lot more difficult than drawing males. There isn't currently anything political about my artwork but I would say every piece I make reflects my mindset at that time. The colours and shapes I use can determine the kind of personality I want to create for the female I'm painting. I also dabble in more of a "graffiti" style of letterforms, which started as the generic style of graffiti lettering but recently I've been trying to broaden my style and experimenting with a more abstract approach to my letters.
Did you study art?
I studied Illustration at the University of Lincoln. I'd say the major thing I learnt is that you learn a lot from the people you're studying with. Most of the tips and tricks I learnt were from other people on my course, so I'm never scared to ask someone "How did you do that"?
What is it about Spray Paint that you prefer over other mediums?
I use predominantly spray paint when working on a large scale because I like how instantaneous it is. There are no brushes, water pots and palettes - it's just an instant application of colour with the push of your finger. There is usually very little drying time and is quite an addictive sensation. You can achieve a range of effects that I've not managed to emulate with any other medium. I also use a lot of acrylic paint when I'm working on a smaller scale. I like acrylic mainly because of its quick drying time and the ability to layer colours on top of each other quickly.
Any specifics about what acrylic art supplies you like using?
The Liquitex spray paint, heavy body acrylic and paint markers are my favourite. Being able to use 3 different mediums but produce the same colour is a great idea. The spray paint is water-based so there are no nasty fumes you get with regular spray paint, and it provides a low-pressure valve system for finer details. The drying time is also not as fast meaning you have the opportunity to use a wet brush with it to create a range of effects. The heavy body acrylics are great just because of the strong pigments used in the paint, meaning that mixing them doesn't make the colours dull much and they remain vibrant; they also flow very well even with heavy applications. The paint markers are great for making solid lines or for adding more detail to your work.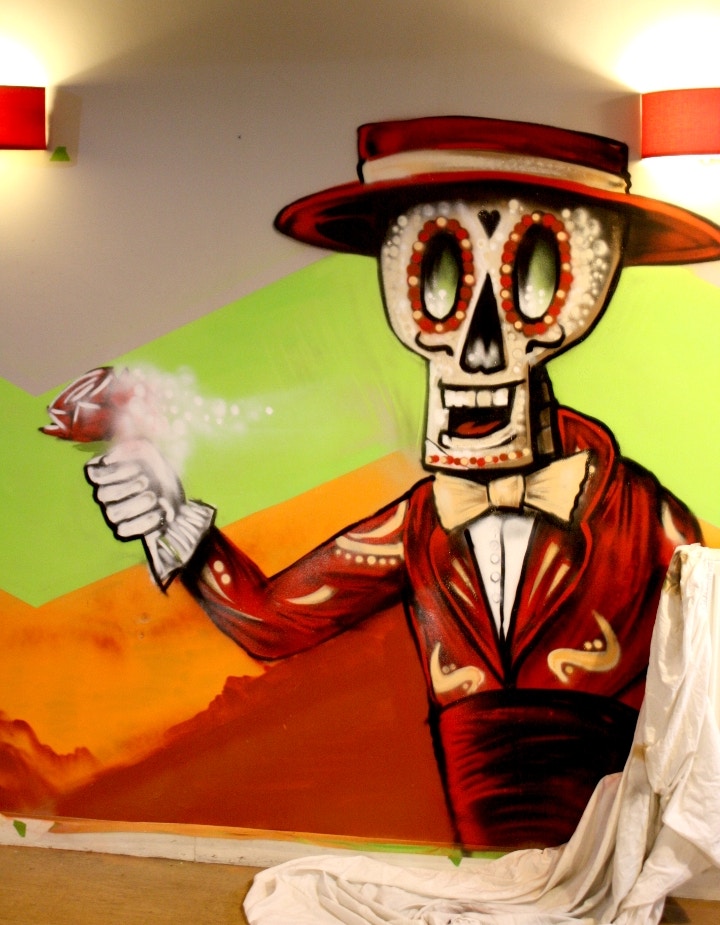 If you could give a piece of advice to someone starting out Liquitex Spray Paint, what would it be?
Be patient. A lot of people make the mistake of thinking they are going to get crisp or thin lines instantly. Practise over and over, watch other people and don't be scared to ask them for tips on achieving certain techniques.
Do you have any exhibitions planned for the near future?
I'm currently working on my own collection that will be exhibited in the IN OUT Gallery in Stokes Croft, some time within the next 6 months. I will be involved in the live illustration battles run by Scribble and Scratch at the Big Chill within the next couple of months too. I've also part of a group application for Upfest 2015 - the biggest street art festival in the UK which happens in Bristol - and will more than likely be painting commissioned murals and artwork around Bristol through the year.
Feeling inspired?
Myles works at Cass Art Bristol - drop by to ask him any questions about his practice or browse the art materials in the shop.
Browse our START art supplies and our Liquitex range to start producing your own artworks.