Posted by Cass Art on 3rd Feb 2021
From hard hitting and breath-taking exhibitions exposing the faces behind some of the world's greatest tragedies 'Faces of Ebola' to offering a window into other lives 'Visons of Zambia' and a little bit closer to home 'British Skyscapes' Artist Tim Benson's mantra to 'Build awareness through painting' is acutely prevalent in his work. We caught up with Tim to discuss his visual storytelling, to learn more about the materials he loves to use and to hear some wise guidance as we continue to journey through our own life, and world changing experiences of the Covid19 pandemic.
Hi Tim! Thanks for taking the time to chat. Firstly, could you talk about your journey into the art world and becoming an artist?
I have always drawn; I think it came quite naturally to me from a young age. Art was the subject that I enjoyed most at school and both of my parents were very supportive of that, my mother was an artist with her own gallery and I ended up going to art school at Middlesex, then I did the first year of my Fine Art degree at Glasgow School of Art.
For family reasons I came back to London and finished off the rest of the course at the Byam Shaw, which later became part of Central Saint Martins. I don't think I was really what they were looking for at that time, I wouldn't say my work was traditional, but it wasn't super-conceptual either and as a result of that I didn't get a huge amount of support, to the extent that I almost consider myself self-taught. But I stuck to my guns, creating huge skyscapes based on my travels at the time, and much to my surprise, everything at my degree show sold and a gallery left their card saying they really wanted to show my work. Because of my experience I was quite disillusioned and was seriously considering not carrying on in art, so that was just the fillip I needed.
I continued to show work and build up my reputation, initially doing mainly landscapes and then I decided I wanted to move into the portrait side of things, so I started doing more of that. Then I got involved in various royal societies, including the Royal Institute of OiI Painters (ROI) and went from being an associate member to president in a few short years. I am also a member of the New English Art Club and the Royal Society of Portrait Painters. The ROI have been great to me, they've been very supportive right from the get-go and have always made me feel very welcome. Now I'm able to look at it from another angle, to try and bring new, young artists through and make them feel welcome.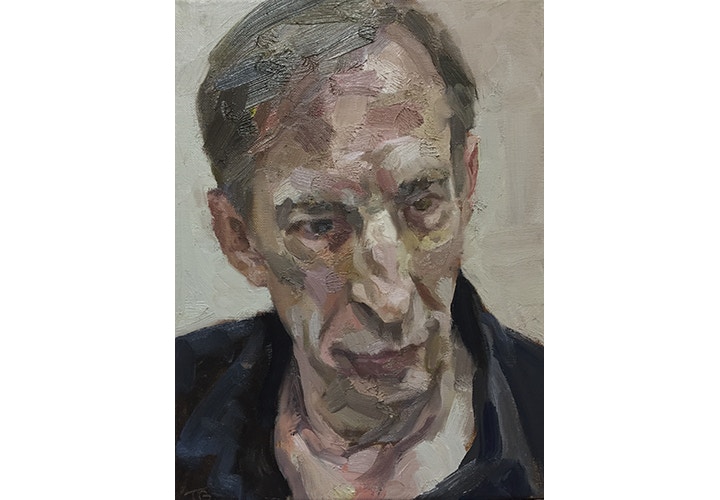 We're asking our community how they're staying creative during the lockdown, what's your top tip to staying creative at this time?
I'm not going to sugarcoat things - it's been really hard. At different times you react differently. One week you can be really positive and productive and then the next you can feel like things are pretty desolate and bleak and I've experienced the whole gamut of emotions. Initially, it was different and I was very productive, I produced a lot of work. But that didn't last forever, eventually the novelty wore off, subject matter dried up and anxiety around the state of the world kicked in. You realise that actually everything's very fragile, including your own situation.
It's a new experience for everybody and everyone has a very personal reaction to it, so I can't offer tips of how to best manage the situation, but what I would say is just to look after yourself and be kind to yourself. I know that may sound slightly cheesy, but it's true. Be kind to yourself because the world is not very kind place right now and it's got to come from within.
And try not to say things to yourself like, 'I'm never going to paint again. It's pointless because the world has gone wrong.' It doesn't matter if you don't paint for a few months, you don't have to paint. You don't have to be productive. I was working very hard solidly for 19 years and actually this has been a bit of a reset. Slowing down a bit has been quite a good thing, you can reassess and work out what your priorities are. It doesn't matter if you're not working all the time being productive. It'll be there afterwards.
Your work often focusses tough subject matters for example 'Faces of Ebola' or champion causes with 'Visions of Zambia'. To tell these stories you focus on the identity of the people affected, painting their portraits in the same way you might paint any other sitter. What affect do you think this approach has on building awareness around a subject?
It's storytelling, but disseminating those stories in a way that perhaps people haven't seen before. With, Faces of Ebola for example, you hear about these stories through mediums like the news, photography and the written word, but you very rarely correlate that sort of thing with the visual arts and especially something like portrait painting. For me portrait painting is about the chronicling of people and experiences, so it was about telling those stories in a different way to an audience that wouldn't necessarily have known much about the Ebola crisis.
It is an incredibly interesting subject matter and I felt that it was something that I wanted to bring to other people through the medium of what I do, to see how I could somehow make a difference on some level to somebody. It's like a reportage style of painting, that is what I would liken it to.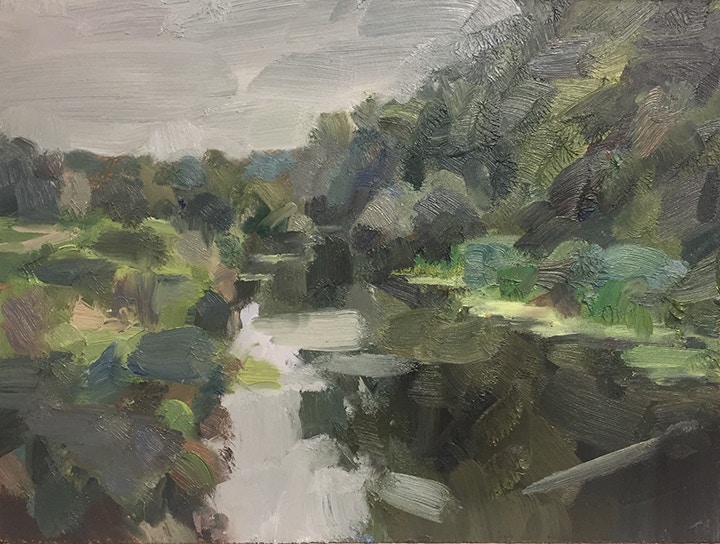 Your work includes wonderful gestural marks. How do you achieve your carefree brushstrokes whilst ensuring a resemblance to the sitter?
I think it comes from acute observation and looking really hard at what I'm seeing but also not worrying about the resemblance. When I paint a portrait I don't think, 'this has to look like them', I want it to be interesting in its own right. If you can be as objective with what you are looking at with a person as when you are painting anything else, then that frees you up to be really truthful and honest about what you are seeing, and if the light and the dark and the colour is put in roughly the right place then from that objectivity a likeness will appear. If you get hung up on creating the likeness, you start to paint what you think you should be painting rather than what you're actually seeing, and for me that's where problems start to occur. I work very loosely but I am also rigorous with my observation. Each mark has a purpose and a meaning. I work very quickly, but with a sort of intense scrutiny and observation. I get into the flow and sometimes something good happens.
You learn more from your mistakes and when things don't go as planned though. When things go to plan they can end up being a little bit contrived because you already know what's going to happen. We learn more from what we don't know than what we do know.
And how do you approach the beginning of a new painting?
I don't do an under painting or a pencil drawing or anything like that. I don't do sketches or preparatory work, what I do is very immediate. I normally use one big brush for the whole painting. I'll start by just blocking the rough sort of shapes that I see in front of me, then I just carry on from there. So it's a drawing of sorts, but it's not particularly linear and it's certainly not neat! It is roughly the same language of mark making as a drawing though so there is consistency there between the two processes. The drawing is fundamental to the painting, it's just one and the same in the way that I work.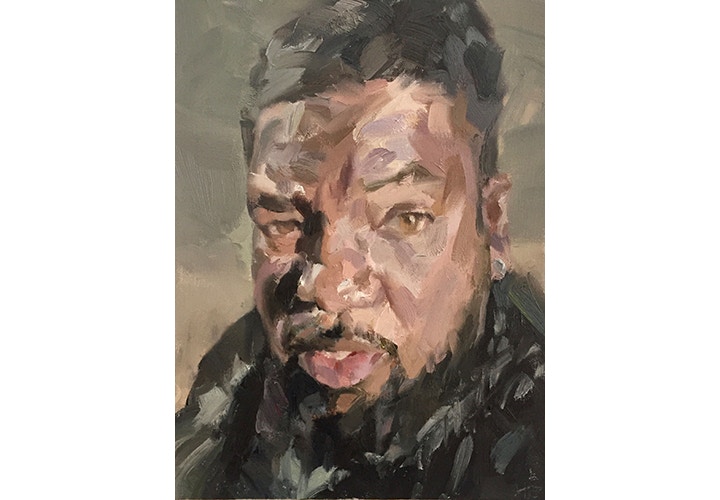 What is it about the nature of oil paint that you enjoy using for work? And what are you favourite oils to use?
They're what I've always used. I dabbled with acrylics for a couple of years but for me they were a bit flat and dried too quickly for my liking. I know a lot of people think oils are scary, but I think the opposite. They are incredibly forgiving. You've got loads of time before they dry, so you can scrape off something that doesn't go the way you want it to. You can use it as an object. You can sculpt with it. I'm not coming at this from a particularly informed point of view, it's just that I really like them, the smell, the luster the finish, the liquidity. So I use them and I don't use other stuff because I really like what I use.
I use Winton as my main my main brand, it's cost effective and serves my purpose, I can work on a large scale with thick paint and the take risks I want to. I like the viscosity and something like Cadmium Red I find to be richer than other brands. Sometimes I'll use Daler-Rowney Georgian and I also buy the big tubes of white that Cass Art make from time to time.
What else might I find if I went delving into your studio?
Pieces of board ready to be 'Liquitexed'. I use the Clear Gesso for sealing my boards. Clamps and things like that for some attempt to start framing, which hasn't gone very well so far. A big bandsaw, again for trying to complete frames and stuff. There's loads of paint splashed everywhere, it's like Jackson Pollock on the floor! Paintings that are ready to go off to shows ... but it's a very small modest studio, I'm certainly not living any sort of bohemian, romantic existence. The site is a former Council Office, it's not very pretty but it does the job and it's big enough for me to be able to stand back from my work. I go in, I work, I have deadlines. If I have more time then maybe I'll go and do little bits of paintings for my own amusement, but generally I've got a deadline or a body of work that I'm trying to finish.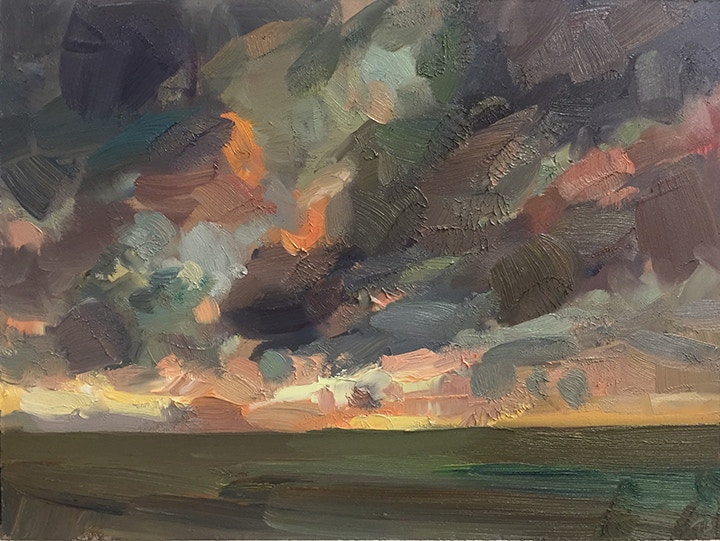 Finally – when we're able to go out and about again, what's top on your list of inspirational activities?
I want to go on holiday! So that would absolutely be top of my list. Travel is such a big part of my life. It's no coincidence that the projects I have done had an element of travel and learning involved, and I would love to be able to do that again. Travel would inspire me. Even if I wasn't striving for something specifically, it would make me feel more grounded.
And just seeing people. I'm sick of Zoom, I mean it's great, but it's not the same. We're social animals and seeing people and being around those you know, whether it be as friends or in a professional context, is so important.