Posted by Cass Art Staff on 9th Feb 2022
The Gentlemen Baristas, a London roastery and coffee house, and Bleur, a London indie art gallery have teamed up to create 'The Art of Coffee' an exhibition of original artworks made using coffee, to raise funds for non-profit Well Grounded.
A collective of emerging London based female creatives with practices ranging from abstract to fashion figurative including, Eva Merendes, Joanna Layla, Jemima Sara and Blandine Bardeau are involved in the project. The creatives were invited to use the medium of coffee (Gentlemen Baristas' well-mannered, of course), to make works that celebrate the ritual of coffee and its important role in fostering connections and community. The Art of Coffee will be displayed at The Gentlemen Baristas' new London flagship coffee house in Piccadilly this September with artworks auctioned to raise funds for Well Grounded which runs a series of Specialty Coffee Training Academies for vulnerable adults.
We caught up with the creatives to talk about their work, favourite art materials and coffee!
EVA MERENDES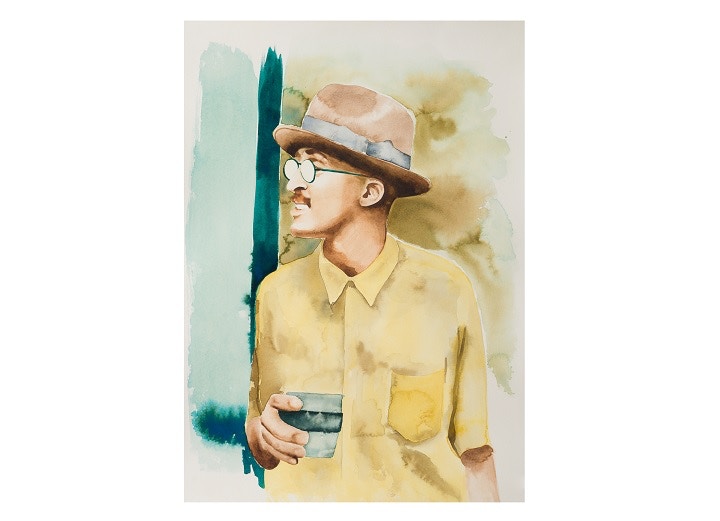 Hi Eva! Can you tell us a bit about your background and your creative journey so far?
I'm Eva Merendes, a Greek visual artist based in London. I've lived in two countries, I started with a background in psychology and i have an MA in art psychotherapy. That's when I found the artist within me and realised I want to be a full time artist.

When I was in uni I started developing big bodies of work, taking part in exhibitions, working for art galleries, doing commissions, selling my art and most importantly finding my artistic voice. I love the fact that art can open many different doors for everyone.

Now, I create original artworks, prints and I also do commissioned works. I am also an art tutor, facilitate art workshops for Lavender Leonardos Art School and I am the community Lead of the Indie Art Gallery Bleur Art.
Tell us about your work in the show, how did you tackle the challenge of painting with coffee?
Instant inspiration for this project was the different types of coffee named after hats. I was instantly drawn towards this idea of how hats and coffee have some sort of character imbedded in them. So I chose the "Bowler" and the "Pretender" and went for it. The process of painting these portraits was something else! The scent of the coffee inks took over my whole studio and kept my creative spirit up by experimenting with different textures, mixtures and mediums. I ended being so fascinated by the way watercolours and the coffee inks interact with each other, creating a mesmerizing effect! Paint was constantly taking different forms and textures while it was drying making this process challenging and fun!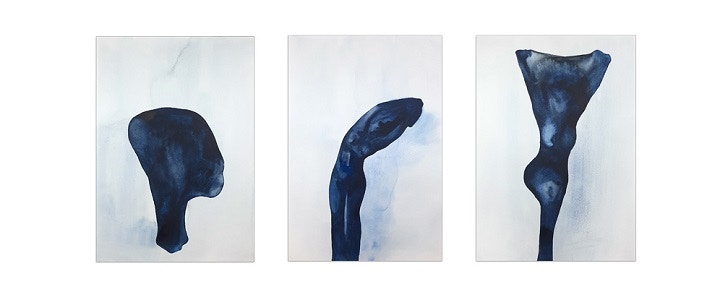 When you're not painting with coffee, what kind of work do you make and what are your go-to art supplies?
I specialise in Watercolours and inks and I have a weakness for Winsor & Newton watercolour paints, this is actually the only brand I use for my figurative works. When it comes to paper, Arches Aquarelle hot pressed paper would be my go-to option for their great quality. Inks is a whole different love story, nothing can be compared with the Black Indian Ink from Winsor & Newton. I also do love the vibrant shades of acrylic inks from Daler Rowney.
My favourite brushes are by Rembrandt either with natural bristles or synthetic ones. I usually use a selection of different type of brushes depending on the effect I want to achieve.
And finally, how do you take your coffee?
Coffee usually matches my feelings each day. So I have my black americano no sugar coffee days and I also have my coconut latte days!
Thanks Eva!
See more of Eva's work visit bleurart.com/artists/eva-merendes or follow Eva on social media @eva_merendes_art and @bleur_art
JOANNA LAYLA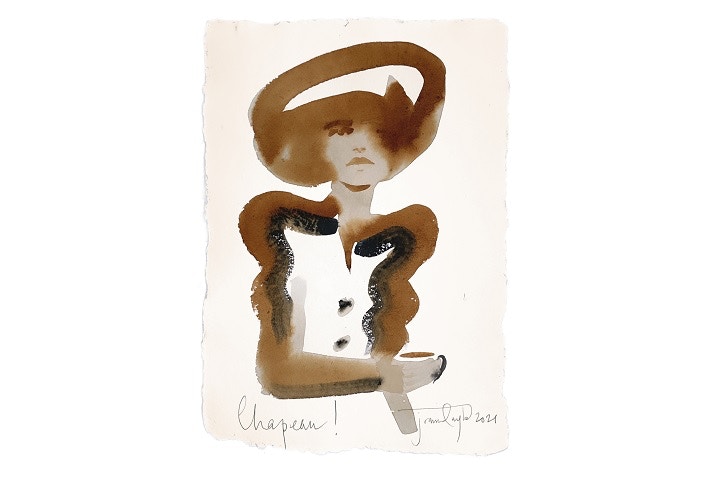 Hi Joanna! Can you tell us a bit about your background and your creative journey so far?
I'm a fashion illustrator living and working in London. I studied English at University but have loved drawing and fashion since my earliest memories. It was a natural journey into fashion illustration, leaving uni, working in design and realising I could work full time in fashion illustration. So, for the last few years I have been doing my dream job, combined with exhibiting as an artist with Bleur and galleries in France, Sweden, and the US.
It's been such an exciting few years, I have worked with some amazing brands including ELV Denim and Madeleine Thompson Cashmere, and at London Fashion Week, and was named in Fida's Ones to Watch 2021. This year I have had fashion editorial published in Overdue and Risbel Magazines, and I am currently exhibiting fashion works on paper at Acid Gallery France and at the Marangoni Fashion Institute Miami.
Tell us about your work in the show, how did you tackle the challenge of painting with coffee?
A little like traditional ink, and yet simultaneously something completely unique, the coffee ink was so beautiful to work with. It stains the surface of the paper so quickly, making its mark, so the first impression keeps. I loved the spontaneity of working in this way, so in tune with how I draw fashion. I loved the depth of colour possible in a single brushstroke with the espresso ink – it quickly became my go-to.
I have four pieces in the show – The Modern Piccadil, Leopard Latte, Chapeau! and Les Fleurs - combining coffee and fashion. I loved the idea of using coffee as a medium to capture a moment in time, to create a fashion illustration. Both coffee and fashion capture the cultural zeitgeist, an idea I wanted to bring together in this series of fashion works on paper in coffee. Whilst imbuing them all with the ethos of well-mannered coffee.
'The Modern Piccadil' is inspired by Piccadilly, the home of the new Gentlemen Baristas. Piccadilly gets its name from the high-wing collar "piccadil'' tailored in the area from the seventeenth century. Both The Gentlemen Baristas and Bleur combine the traditional with the contemporary to create something unique, elegant and relevant. 'The Modern Piccadil' is my take on the tailoring tradition of the area, an elegant figure getting a well-mannered coffee in contemporary Piccadilly.
'Leopard Latte' is the first coffee fashion illustration I created. One for the coffee lovers. An expression of joy, how I feel with the perfect coffee in hand. Something elegant and well-mannered, something fierce and feline.
For 'Chapeau!', I wanted to create an image that played with the iconic hat motifs of The Gentlemen Baristas and bring the 'gentlewoman' barista into the picture. Working in broad brushstrokes with the coffee to create a hat seemed the epitome of how my style translated into the coffee ink. A dreamy mix of espresso and traditional Chinese ink.
'Les Fleurs' is about something more than just a coffee. I created it while listening to Les Fleurs by Minnie Riperton, "Inside every man lives the seed of a flower / If he looks within he finds beauty and power". And it seemed to express the ethos of 'well-mannered coffee' – in all its aspects.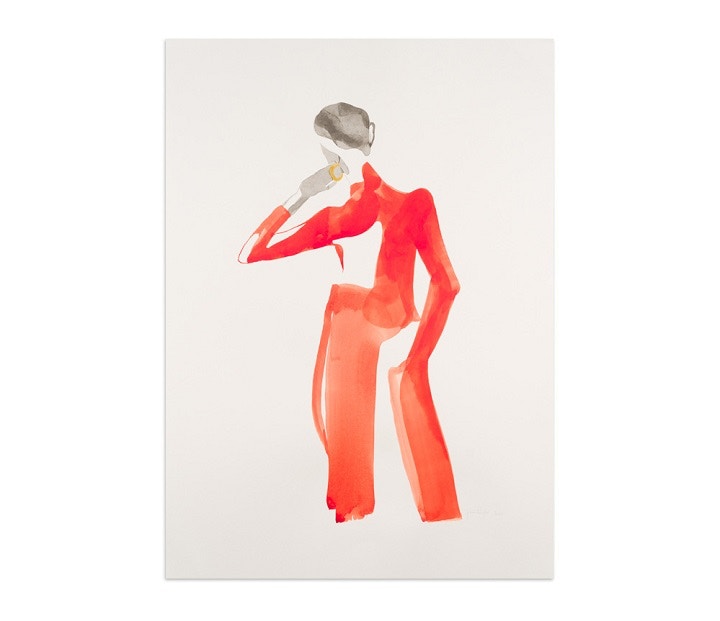 When you're not painting with coffee, what kind of work do you make and what are your go-to art supplies?
I work as a fashion illustrator for magazines, brands, and designers, in addition to original works for galleries. I make fashion works on paper and love to work with fast liquid media like ink and watercolour. I'm impatient and like to work quickly, make mistakes, and arrive at unexpected results.
I adore the Liquitex colour inks for vibrancy of colour, variety of hue and smooth application; Winsor and Newton Black Indian Ink is the mainstay of all my work; Fabriano papers especially those with a cotton base; Khadi Cotton Rag and Moleskine sketchbooks. For large format works I love Arches Watercolour Paper. And brushes, the bigger the better, and in all shapes, sizes and brands. I continue to use brushes even when they are old and damaged to create textures and gestural marks.
And finally, how do you take your coffee?
Black – an americano every time. Especially one made at The Gentlemen Baristas.
Thanks Joanna!
See more of Joanna's work visit bleurart.com/artists/joanna-layla or follow Joanna on social media @joannalayla and @bleur_art
JEMIMA SARA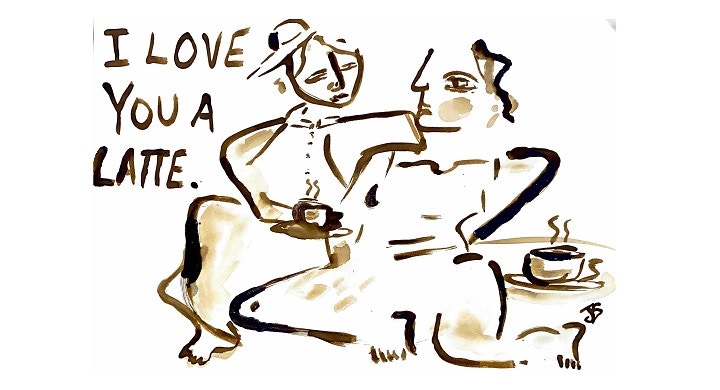 Hi Jemima! Can you tell us a bit about your background and your creative journey so far?

Hello I'm a multi-disciplinary artist, I started drawing as it enabled me to express my experiences and is a form of self-therapy.

I am from all over the place, I've lived in the UK, Italy and travelled about. I went to university in London studying my BA in Puppetry (Random but worth it) and my MA in Fine Art.

I enjoy bringing art and creativity to new places and exploring challenges. I create a mixture of artwork, limited edition prints, illustrative accessories, easy-to-wear clothing and pretty much anything I want to get stuck into.

Tell us about your work in the show, how did you tackle the challenge of painting with coffee?

I use ink in my daily practice which has a similar water based texture to coffee. The difference is the colour - I usually work with blues or black. The 'Bowler' dark Expresso paste was my favourite as it created this deep brown colour which was so much fun to work with (it also smelt amazing). My work follows the day-to-day, so naturally I am fascinated by the daily occurrences within a coffee shop. Pre-Covid I used to be a regular visitor to The Gentleman Barristers near London Bridge. I would be having my lunch break and watch people work, chat, meet and embrace. A lot happens over a coffee.
When you're not painting with coffee, what kind of work do you make and what are your go-to art supplies?
Within my work I merge diaristic texts with figurative drawings, I mainly work with ink on paper. However I do also use a mix of acrylic and oil on canvas depending on what I am creating.

I use such a variety of brands it would be hard to name favourite supplies. I guess it's always about a good ink, a good paint brush and some lovely thick paper.

And finally, how do you take your coffee?

With lots and lots of Chocolate, a Mocha is my way to caffeine bliss.
Thanks Jemima!
See more of Jemima's work visit bleurart.com/artists/jemima-sara or follow Jemima on social media @jemimasara and @bleur_art
BLANDINE BARDEAU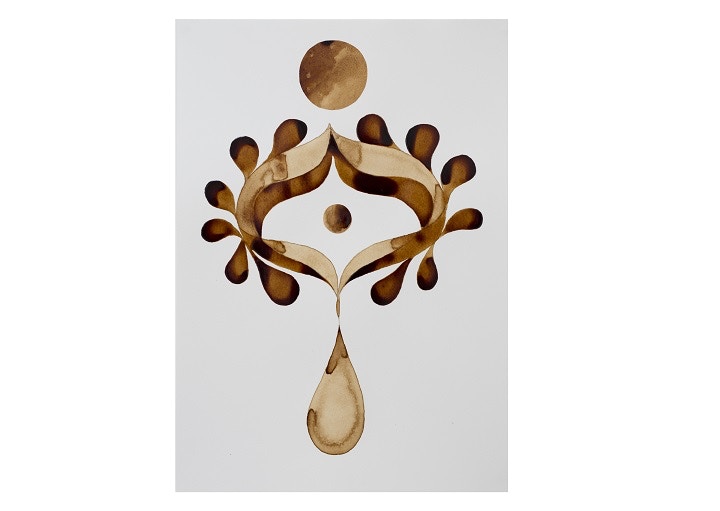 Hi Blandine! Can you tell us a bit about your background and your creative journey so far?
I am originally from Toulouse, France, and have been living in the UK for 17 years now. I studied Fashion Design at Central Saint Martins, and changed direction after my BA to study Fine Art Painting at the Glasgow School of Art. Whilst studying, I received The Colin Barnes Drawing Prize for excellence in drawing, and won the Louis Vuitton bag competition, and ended-up doing an internship with them in their design studios in Paris. Since then, my work has been featured in the Selfridges windows, and been published in art magazines such as ArtMaze Mag and Fresh Paint magazine. I was long-listed for the Saatchi Online Painting Showdown Competition as well as the Signature Art Prize with DegreeArt. I was also a runner-up for the Secret Art Prize at Curious Duke Gallery.
Tell us about your work in the show, how did you tackle the challenge of painting with coffee?
The work in the show is inspired by natural forms and the Divine Feminine. My work speaks of this energy which I believe needs to be brought back in its rightful place alongside the Divine Masculine, so that human beings can become whole again. We need to respect our Earth, our home. Recently I have become aware that most art materials are very harmful for the environment, such as acrylics (made out of plastic) which are not safe to be disposed of in the drain and pollutes the rivers and the seas. For me working with a material like coffee ink makes perfect sense, it is a safe and natural way of working.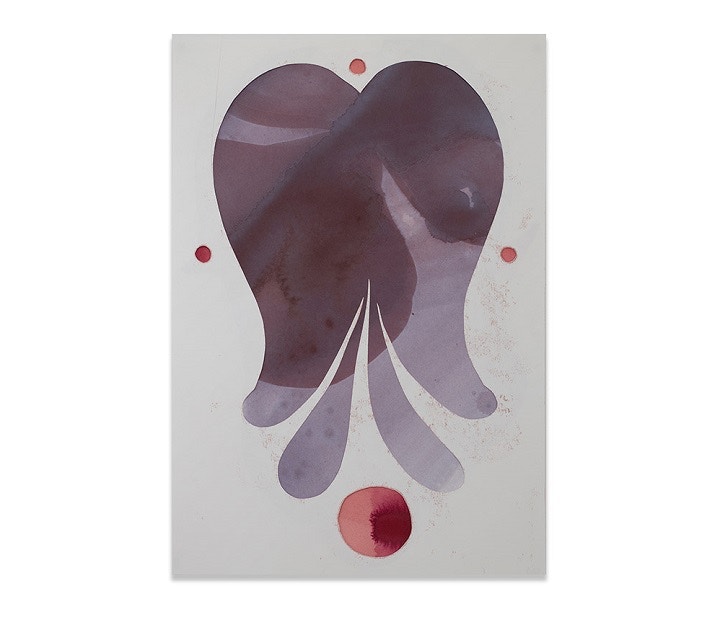 When you're not painting with coffee, what kind of work do you make and what are your go-to art supplies?
The kind of work I usually make is a mixture of drawing, painting and collage. When I am not working with coffee, I love to use watercolours, especially ones I make myself with plant dyes which are kind to the environment. I also love brands such as Sennelier and Daniel Smith. At the moment I am really enjoying working with Sennelier soft pastels. I am also always searching for the perfect paper, and again I am becoming very aware of the impact on the environment the paper manufacturing is having. So using brands such as Khadi papers who work a lot with recycled hemp and natural dyes makes a lot of sense, and I love their very irregular shapes. The Cass Art smooth watercolour paper is also one of my faves!
And finally, how do you take your coffee?
I am a weirdo and have half a shot decaf oat latte…!
Thanks Blandine!
See more of Blandine's work visit bleurart.com/artists/blandine-bardeau or follow Blandine on social media @blandinebardeau and @bleur_art
FIND OUT MORE
The Art of Coffee is on display at The Gentlemen Baristas Flagship Coffee House, 162 Piccadilly, London, W1J 9EF from 23rd -26th September 2021. Admission is free and artworks will be auctioned from 23rd September.
The Gentlemen Baristas are a roastery and coffee house serving exceptional, well-mannered specialty coffee with ten sites across London. Inspired by the age-old traditions of serving a superb cup of coffee and providing a meeting point for London's modern day visionaries. Find out more at: thegentlemenbaristas.com.