Posted by Cass Art on 13th Jul 2018
Every two years Drawing Room in London offers an artist the opportunity to develop a body of work over a number of weeks using the gallery either as a studio, or to present their work for public exhibition, or a combination of the two. Selection is through a process of invited nominations from curators, artists, writers and academics around the UK and Ireland. Artists are then invited to submit an application. Birmingham based artist Barbara Walker has been selected for the 2017 Bursary Award. We caught up with Barbara to find out more about her work.
Congratulations on receiving the Drawing Room Bursary Award 2017. Tell us about the body of work you hope to create at Drawing Room.
Thank you. My current body of work is an ongoing conversation, first explored in a project called Shock and Awe which was exhibited at
mac birmingham
. I'm still working with the issue of the lack of representation of black soldiers that contributed to the British armed forces from 1914 to present day. The majority of the work has looked at the historical aspects – using archival material taken from the First and Second WW, but the contemporary will be manifest over the next two years. At Drawing Room I want to carry on with this work, but I want to test, experiment and disrupt my processes. The opportunity to be at Drawing Room has given me a space that I can use as a think tank, a studio, a gallery and a place to have conversations in, with a new audience.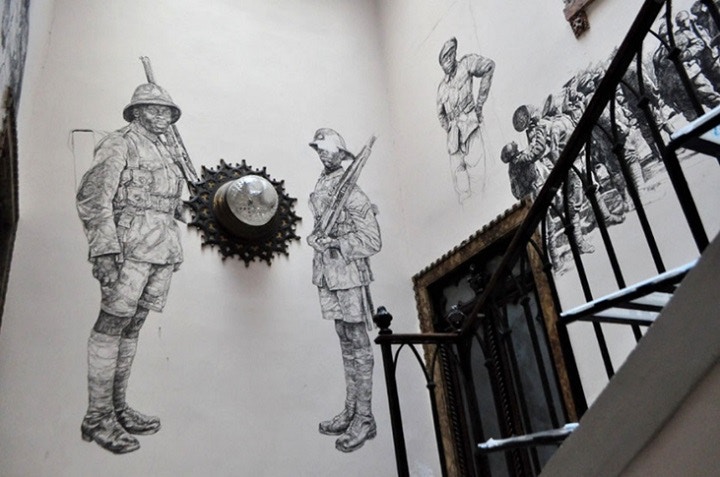 Your work is concerned with social and political issues. How do you think art can affect social change?
I hope that this work can bring awareness and trigger discussions about history and these individuals. In that way I am presenting a body of work from which change can happen. I believe that artists do have some responsibility to respond to the world which we live in.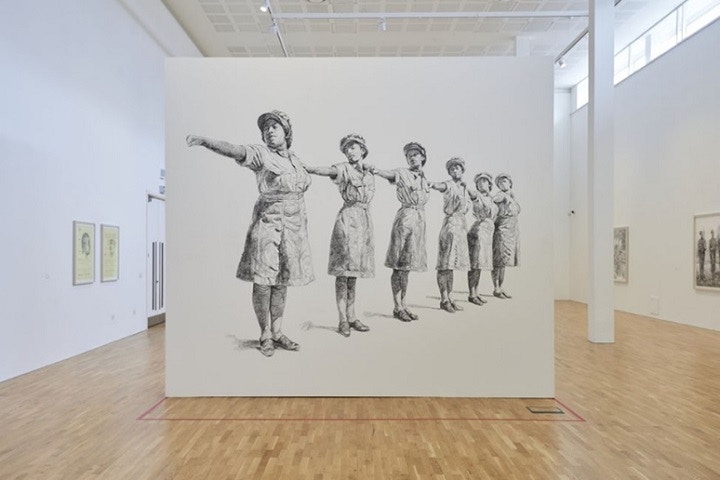 How much is research a part of your work and how do you feel these untold stories of servicemen and women resonate in today's world?
I consider myself a research based practitioner. 80% of my work is research, which I immerse myself in. It is a grounding for my ideas and the issues I'm tackling. I hope my work resonates with those who see it.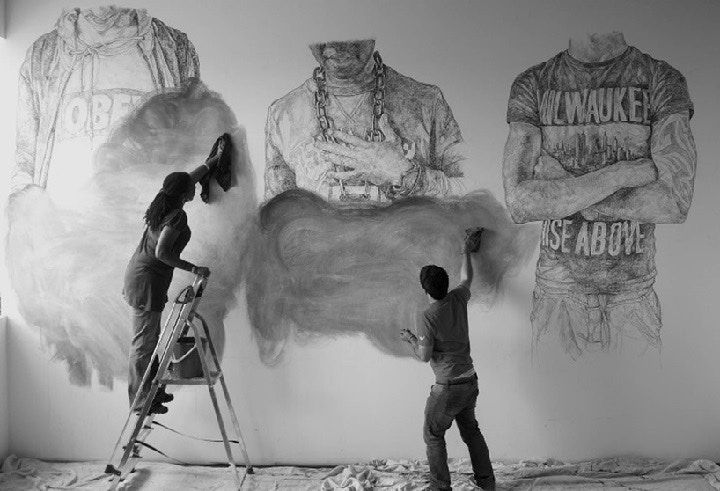 In some instances your work can be transient, you have even erased large scale drawings in front of viewers. How does it feel to erase the work, what does this element of destruction add and what do you hope people take away from it?
Erasure is a metaphor and analogy for a number of things. There's a lot of layers to my work. I am looking at how these individuals have been erased from history. Another aspect is looking at us, how as humans we're in a state of flux, and the residue and marks left are like the memories that we leave behind. Lastly, I like to think of my work as 'anti-object' – the aura of the work is left after I've erased it and the memory of it is left with the viewer. I want my works to evoke and trigger emotion.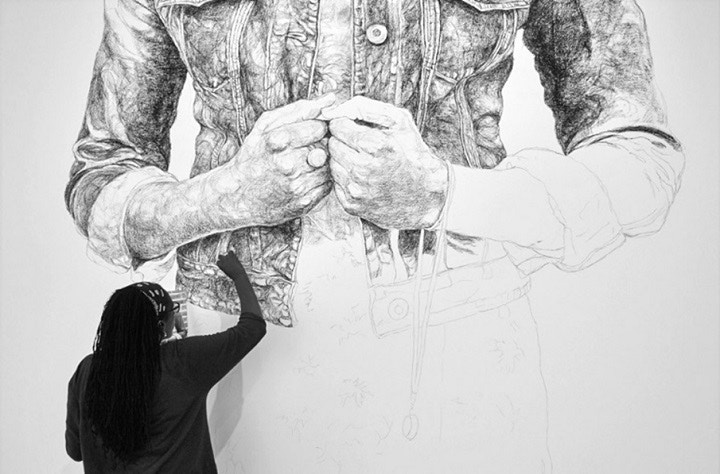 What is a typical day like in your studio or at a residency? Tell us about the materials you use and how you approach making such large scale drawings.
I spend about 6-8 hours a day formally in my studio in Birmingham, or out and about at archives and other places. I'm either researching or making work. I don't think art practice is limited to the studio space; when you're an artist it's happening all the time. I get inspiration from all over – conversations (or arguments), social media, popular culture.
But when I'm in my studio, I'm in isolation. I have music playing, and I'm drawing with an assortment of materials (pen,
charcoal
,
pastel
,
pencil
) or painting.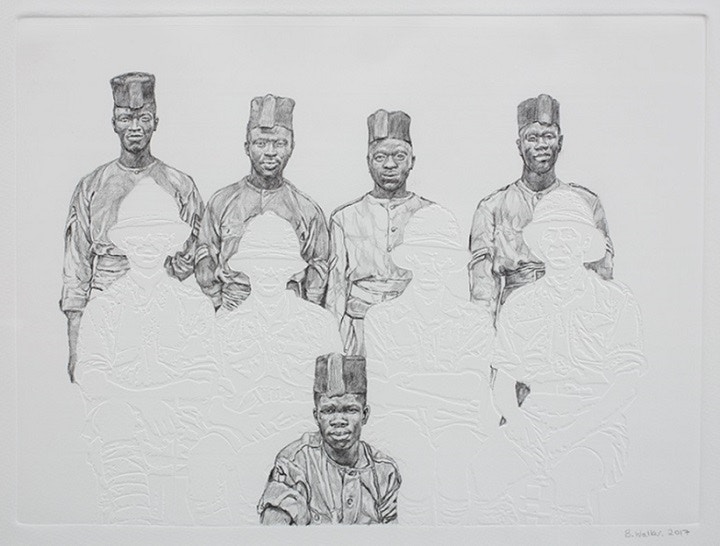 You have been shortlisted for the Jerwood Drawing Prize, tell us about the piece in that show.
The picture is taken from a photograph from the National Army Museum Archives. It is photo of five of the King's African Rifles (KAR) posing alongside four white commanding officers. The work is looking at another aspect of the idea of 'erasure', but unlike previous works, it's the white figures who I have erased through an embossing technique, leaving the black figures centre stage. Working with the embossing process is new for me, and I'll also be exploring this during my residency at Drawing Room.
FIND OUT MORE
The Drawing Room Bursary Award is sponsored by Cass Art. Find out more about the award on the
Drawing Room website
.
Image credits: All images © Barbara Walker
Top image: The Big Secret I. 2015, conte on paper,159 x 195cm
Second image: 'Transcended' presented in the Diaspora Pavilion exhibition held in Venice at the Palazzo Pisani S. Marina, during the 57th Venice Biennale. Photograph by Izzy Castro.
Third image: Installation shot of 'Shock and Awe' at mac Birmingham. Photography by David Rowan, courtesy of mac Birmingham.
Fourth image: Photo: Jo Hallington and Vanley Burke
Fifth image: Installation shot. 'Sub Urban: New Drawings' James Hockey Gallery, University for the Creative Arts, Farnham; Surrey. Photography by Stephen White and Jane Pearce.
Sixth image: Exotic Detail in Margin, selected for the Jerwood Drawing Prize. Photo: Chris Keenan