Posted by Cass Art on 11th Oct 2020
We all know Bob Ross. Right? Well for those of you who aren't familar with him, here's a little background on the man himself. Robert Norman Ross was born in Daytona, Florida, in 1942. After dropping out of school in the ninth grade, he served in the U.S. Air Force. During his service, he took his first painting lesson at an Anchorage, Alaska United Service Organizations club. From that point on, he was "hooked," a term that viewers of his painting series will be familiar with!
After returning from the Air Force, Ross attended a variety of art schools until he learned the infamous technique of "wet-on-wet" from William Alexander (later his bitter rival!), where oil paints are applied directly on top of one another to produce complete paintings (mostly landscapes) in less than an hour. Ross taught wet-on-wet to several friends and colleagues, and in the early 1980s, he was given his own TV show based on the technique.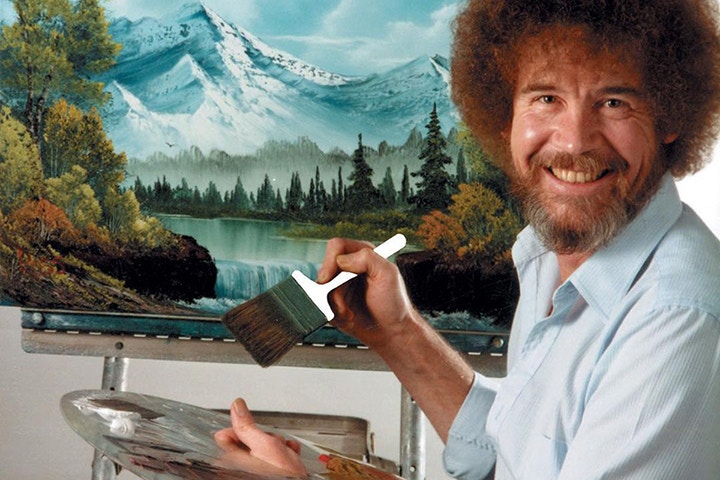 Bob in action in The Joy of Painting
His instructional painting series The Joy of Painting, premiered in 1983, where it would run for more than a decade and attract initally a cult following leading then to millions of viewers! As a TV painting instructor, he became known for his light humor and gentle demeanor, as well as his ability to complete a painting in 30 minutes. The Joy of Painting would eventually be carried by more than 275 stations, spawning an empire that would include videos, how-to books, certified Bob Ross instructors and of course art supplies.
We're delighted to be extending our paint range with the addition of a number of products from the legends collection! Bob Ross products are part of a unique system that helps artists create realistic landscapes, animals or flowers in oil within a few hours. They use a slow-drying primer ideal for wet on wet techniques, special brushes and painting knives. The Basic Oil Paint Set is the perfect beginners set containing luscious, pigment-rich colours with a soft, smooth-flowing consistency, perfect in tone and texture for artists who are painting in the same style as Bob.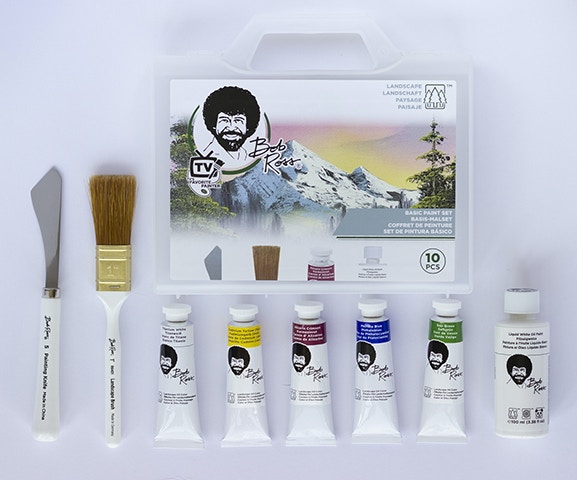 The Liquid Base Coat is essential to the Bob Ross Wet-on-Wet Techniques explained above. It allows you to easily blend and mix colours directly on the canvas. It can also be used to thin other colours for application over thicker paints. The idea that a thin paint will stick to a thick paint is the basis for the infamous Bob Ross technique!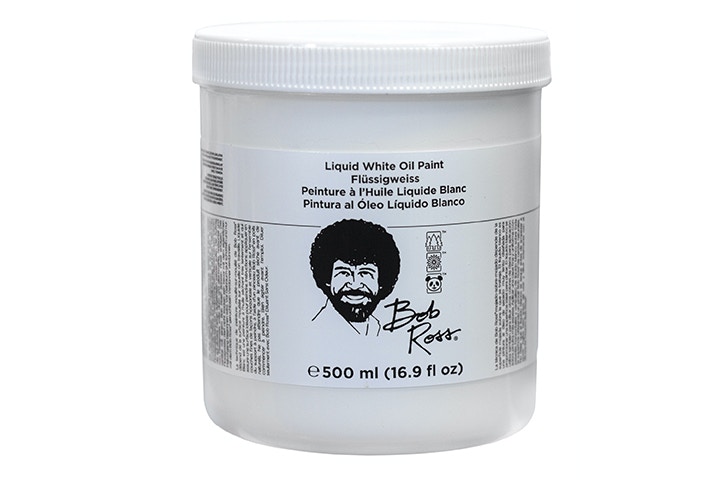 Bob projected a loveable persona, sporting his iconic permed afro and denim shirts and jeans and a soothing and iconic intimate speaking voice that made the viewer feel as if it were in a one-on-one painting lesson. He had the ability to enthral viewers with his effortless painting method, chatting and offering words of encouragement. Over the years, his folksy approach and references to "happy little" trees and clouds endeared him further to his fans. He sadly died of lymphoma at age 52 but will live on forever bringing his us joyous and therapeautic painting sessions. Here's a little teaser below into the world of Bob Ross!
As Bob used to frequently say "Talent is a pursued interest. Anything that you're willing to practice, you can do."
FEELING INSPIRED?
---
Shop online for everything you'll need. Don't forget to hashtag #cassart on social media to show us your creations.