Posted by Cass Art on 16th Sep 2019
Here at Cass Art, we believe in making art accessible to everybody. That's why we partnered with The Saatchi Gallery Magazine Art & Music last year with the competition Art For All, an open and free competition for UK based artists.
We wanted to celebrate the winner of Art For All, artist and Slade School of Art Graduate Boudicca Collins! She won £1,000 of vouchers to spend on art materials, and a full profile in the Autumn issue of Art & Music. Boudicca makes bright, exotic paintings of animals, tropical plants and all round colour paradises, and we wanted to find out more about what it is that inspires her eccentric work.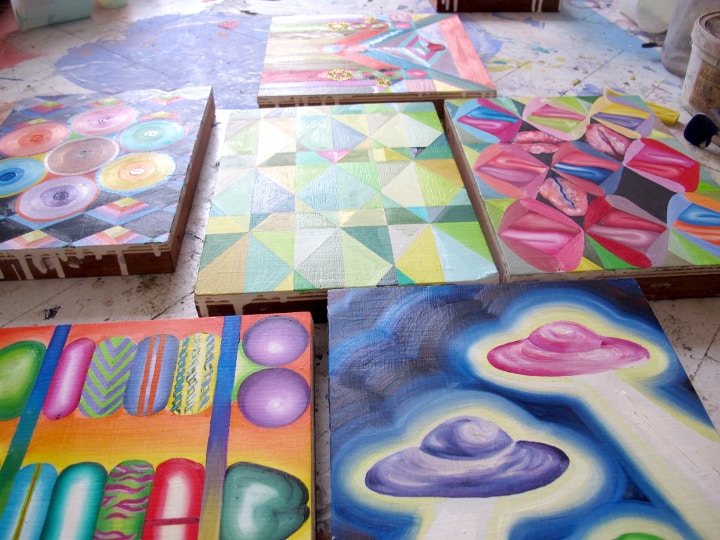 Congratulations on winning ART FOR ALL! Which art materials will you buy with your winnings?
I really want to stock up on some Old Holland Oil Paint. They're highly pigmented, smooth and they have a nice malleability on the canvas. The colours are really vibrant too.
I'll also treat myself to some Michael Harding Oil Paint; some of his colours do some really different things. There's a shade of orange of his that when mixed with white goes this amazing luminous colour!
I also want to buy some felt tip pens and omega brushes. It'll be good to see what projects come up and I can buy the materials I need as I go.
Your use of bright colours and wild animals evoke tropical landscapes and exotic cultures. What inspires you to turn to these as your subject matter?
A combination of things, really. It probably all stemmed from the first time I saw the Henri Rosseau painting of the tiger, when I was 5. It blew me away, and that was when I knew I really wanted to paint. My dad came from India and grew up in Kenya and he would show me pictures of the animals from over there and tell me stories, and I felt so frustrated being stuck in grey London! So in my mind I was always going to these tropical places.
What are you trying to convey with your paintings?
I'm working on a few different series at the moment. My totem animals series is all about a level of escapism. But for the Art For All competition, I was working on a teenage fantasy series. I was thinking about how most teenagers fantasies are based on their ipads and the online world, and how the generations before the internet had to use their minds to escape. I made these boards, using the same dimensions as an ipad screen, and asked my friends what they desired as a teenager. A lot of it was about sex, smoking weed, or getting their nails done…and I wanted to make an art piece about that. I took all these elements and made them quite abstract, and it was quite serious but at the same time light hearted. A lot of my friend's fantasies were quite primal, and also very similar.
Can you talk a bit about your other projects?
I made some giant plasticine vaginas for a Channel 4 documentary a couple of years ago. It helped raise the awareness of FMG and the law has now been changed, to prosecute people that do it. I think it had a great knock on effect. Then I met a policeman who told me that the segment of the documentary that featured the plasticine models is now shown as a training video! It was for a good cause and I didn't get paid for it, so whilst it wasn't technically a part of my art practice it was still very important.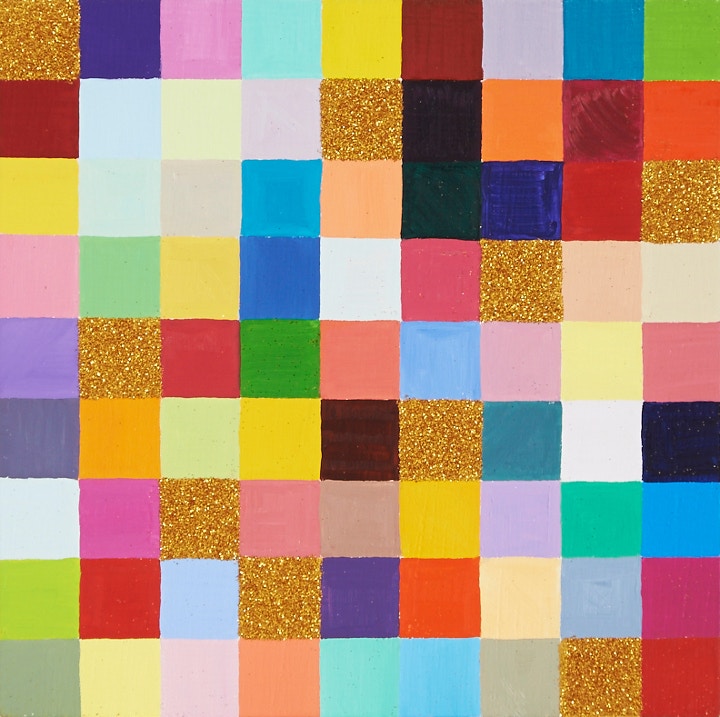 What kind of paints do you use and why?
Old Holland and Michael Harding, but also some of my dad's paints which are twenty years old. He was a painter, and I've got a lot of his old paints from a brand called Keeps, I've got tins and tins of the stuff. I used to visit his house every weekend, which was also his studio, and he'd set me loose with paint and let me do what I wanted. It was such a joy to have that, just to make a mess! I wasn't allowed to make a mess at my mum's house but because my dad lived in his studio he didn't mind me spilling.
What did studying at the Slade teach you about yourself and your art?
It was really great. They didn't provide too much structure, so there was a lot of freedom. There were amazing tutors and visiting artists and it was quite a supportive environment, not overly critical. I'm still in touch with friends and peers from my time there. We go to exhibitions together and keep in touch and it's one of the most valuable things you can take from your art degree, a network of peers.
Any advice for students studying at art school today?
Don't think you're going to sell your work at the degree show! I did loads of paintings and one small one got stolen at the private view, a small one called Glitter Kitten. So another piece of advice would be to stick your work to the wall with sticky backed Velcro.
What are your plans for the rest of 2015 – any exhibitions coming up?
I'm going to make a short animation or video work for a group show at Tank TV in October. I'm also working towards a two person show next Summer at Westminster Reference Library. It has an amazing archive there and it hosts talks and events. The art books there are incredible, and I got to spend a whole afternoon in the stacks, browsing and collecting lots of reference material for the show.
Feeling inspired?
Find out more about Boudicca's artwork on her website.