Posted by Cass Art on 27th Jul 2018
Originally from Gibraltar, Christian studied Technical and Scientific Illustration at Middlesex University before going on to be a successful illustrator. He worked with several major publishers in London, and worked on projects for Disney and National Heritage before he became a lecturer. After some time teaching, Christian discovered his love of abstract painting, and was soon approached by the Clarendon Fine Art in Mayfair. It was on a day making marmalade with a friend (true story!) that he watched a clip of Sky Arts Portrait Artist of the Year, and he decided to make a painting and enter.
Here at Cass Art we want to give a huge congratulations to Christian, who has won a year's supply of art materials from us as part of his prize, and a £10,000 commission to paint actor Alan Cumming. We caught up with Christian at our Islington Flagship art shop to find out more about being featured on the Sky Arts show and to hear about his painting process.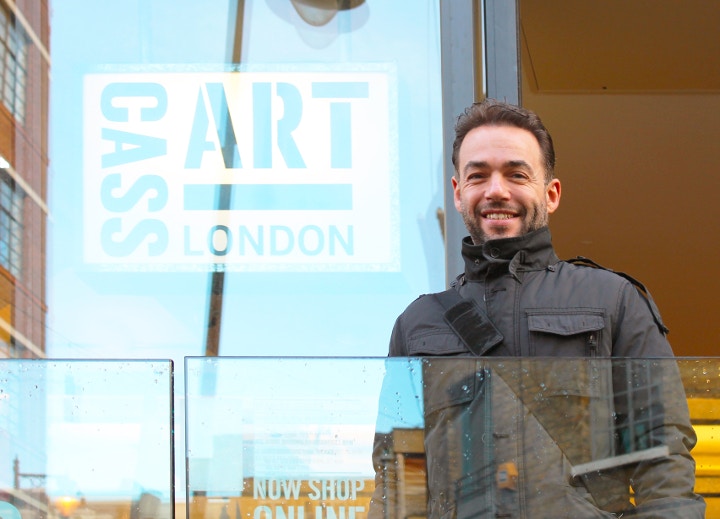 Congratulations on being crowned the Sky Arts Portrait Artist of the Year! How does it feel?
It's amazing really, it's been a long journey. All the people who entered have been working consistently since the summer. I couldn't concentrate on much else, because I had to fly back and forth to Gibraltar, so it's great to come to the end of it and win! Also there were some great professional artists competing, all at the top of their game, which makes winning even more special. My process is part of the artwork in some way, and perhaps more suitable to painting under timed conditions because I paint in layers. It allowed me to work to different time scales which I think other artists found difficult. But I feel truly honoured that I won up against some truly brilliant artists.
What is your favourite memory of the show?
The small film we made in New York, after I was made the winner. I was given a lot of freedom by the director Danielle Graham and I had a few really exciting ideas that she let me work with. It's about an hour long and it's going to air after the series is over, so look out for it!
What's your advice for anyone who wants to get into painting?
There are no shortcuts if you want to be an artist. If you're determined and hardworking and you have the sensitivity to make good choices in your development then it's just a matter of time until something happens for you.
It's the perils of life itself – we're emotional creatures, so whether it's relationships or something else – that make us lose focus of our dreams. That's the real killer. It's not a lack of talent. Those that want to achieve are the ones that go onto succeed.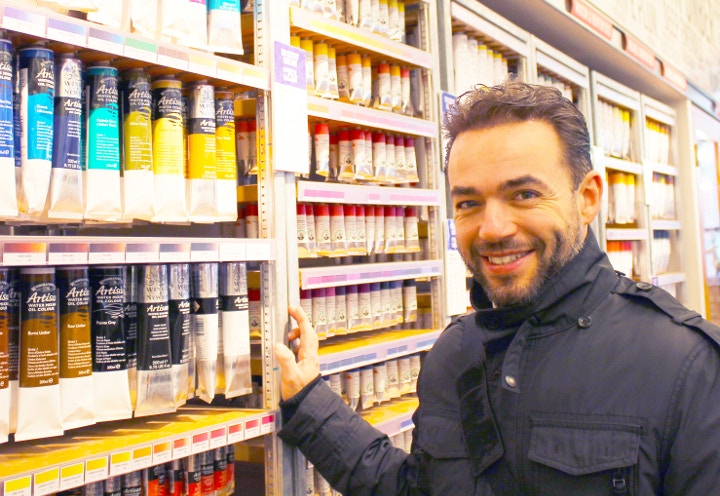 Which art supplies will you be stocking up on? Do you have a preferred medium?
I prefer working in Georgian oils, because the viscosity of the paint is softer and easier to mix. I often work with Winsor & Newton water-based oils though, just because I often work quickly for commissions and my work needs to be dry sooner. I usually mix with a palette knife and the water-based oils have a stiff consistency that works well.
Can you talk a little more about your journey as an artist and explain your processes further?
My course at Middlesex University gave me an opportunity to learn traditional techniques. The creativity was really limited, but it gave me a proper understanding of drawing and technical techniques on acrylic, watercolour, oil paint – on all art materials at a high level. I think that helped a lot in bringing my ideas to fruition.
Then I became quite a successful illustrator in the UK, illustrating over 150 books. Illustration taught me how to work on a restricted time scale. There's no time for excuses. You either deliver or you're out, and I think I learnt a lot from that.
I worked on so many different projects that were near impossible. I was working for the English Heritage, and we wanted to get a bird's eye view of Audley End. To achieve this, I built a rocket with a camera and it got stuck in a tree…until eventually I went to an airport and got on a practise flight with a student to get photos from the air. I dropped my lens from the plane, but I didn't kill anyone, which was good!
After a time I headed back to Gibraltar because I missed the weather. But I got ill, and the phone kept ringing with all these questions about whether I'd finished this project and that project, and I just thought – that's it. I called my agent and told him I wasn't taking on any more projects, I was done. From then on I started working in a secondary school teaching art, and that introduced me to more abstract work. I made friends with abstract artists and also toured Spain with a famous band as their guitarist. The process of writing a song gave me complete clarity on working on art with no subject matter. From nothing you give birth to a song, and it's the same with art.
During this time I saw a painting by Antonio Lopez – he'd painted a scene of Madrid every day for ten years. There's something in his work that haunts me, he goes deeper than the surface of things…and when he finished he'd captured the change in Madrid on his canvas. His painting became a time machine, and I've explored this ever since. I never paint a subject, I always paint a time frame. Nothing is still. I read Samuel Beckett's Waiting For Godot, and I believe in this concept that people are always waiting for something. We wait for something that lasts a minute, and then we're waiting for the next thing. Everything happens in between, and I developed this idea in my painting. I freeze frames, and paint a new painting with each layer.
How did you hear about Sky Arts Portrait Artist of the Year?
I had my first solo show last year at the Clarendon Gallery, and I left school because my paintings were selling and doing quite well. I was splitting my time between London and Gibraltar. Then one day I was making marmalade with a friend – he owns some land and orange trees, and he makes the Queen's favourite marmalade, sends her boxes of it – and he put on an episode of the show and asked if I'd seen it. There was a week left to apply so I made a painting quite quickly – I knew we'd be in timed heats so I didn't think there was any point taking days to make something – and sent it over. Then I got a call.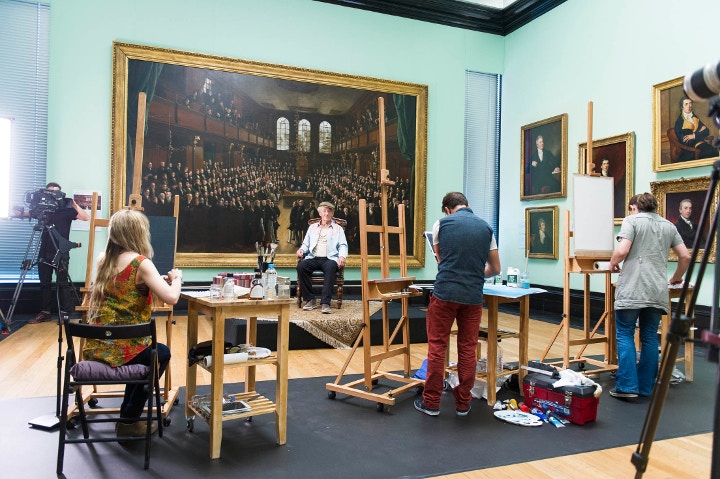 What are your plans for the future, and what did you learn from Sky Arts?
Before I was on Sky Arts Portrait Artist of the Year, I was working with some well-known artists on some very different disciplines – a famous Spanish sculptor, for example. The project is called "Inspiration From The Past" and it's all about working together but separately, allowing the viewer to interact with the work, and that's forming the basis of my next show in Mayfair in October. Being on the Sky Arts programme has been fantastic as it's bringing in many more commissions and now I'm even busier than before!
Storyvault, the production company that made the series for Sky Arts, took everything very seriously. There was a real emphasis on the art itself, which I didn't expect, but I thought that was brilliant. It gave me the chance to interact with other artists, and I try to learn from everyone. It's important to learn all the time from everyone but not be wavered by other people's opinions. If I could say one thing to other artists it would be 'Don't listen to anyone.' You shouldn't be limited by other people's ideas of what isn't achievable.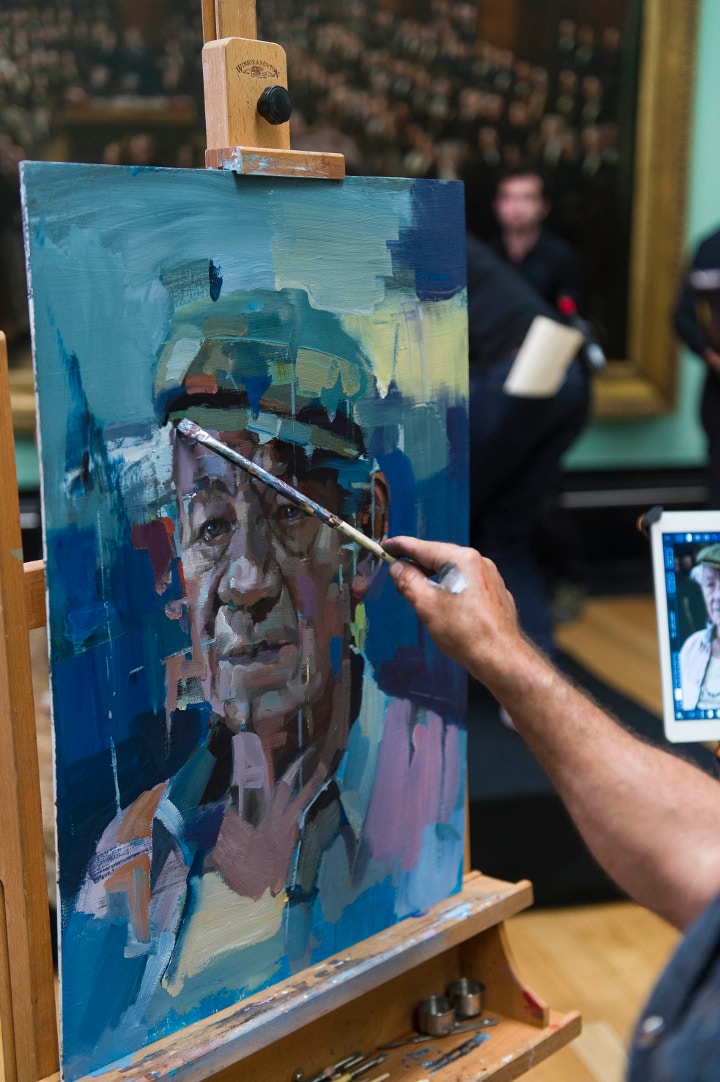 Feeling inspired?

Watch the highlights of our Panel Discussion with this year's Sky Arts Portrait Artist of the Year judges and some of the painters below.

You can visit Christian Hook's website here