Posted by Cass Art Staff on 1st Dec 2021
With Christmas fast approaching, add a personal touch to your gifts by creating your own custom-made cards, wrapping and gift tags. Follow our step-by-step guide to lino printing and turn your own illustrations and designs into festive prints.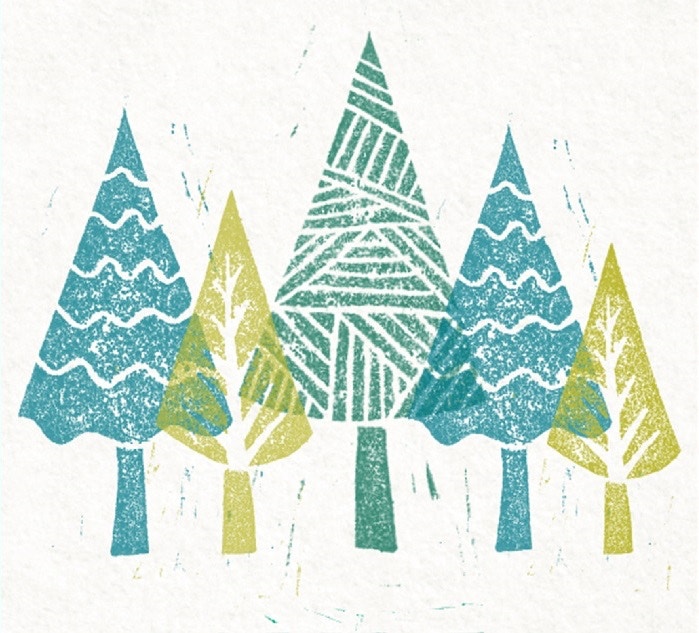 You Will Need:
Newspaper or Protective Plastic Sheet
We Recommend: The Essdee Lino Cutting and Printing Kit - From a variety of lino sheets to a range of tools, its got everything you need to get started with lino printing and makes the perfect present this Christmas.
1. PREPARE YOUR TOOLS
Ensure your surface is protected with newspaper or a protective plastic sheet before starting your print. Create space for the prints to dry away from your working area and make sure all your tools are unpacked, clean and ready to go!
2. DRAW OUT YOUR DESIGN
Using a pencil, sketch out your design directly onto the lino surface. Remember, the image will be printing in reverse, so ensure letters are drawn on 'backwards'.
3. SAFE CUTTING
Once you are happy with your design you are ready to start removing the lino. Using the Safety Hand Guard, steady the board and begin to remove the excess lino, ensuring that you always cut away from yourself.
4. CUT OUT YOUR DESIGN
To achieve an outline of your design, directly remove the excess lino around your pencil line. This will create a 'drawn line' print. To create a relief print, cut directly along the pencil line. You can combine both these styles within the one lino, to create a range of effects.
Top Tip: When printing letters, make sure they are drawn out in reverse on your lino, otherwise the word will be printed backwards when you turn out your design. You can use different shapes and sizes of blade to create varied marks.
5. ITS TIME FOR SOME INK
Add your chosen colour of ink to the ink tray and begin rolling out the colour. Ensure the roller is covered evenly, rolling on the ink until you hear a tacky noise.
Top Tip: No printing ink to hand? We have a range of mediums that can be combined with acrylic paint to achieve an ink finish. Mix your desired colour and combine with either Golden or Daler Rowney mediums to create your ink. Looking to print on fabric? Daler Rowney Textile Printing Medium also combines with acrylic and can be applied to fabrics, and are water resistant.
6. INK UP THE LINO BLOCK
Using your ink covered roller, start to apply the ink to your lino cut. Ensure there is an even coverage of ink across the whole design, being careful not cover the surface with too much ink, as this will cause your design to bleed. Now you're ready to start creating your prints.
7. PRINT IT
Prepare your paper by laying it flat on a sturdy, flat surface. Lay the lino cut face down onto your paper and press it down from the centre with a baron.
Top Tip: You can always use a clean roller to press your design into the surface or the palm of your hand.
8. HAVE FUN CREATING YOUR DESIGN
You can create multiple prints with the same lino and ink application. The first print will create a bold design with strong colour coverage. The more you print, the weaker the coverage of ink, great for creating a rustic or weathered feel.
Top Tip: You can cut your lino in stages, applying one layer of ink on top of another, to achieve multiple coloured layers within the same design.
9. ADMIRE YOUR CREATION
And you're finished! Create as many prints as you like on a variety of surfaces. From Christmas Crackers to Wrapping Paper, Gift Tags to Christmas Cards – the possibilities are endless!