Posted by Cass Art on 1st Feb 2019
The only pencil manufacturer in the UK, Derwent have been making drawing materials since 1832. Made in the Lake District, Derwent pencils are a favourite among artists. So, whether you require a drawing tool to create line art and pencil sketches, artist coloured pencils or watercolour pencils, Derwent has a pencil to suit you. From the staples such as Artists, Graphic and Watercolour pencils to innovative lines such as Inktense, Graphik Line Painters and Graphitint, the choice really is yours.
Intense drawings
Let's start with the basics. Observational pencil sketching is the best way to get to know a subject. Derwent Sketching Pencils are an excellent choice for freestyle sketches and bold line drawings. The pencils have a wide strip that sweeps smoothly on paper, enabling you to sketch quickly. The tools also sharpen to a fine point to add those all-important fiddly outlines and details.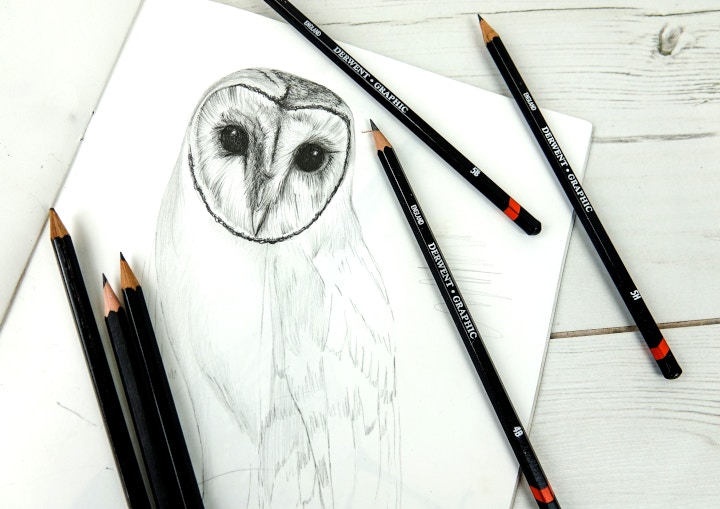 Showcase your drawing skills and produce strong, effective results when you use Derwent graphite pencils to create stand-alone artworks. To make fantastic graphite pencil drawings, you should use a wide choice of pencil grades in your work to create texture and contrast. The grades refer to the density of the graphite in the pencil. Derwent Graphic grades range from the crisp and light 9H for delicate lines and fine layering, through the trusty HB pencil, to the soft 9B for deep shading. Build up depth, intensity and texture by defining lighter, hard pencil strokes and layering darker marks with softer graphite.
Expressive tones
Derwent Graphitint Pencils are a brilliant solution for when you'd like to add some colour to your pencil art. Available in atmospheric shades such as port, aubergine, dark indigo, slate green and cool grey, when used dry they add a subtle hint of colour. However, if you want to create richer hues, simply brush over with, or dip in water. If your style is more gestural why not try Derwent XL Graphite blocks? In six dense shades from Olive Green to Burnt and Raw Umber, these blocks are perfect for landscape drawing. The blocks create a wide variety of textures and effects including subtle blending, fine lines and deep tonal work.
Embrace colour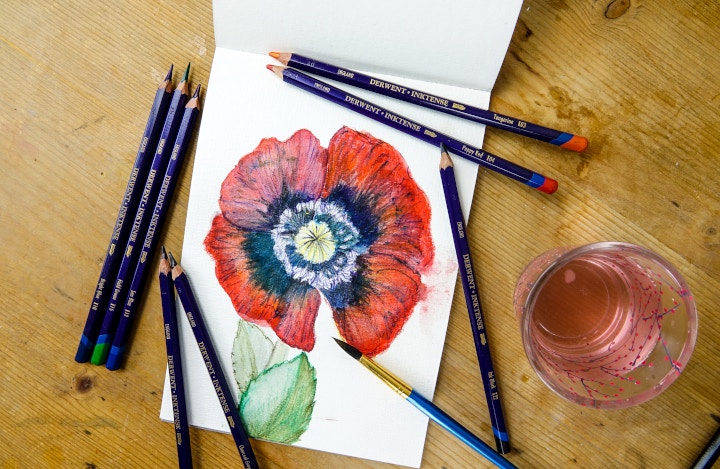 With its wide range of finishes and options, Derwent coloured pencils are ideal if you are looking to create more colourful pieces. Richly pigmented, with a line that glides like an oil, Derwent Procolour pencils blend beautifully and produce a super smooth finish while still holding a precision sharp point. They come in 72 colours that can be layered over the top of one another, achieving a particularly intense result.
Derwent Lightfast Pencils were created after years of research and development. The oil-based pencils are ASTM D6901 compliant, the international standard for lightfast testing. This means that the colours will not fade for 100 years under museum conditions. The pencils have a rich vibrancy that can be mixed with a medium to create a paint-like effect.
Derwent Inktense pencils are an amazing watercolour pencil. Inktense pencils offer a wealth of artistic possibilities. While they have solid, silky colour coverage when dry, mix them with water, and they turn into a luminous ink that you can bleed and blend with a brush.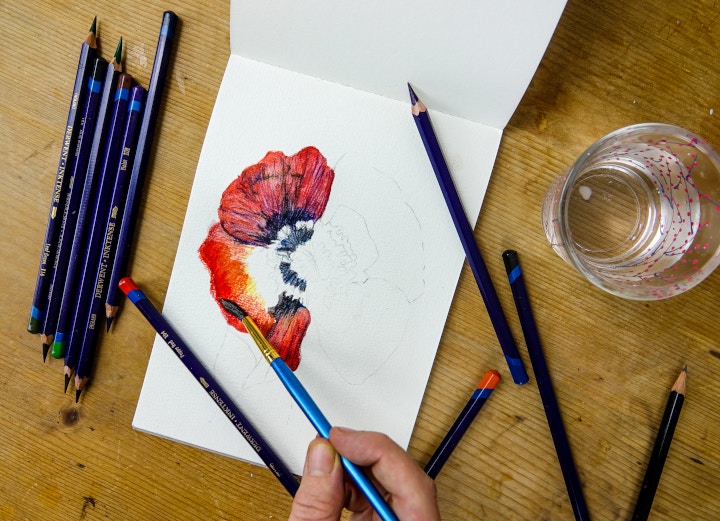 The creative options don't end there. Once the 'ink' is dry, the colour is fixed so you can layer outlines, details and highlights over the work. The pencils are also very versatile, the permanent ink it produces is perfect for using on fabric such as silk and cotton.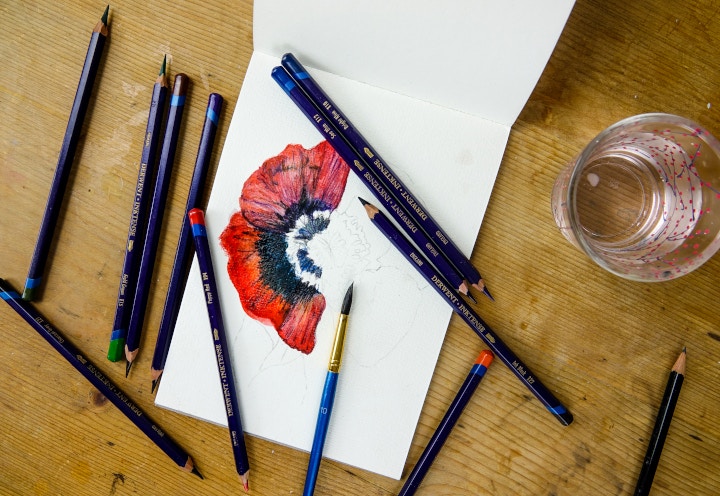 Make your mark
Building on its reputation for innovation in making pencils, Derwent has turned its expertise to creating artist pens. The Derwent Graphik Line Maker pens are made for drawing, sketching and graphic art. The fine line pigment ink pens boast a range of Japanese nibs in sizes 0.05mm, 0.1mm, 0.2mm, 0.3mm, 0.5mm and 0.8mm allowing for different line finishes and tonal effects. Graphik markers are also available in colour. Derwent Graphik Line Painter Pens contain fluid, opaque, pigmented ink in 20 bright shades. The markers offer an immense depth of colour, even on dark backgrounds. The permanent pens allow you to create layers, dribbles, washes, and fine lines; you can even use a brush to blend effects.
Feeling Inspired?
Check out the Cass Art's range of Derwent pencils and pens.