Posted by Cass Art on 16th Apr 2019
After being treated for so many weeks to beautiful paintings, wonderful sitters and fascinating artists we have our winner! Read our exclusive interview below where we catch up with winner Duncan Shoosmith and find out all about his experience of winning Sky Arts Portrait Artist of the Year 2019, the £10,000 commision to paint musical legend Sir Tom Jones and also £500 of materials from Cass Art.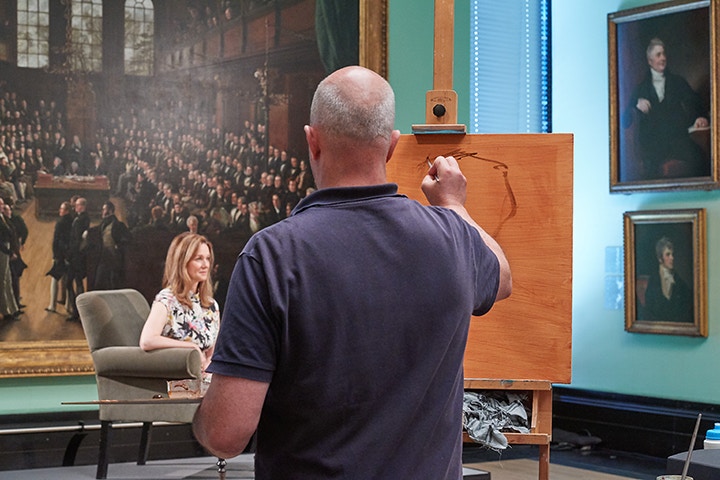 How was the atmosphere during the final, was there much chance to see how your fellow competitors Sara and Tom were progressing or was it all too pedal to the metal?
The atmosphere was different to earlier rounds with just 3 of you there is no room to hide and I wanted to paint a portrait that justified my place in the final. I could see a little bit of Tom's picture so I knew he was painting 2 heads, but I didn't get a glimpse of Sara's until the lunch break. My tactic, like in previous rounds, was to crack on with the picture at a good pace make the big decisions early, get structure right early on then soften and refine with the remaining time.
With the added pressure, and being surrounded by such wonderful portraiture at the National Portrait Gallery was it difficult to tune out the outside world and just focus on Laura?
You learn how to tune out in the Heats so it was more of the same but the venue (NPG) definitely upped the stress it felt like you were at an occasion. By the final you're used to the way the day pans out your eye is in, you're pretty switched on. We were lucky Laura was a perfect model she's got a quiet confidence and yet there is something fragile about her too.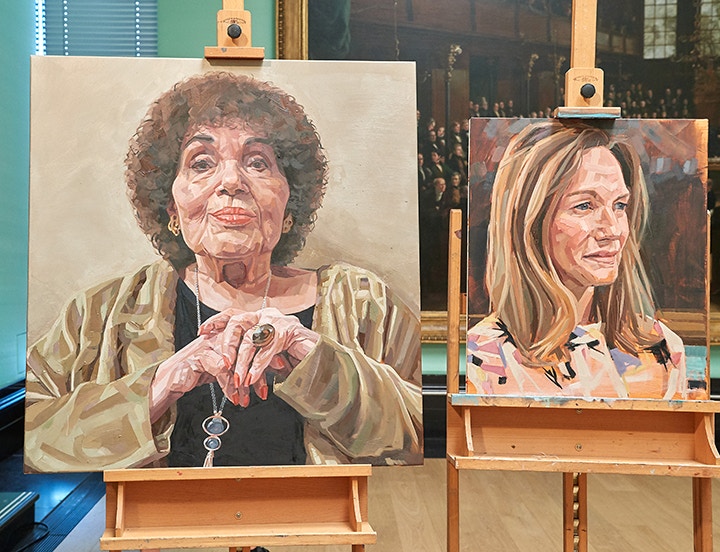 In the final you described how you paint with acrylic for your underpainting as a quick plotting method, then work on top with oil. Could you talk us through this process a bit more?
I don't usually work with acrylics but for the competition they enabled me to get the underpainting and main structure down and dried quickly…which helped as I usually work wet on dry. First step is to water down some burnt umber, and mix some burnt sienna and white to match the canvas ground (use this like an eraser) then using a decent sized brush start to map out the general structure of the painting taking a bit of time to measure proportions of the face's features but also using strong strokes to find the form of the head similar to using bold charcoal strokes. This underpainting is when you can be really brave with your painting. Then bash in basic colours/tones for the non-head sections ie body/shirt and background. By the time you've mixed your oil colours the picture surface should be dry enough to take the oil paint.
There's a real warmth to your palette - what drives your choice of colour in a work?
Obviously the sitter's face will determine the colour range, but I do try and push the warmth. The warmer the picture the more fun there is to be had with the cool areas. There has to be balance. When I started to paint I'd pore over Freud, but sometimes his palette is so corpse-like so I started using strong warm grounds - under the flesh is red blood after all! I paint a traditional dark to light warm tonal painting then balance the temperature with cool colours.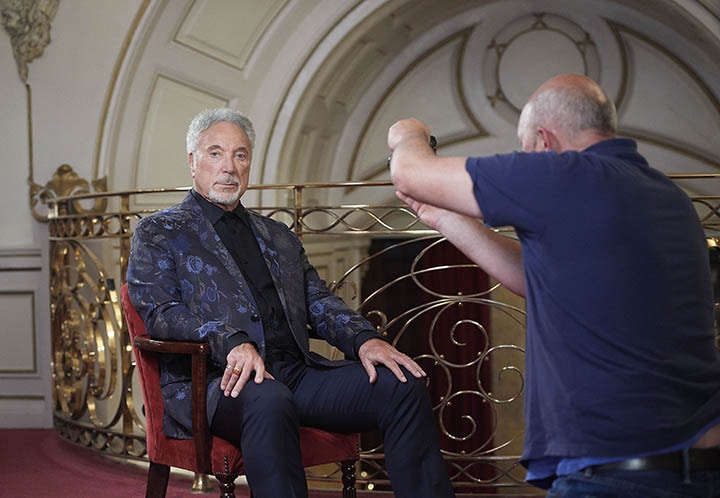 What was it like working with Tom Jones? Is he a well behaved sitter?
Sir Tom you mean? Ha. Tom was as you'd expect warm, friendly and charming and very professional - completely at ease with the cameras. He's also a very busy man and we were limited to a couple of hours on two afternoons and that was all! I found sketching Tom genuinely the biggest struggle of the whole experience. Aside from the fact that he rarely stops talking, having to sketch whilst interviewing him and taking on board and commenting on what he's saying was complex. I didn't want to be rude. Apart from anything his stories are fascinating - all about Elvis and Johnny Cash and Dylan. I just had to do what I could but the sketches weren't great and the whole time your head is screaming "this is just bizarre!" Having said that, it's only by spending that, albeit limited, bit of time with him that you start to get a feel for the man. I had wanted to find a darker, sterner side to Tom but the reality is he's a very 'up' person. Off camera he's forever whistling a tune or singing a melody hence I felt that my first effort at his portrait was just too dour compared to the man himself. My final piece was, I think, more truthful.
Yes Tom did talk quite a bit during your preparatory drawing phase! I can understand why it might have been a bit of a challenge to concentrate on both elements successfully, but you did say you felt like you got a feel for his character. Do you think it's vital to a good portrait to talk to your sitter and understand their character as well as visually observing their physical attributes?
Well ideally you want to have known you sitter for years and have a strong relationship already but sadly I can't just paint friends and family like Freud and Hockney so you have to do your best in a very short time to get a sense of their character, and to observe any mannerisms or particular twists that they have sitting with somebody and conversing while sketching them is a gentle way to gather this information. Certainly with Tom the sketches themselves were of minor importance compared with the observation of his face, and after a while you start to notice things about him: his posture, the way he tilts his head when he looks away and you start to get a sense of what mood the picture should have to truly represent him.
How has it been since winning the competition?
Well for nearly a year I've not been able to tell anyone…so it still feels wrong that people know! Even without the competition I've been fairly busy this last year, so hopefully that will continue. The warmth and positivity from people has been touching. From a painting point of view the competition definitely shook me up, pushed me, and improved me…and I'm determined to keep that momentum going.
And finally, what advice would you have for those wanting to apply to Sky Arts Portrait Artist of the Year in the future?
It is like nothing you can imagine! It's stressful, tiring, and testing good fun but also a bizarre experience. My advice would be to practice, practice, practice. In the 2-3 weeks running up to my heat I sketched and painted a head in between 2 and 3 hours every day. Forget the 4 hours, you need to be quicker than that. Find a way of working that results in something half decent at the end of 3 hours. Forget any negativity about working from a tablet in this competition it's virtually crucial given the amount of time that the sitter is obscured from your view and it also means you have some reference, however inferior to life, to work from during the breaks this should buy you another 40 minutes of working time. Have comfort that the programme makers will look after you. They are not trying to stitch you up. They are not laughing at poor likenesses. They are supportive and appreciative of your efforts.
See more of Duncan's work by visiting his website and following him on Instagram
Image credits: Photography © Sky Arts, paintings © StoryVault.