Posted by Cass Art on 13th Dec 2021
The Sky Arts Landscape Artist of the Year Series 7 has been announced! The deserving artist won a £10,000 commission for Manchester Art Gallery to celebrate the historic Rochdale Canal, and £500 of art supplies from Cass Art. We caught up with them to find out more about their experience on the show and discuss their work.
WARNING SPOILERS BELOW!
AND THE WINNER IS… ELISHA ENFIELD!
Hi Elisha! Huge congratulations on winning series 7 of Sky Arts Landscape Artist of the Year! How did you feel going into the final?
After the Semi Final, things moved very quickly. I was back at work, and there were only a couple of days between the Forth Bridge and the trip to Paddington Basin. I didn't have a lot of time to think which is good because I was very nervous already! The location was a complete surprise, and I fell in love with it straight away. Though soon realised the huge size of the challenge it presented.
The final took place at Levens Hall on the edge of Lake District in Cumbria. A magical scene with topiary trees in a picturesque landscape. You were conscious that you didn't want to make the scene too 'pretty' or fairytale-like. How did you achieve that?
It's funny hearing back some of the interviews, which are essentially a stream of consciousness, because I'm not always fully conscious of the decisions I'm making. I was aware that the glare from the sun was in sharp and extreme contrast to the dark topiary, giving the garden a sinister edge, and I chose to focus on this.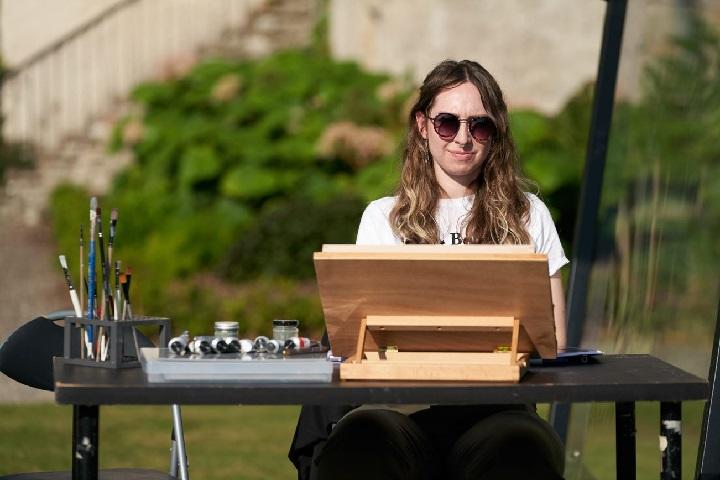 Given you only have 4 hours to create the final work, you spent a lot of time - about an hour or so - contemplating without putting brush to canvas. You had the judges' nerves on edge! How important is it to you to spend this time thinking about a work before you begin, and what decisions are you making at that stage?
Ah yes, that infamous hour! To clarify, that hour also included a lot of interviews and obstructed views, but it is important to me to spend time planning a plein air painting before I begin. Unlike in the studio, or even just outside of a competitive situation, you don't have the luxury of a second chance. Unless you are a much faster painter than I am. Taking the time to test your composition before putting paint to board can save you precious minutes down the line. I am drawn to compositions that feature a central object as the focus, so my decisions are largely about locating this object and testing different angles to find the most successful framing.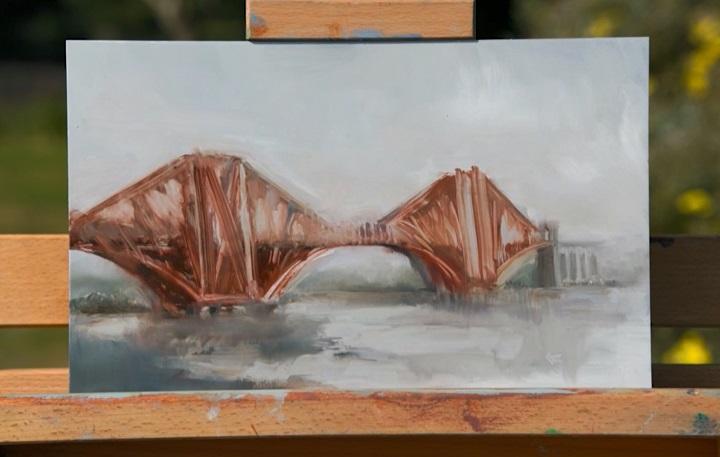 In all of your works on the series, you use a really interesting, limited, subdued colour palette. What draws you to those tones and what colours would we find on your palette?
Although I do a lot of planning before, it's the structure I'm planning. When I start to apply the paint I'm finding my way through what I'm seeing, and using the paint to capture nuance and subtlety. In taking that approach I like the sense of mystery it gives, where things can be seen but also imagined. Colours that can usually be found on my palette include Burnt Umber, Ultramarine Blue, Transparent Yellow Oxide and Flake White.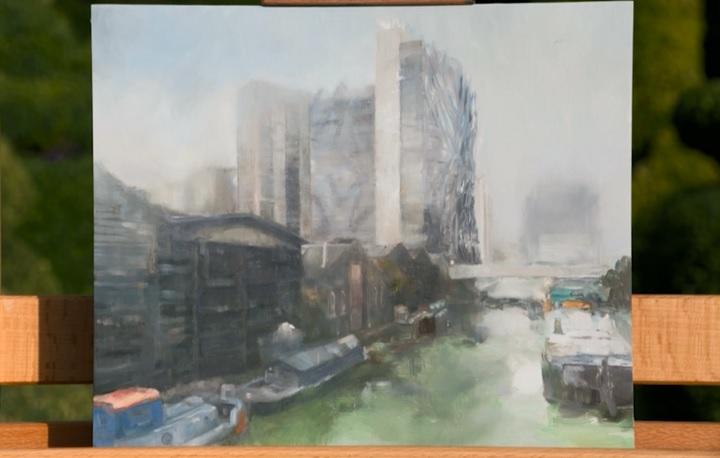 Your commission piece in the final was of Paddington Basin. You produced a misty, foggy and timeless scene. You have a wonderful technique, combining soft brush marks, an almost watercolour-like use of oils with thin layers and you wipe away colour to reveal the light beneath. Can you talk us through your process of building up the paint in this way?
Paddington Basin was a lovely surprise and took me back to painting cityscapes 12 years ago, particularly Hong Kong. At the time I painted on a much larger scale, so it was a bit of a jump, and needed muscle memory, to paint a cityscape again at that much smaller size. I loved the narrative of that painting because the past and present came together in it, and in my personal journey, the past and present also came together. I rediscovered techniques I had forgotten, such as wiping away paint to capture light reflecting off glass.
I didn't prime this aluminium panel, which meant I had to build the layers in a different way; starting with a mostly opaque layer of paint, and letting the aluminium show through in the water, and areas of the Brunel Building, but not for the sky as I would with gesso.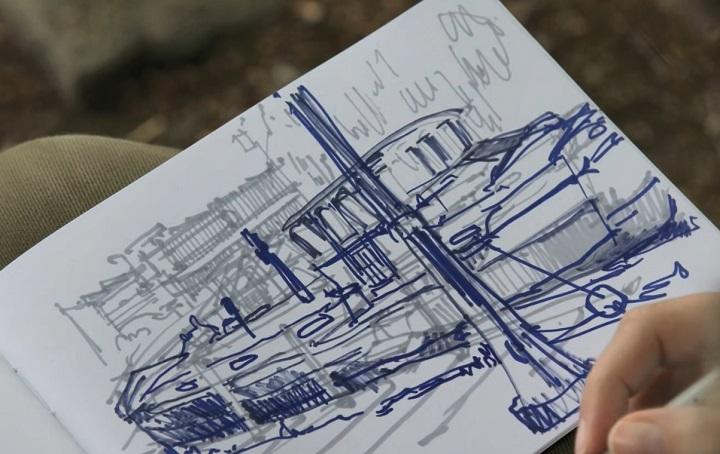 As the winner of the £10,000 commission from Manchester Art Gallery to celebrate the 20th anniversary of the restoration of the historic Rochdale Canal, you were challenged to capture the beauty and regeneration of the waterway and the history of its connection to the industrial revolution. That's quite a bit of pressure for one painting! You met lots of local people and heard their stories, saw so many beautiful locations and made some incredible preparatory sketches and paintings. What materials do you use for your preparatory sketches?
My go-to is a sketch pad and a Sharpie, I've always loved drawing with ink as you have to commit to your marks and it makes them more decisive. Sometimes I want to explore colour and tone in more depth. Over time I've discovered materials that carry the subdued tones I like to use, such as the Derwent Graphitint pencils, and Spectrum Noir Illustrator markers I used in the show.
With so many options, how did you decide on your final image for the commission, and what does the fire in the piece represent for you?
On the research trip I learned that historically there has never been enough water on the canal; both for drinking and cooking, and for onward travel. I had taken it for granted that this was a reliable commodity on the canal, and it stayed with me. Today, water scarcity threatens the future of our planet. For me, this was a striking parallel and formed a central part of my thought process.
As I heard more about the stories of those who lived along the canal, a testament to their grit and strength in the face of changes in transportation, changes in communities and at times, disaster, it became clear they had to be represented. Yet the quality of light and beauty of the landscape surrounding the Chelburn reservoir is breath-taking, and now, the industrial world has been reclaimed as something beautiful; restored and preserved for the enjoyment of all.
The view over Littleborough was inspired in part by records of the Summit Tunnel fire, a legacy of the changes brought about by the industrial revolution. From this viewpoint I could capture multiple developments in transport, the reservoir where the canal originates, the community living and working along the canal, and the canal itself, cutting through the Pennines; its great innovation. This is a small slice of history, my tribute to this 200 year old landmark and a celebration of the powerful, beautiful and unique landscape of the Rochdale Canal.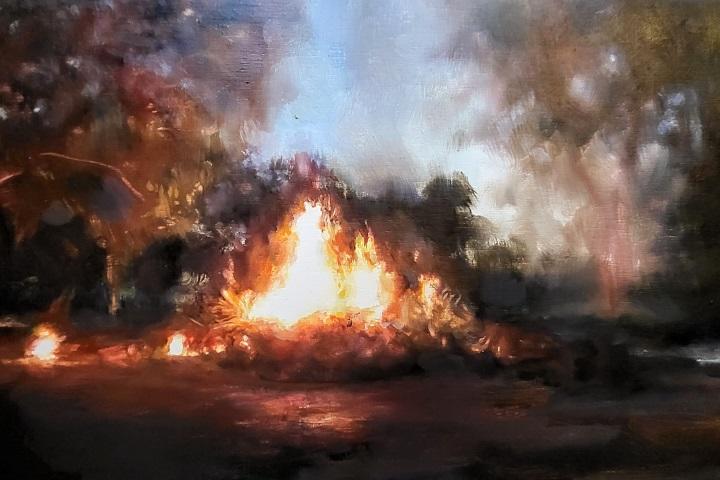 You're inspired by movies with dark narratives and your works often look like there is light coming through the painting, a bit like light emanating from a screen. Tell us about some of your other works outside of the show.
My recent work has been inspired by Walpurgisnacht, a traditional German holiday I discovered whilst living in Berlin during lockdown. It is the night when witches were reputed to meet on the Brocken mountain and is still celebrated in parts of Germany by burning effigies of witches on bonfires. I was fascinated by its divided history; from Pagan celebration to Christian Saint canonization, and through witch hysteria, to Hexenbrennan - witch burning. I find that just living in the world with an open mind and an open heart, the next interesting and inspiring thing is just around the corner.
And finally, what's next for you?
A lot of people have been in touch with some interesting and exciting ideas. I'm not used to being in demand, so need some time to take it all in! But I'm working towards an exhibition, while keeping up with my commission work. I'm excited to see what the future holds.
Thanks Elisha! We look forward to seeing what you create next!
See more of Elisha's work at elishaenfield.co.uk
---
Feeling inspired?
Could you be the next Sky Arts Landscape Artist of the Year? Applications for Sky Arts Landscape Artist of the Year Series 8 close on 14th April 2022. For more information, and to apply visit skyartsartistoftheyear.tv/landscape. Read our interview with the Sky Arts Landscape Artist of the Year Series 7 heat winners and wildcards to get some tips before you apply.
Image credits: Photography © Sky Arts, paintings © Storyvault. Images 8 & 9 © Elisha Enfield.