Posted by Cass Art on 5th Feb 2020
Another week, another Heat, and more non-stop live portrait painting! This week's artists battled it out at the Wallace Collection in London, for a chance to become 'Sky Arts Portrait Artist of the Year', win a £10,000 commission and £500 of art supplies from Cass Art. Tasked with creating a portrait in just four hours from a live, celebrity sitter, Heat Five's artists had the pleasure of capturing actor and band member Elizabeth McGovern, actor and Olivier Award winner Fiona Shaw and Gold Medal winning Olympian Kadeena Cox.
We interviewed Corinne Pierre, winner of Heat Five, to find out how things went and talk about her work beyond the show…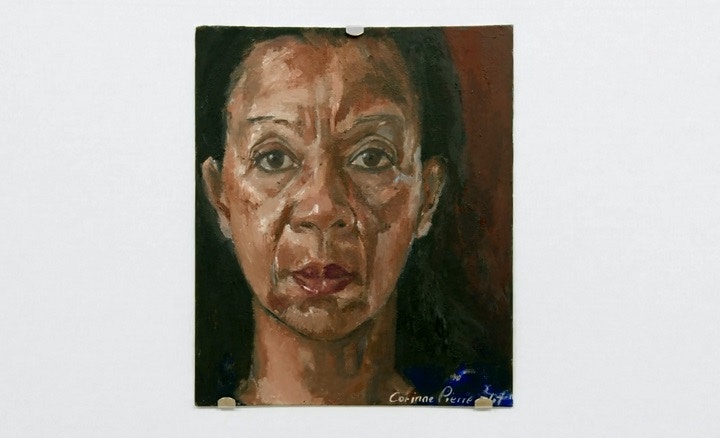 Tell us a bit about yourself, what is your background and how long have you been an artist?
I have lived in London since I was a small child, coming from Guyana (British Guiana South America). I moved to Gloucestershire having gained a BA in Illustration at Bristol Art School, to bring up my son for many years before returning to London. Now I spend time between the two. I have always wanted to be a painter but became side-tracked with textile design after working as a designer and colourist. I also had a business producing clothes as objects of art and painting on silk for art, fashion and furnishing.
You mentioned you were previously an art teacher, tell us about that, has it had an influence on your style?
I really enjoyed the interaction with my students and left teaching really valuing the concept of experiential learning. It's a concept I had always applied to myself - following my instincts to develop my own processes and style, by exploring the limitations of a medium.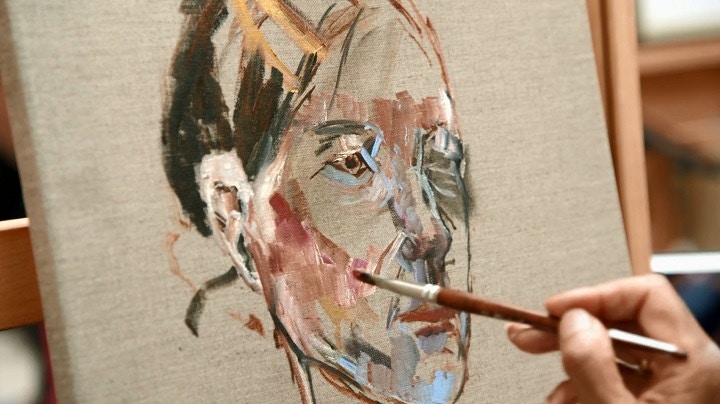 You were tasked with painting actress Elizabeth McGovern in the heat, but you mentioned you aren't very used to painting Caucasian skin tones, how did you tackle that on the day and do you have any tips on how to mix the right colours?
My method of learning to paint involves producing many self-portraits from life, which I photograph and study for successful colour combinations and style. I had consequently become entrenched in rich Vandyke Brown, Raw Umber, Burnt Sienna, reflecting oranges purple, green, and pinks for my skin colour. Before the competition, I practised painting a friend whose pale skin helped me to realise that I could use all the same colours but in different proportions and with an emphasis on my pinks and red instead of browns.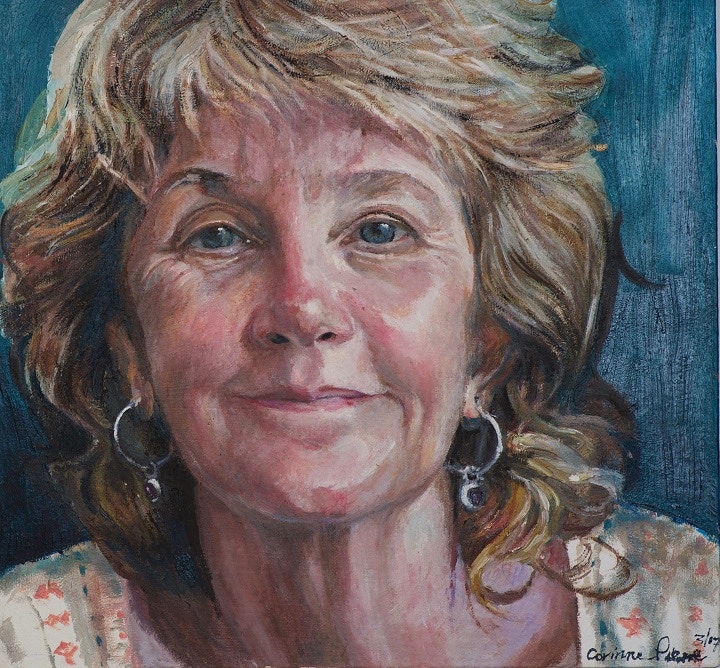 Do you usually work from life or from photographs? What is your preference and why?
My preference is to work from life because it's easier to identify the subtle changes of tone and colour that occur in three-dimensions. However, I find it necessary to work very close to the sitter to do so. I work from photographs only when it's unavoidable.
Can you talk us through your process step by step?
Generally I start by making a 'watery' oil sketch with a fine brush, which mostly serves to relax me. I then lose the drawing and try to allow the image to emerge from the paint while keeping it quite fluid. Sometimes I morph one image into another in a method that is more akin to clay sculpture than painting. I often deliberately sabotage a reasonable portrait to see where it could end up. I often regret this, but at least I have the photograph! While painting self-portraits in this manner, it is sometimes disconcerting to recognise family members in the work. My twin sister often pops up.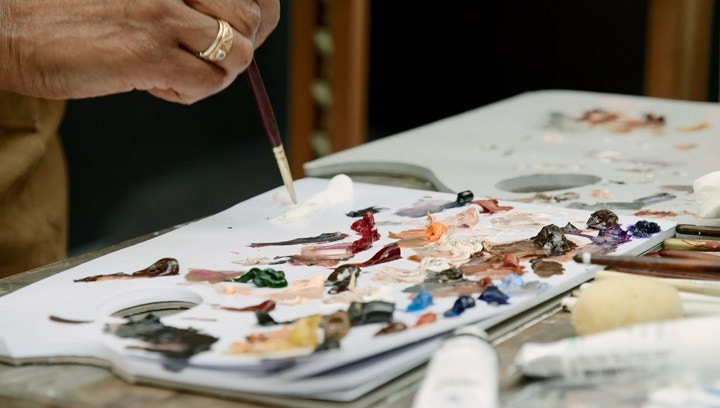 Which paints and brushes do you prefer to use and why?
I like
Michael Harding
and
Old Holland
oil paints. I find them richer in quality so they're good value, and I mostly use inexpensive nylon brushes.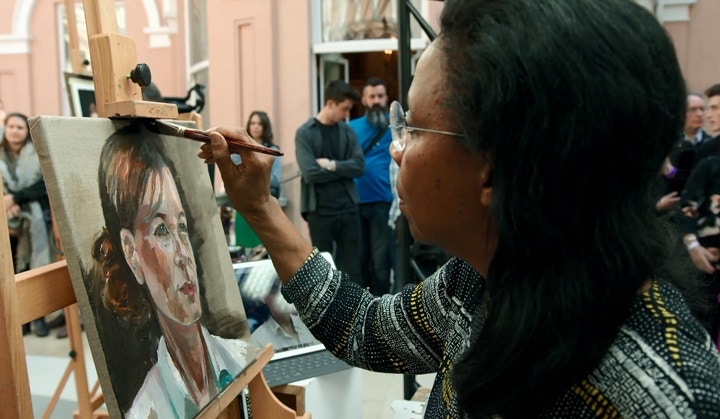 Was it a challenge to paint in front of a live audience?
Yes, I work best alone with good music where I can lose myself and work though my unconscious. If this isn't possible I can become irritable and disconcerted. I did however find it surprisingly easy to lose myself in this heat.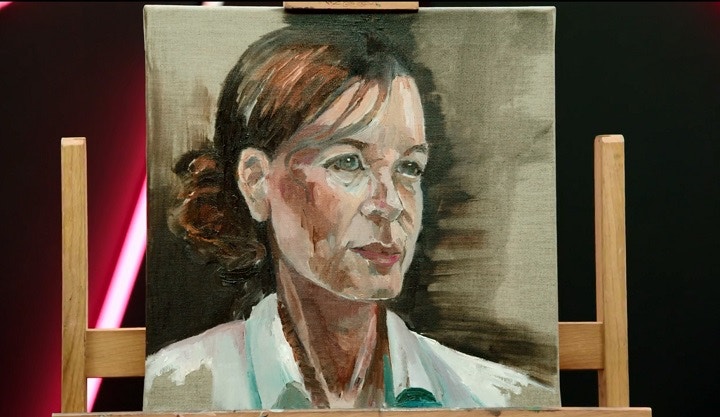 The judges were so impressed with your work and the way it developed over the four hours. Tai said it started as 'a mess that got better throughout the afternoon', and that you 'found a likeness in the swirling mass of paint which had a great energy'. At the end he went as far as to say it was 'a revelation in how one can make art'! How did you feel about the way the piece progressed? Did you have a plan all along or did you allow the paint to guide you?
I didn't have a plan. It became an issue of spontaneous problem solving which generally benefits my work. Sometimes having a plan throws me. I was very surprised and touched when Elizabeth McGovern chose my painting to take home. She was lovely to paint and very kind.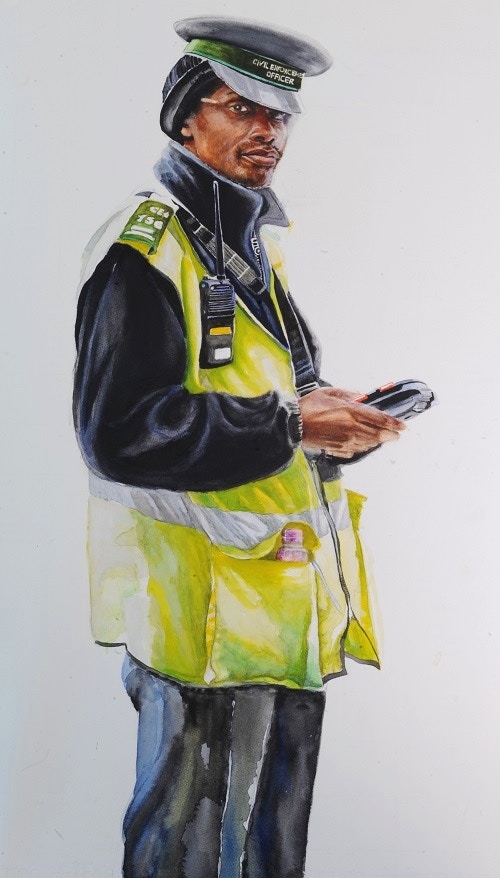 Which other artists inspire you and why?
I love Rembrandt – the startling connection in the eyes always moves me.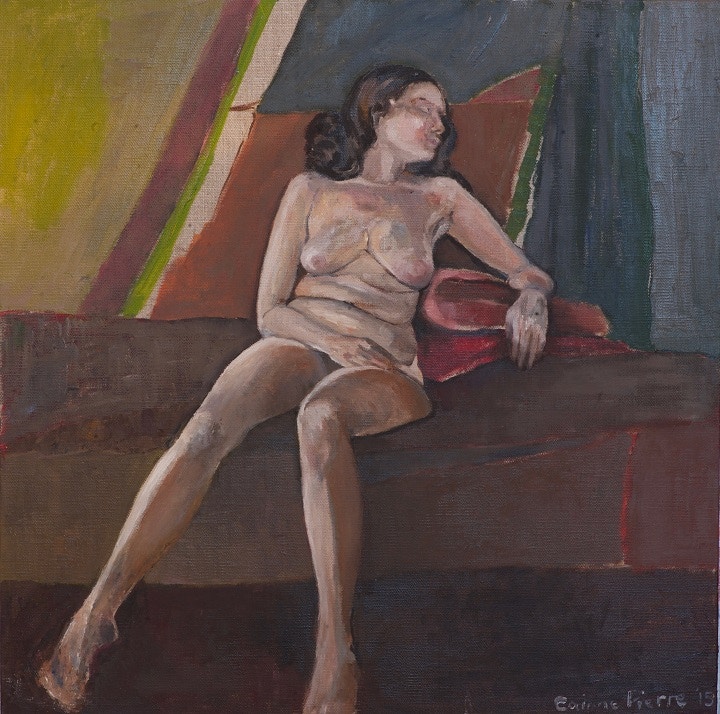 Tell us a bit about your other artworks. What subjects interests you?
My hand-painted silk homage to Picasso has influenced the work I am currently exploring. I'm using silk dyes like watercolour in a free style. I painted it without a plan, allowing the design to develop as it progressed across the silk.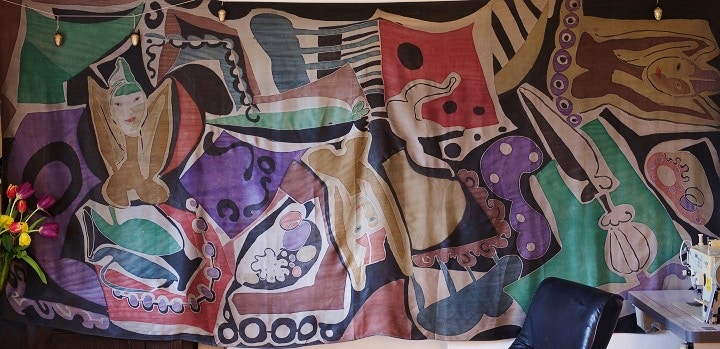 What advice would you give to other artists thinking of applying to take part in Sky Arts Portrait Artist of the Year?
I'd advise anyone considering applying to take courage and do so! The challenge for me has enabled my work to grow.
Feeling Inspired?
You can explore our range of
oil paints
and
brushes
online and in-store. Share your portraits via our social channels using the hashtag #PAOTY2018 and don't forget to tag #CASSART
CALL FOR ENTRIES NOW OPEN
Inspired by this year's heats? Sky Arts is once again on the hunt for the next Artist of the Year. Whether you're a master of portraiture or a pro at plein air, submit your works for a chance to win a £10,000 commission and £500 worth of art materials from us here at Cass Art. Both competitions are now open for submissions. Find out more by following the links below:
Image credits: All artwork images © Corinne Pierre