Posted by Cass Art Staff on 11th Nov 2021
Our Cass Art flagship Islington branch now offers a unique destination shopping experience for Paper. We have options to suit a wide variety of disciplines and techniques. You can now explore our extended collection to find the most suitable surface for you and your practice - our knowledgeable staff artists are also here to help you.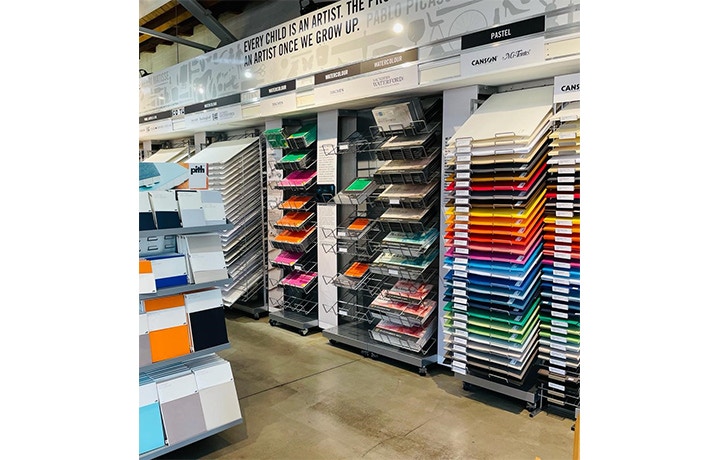 This Ultimate Paper Guide will offer a breakdown of each of the key categories to choose from when selecting your paper surface. It's tailor made to support your needs, as well as offering a comprehensive matrix of the paper's functions and capabilities… There's a solution here to support any project.
Our Discovery Set
Our new and exclusive Discovery Pack offers selection of watercolour papers showcasing our best quality branded papers - from Arches, to Saunders Waterford, among others. We've also included our own Cass Art 300gsm papers - giving any watercolourist the unique opportunity to experience and compare each of the paper's characteristics and features.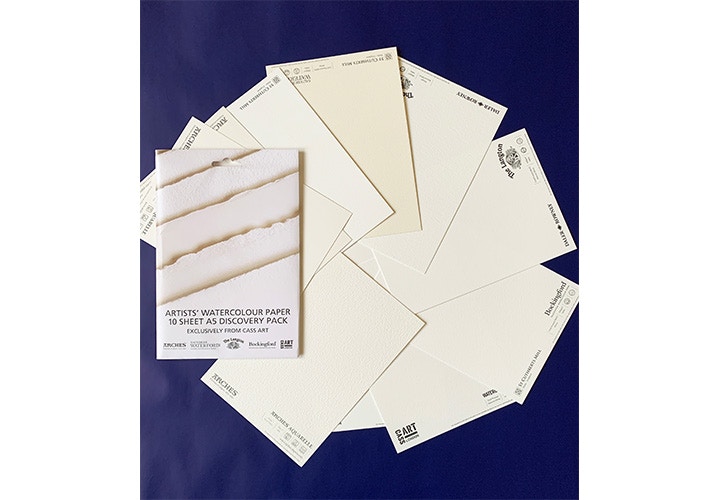 The first set of its kind, we hope this helps to introduce the breadth of our range to as many artists as possible - at the lowest possible price.
---
Mixed Media
With an array of textures and tones on offer, we provide an accomplished range of mixed media surfaces to support your chosen medium- from pastel drawings to craft projects. Mixed media paper is typically designed to hold pigment, support layering, and offer a robust backdrop to your work. They typically have a medium grain tooth allowing artists to create greater depth with dry media.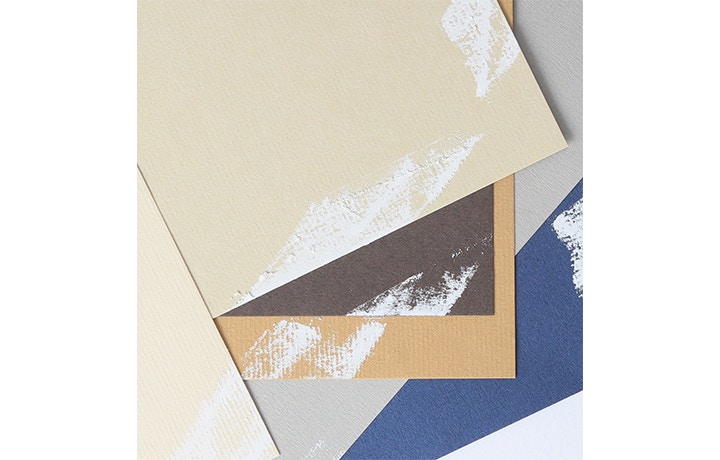 ---
Printing
It's important to experiment with the weight and texture of the papers you choose to print with, as the paper ostensibly becomes a key feature in your finished print work. We offer a range of finishes to reliably hold your ink- or other mediums- to a professional and archival standard.
---
Watercolour
Watercolour papers offer a unique surface to artists, and are made from an important selection of raw ingredients - from cotton rag to acid-free wood pulp, with textures ranging across Cold, Hot and Rough. Cold pressed is the most commonly used watercolour paper because it is suitable for most types of work as it has a slightly textured surface. Hot Pressed is the smoothest paper suitable for work which requires quite detailed work. Rough, as the name suggests has the roughest tooth of the three and is suitable for heavier applications of watercolour paint.
The surface you use offers dramatically different results with your work. Due to the durability of watercolour paper, and the treatment to the surface during production, these papers can also be used for a wide range of other mediums - including acrylics and oil.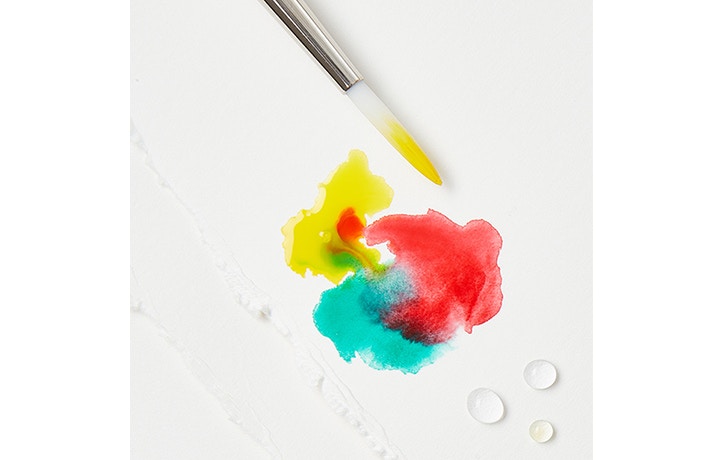 ---
Acrylic
Acrylic papers tend to offer a surface similar to those that you might have used in another form before - on a canvas, or on a versatile cold pressed watercolour surface. They are a great choice for those wishing to experience the resistance of such a surface, with the flexibility of the lightweight sheet form- useful for trialling or drafting future projects.
Traditionally stretched canvas has always been the surface of choice for acrylic artists, but today you can get a vast range of acrylic painting paper that offers you more options than ever before! When choosing the right surface it can be difficult to settle on a paper for your acrylic painting. If you're looking for something more affordable than stretched canvases or looking to trial the surface texture of a canvas before making the leap, canvas paper is the perfect choice to give you an accurate look and feel and also the perfect surface to experiment different techniques on before making the commitment to stretched,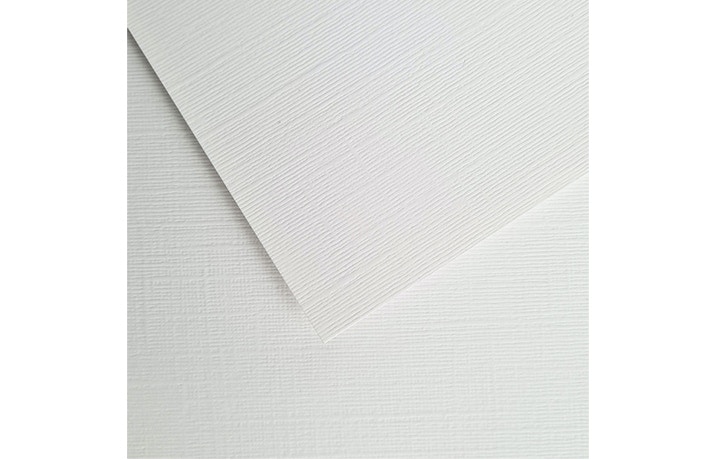 ---
Oil
Similarly to acrylic paper, oil painting papers have a coating that stops the oil paint absorbing into the surface. This coat protects the natural fibres of the paper being exposed to the paint. As this range of papers have been specifically sized for oil painting, oil absorption is significantly reduced compared to other papers that have not been prepared for oil paint. The benefit of oil painting paper is it is lighter in weight and takes up significantly less therefore offering a storage friendly alternative to the classic stretched canvas. The only oil painting paper that is sized in the traditional fashion is Arches. All our other ranges have been sized free of animal derived products.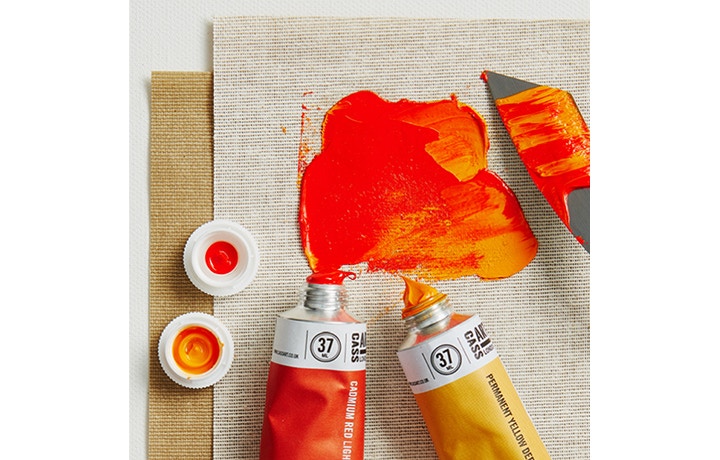 ---
Drawing
Our Drawing Paper category offers the most breadth of all. Due to the nature of the mediums they must successfully serve and cooperate with. The paper we typically associate with drawing is cartridge paper which got its name from the 16th century when it was originally being used for making paper cartridges for early breechloading firearms. Cartridge paper is made of wood free cellulose which is most applicable for the use of dry media such as charcoal, pencil and pastel. They come in a variety of different weights and have a slight tooth to them. This helps with resistance to hold specific marks in place.
We offer other surfaces- such as Bristol, or Marker paper- for pen and ink work seeking a slightly different grain. We stock drawing paper in a vast range of formats- from large, loose sheets, to handy sketch pads for quick and direct work.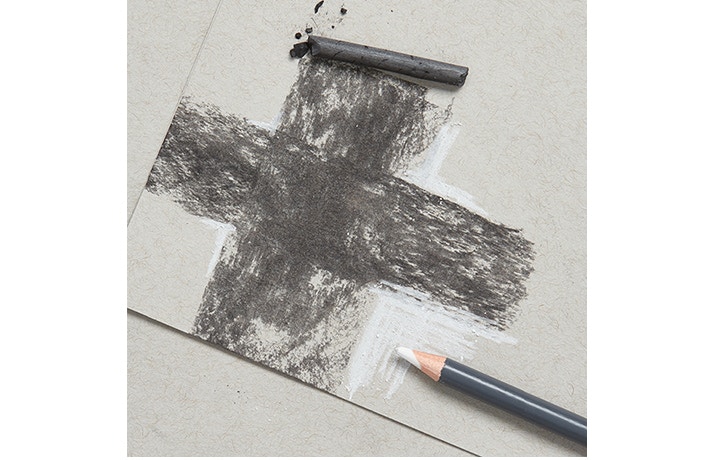 Feeling Inspired?
---
You can explore our full selection of papers on our website here.