Posted by Cass Art on 29th Sep 2020
Artists and designers worldwide love a good marker pen - vibrant, clear and offering varying types of line. But if you don't know the ins and outs it can get a little confusing. Brush marker, pigment marker, watercolour marker, pro-marker, all twin-tipped and of professional artist quality...so which marker is the one for you? Here at Cass Art we have explored the 4 different marker pens you might have not heard about.
Remarkably, you can re-work your images, lifting off colour, hours or even days after your initial composition. With a slower drying time, you can mix and blend fluidly.
Winsor & Newton have collections of completely different markers, and we thought we'd help you out by breaking down their differences, so you can choose the marker pen that suits your needs.
Winsor & Newton ProMarker
---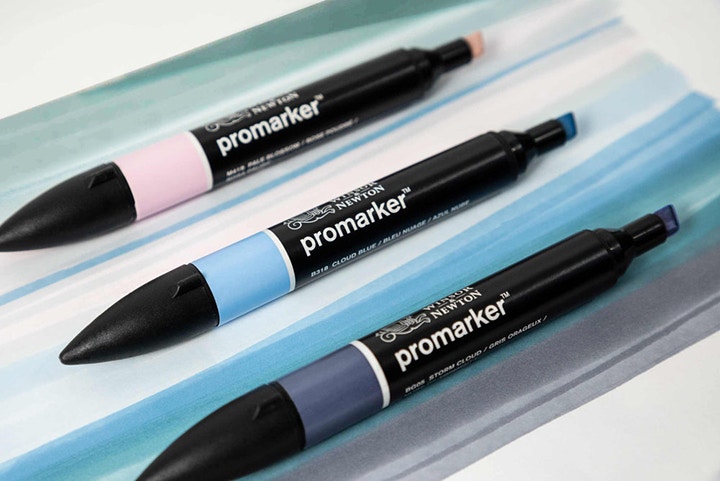 Winsor & Newton ProMarker provides streak-free, flat colour, perfect for illustration, graphics, product design and animation. With an unrivalled spectrum of 148 colours, all shades are accounted for, from subtle pastels to strong and vibrant tones.
The ProMarker range does not bleed and leaves no white flecking; ensuring colour is smooth and consistent. Easy to blend and layer, the non-toxic, alcohol-based ink is translucent, perfect for building opaque colour.

You can successfully use ProMarker on a variety of ink-resistant surfaces, from paper to acetate, glass, plastic or even wood! Twin-tipped, their high quality nibs provide streak-free coverage in two different thicknesses, with a broad chisel at one end and a fine bullet nib at the other. With their comfortable grip, these professional grade marker pens are a must-have addition to your tool collection.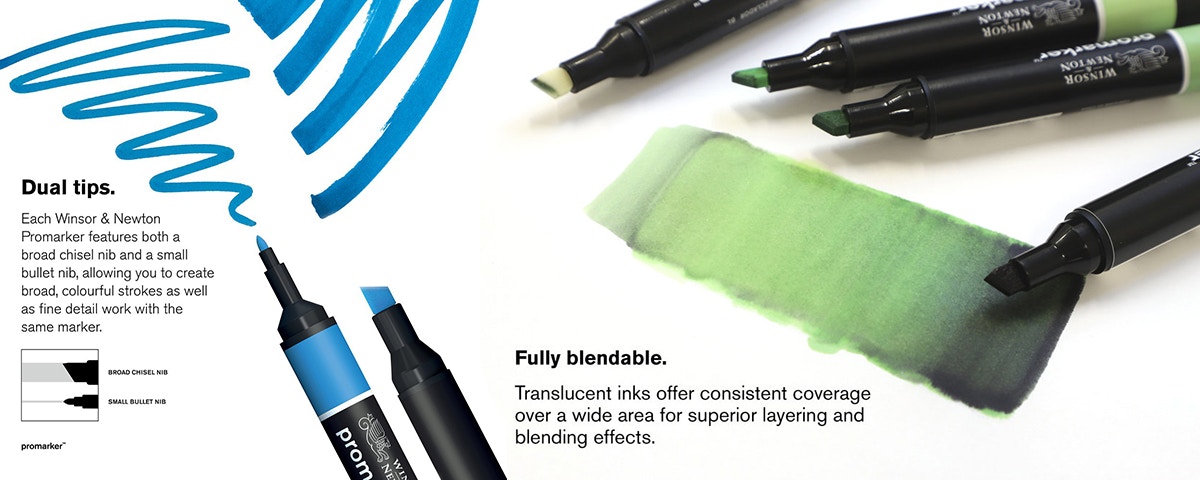 Promarker are the go to marker for artists and creatives alike, available both individually and in sets.
Winsor & Newton BrushMarker
---

The BrushMarker from Winsor & Newton is a fantastic tool for illustration, manga, graphics, animation and fashion design. Its versatile, malleable brush tip provides the ultimate in precise line control, inspired by the flexible qualities of a brush. Twin-tipped, you can create fluid strokes and varied line widths with the brush nib, or fill in blocks of colour with the chiseled end.
Unlike an actual brush, the BrushMarker is made of one solid tip rather than lots of little hairs. This means that you won't get any split ends and you won't need to clean it. While the BrushMarker is stiffer than a brush, it still provides great flexibility for creating varied, fluid strokes. Also, the ink flow is consistent, whereas with a brush, colour and water become stored and released from its belly. All in all, with the BrushMarker, you get the capabilities of a marker pen, mixed with the qualities of a brush.
With 72 colours across the range, you'll find light pastels and bold tones to suit your style. The blend-friendly, translucent ink is non-toxic, alcohol-based and can be built with layers. The high quality nibs provide print-quality, streak-free coverage that will not fleck, ensuring your work remains professional.
The Brushmarker range is colour matched to those within the Promarker range so you can easily work with the two different sets in unison.
Winsor & Newton ProMarker Watercolour Marker
Pack the Promarker Watercolour Markers in your bag for hassle-free plein air drawing and unlimited creativity on-the-go. These versatile pens are ideal for working quickly, or in mixed media drawing, such as with watercolours and sticks. Wonderful for controlled, textured results, these highly innovative tools will become an essential addition to your watercolour collection.
Sketch your drawing and then enhance your work with splashes of colour using these ProMarker Watercolour Markers. Add a little water to create vibrant colour washes, to blend or dilute the colours, just as you would with watercolour pans and tubes. The markers are intermixable with conventional watercolour and are colour-matched with Winsor & Newton Watercolour, offering full compatibility.
The highly pigmented, water-based colour is lightfast, meaning your work will last without fading. With dual fine point and flexible brush nibs, you'll be able to achieve sweeping line thicknesses and superior detailing. Draw with unrivalled precision and then wash over with water.
Winsor & Newton Pigment Marker
---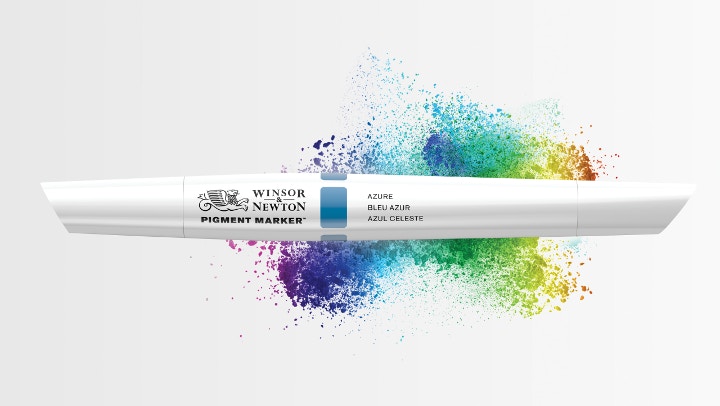 Perfect for illustration, fine art and fashion design, the Winsor & Newton Pigment Marker lends itself to texture and mark making, as well as being able to blend rich pigmented colour. The unique White Blender places an infinite colour palette at your fingertips. The first of its kind, it lets you build, blend and soften colours, to create limitless colour mixes and tones, in a way that has never been seen before with marker pens. You can even use Pigment Markers on black paper, exploring contrast and light.
The Winsor & Newton Pigment Marker is truly lightfast for up to 100 years, meaning your work won't fade like it can with standard markers. Using only the highest-grade pigmented artists' colour, your work will remain vibrant for a lifetime. Twin-tipped, each pen features a chisel and a bullet-pointed nib, perfect for filling in large spaces or composing finer details. Pigment Marker's contemporary, ergonomic design makes them comfortable to hold for long periods of time.
These markers are available in 107 colours, including a White Blender and a Colourless Blender.
You can select to buy the Pigment Markers separately, or purchase carefully thought-out sets, featuring essential colours and a revolutionary White Blender within each pack. Sets include Cool Greys, Rich Tones, Blue Tones and Skin Tones. Housed in clear, interlocking cases, these sets are easily transportable and allow you to build your collection seamlessly.
Pigment Markers work best on Winsor & Newton's specially formulated Pigment Marker Paper. With the paper's unique coating, colour floats across the surface, providing unrivalled control without bleeding, as well as the ability to mix and layer.