Posted by Cass Art on 14th Jun 2018
Born in Belfast, Gareth studied at Glasgow School of Art, University of Ulster and Florence Academy of Art. He now lives and works in Glasgow. Previously a drawing tutor in Con Ed at Glasgow School of Art, Gareth currently teaches at the Centre for Lifelong Learning at Strathclyde University.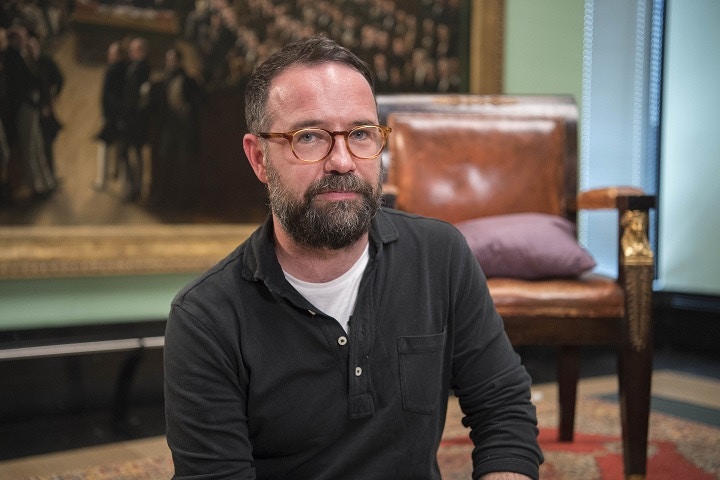 As the winner of Sky Arts Portrait Artist of the Year 2017, Gareth has won a year's supply of art materials from Cass Art as part of his prize, alongside a £10,000 commission to paint broadcaster and comedian Graham Norton, which will become part of the National Gallery of Irelands permanent collection.
We caught up with Gareth and find out more about his approach to drawing, his inspiration behind the 'Nortrait' and his upcoming exhibitions across the UK.
Hi Gareth! Congratulations on being crowned Sky Arts Portrait Artist of the Year 2017! How does it feel?
It feels amazing! A surreal moment when Frank (eventually) said my name. To have my family there at both the final and the unveiling was perfect! It was very emotional to have my whole family there with me, who have supported me so much over the years.
My parents have been my major investors and Ulster cheerleaders over the years. My kids offered invaluable advice along the way - "don't be boring", "don't wear that" - they were fit to burst at the excitement of it all! And my partner Suzy, who gave up so much of her own time as an artist to support this venture (and who gave me a few critical pointers in the final and on Graham's portrait).
They were very special days that will live long in the memory, to see all their faces as it was announced and give them all a hug, emotional stuff.
You took a gamble by combining watercolour with your drawing. Do you often work in mixed media?
It wasn't such a huge risk really - I've worked that way in the past, drawing over the paint so mistakes could be covered. But I felt it was important to do something new, push it on a bit.
You work directly from life, and have had some very fidgety celebrities to capture during this series!
How did you overcome this, especially in the pressure of the final?
Yes Tom may even have trumped Adrian! But he settled down well after Kimberly and I talked to him in a break – mostly Kimberly! It was necessary because we both work from life, although I was so panicked that I got the camera out at one point, and I'd hardly touched the canvas after 30 mins. As my poor Mum looked on in horror….
Your commission of Bobbie Cheema-Grubb is truly stunning. Can you tell me more about how you came up with such a striking composition?
Thank you so much. I didn't come up with it, it just happened. Yet more luck. It was the last shot of the shortest sitting of my life which was too hot, badly lit and very stressful because of the time constraints.
I look for abstract shapes and compositional structure in drawing and painting in quite a formal way, so this commission was perfectly suited - the robes, the colour, the fur etc – they all ended up working well.
And all that after an extremely depressing train journey home when I thought I'd blown the whole thing and the Old Bailey was about to receive a very dodgy portrait of poor Bobbi, courtesy of me!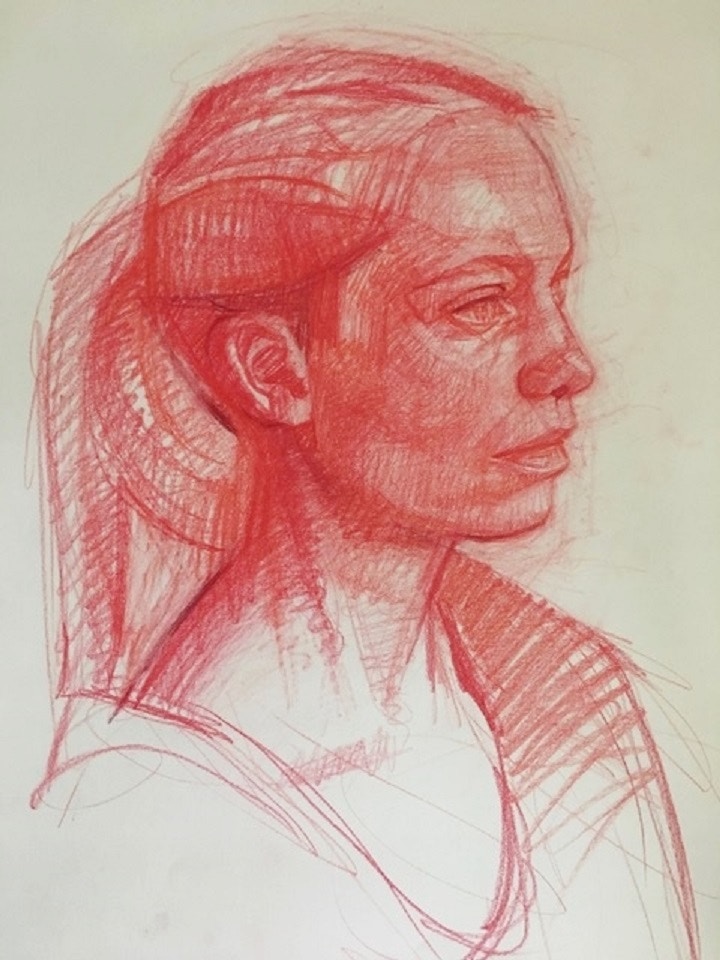 You have won a £10,000 commission to paint broadcaster and comedian Graham Norton - a move away from your graphite and charcoal works. Do you have any ideas about how you might approach the painting yet?
Not yet really, I won't plan too much. I'll just wait to meet him, do the sittings, see what he is like, talk to him, get a good look at him and take it from there. But although I draw a lot, I am a painter and my approach doesn't vary a huge amount.
One great thing is the time I'll get to spend on it - much more than the 2 weeks for the final commission.
There is a sculptural, almost statuesque quality to your drawings. Does your technique and style change when using paint?
It does a bit but only because of the materials. The concerns are the same - Structure, solidity, atmosphere, presence, mood. But with more colour….
Frank will be pleased to see some more colour! Now that you're no longer sworn to secrecy, what can we look forward to in the future?
In practice for the show I created a series of preparatory drawings, which I will be displaying in the Art Space at Cass Art Glasgow from the 17th March. I will also be returning to my weekly life drawing classes too – and perhaps a little normality!
I also have my solo show in Dublin at the Molesworth Gallery from the 8th June, which will roughly coincide with the reopening of the National Gallery of Ireland and the move of the Graham Portrait into its proper home - the National Portrait Collection.
But apart from that I have a few longstanding portrait targets, namely Andy Murray, Brain O'Driscoll and Paul O'Connell amongst others… We'll see if this helps!