Posted by Cass Art on 1st Sep 2019
Back in 2015, graduating artist Helena de Pulford was awarded the Cass Art Prize; £1000 to spend on materials to set her up fresh out of university. Back then, pigmented jesmonite was Helena's medium of choice. Four years on, we take a look at how her career has progressed, taking a look at her recent first solo exhibition at Enclave Projects titled 'Simnel'.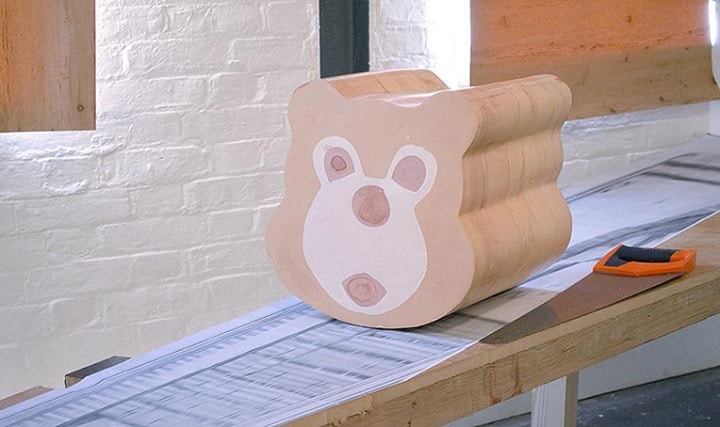 Billy 3 2017 (Pigment, jesmonite) Come On Craig, Get Up at Crate Margate.
Art-making after graduating
After completing her BA in Fine Art at Central Saint Martins, Helena De Pulford maintained a shared studio as part of the ACME residency programme, and then with her peers, where she participated in a number of group exhibitions, exploring smaller casting works, film making and writing.
Throughout 2016 she performed the slicing of weighty jesmonite piece Billy at Deptford X and then again at Crate Margate. Thereafter, De Pulford dabbled in new materials, taking a keen interest in pigmenting and manipulating wax. In various group exhibitions she presented works which echoed a similar style to that of which she had achieved in the jesmonite works previously.
No, Thomas. 2018 (Pigment, wax) The Floor is Lava, curated by Georgia Stephenson for Art Night 2018 at Subsidiary Projects.
A shifting practice
De Pulford's work has developed alongside the opportunities she has had access to. Now, as part of the Conditions studio programme, she participates in regular crits and workshops which have been integral to the momentum of her practice. The scale of these works have grown, as well as the methods of display – and of course the ambitious burning element to these performative candle-like sculptures.
As well as opportunities from galleries and curatorial platforms such as Assembly Point and Dateagle Art, she has consistently collaborated with independent curator Georgia Stephenson – with whom she is bringing Simnel to life. This longstanding creative relationship seeks to inspire and motivate both individuals and bring about more visionary presentations by them both.
This is not a pipe 2019 (Pigment wax, steel supports) Recreational Grounds V, curated by Dateagle Art.
Solo exhibition: Simnel
In her first solo presentation 'Simnel', Helena de Pulford explores her relationship to Catholicism and her own assimilation of masculinity, in an installation of works formed almost exclusively from wax.
De Pulford's personal relationship to Catholicism is a core basis for her practice – within which she explores ideas around transubstantiation; the ritual of giving bread and wine at Communion which then (as they are blessed) become the body and blood of Jesus Christ. In this, De Pulford examines the way the image of the body is displaced onto objects and what happens to that image when those objects go through a series of changes, or are made consumable in some way.
This is not a pipe 2019 (Pigment, wax, steel supports) Recreational Grounds V, curated by Dateagle Art.
Sculptural works of wax
In Simnel, De Pulford uses Popeye as a symbol of paternal estrangement, and paraphrases his complicated relationship to his father 'Poopdeck Pappy' in selected texts. These provide reference to De Pulford's own relationship with masculinity and its figures: father, lover, Christ. 'Do Nothing Forever' addresses her apathy towards these intense connections.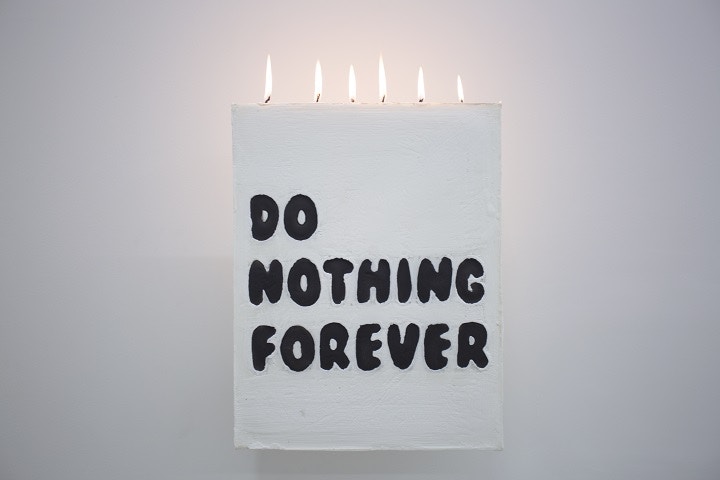 Do Nothing Forever (steel, paraffin wax, microcrystalline wax) at Simnel, 2019.
The sculptural works made of wax for Simnel are inlaid with text and set alight, to track and perform the shifting relationship between objects and the body. For the first time she will be including a scent element: where the sailor-style cologne of Jean Paul Gaultier's Le Male, within one key work titled Soaky Ocean, filled the gallery space with the scent of a school disco.
Installation shot – Simnel 2019.