Posted by Cass Art on 3rd Jun 2018
Liquitex Professional Spray Paint combines artist quality pigments with original water-based technology, making them durable, lightfast and utterly vibrant.
But seeing is believing, so watch artist Monkidoe as he uses the Liquitex Spray Paint to create a large, dramatic painting in his studio, celebrating the mixed media possibilities that come with these revolutionary sprays.
Why use Liquitex Spray Paint for your artwork?
- Liquitex Spray Paint is odourless and solvent free, which means unlike most spray paints, you can use it indoors. So get spraying in that studio without any risk
- Use it on a variety of surfaces including canvas, wood, masonry, glass and polystyrene. It's any mixed media artist's dream...
- It has a great coverage so it's useful for spraying large areas, applying different layers or even under-painting
- It's also water-based, which again is unusual for spray paint, which means its lightfast and permanent
- Not happy with the mark you made? Don't worry - Liquitex Spray Paint can be cleaned up with water when wet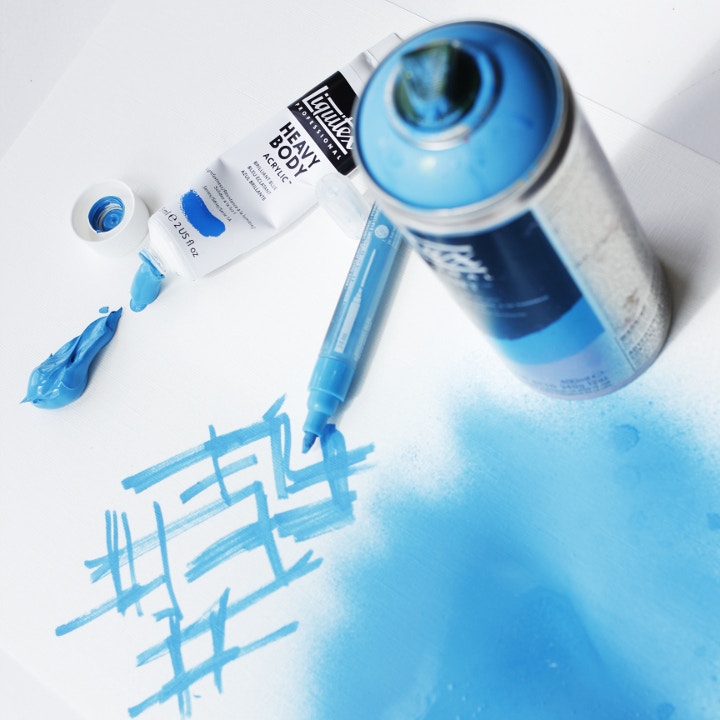 - Once dry the spray paint offers a tough, permanent finish that keeps your designs intact
- As it stays wet for longer you can move the spray around with a brush or your fingers once it's applied, so get hands-on!
- Experiment with the nozzle thickness to achieve different effects - skinny and fat nozzles are available longside the versatile standard ones that come with the can
- It's fully compatible with Liquitex acrylic paint, gels and mediums, so mix and match with other art materials to achieve your desired effects
Feeling inspired?
---
Shop online for Liquitex Spray Paint here