Posted by Cass Art on 4th Jun 2020
Zoe Winston is an NHS Doctor and a watercolourist who has been working in A&E over the last few months during the Covid19 pandemic. We were delighted to be able to speak to Zoe who gave us a great insight into her recent experiences on the front line and a fascinating look into her artistic practice.
Hi Zoe, firstly thanks so much for taking the time out of your incredibly busy schedule to speak to us. Could you tell us a little bit about what you do?
Hi, it's great to be able to talk with you guys at Cass Art and thank you so much for inviting me to be part of your blog. I've been working as a doctor in A&E for the past couple of years. I initially moved to Manchester four years ago after finishing medical school in Newcastle and fell in love with the city. In my spare time outside of work I love to paint and sketch. Art is something I've always had a passion for, and in the past few years this passion has grown even stronger! I find myself carrying my sketchbook where ever I go, trying to paint whenever and wherever I get chance!
Following your instagram it's clear you have a passion for art! Talk to us about your practice as a watercolourist.
I've recently started painting portraits of people and animals in watercolour. I love painting faces, I feel like a face is a window into a soul and through it you can see so much of who the person is. Portraits are probably my favourite thing to paint so far, mainly because I love a challenge and capturing who a person is in a painting is definitely challenging! I initially only started painting in watercolours a year ago, so I'm relatively new to the medium. My interest was first sparked when I became fascinated with urban sketching. My early paintings were of places I'd visited, drawing either on location or from a photo as reference. My favourite place to sketch in Manchester is the John Rylands Library. It's such a beautiful building with so much history, I can stay there for hours, lost in its beauty. I also love painting scenery and landscapes. I love how a landscape painting can transport me to a more beautiful place. Overall I feel I am still developing as an artist and figuring out what I enjoy the most, but it's a journey I'm thoroughly enjoying!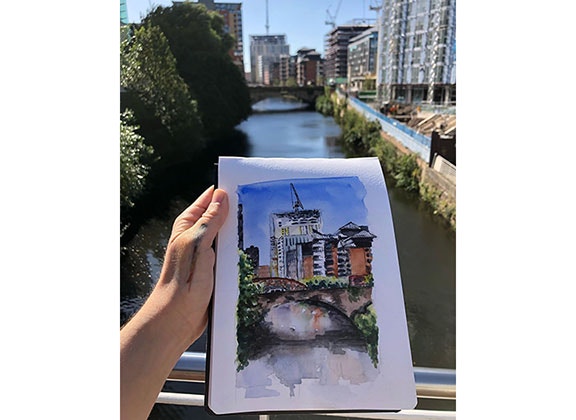 You're working on the front line in such unprecedented times, have you found art to be a useful tool? And if so how?
Art has been my saving grace throughout this period. It's well known that art can help with mental wellbeing, whether it be colouring in a colouring-in book or painting a masterpiece. For me, painting or sketching is a state of meditation where I can block out the outside world and focus on only one thing. I love that my focus is only on the subject I'm drawing, trying to capture what I'm seeing in front of me.
In particular I've found sketching my colleagues in my lunch break or after work has given me the much needed 'head space break' during or after a shift at work. For me it's not only something I enjoy, but it's a way of taking care of my own emotional wellbeing. Being able to give back to my colleagues in this way has also given me so much satisfaction and a feeling of purpose.
What materials do you use and why are these important to your practice?
I mainly use watercolours for my paintings, and these for the most part are actually Cass Art watercolours. I've created a little palate using the Cass Art Artists Watercolour Tubes, with my most used being Burnt Umber, Sepia and Burnt Sienna for buildings and using Hookers Green and Indian Yellow for painting trees. But I've had my eye on the beautiful Cobalt Teal watercolour and I think that might have to be the next addition to my palate!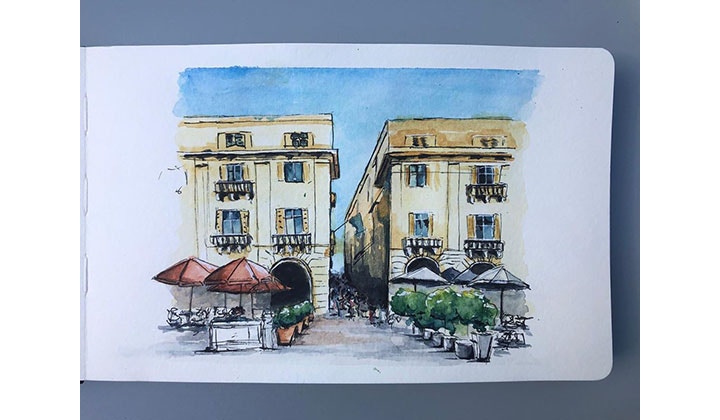 I've tried a few other types of watercolour including Daniel Smith, but for me I've preferred the Cass Art ones as I love the vibrancy and how I can create such bright colours with them. I'm looking forward to being able to visit the store in person and probably have to be held back from buying the whole store!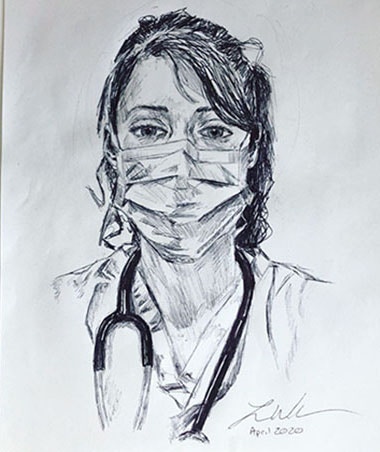 You first came to my attention with your submission to our cassapplause campaign with your incredibly poignant portraits of your colleagues. Could you tell us a little about this and what inspired you to draw them?
Thank you, that's very kind of you to say. I suppose my inspiration was twofold, in part to give something back to my wonderful colleagues, something to make them smile and to try to boost morale within the team. At a time like this it's so important to keep up morale, especially within a high pressure environment like A&E. My second inspiration for the sketches was that I wanted to showcase to the world who my health heroes are. These are the wonderful people who show up day in day out to care for our loved ones in their time of need, who I would completely trust with my own health and that of my loved ones. They are kind, caring and compassionate. I am lucky enough to work with them and I wanted to shout it from the rooftops!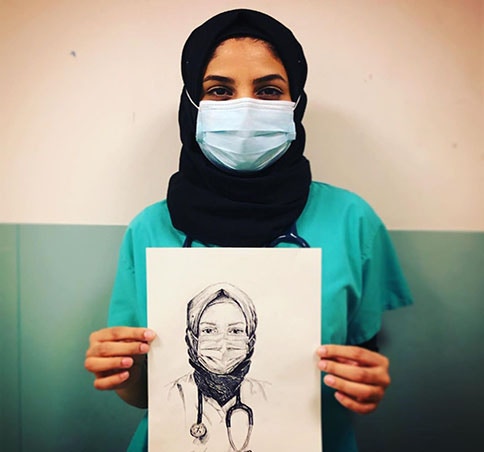 What I find most striking about your work is the honest depiction of your subjects and the context of the environment they're in. How are you able to capture this?
In part I think it's the short amount of time I have to sketch them in. I started sketching in my thirty minute lunch breaks or after my shift if I needed a bit of extra time. Having this time pressure means I'm not able to sketch it out in pencil beforehand but have to be brave and just go in with pen. I also have to sketch with the material I have - a ballpoint pen and paper. Usually I would choose to paint in watercolour, but I've actually really enjoyed the rawness and challenge of drawing in this way.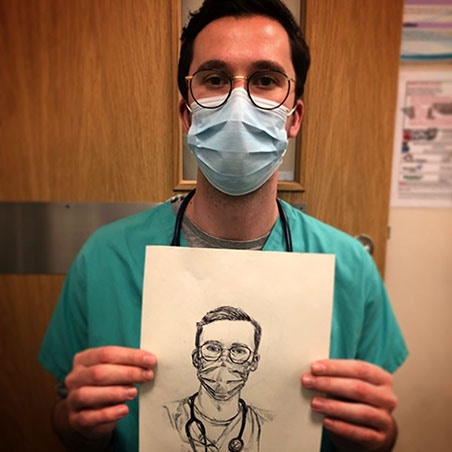 How have the last few weeks/months been for you?
How long have you got! it's had to know where to start.. To be honest it's been hectic. Being on the frontline during this pandemic has been incredibly demanding, both physically and mentally. There has been a lot of fear, personally and professionally. Not knowing whether we as the NHS would be able to cope with the surge in unwell people with the lack of beds and ventilators, not to mention the shortage of PPE that is needed to protect ourselves and our patients.
Despite it being a difficult few months, this time has really reinforced how proud I am to be part of my NHS family. I'm genuinely lucky enough to work with such an awesome group of people, and it's been heart-warming to see how we have come together through this time of adversity.
Zoe, thank you so much for your incredible continuous hard work over the last few weeks and months. We really appreciate you taking to time out to speak to us.
See more of Zoe's work here.
---
Shop online for everything you'll need. Don't forget to hashtag #cassart on social media to show us your creations.