Posted by Cass Art on 7th Dec 2021
What are Fluid Acylics?
Fluid acrylics are acrylic paints with a runny or thin consistency, designed to flow and spread easily without sacrificing color intensity. Fluid acrylics are ideal for pouring or dribbling paint, rather than applying it with a brush.
So If you're looking for a highly versatile medium that allows you to experiment with both the look and style, then acrylic paints are the medium for you. With their easily mixable functionality, as well as the ability to create paintings that look like watercolour or oil paintings, or going for more traditional finishes such as gloss or matte, acrylics are extremely adaptable to your needs and style.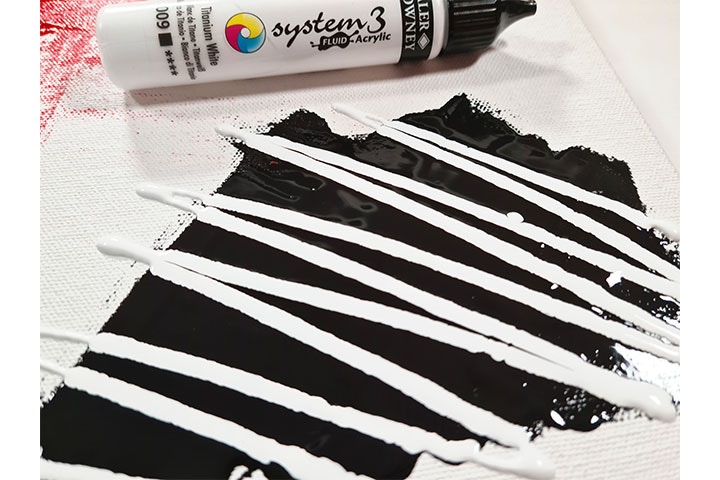 The latest innovation from Daler-Rowney and addition to the System3 family is a focus on fluid. To understand this acrylic paint best lets look at its key characteristics - applications, pigment and consistency.
Applications
Can be poured, puddled, dropped and
Used for layering and glazing and mixed with textur pastes and other mediums and gels.
They can be; mixed with textile printing medium, air brush medium & System3 pouring medium for traditional fluid art techniques.
Durable, flexible with excellent adhesion to multiple surfaces inc stone, wood, textiles, canvas & paper
No need to dilute with water for immediate application
Pigment
Fluid acrylic has a highly intense pigment load equals high tinting strength – a little goes a long way! Great for brushing and staining.
So if you were to use System3 original and thin it to the consistency of fluid you would lose some of the pigment load, producing weaker colour and producing poor films and contributing to poor coverage
Consistency
Its fluid consistency allows you to:
Load a brush more evenly
Allow more uniform brushstrokes
Assists with long painting strokes without reloading the brush
Artist Naomi Edmonson's recent mural 'Start Today' in our Islington Flagship Store paitning using Daler-Rowney System3 Fluid Acrylic
Feeling Inspired?
You can explore the full Daler-Rowney paint range here.
---