Posted by Cass Art on 3rd Aug 2021
Hello creatives of Scotland! Meet our Cass Art Glasgow team below, and learn all about their creative practices, their specialist knowledge and favourite Cass Art materials.
Our Glasgow shop is located on Queen Street in the heart of the city. The shop is less than a hundred yards from the Gallery of Modern Art and a 10-minute walk from the Glasgow School Of Art. Our shop includes the Art Space – designed especially for workshops and exhibitions to celebrate and support the local community.
MEET OUR GLASGOW STAFF ARTISTS
---
Lily Macrae

Practice:
I specialise in large scale oil paintings which sit somewhere between the boundaries of figuration and abstraction. The conceptual origin of my practice revolves around deconstructing the language of the Old Masters and examining the process of painting itself as being simultaneously an act of both excavation and construction.
I work in a studio in Govan, Glasgow, at the edge of the River Clyde and I'm currently making a body of work for a group show at The Royal Scottish Academy early next year. This comes after receiving one of their 'Pandemic: A Personal Response' grants during lockdown.
Product Speciality:
Oil paints, mediums, canvas
Favourite Product:
You can see more of Lily's work on her website and Instagram: @Lilcmac
---
NICOLE GAULT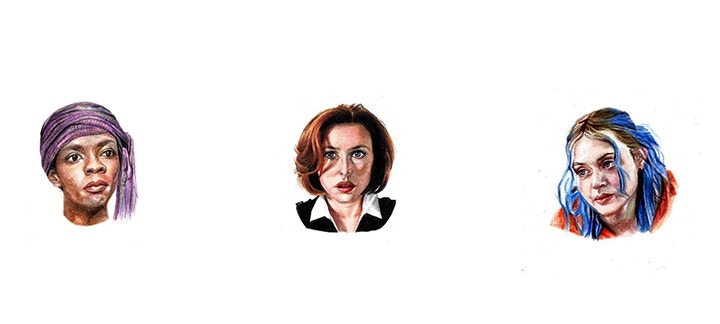 Creative Practice:
I mainly specialise in sculptural work and have previously found a lot of my ideas taking the form of ceramic free-standing sculptures. My work revolves around social commentary, social injustices and I have an interest in how generational differences affects areas regarding race, religion, gender, sexuality etc. My practice then also looks at how conservatism and liberalism is found within these areas.
In 2017 was the only Scottish artist shortlisted for two prestigious UK wide award – the Woon foundation Painting and Sculpture Prize, and the HIX Award in London, following my degree show at Duncan of Jordanstone, Dundee.
Alongside that, I am a keen portrait artist and I have a separate Instagram account where I create and post portraits smaller than the size of a bank card.
Product Speciality:
I have a wide knowledge bas across most areas but primarily in anything sculpture based or coloured pencils.
Favourite Product:
Cass Bristol Paper – it really holds up well with other brands and is silky smooth, so a must have for anyone looking to do coloured pencil work or nice, crisp drawings.
You can see more of Kylee's work on her Instagrams profiles @trnsmtrapture and @uberdrawn
---
KYLEE MCGHEE
Creative Practice:
My work acts as a response to process of the constant reconstruction/regeneration of the urban landscape. I explore this through the manipulation of sculptural objects which question the temporary compositions/states of our cities.
My work forms from mimicking constructional plans, referencing plans, ariel mapping, architectural drawing and cheap building materials. The sculptures I make go under a continuous process of making and un-making, doing and undoing, working and reworking. This process conveys the objects constant need of adjustments and amendments, mirroring the temporality of our landscape.
Product Speciality:
Painting, pencils
Favourite Product:
Cass A4 graph paper – it is lovely to draw on with lots of mediums and is brilliant for collage work.
You can see more of Kylee's work on her Instagram @kyle.s.mcghee and @kylemcgheedrawings - images which you can see below: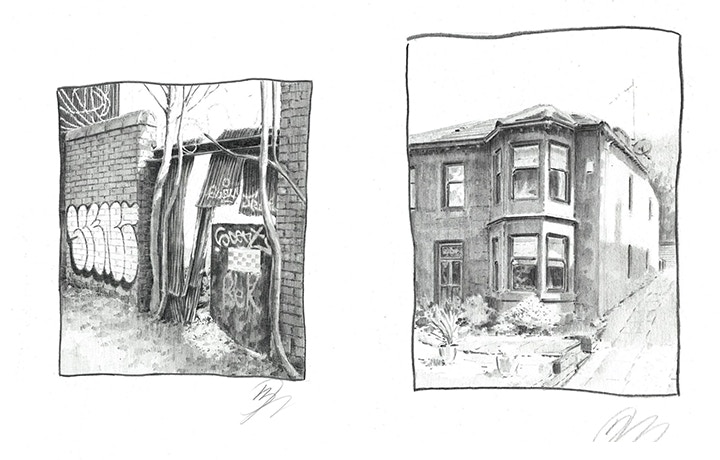 ---
JORDAN HUNTER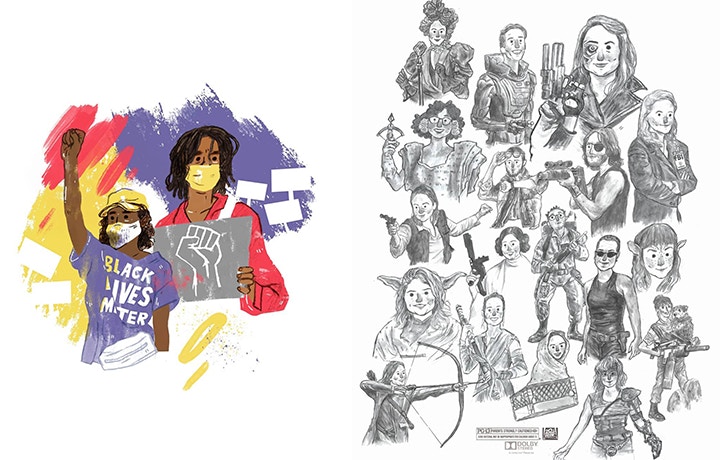 Creative Practice:
I am an illustrator and graphic designer based in Glasgow. My illustrative work focuses on characterisation and narrative, in addition to educational art. Notable projects include illustrations for health – software and science education platform Lifeology, on the topic of mental wellness for Black individuals and communities.
The majority of my illustrative work is drawn or painted with watercolour or other water-soluble methods, and then composed digitally. Recently, I have also been tasked in logo and brand development roles for local Glasgow professionals, including business cards and logotype.
Product Speciality:
Pens, pencils, markers and watercolours as well as digital image making techniques
Favourite Product:
You can see more of Jordan's work on his Instagram: @jordanlee_hunter
FEELING INSPIRED?
---
Pop into our Glasgow branch and say hi to the team, talk to them about their work and learn something new! Our staff know the materials they sell, and are on hand to offer unbiased and expert advice.