Posted by Cass Art Staff on 8th Oct 2021
Lara Robinson is a contemporary fine art painter, based in London, from Wiltshire, England. Having studied the traditional method of painting in both Florence and Barcelona, Lara graduated from The Barcelona Academy of Art in 2019. Here she explored still life, landscape, figurative and portraiture painting. This method of education, providing a foundation of deep knowledge and applied practice of essential principles handed down from the past, has imbued a confidence in her work. From here, she has developed her particular mode of expression, combining her own style with her academic training. We were delighted to speak to Lara about her journey as an artist, her practice and the intersections between art and mental health wellbeing.
Hi Lara, thanks so much for taking the time to speak to us, firstly could you tell us a little bit about your journey as an artist?
Yes of course. After leaving school, I went on to study the traditional method of painting in both Florence and Barcelona, graduating from the Barcelona Academy of Art in 2019. It was there that I explored still life, landscape, figurative and portraiture painting. This method of education, provides a deep knowledge and applied practice of essential principles handed down from the past. I wanted to gain confidence in my work enabling me to develop, combining my own style with my academic training.
Having moved to London in May 2019, my practice is now centred on developing other techniques moving more into the contemporary art world. I am particularly interested in researching Impressionism, exploring its principles of concept, composition and colour. "It's all about playing to get the best result". Producing work that is well-considered, taking decisions on representation and finding the most interesting way to reflect a chosen subject matter is key to my practice.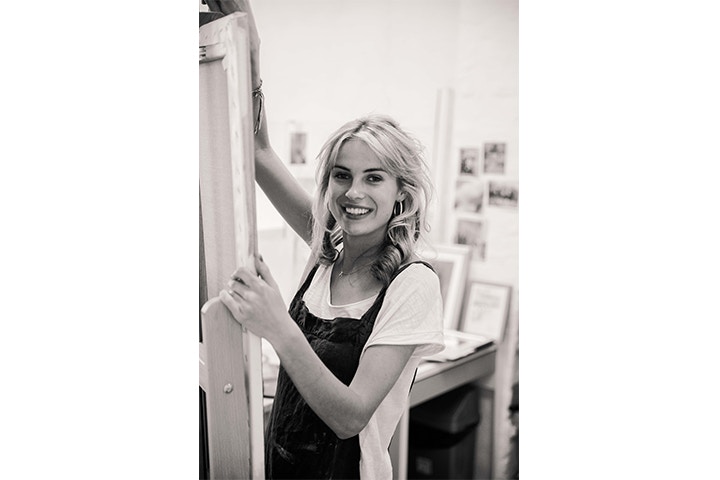 Looking at your work you have a wonderfully striking pastel colour palette which gives a very calming aura about your paintings. Can you tell us how you achieve this?
Thank you. Yes, I feel sometimes I am drawn too much to these colours but I can't really help it !! When I look at my chosen subject matter, I search for how the painting connects as a whole and as to what keeps the painting flowing. As you say, the calming aura. For me, it is all about the mid tones, getting the mid tones right, keeping them soft really allows people to get sucked into the painting and feel this sense of calmness. When I see mid tones I see these wonderful pastel colours. Endless playing and studying of shades within one colour is the way! It is truly magical how many shades of a certain colour you can make by playing with how much paint pigment you add in to the mix.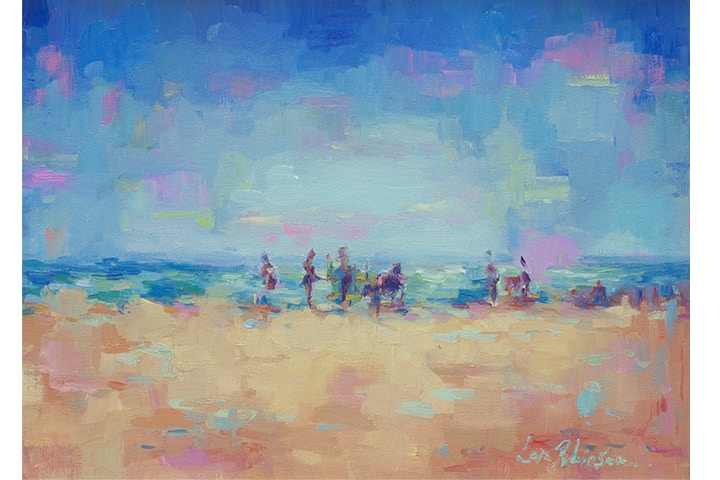 Also, I can see some moments of Impressionism through your use of colour and compositional elements of your work. Are there any artists/movements that stick out for you as being an influence on your practice?
Absolutely! I am constantly researching Artists and impressionists to see how they paint. It can get very addictive. The two main idols I have are currently Richard Twose and Justin Mortimer. Both Artists very much have their own style, however every single painting they paint shows serious skill and thought into very brushstroke, even the more abstract pieces. Being an impressionist is incredibly difficult, as the artist is trying to give an impression of what they see, then placing VERY clever marks in specific areas to drag attention to where they think the eye should be brought too. Beautifying a subject matter - only the real pros can do this. Other artists I admire are the likes of Francis Bell, Edward Seago (landscape genius) and the more contemporary Jerome Lagarrigue.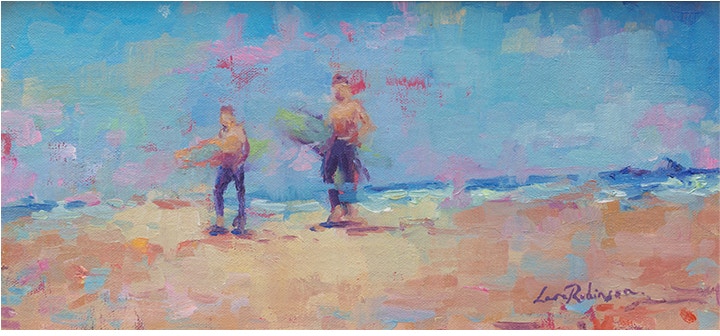 Materials are clearly very important to your practice; I we were to wander into your studio what materials would we find and why are these integral to your work?
Yes, I love exploring with different materials. The more I play, the more I learn. I like to explore different painting surfaces, so i generally make up a mix of panels to paint onto. I use a mix of wooden boards, canvases along with gesso, texture paint, rabbit skin glue and so on for my backgrounds. When it comes to panting… I use implements that i think will help allow me to get what I want. For example I do use paintbrushes yes, but I also use toothbrushes, plastic knives, pallet knives, sticks, masking tape to make marks feathers and more.
With it being Mental Health Awareness Week and of course after such an incredibly tough year what role do you think art can play and do you think it does in mental health wellbeing?
Art plays a huge part in Mental Health wellbeing. Both the act of creativity and viewing art can improve mindfulness. The act of painting can allow every single person, no matter how experienced you are to enjoy a moment of creative calm in an always-on world. Like a form of meditation. It can take you away from the stresses of your own life and allows the brain to focus on gaining skills whilst being stress free.
Art can allow us all to open up without having to dictate it to the world. Being able to view art and culture can also be hugely inspirational to every single living person. People need hope and guidance in life to climb up the life ladder and being able to see inspiring art around us contributes to peoples hopes and dreams.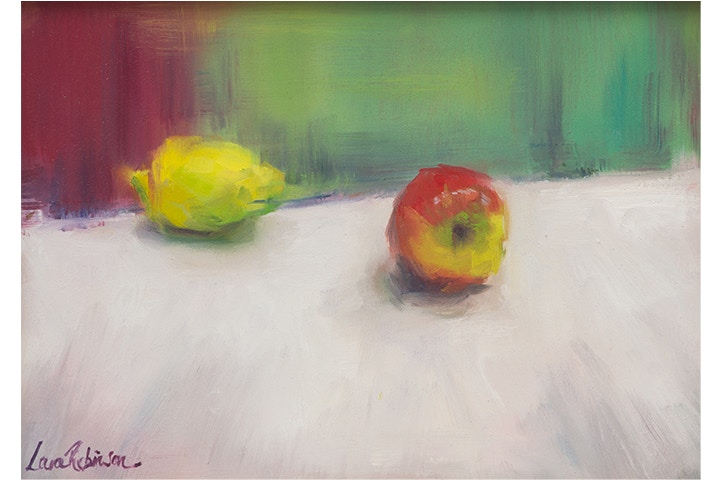 As mentioned, the last 12 months have been incredibly difficult for all of us, we've spoken to many artists about how their creativity has been affected – some found it sparked a creative ignition where others found it diminished. How did you find the last 12 months from a creative perspective?
Of course the last 12 months have been difficult to everyone, no matter who we are, I really think everyone has had wobbly moments. For me, I had my first Solo Exhibition in 2020. It was scheduled for November 2020, so this time last year I decided to make the most of time spend locked away and really crack on with producing a series of work that I would be proud to see at my first show. So in fact from the beginning of the Pandemic until Autumn 2021 I had felt lucky that the pandemic had not stopped me from working in my studio and allowed less distraction in my life to focus on my painting, because I had this goal and deadline of my first exhibition.
However, as it got closer to the show in November, the lockdown restrictions were tightening up and I so I had to postpone the show a month and host it in December. A rollercoaster of emotions later, I managed to pull it off and exhibit. Albeit not how I had imagined my first solo show to be with the social distancing restrictions, and knowing that a lot of my following were unable to come for various Corona reasons. Nevertheless, I managed to host it and was happy with the work that sold. Plus if you can put on a show in a year of a global pandemic then I really hope that every show after that will be feel easy in terms unexpected happenings that can affect the event.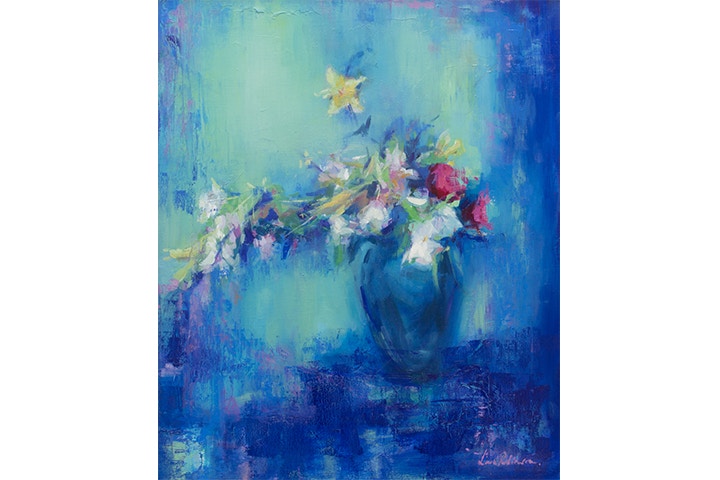 How has your experience been with Masterpeace Studio and could you tell us about the premise behind this amazing facility?
I have learnt so much and loved every second with Masterpeace.
MasterPeace is an Art School in Belgravia London, run by a team of 20 artists. For MasterPeace, painting is a form of meditation, or mindfulness. The focus is not on what pieces end up looking like, it's more passionate about helping create an environment where painting can be enjoyed as a way to relax and unwind.
MasterPeace opened in September 2019. I was one of the Founding Artists that helped to set up the business along with the Founder Zena El Farra. We supplied in-studio classes, and after just 6 months… Covid 19 happened to us all. But we adapted our business and launched our At Home and online creative experiences which have been keeping us busy and taken us into over 17 countries around the world so, silver linings hey!
Now the world is opening up again, MasterPeace will be supplying both in-studio classes and at home art kits.
You're also a workshop host, could you tell us about what a panting class with Lara is like?
For the past two years I have been teaching on a regular once a week basis with MasterPeace. My classes would start with a little meditation, to allow my students to switch off from their daily thinking and put to one side the daily stressed of ones job etc. I would then start with some fun exercises to allow my students to get comfortable with the materials as this is very important to get the best start. Then depending on which class it is, we would all approach a chosen subject matter in a step by step process that I use myself when approaching painting. You will have to come to one of my workshops to find out what this is…. but it is all about building up and layering a painting until you as the artist are happy.
I sadly am not teaching on a weekly basis anymore with MasterPeace due to my own work taking up too much time. However I will be doing one off special weekend workshops with them in time to come, so watch this space! We have a fun one planned for the end of this year.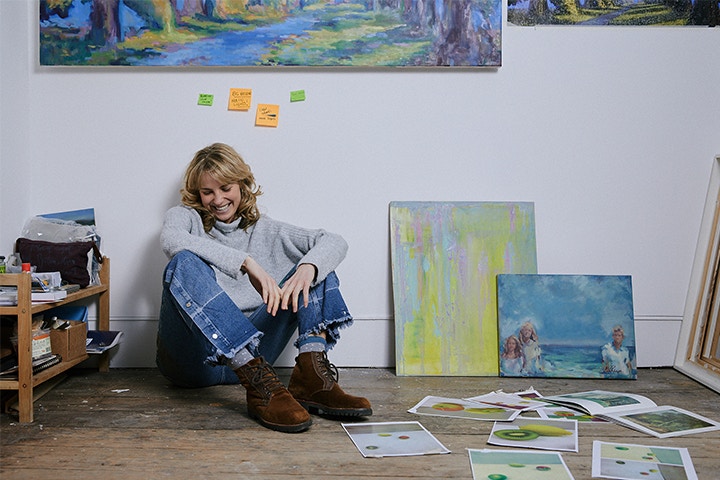 Finally, what's the rest of 2021 got in store? Anything you can let us in on!
Haha… Well I have some exciting plans for the rest of this year… I am in a couple of joint exhibitions throughout the summer that you can be kept up to date with via my Instagram and website.
I am currently making my way through commissions and I have just started work on a new series of paintings that I am planning for my next show. This I am keeping a little quiet as I don't want to give too much away, however what I can say, is that it is inspired by both sports and human interaction in daily lives. This was all taken away from us this year, so I feel to paint the joys of this will hopefully show us all how magical elements of life can be.
You can check out Lara's work on her website and be sure to give her a follow on Instagram.
FEELING INSPIRED?
---
Don't forget to hashtag #cassart on social media to show us your creations.