Posted by Cass Art on 3rd Jun 2018
Here at Cass Art we know it can be hard to know what to choose when looking to buy an easel. There's so much choice, and so many great brands offer so many different types - where to start?
Mabef make a range of easels, from sketching easels like the Mabef M22 Sketch box Easel to large studio easels like the Mabef M19 Studio Easel.
Studio accessories such as the Mabef M38 Folding Print Rack are also perfect for events and Mabef M36 Sculpture Trestle is a studio essential for budding sculptors.
Mabef have been making easel's and other wooden items for artists since 1948, originating in the basement of a furniture restorer's home in Ispra, Italy.
1. Raw material
All Mabef artists' easels are made from solid beechwood, sourced from certified geographical areas where reforestation is under control and guaranteed by the forestry commission. So these easels are a green way to paint, and offer you the most natural wood around!
Beechwood itself is resistant and long-lasting, and 100% recyclable. All of the scraps and shavings from these wooden easels are collected and broken up, and used to heat the Mabef factories and offices.

2. Performance
Every Mabef product is designed to offer the best performance. Simple and elegant, they do their work well without over-complicated designs. They will last you a lifetime and the wood itself looks just as beautiful with age.
3. Sturdy and reliable
Mabef easels are strong, solid, reliable and long-lasting. What else do you need from an easel?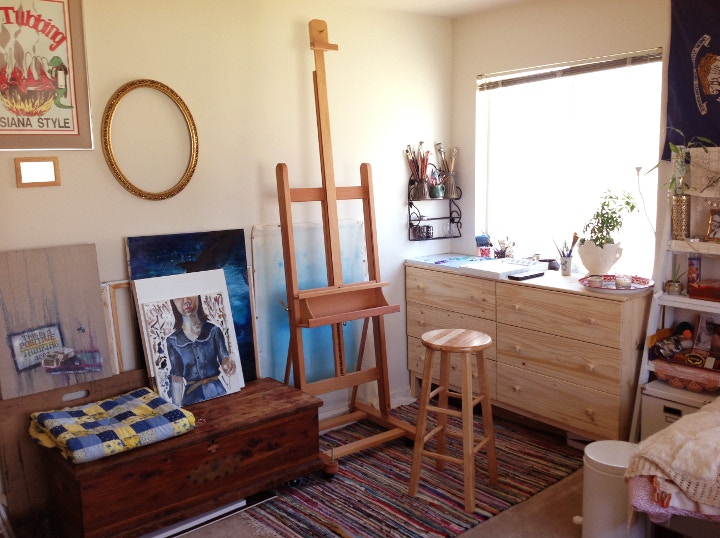 Image: Other Clever Things
4. Easy to use and put together
There are no complicated mechanisms with this brand of easels. They are designed to offer the simplest working methods. So if you're unfamiliar with easels or have never owned one before you don't need to worry about that with a Mabef easel - all their products are easy to work with and come with clear instruction sheets.
5. Specialised Competence
Mabef has focused all of its energy on artists' wooden easels since its conception in 1948. They know easels, and they love to produce them, so you know you're getting a high quality item. They cover only easels, sketch box easels, palettes, sculpture trestles, wooden boxes and print racks; the long-lasting companions for every artist's studio.