Posted by Cass Art on 3rd Jun 2018
Mabef have been making high quality easels for artists since 1948. Originating from a small town in northern Italy, when a furniture restorer began making easels in his basement, Mabef easels are now sold in 40 countries worldwide with the well-known quality stamp "Made in Italy."
The History of Mabef Easels
1948 - In Ispra, a small town on the eastern shore of Lake Maggiore, lived Albino Bruno Mariotto, a talented antique furniture restorer. He had a passion for painting, and with his wife Rita he set up a workshop in their basement and started to make painters' easels. Their workshop was only 50 metres square and produced a small number of easels which they sold on the domestic market.

1954 - The Mariottos move their workshop to the larger town of Gallarate, in the province of Varese; their new premises cover about 250 square metres and allow them to increase their production to 1000 easels a year.
1958 - The Mariottos' son Luciano is eighteen years old and helping his father run the family business. It was in March of this year that "Mariotto De Martin e Figli" was formally established as a company consisting of Albino Bruno Mariotto, Rita and their children Clara and Luciano.
1970 - The company begins to export their artist easels first to France, then to Belgium, Germany, and Great Britain and even across the Atlantic to the United States. The workshop now employs four people full time and produces around 10,000 easels per year.
1974 - The company continued to grow, and moved to its current premises in Via A. Volta in Cardano al Campo, occupiyng 1400 square metres and emplying eight people. It increased its production to 20,000 easels every year.
1975 - It's the year where the brand we all know was officially named: "Mariotto Albino Bruno E Figli" became MABEF, from the initials of its original name. MABEF rapidly becomes synonymous with high quality Italian easels all over the world.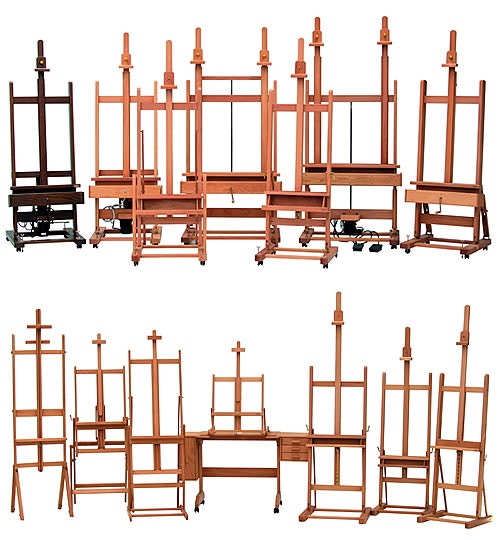 1981 - Mabef made its transition rom a craftsman's workshop to an industry: in January 1981 M.A.B.E.F. S.r.l. was established with 12 employees and an annual production of 40,000 easels. The company also expanded into new international markets such as Japan and South Africa.
1984 - This year marked a turning point for the company: Luciano Mariotto designed the revolutionary KIT easel assembly system. The company patented this new system, key to its future success.
1986 - Luciano's daughter Laura joined the business, taking over responsibility for the company's administration and marketing. She helped make Mabef a famous name and opened it up to new foreign markets.
1988 - The company expands yet again, purchasing a factory next to its own to help produce110,000 easels annually.
1991 - Keeping it in the family, two of Albino Bruno's grandchildren joined the business: Sandro and Paolo Tottoli, Clara and Gianni's sons.
1994 - The company expanded its premises again with the construction of a new building to produce 200,000 easels a year; it now employed thirty people.
1997-2003 - The company expanded further with the construction of an additional 900 square metres building, adding space to the assembly area and storage of finished products. To offer a better delivery service Mabef decides to acquire a new warehouse of 500 square metres which will be also adequate to the annual production of 250,000 units.
Today - Mabef Artist Easels are present in more than 40 countries around the world, bringing the "Made in Italy" style to artists from all continents.