Posted by Cass Art on 15th Dec 2013
The news is in and we're all busy celebrating the success of Nick Lord, who has been announced as the winner of Sky Arts Portrait Artist of the Year! Based in Cardiff, he studied Fine Art at the University of Kingston specialising in painting, collage and of course, portraiture. Congratulations to Nick, who was awarded a year's supply of art materials from Cass Art as part of his prize, and a £10,000 commission to paint author Hilary Mantel.
To celebrate, we caught up with Nick in our Islington Flagship store to hear about it all, the experience, his work and what the future holds…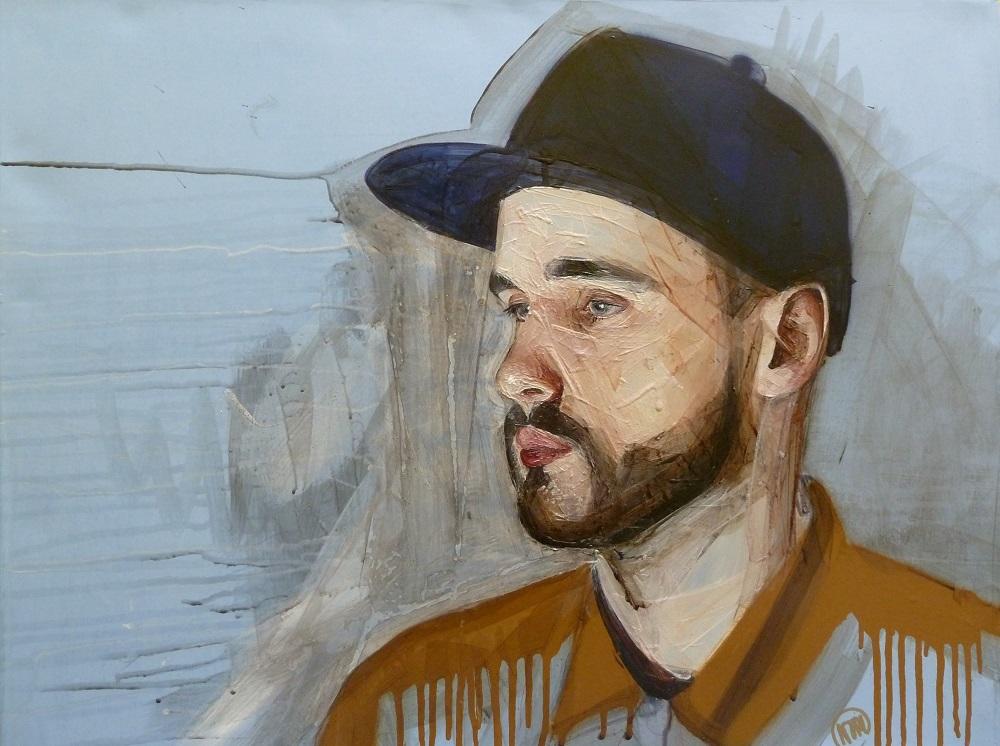 First and foremost, a huge congratulations! How does it feel to be the winner?
I guess it's not really sunk in! At first it felt like it hadn't really happened. It's really exciting; I'm intrigued to see what will happen in 2014. Although I guess when I unveil my portrait of Hilary Mantel it will feel like an end to the experience. Someone recognised me on the tube the other day, I thought they were approaching to ask for directions but they knew me from the show which was weird!
Looking back, what would you say was your favourite part of the show?
It's so hard to say, but meeting Johnson was such a privilege I've always admired him and what he's done, so being able to make a painting with that relationship already in place was incredible. Of course, Paris was amazing too, speaking to the experts. They suggested I looked at Cezanne and I'd never really been into his stuff, but when you speak with someone who knows so much about it, it's really fascinating to learn. Having the recognition from experts with regards to my own work was fantastic too. I'm keen to learn and improve, so will readily take on board the criticism.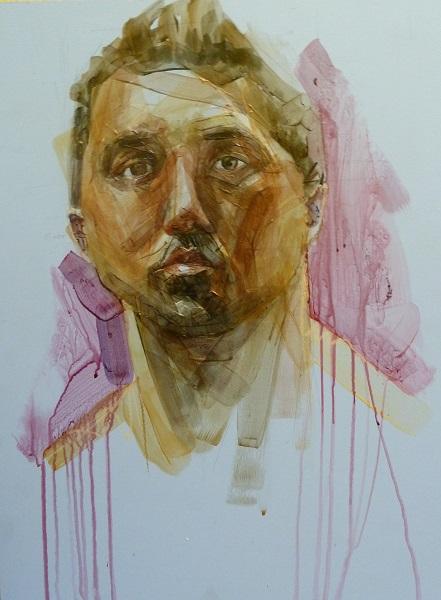 Gavin Henson by Nick Lord
For a budding artist, what would your advice be in the practice of portraiture and painting in general?
My routine has changed in the past year, as it was originally scribbling away at ideas and eventually destroying them. I painted the Nike slogan "Just Do It" in massive lettering on my studio wall – now whenever I'm deliberating over an idea, I just do it! It's like entering this competition - it was a shot in the dark, but when you have nothing to lose, you have to take a chance and see what happens. You also have to discover what works for you, if you follow the instructions on the packaging or try to imitate another artist then eventually you'll end up painting how someone else wants you to paint. You have to keep the style that makes you, you.
What inspires you the most, where do you look for inspiration?
I listen to a lot of hip hop, so that's where it all stems from. I've always been interested in that culture. When I was younger, I went to an exhibition by an artist called Seen, he used to paint on the subway trains in NYC. At an early age, the main artist who influenced me to move on from graffiti is an artist called Conor Harrington. He's a prime example of a graffiti artist turned fine artist. I love Peter Doig's paintings Adrian Ghenie, and when I was 17 I was looking at the paintings of Jenny Saville, she inspired every painter of that generation. One of my favourite artists ever is Egon Schiele, his drawings are amazing.
What has been the best advice you've been given, and what's resonated with you from all the judges' feedback?
The judges' brutal honesty was quite easy to take because I focus on improving my work and learning from mistakes. At one point they said to me that they weren't keen on my signature down in the bottom corner of the piece – which struck a bit of a chord because with my background in urban art, tagging and identity becomes quite a theme. But I could see how it might look a bit odd if the main body of my painting was leaning towards a more traditional style. They really loved the luminosity in the Sophie Dahl portrait and the texture in the Gavin Henson one. As I said, it's important to take criticism into account, and not just expect everyone to love it as much as your mum and dad will, but keep true to your own style.
Sophie Dahl by Nick Lord
Can you take us through your working process?
I usually get into the studio around 10am, if I'm working on a portrait I set myself a target, and I need to get all the facial features down in one sitting. I always start with the chin and the lips, then the nose and work up, I don't know why! Starting a painting is the hardest thing. I suppose it's the fear of messing up straight away, you need to have the patience to trust that it will work out. I like to use synthetic Pro Arte Sterling Acrylic Flat brushes, and use different sizes to help create depth. I've just always preferred the marks made with flat brushes for a 'blocky' look. I thin the paint with gel mediums to increase transparency. One of my tutors said, 'When you're painting, what you're painting is an illusion', using different brush sizes and paint thickness helps to create that illusion and makes the work more sculptural. I tend to work at a larger scale which allows me to physically move the paint around on the canvas for more gestural brush marks and also adds movement to the work. I haven't got the patience to do really fine work. Although I do work from photos and make drawings as well, I use Derwent Sketching Pencils and Seawhite sketchbooks. I think it's important to have the skill of being able to draw, but at the end of the day I'm a painter, so the drawing and the photography are really just tools to inform the painting.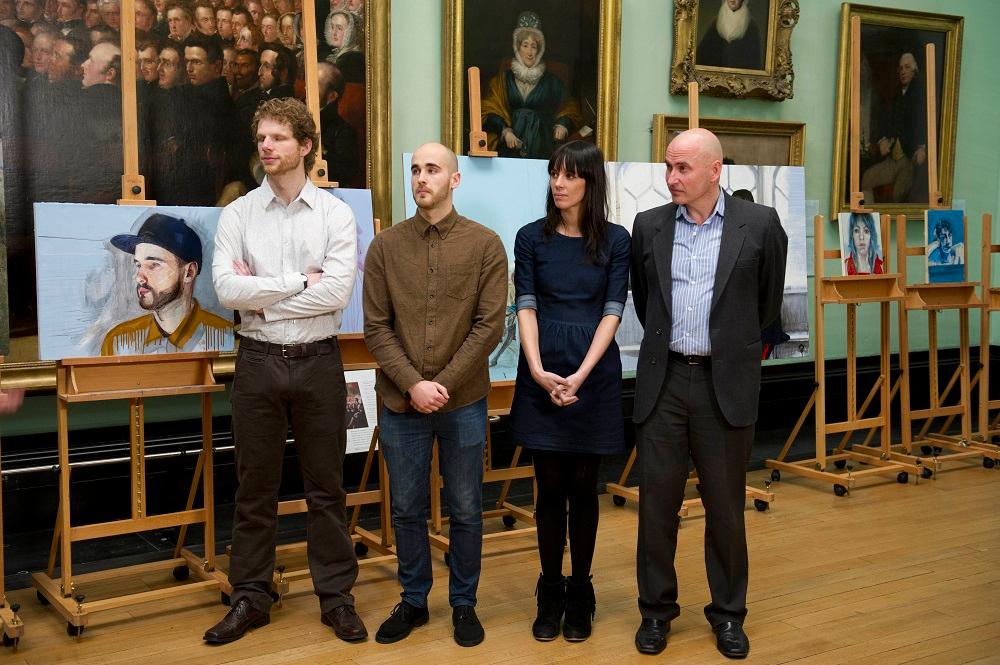 What are your plans for the future, life after Sky Arts Portrait Artist of the Year?
Before entering the competition, my friend photographer Scott Cole and I were beginning to collaborate. Now I'll have more time to work on that, and to explore more of what I enjoy. Obviously the Portrait Artist cash prize means that I can rent my studio and buy materials much more easily, so the pressure's off to make paintings for money. Ideally, instead of specific commissions, someone would come to me for a painting that was purely me and my style.
You can see more of Nick's work @nicklordartist on Instagram.
Cass Art proudly supports Sky Arts Portrait Artist of the Year.