Posted by Cass Art on 3rd Jun 2018
Here at Cass Art we've very proud of our own brand art products. Our paper ranges sport textural, painterly designs by Pentagram partner Angus Hyland, and our paintbrushes and portfolios represent the highest quality paired with outstanding value.
And as a special treat for 2015, we're delighted to announce that we're adding a new member to the Cass Art Own Brand family - the Professional Watercolour Travel Set.
It's beautiful, compact, lightweight and includes the highest quality colours - everything you need in a watercolour paint set, and perfect for your painting needs this year.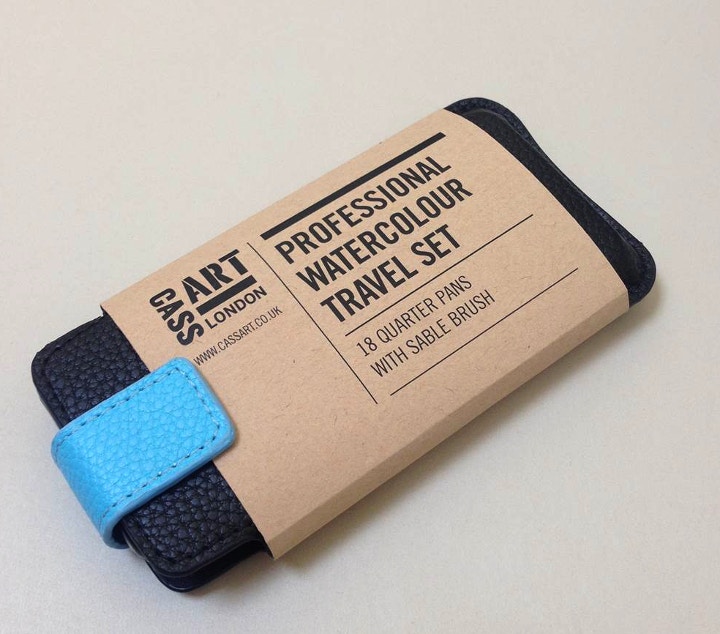 But what's so special about the Travel Set?
The new Artists' Quality Watercolour Travel set contains 18 quarter pans of watercolour paint. The paint is of the highest quality, richest colours so that they won't leave any hard lines at the end of your brush strokes, so say hello to soft and translucent washes this season.
Vibrant and unparalleled, the colours are the result of precise formulations using the very finest pigments. The wide range of colours include Lemon Yellow, Cadmium Yellow Pale, Cadmium Red, Quinacridone Red, Alizarin Crimson, Permanent Rose, Prussian Blue, Cobalt Blue, French Ultramarine, Viridian, Hookers Green Light, Yellow Ochre, Raw Sienna, Burnt Sienna, Light Red, Burnt Umber, Payne's Grey and Ivory Black. (Who's to say that Christmas is a time for silver and gold? Variety is the spice of life!)
But all colours aside, the most exciting thing about the Watercolour Paint Travel Set is that - you guessed it - it's travel-sized for your convenience! Beautifully designed to come in a black enamel box with a lid, this also doubles up as a palette so you can mix your colours on the spot.
The Cass Art Professional Watercolour Travel Set also comes in a protective leather pouch so you can pop it in your pocket just as you would a phone or wallet. Painting on the move has never been so easy or stylish.
The set also includes a Size 3 Round Sable paintbrush so it really does have everything you need to capture those spontaneous moments of inspiration.
Feeling inspired?
Take a closer look at the new Cass Art Professional Watercolour Travel Set here.