Posted by Cass Art on 3rd Jun 2018
It's official – Richard Allen has been crowned Sky Arts Landscape Artist of the Year 2016!
On the banks of Loch Ness at Urquhart Castle, the finalists battled it out one last time for their chance to be awarded the prestigious painting title and a commission from the National Trust.
Here at Cass Art, we would like to congratulate Richard on all his hard work and determination throughout the competition, with a year's supply of art materials from us.
Richard studied fine art as an undergraduate at Central Saint Martins College in London, specialising in painting and has recently returned to his first love of oil painting for the Sky Arts Landscape Artist of the Year competition.
We caught up with Richard to congratulate him on his new title and find out more about his plans for the future…
WINNER: RICHARD ALLEN
---
Hi Richard! Congratulations on being crowned Sky Arts Landscape Artist of the Year 2016! You must be thrilled?
In common with the semi-final in Margate, I was a little sleep-deprived on the day of the final (the perils of sharing a hotel room with my snoring father and being full of nervous energy). I think feeling a bit frazzled heightened my focus and added to the slightly weird atmosphere- being absorbed in something but all the time being observed.
The location- midges and mizzle apart- was sublime. Away from what the win means in terms of my professional profile, just getting that recognition from the judges for something which is a fairly solitary pursuit is very touching. Hearing my name announced was gratifying and humbling.
With Gregor Henderson reaching the final and Nernie Tassie winning last year's competition - there must be a high concentration of pigment in the northern water! What do you think makes a Sky Arts winner?
I'm not sure I can claim any Caledonian connection - maybe deep within the family tree on the maternal side. A kilt shop in Inverness the night after the final was trying to convince me that there was a clan tartan I could legitimately buy.
Throughout the process, from heat to semi-final to final I've tried to stay focussed and to enjoy the unreality of the experience, all the stresses and attention. I do find painting to be completely absorbing although I'm sure that every entrant to Landscape and Portrait Artist of the Year feels similarly.
As for what makes a Sky Arts winner, I'm bound to say that I trust implicitly the judges' critical faculties! From what I know of the judges I think that they look for technical accomplishment and an idiosyncratic point of view.
You've won a commission for the National Trust and a year's supply of Art materials from Cass Art – what's at the top of your materials list for undertaking this new challenge?
I'm hoping to splurge some of my generous Cass Art allowance on a few new Winsor & Newton and DaVinci brushes - maybe some black sable ones in particular. I am also planning to expand my easel range with possibly a Mabef sketch box easel and a Mabef studio easel.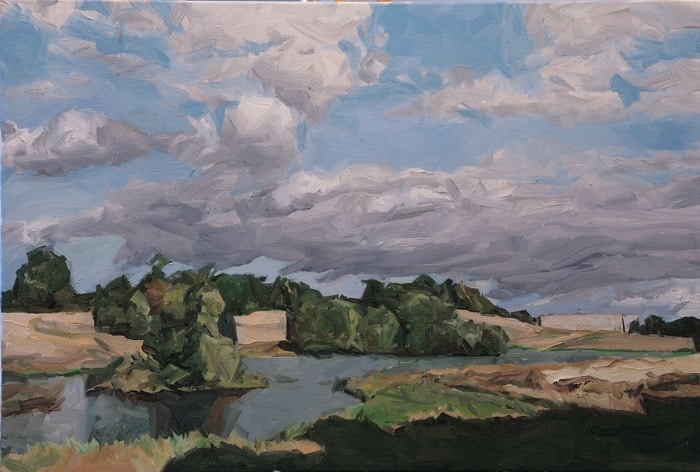 I've developed something of a penchant for some of Michael Harding's lead based colours since treating myself to some Genuine Naples Yellow before the final.
Of course I will be looking to replenish my favourites, including some Cremnitz white as I'm running low, some new palettes and perhaps even some Schmincke Mussini colours.
Having sailed through your heat and the semi-final, what have you learned during your time painting on Sky Arts?
I've learned to believe in in my own technical abilities, and to be disciplined and methodical. I've also learned more about my painting process and art in general through demonstrating my practice and articulating it.

What's next for you after Sky Arts Landscape Artist of the Year 2016?
I have an exhibition planned for early in 2017. I am looking forward to showing my paintings in London and elsewhere and producing more work - embracing whatever opportunities may come my way.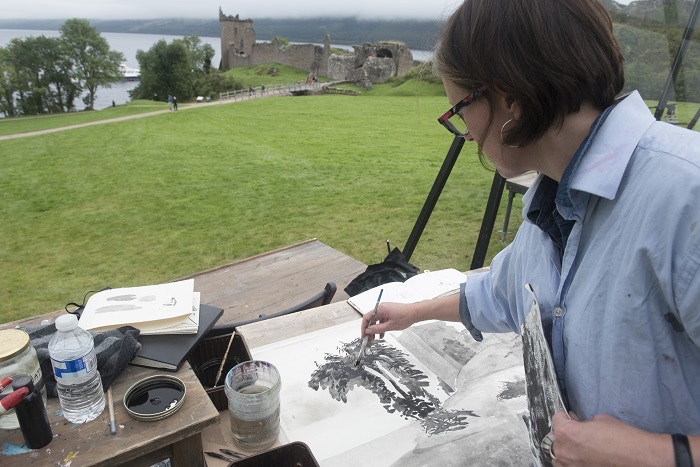 FINALISTS: KIM WHITBY & GREGOR HENDERSON
---
Kim Whitby
How would you describe the experience at Sky Arts Landscape Artist of the Year?
It was such a fun experience taking part in the programme. Everyone is good company and there was a buzz of excitement on each filming day. The programme focusses so much on the authentic production of each artist, whether your work gets selected or noticed it is incredibly encouraging; as an artist you have little else with which to gauge your own artistic judgement against. It's always useful to get some constructive criticism and feedback about your work. It helps define the areas you wish to develop.
What advice would you give to anyone looking to apply next year?
Of course apply next year but if you don't get selected head along as a wildcard like I did. You will have a great day with the other wildcards and a chance to see how the programme is made; maybe meet the judges (who generously gave feedback to all the wildcards on my heat day).
Have in your mind what you are capable of in respect of time, scale and materials. If you are not an experienced outdoor artist you WILL need to practice. There are any number of practicalities you will overlook when you first head out to work outdoors, which you can correct with experience, forgetting water pots, paper towel, even really obvious things like paint brushes can get overlooked. And finally - go and have fun! I worked in a group situation several times this summer and it was great meeting and seeing other artists at work.
Any plans for the future?
Oh yes... I do like to keep busy. I have additional adult teaching on the horizon in the New Year both locally, and really excitingly in London, for the first time. If you are interested in working in water based mediums you can find out all about it on my website kimwhitby.com.
I am also continuing to work within the heritage sector and further develop the relationship I have with Hampshire Cultural Trust. I can't say any more about the current project at the moment, but I will say it would potentially be a great honour to work within the setting they have approached me about.
And I will carry on developing my own practice, taking commissions, and entering competitions and open submission exhibitions. I have two particular in mind where I hope to be successful early next year. If you would like to buy some of my work please look at the new page of Landscapes on my website too.
Read Kim's full interview here.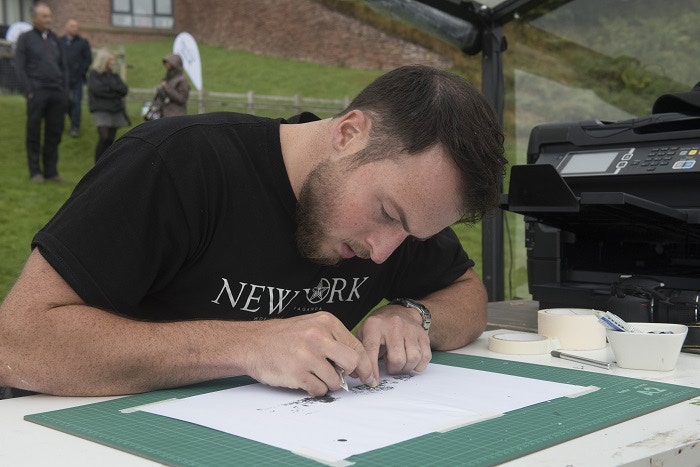 Gregor Henderson
How would you describe the experience at Sky Arts Landscape Artist of the Year?
It was great fun and totally different from anything I've done before. Besides the painting element, I really enjoyed getting to see how a TV series like that is actually made. The whole time that we filmed, the judges, hosts and all the crew were a lot of fun to be around and really set me at ease.
Although it was a competition, I think that all the artists I met were really just enjoying the experience and embracing it as a chance to learn and develop their practice which meant that the whole experience was very well natured.
Artistically, it really pushed me out of my comfort zone and made me try new things. Although some of that worked better than others it meant that I learnt a lot and took ideas away from the show that I can now play around with in the studio.
I'd like to say that there were loads of talented artists on the show and I was very lucky to make the final. Richard was a great winner - as Kim would have been - and they're both great to be around; I'm looking forward to seeing the final commission.
What advice would you give to anyone looking to apply next year?
I would say firstly it's really important to think about what you can produce in 4 hours. Although some people work quickly and the time limit isn't an issue, for me it's only a tiny fraction of what I would usually spend on a piece so I had to work hard to condense my process and try and squeeze enough out of it to have a reasonably resolved painting at the end.
I'd also say don't try something quirky or gimmicky to try and stand out - just concentrate on what you're good at and work hard to let that show. Other than that just go for it
Any plans for the future?
I've had loads of interest off the back of the show so it's given me a platform to try new things. I'm working on some paintings that take some of what I've learned through the series and trying to develop that a bit further.
It also looks like I'll have the opportunity to work on some large scale work which is something I've wanted to do for a long time so I'm really excited about that. I'm hoping that over the next few months I'll be able to produce a good body of work that can be shown through the coming year.
Read Gregor's full interview here.
Feeling Inspired?
You can see more of Richard's paintings at richard-allen.com. Examples of his illustration work can be found at arichardallen.com
Read our exclusive interviews with Sky Arts Landscape Artist of the Year 2016 heat winners on the Cass Art Blog.
Explore mixed media painting and the layering of oil bars like Richard's work with our selection of materials on the Cass Art website.