Posted by Cass Art on 3rd Jun 2018
Here at Cass Art, we love art, we love paint, and we love it when new innovations in art supplies are brought to our attention.
And if you're reading this, you probably love all these things too - which is why we wanted to tell you about the brand new Sennelier Abstract paint. They're brand new heavybody acrylic paints brought to you in a completely original design, and they're available at Cass Art exclusively online - so read on to find out more about them.
What makes Sennelier Abstract unique?
It might look like it belongs on the juice shelf of a supermarket rather than in an art store, but that's part of its brilliance. The Sennelier Abstract range comes in innovative new design pouches, which makes them more malleable and useable than traditional paint tubes - you can squeeze directly onto a surface, and control the dispersion of paint much more easily.
The design is innovative, unique and advantageous - and they fit so comfortably in an artist's hand.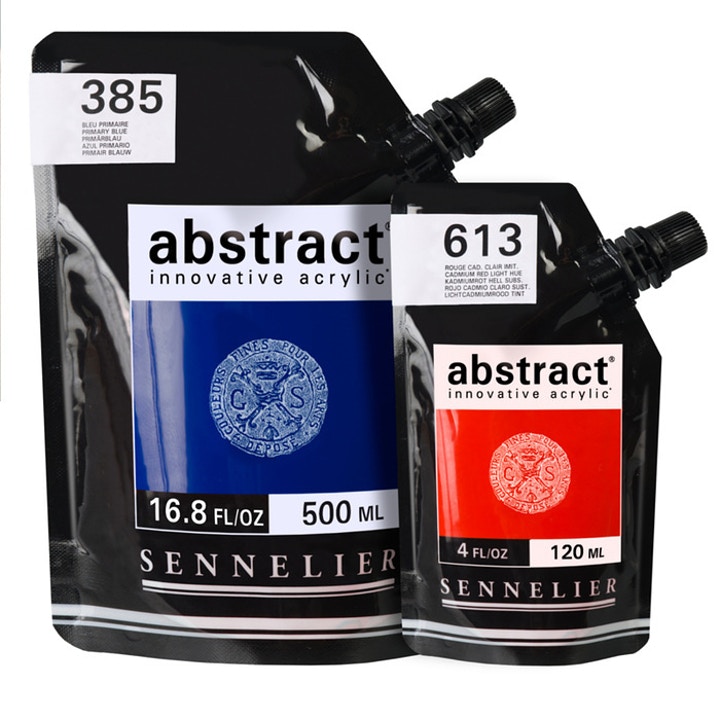 Because they're so tactile it's also easier to know how much paint you have left, so you'll know when you're running low in a particular colour. With these paint pouches, you won't ever have to face the inconvenience of squeezing out the final drop when you have a painting to complete.
You can also easily use every drop of paint inside, so they create minimum waste and are fantastic value for money.
The Sennelier Abstract paint has a creamy, thick consistency with brilliant covering power, so it's ideal for artists who work on a large scale. They're proving to be a popular choice with street artists and muralists, not only because of their wide covering power but also the directness of their application. They can be manouvered directly onto a surface, rather like spray paint.
They're also widely used by professionals, students and hobbyists alike because of their unique application.
The colour quality is also great, with a high pigment concentration and range of vibrant colours.
The pouches themselves are very durable. If you stand on them accientally in the studio, they won't burst - not that we recommend trying it at home (just in case!) What's more, the pouches are recyclable, so it's a greener way to paint. Happy chappies all round.
The Sennelier Abstract Acrylic comes in a range of 60 colours and is available in two sizes, 120ml and 500ml.
Don't just take our word for it...
Watch the video below to see what real artists are thinking about the Sennelier Abstract range.
The Story of Sennelier
Sennelier has been a leading brand in quality since 1887, when Gustave Sennelier first opened his store as a colour merchant. He developed extra-large paint tubes for the artist Nicolas de Staël and created the oil pastel used by Pablo Picasso. 128 years later, Sennelier is still innovating in art supplies, and have launched the first range of acrylic paints in this kind of original packaging.

Looking Beyond the Art World
What's most exciting about the Sennelier Abstract paints is that we can see how artsuppliers are starting to look outside of the art context, and beyond the traditional tube of paint. The world of art materials is starting to think more broadly, and with it comes new possibilities in the realms of art-making. We hope you're as excited as we are!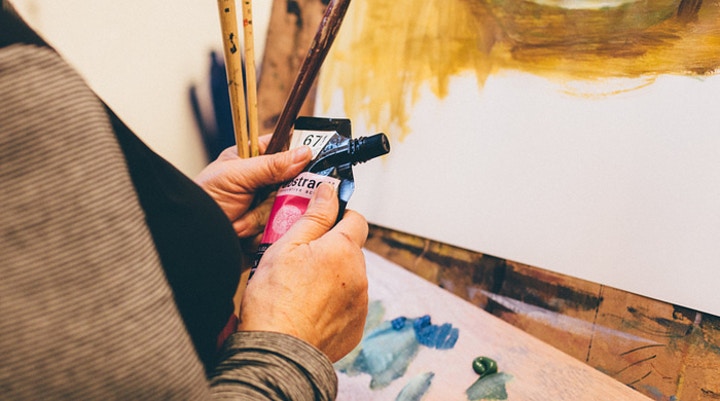 Feeling inspired?
You can buy the Sennelier Abstract acrylic paints online at Cass Art.