Posted by Cass Art on 27th Nov 2018
So here we are, after weeks of wonderful paintings, tight decisions and nail biting moments the three semi-finalist winners are on their way to the finals of Sky Arts Landscape Artist of the Year. The judges location again saw the contestants contemplating man and nature, with only four hours to paint the dauntingly detailed Felixstowe Dock, where stones meet sea and cranes cross horizons. We caught up with the three finalists to delve into their experience of the semi final and talk to them about their work beyond the show.
GREG MASON
---
Congratulations on reaching the final Greg! How have you found being part of the Landscape Artist of the Year? And has it changed your approach to painting?
Every artist has their own method and timeframe when working alone in their studio or natural environment – so one thing the Sky Arts format does well is create a level playing field – however artificial you might consider that to be. From my perspective I had to develop speed and accuracy – so I joined up with a few West Country plein air painters like Maria Rose (who was shortlisted in Heat 3) and Tom Stevenson to go out and about in Devon. You learn quickly what to do in those situations to get a solid result and once I'd won my heat I continued painting outdoors over the summer while teaching painting workshops in France.
In the final you used a blocking technique for mapping the cranes in the dock – working quite quickly and simply to get the framework of the image onto the canvas. Could you talk us through this method and how it helps with your composition?
The cranes, although complex at first glance, were a complete gift in terms of finding and capturing paths of energy to create a strong, vibrant composition. I always try to make a painting that will hold the viewer in it – rather than letting them go – so the challenge here was to begin with key elements and establish them up front using big bold strokes. My strategy for the semi was to make a big bold statement – in contrast to the technical and conceptual piece I made in the Heat. I needed fast drying paint that I could layer thickly and over-paint quickly – so I used the Cass Art Acrylic range and a bunch of synthetic short flat brushes to do the job. It was a lovely day but there were some panics along the way – such as a huge container ship parking itself in the middle of my view half way through the afternoon.
You work in combination between your studio in Exeter and working abroad en plein air – how do you find the relationship between these two styles of working? Do you often find that time in your studio becomes more of a 'refining' process for the work produced on your travels?
To be honest, there is an immediacy to working outdoors or direct from a live model that can't be replicated in the normal day-to-day studio setting. I do have a slightly different approach to the two in as much as my studio work tends to be series-based where I work on a group of paintings connected by a common narrative or theme – and my plein air painting is much more of an instinctive response to what is there in front of me.
Do you have any advice for those applying to LAOTY in the future?
If you get picked, don't go unprepared – practice the timing and subject matter first. You will learn so much about what NOT to do on the day. But most importantly, be true to yourself and enjoy it.
And finally (after a well-deserved break!) – What's next?
My heat win has been so well received by members of the public – I'm already loaded with commissions up until Christmas. I have a show in Bristol in January and then off around South America for a month – painting and relaxing with my wife. After that… I'd like to work with an aid agency or maybe do a long-term residency somewhere – we'll see.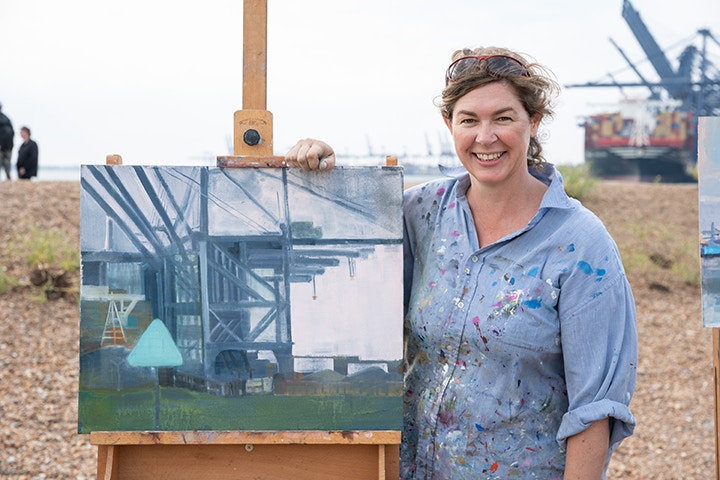 JEN GASH
---
Congratulations on reaching the final Jen! How have you found being part of the Landscape Artist of the Year? And has it changed your approach to painting?
I have loved every moment of the competition and have learned so much about me as a painter. The four hour challenges really suited how I work – intuitive, fast, not fussy, sort issues out quickly and make brave decisions. I have also learnt that I like to be immersed in a subject and really connected to it. In the past if paintings have dragged on for weeks and months, that is lethal for me. I need to work fast and finish work in a couple of sessions, maximum!
Outside of the competition your paintings have an ethereal quality – figures immersed in landscape, the suggestion of a shadow or outline of a person. Indeed one of your paintings is called "Immersed" – could you expand on this dream like state in your work?
I feel that paintings should take us somewhere different in our minds, not just depict the scape or view in front of us. I am interested in human engagement and disengagement with activities and places, and I think this comes from my background in occupational therapy. Dream like states are understated and I think we should all spend more time dreaming and visioning and less time being too focussed. We can access lots more of ourselves and creativity when we soften and dream.

What are the top 3 essential items you need to hand when you're working in the studio?
Rags, turps and robust flat brushes!
Do you have any advice for those applying to LAOTY in the future?
Submit something that has taken you not much more than 4 hours to paint! Practice painting outdoors and do some drawing and compositional studies before you paint! And don't be too focussed/stressed – enjoy the experience
And finally (after a well-deserved break!) – what's next?
I am planning to explore residencies and specific commissions as this way of working really worked for me. I need to be out of the studio more!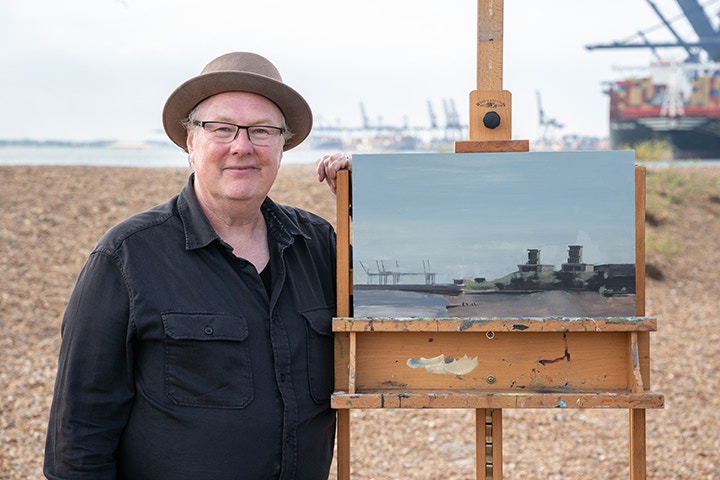 ALLAN MARTIN
---
Congratulations on reaching the final Allan! How have you found being part of the Landscape Artist of the Year? And has it changed your approach to painting?
Thank you again! It has been a rather unique experience, often working in a way that seems slightly surreal, although I did find I became used to all the activity around and to a great extent, cut-off. Producing a painting demands a degree of focus, so I had to find my way to that whatever the circumstances. The ongoing interviews and discussions are interesting, unusual in many ways during that creative process, so it has been an experience well worth having.
It taught me I can work differently, outside may be an option, but more importantly my mark making and drawing can be approached differently, that is a positive change which came about far more swiftly than it would had I not taken part.
In your work at Felixstowe docks you spent some time working with abstract washes of browns and blues - could you talk us through your process when you are beginning a painting?
I do like to work broadly to begin with, finding my way even on a small piece, working out balances that may remain throughout and hoping to achieve a fluency and interest in these initial stages. Felixstowe was a new departure for me, knowing it would be a very bright day I decided in advance I would very possibly use colour, I wanted a muted palette, camouflage like, which happened to echo a colour scheme I found had been used on dazzle ships, which I think may well have been seen in that area in the past. So, these washes echoed the overall colours I felt were there in the sky and landscape, underpinning the painting and a sense of place, this is often how I make my start.
Do you have any advice for those applying to LAOTY in the future?
Prepare to be unprepared!
And finally (after a well-deserved break!) – what's next?
Next… producing new work is the main focus, there has been a lot going on in the background in addition to Landscape Artist of the Year. I intend to start producing work at a larger scale, it feels right to make that step now, and I think I will also explore using colour ideas. I also want to find good, coherent gallery representation, that would be another great positive.
Read our interviews with each of the Heat Winners in the lead up to the final
CALL FOR ENTRIES NOW OPEN
---
Inspired by the show? Sky Arts is once again on the hunt for the next Artist of the Year. Whether you're a master of portraiture or a pro at plein air, submit your works for a chance to win a £10,000 commission and £500 worth of art materials from Cass Art. Both competitions are now open for submissions. Find out more by following the links below:
ENTER PORTRAIT ARTIST OF THE YEAR 2020 OR ENTER LANDSCAPE ARTIST OF THE YEAR 2019
Feeling Inspired?
If you think you've got what it takes to become Sky Arts Artist of the Year? Entries are open now for the compeition in 2019 - dust off those paintbrushes and wipe off those palettes and get painting! If you need to top up your materials before you get going you can shop with us in-store or online, we have everything you need.