Posted by Cass Art on 31st Mar 2020
Our staff are artists! We want to support artists in everything we do at Cass Art, and one of the ways we do this is fill our stores with artists. While our doors may temporarily be closed we want to bring our Staff Artists to your screens! We caught up with one of our Cass Art Birmingham artists Sleep Sparrow to chat about their work and the materials they love!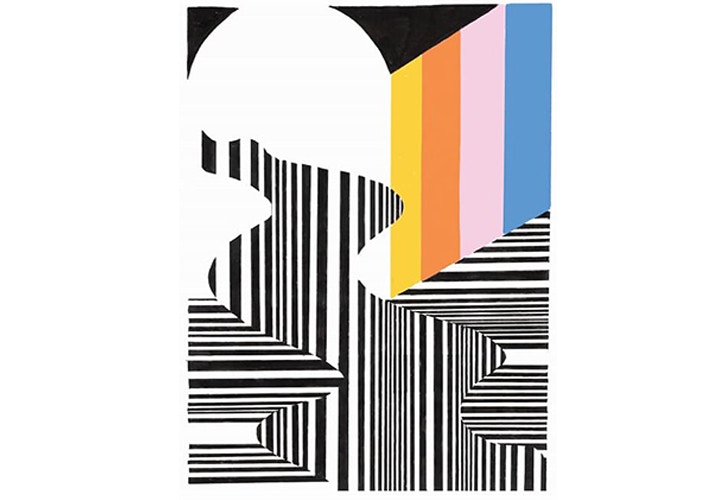 Firstly, could you tell us a bit about your journey as an artist and you practice?
I'm a compulsive creator, I compulsively create. In some ways it's more of a curse than a blessing! But I definitely wouldn't be without it! I work in a very intuitive way, I'll start out with a theme - like architecture, and deconstruct to its bare elements/shapes. I then take those shapes and work out a harmonious way to sit them compositionally. It's kind of like working on a puzzle, only you don't have a picture to guide you. Speaking of jigsaw puzzles, that's something I'd love to get my teeth into... Designing jigsaw puzzles would be a dream!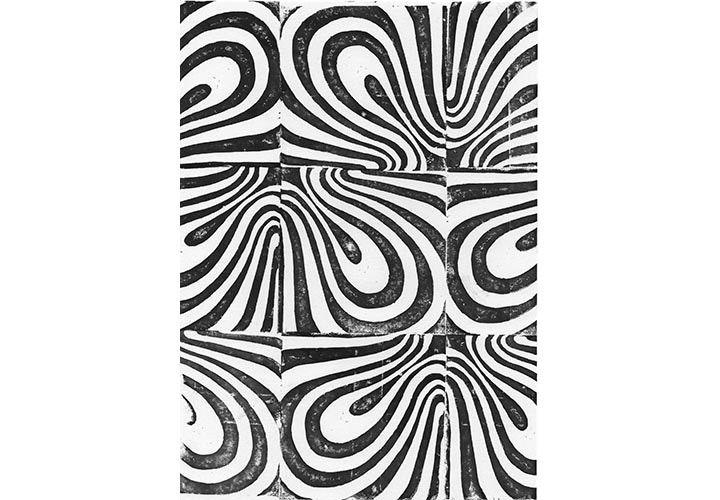 The Geometric shapes and stark lines that appear in your drawings are mesmerising. Could you tell us when you began to use these themes and what influenced them?
I used to do a lot of collage using old vogue magazines and clippings from old newspapers. I don't know when it started but I just picked up a pen and started creating these patterns - I think partly due to the therapeutic nature that repetition gives. You can see elements of my past collage life peeking through with the bold flat block colours.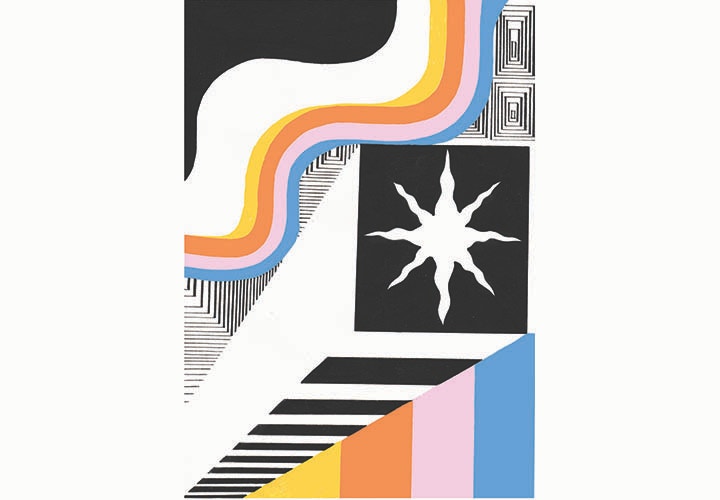 You have a very distinct colour range, pinks, yellows and oranges, blues black and white. Can you expand on your choices with these strong colour combinations?
I love continuity. I like limited palettes - even in life, I only wear black and white! Certain colours together can give such strong effects or can transport you back to a place in your childhood. It's amazing how colour can do this, very much like scents or perfumes. I use posca pens which have a limited palette themselves. I know I'll always get the exact colour I want. Black and white goes with everything - but it's the colour that really can make aspects sing. It's just choosing the right colours. I use three palettes in my work, one is called portal, which consists of light blue, light pink, orange and yellow. Then there's Retrograde which is orange, brown, white and black. A relatively new one is Sherbert which consists of Lavender, Apricot and Sunshine Yellow - new pastel colours by posca.
As many artists also have jobs to support their practice, how have you managed to balance working at Cass Art and continuing your practice? Have you found it beneficial to your work?
It's an absolute pleasure to work at Cass and it definitely has pushed my work in a way that perhaps may never have happened had I not got the job there. The best thing is that I'm surrounded by artists and art materials for a good portion of my day - which keeps you constantly inspired.
What are you favourite brands to use and why?
Posca pens for their versatility and delicious opaqueness. Sakura Pigma Microns for their precision and jet blackness. Art Gecko Freestyle Sketchbook for their absolute bleed-proof smoothness!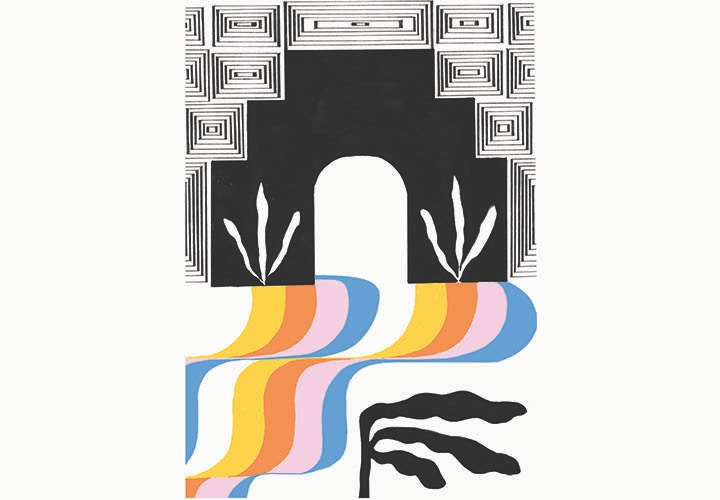 It was International Women's day on march 8th. Which female artist has most influenced your work?
Bridget Riley! Her work is mesmeric - I'm constantly striving to achieve the perfection that her work achieves. She still creates to this day and her most recent exhibition at the Southbank really blew me away. She's still doing large scale paintings and she's well into her 80s now. I hope I'll be creating like her in my old age!
And finally, what's next with your work!
For now while it's still a bit chilly out, I'm digging out my inner Clarice Cliff and painting my designs on to ceramics. I think when the warmer weather comes along I'll be doing some big paintings in the garden. I'd really love to do some mural work too - we shall see!
Feeling Inspired?
---
See more of Sleep Sparrow's work on their Instagram