Posted by Cass Art on 17th Jun 2021
Xhibit is an open call opportunity and annual exhibition, coordinated by Arts SU – the Student's Union for University of the Arts London. The exhibition aims to platform the vast diversity of practice at UAL, functioning as a space for cross-college collaboration and representation. Each year, Cass Art awards one Xhibit artist a £500 materials bursary. This year's winner is MA Illustration Graduate from Camberwell College of Arts Su-Jung Jang for her work Sugar which explores the concept of self-esteem. We caught up with Su-Jung to find out more about her work and her studio practice.
Hi Su! Congratulations on winning the Cass Art Bursary Award at Xhibit. Can you tell us a little bit about you and your creative journey so far?
Hi! Thank you so much for choosing me as the winner, I'm so excited! My name is Su-Jung, I'm an illustrator, visual artist, and lecturer based in London and Seoul. I studied illustration (MA Visual Arts: illustration) at Camberwell College of Arts.
I grew up in South Korea, and I studied music for a long time in Seoul and Manhattan before I went to Camberwell. I've loved painting since I was young and enjoyed it more than playing music, I decided to go to art school to make my dream come true. The tutors in Camberwell helped me to find my visual language and supported me to be a professional illustrator.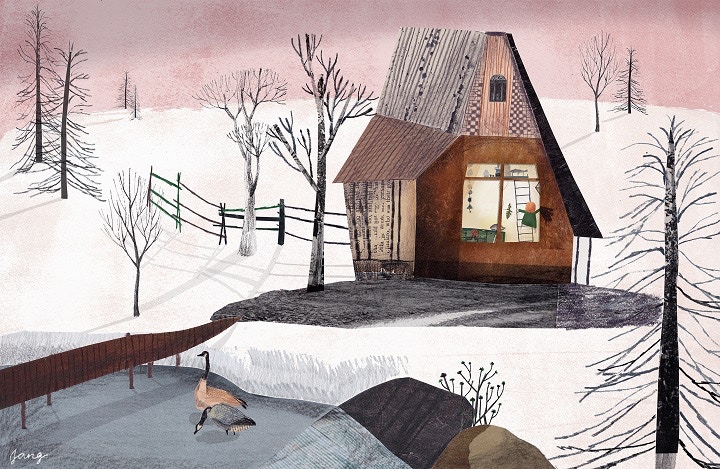 What have you been up to since graduating?
I moved to Seoul with my family and got a job at the university as a lecturer for an illustration class (BA Visual Design department). While I'm teaching, I met my Agency which is located in London. Now I'm working on commission projects including book illustrations, children's books, and product illustrations. It's not easy to find a balance as an artist, teacher, and mother but I'm lucky to have such supportive family members.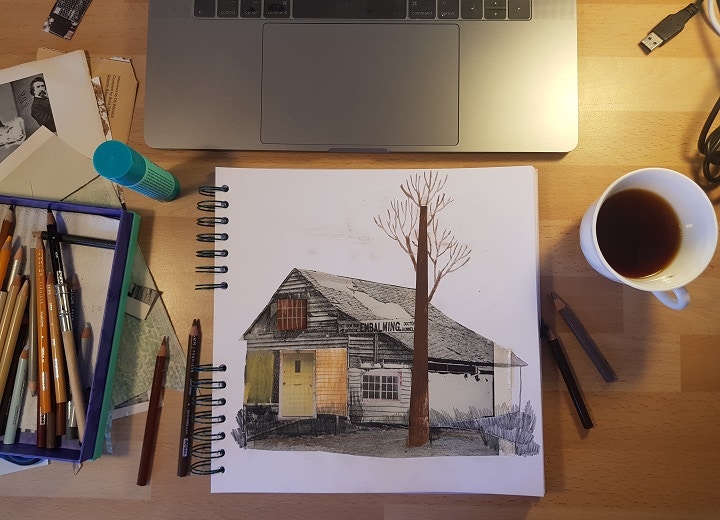 Your winning piece in Xhibit was wonderfully illustrated a picture book called Sugar about self-esteem which you created for your daughter. Many creatives tend to put a lot of pressure on themselves and equate their self-worth with the success of their creative output, which can often have a negative effect and stifle creativity. We loved this piece as a reminder to everyone to just be a little bit kinder to themselves and allow their creativity to flourish! Can you tell us how you came up with the concept and what you hope others can take from it?
Sugar was my graduation project. It's a picture book about a girl called Libby who likes to help others. By repeatedly helping her neighbours, she must ask herself if she is doing it for her happiness or to be recognized as an important person by others. Her mother taught Libby that she is precious the way she is, no matter what ability she has.
This message is for my daughter, everyone, and myself. I had low self-esteem for a long time, and I overworked everything to prove that I was a valuable person to be loved. After giving birth to a daughter, I realized that my baby fully loved me without any reason or judgment. She didn't care what ability I had; she was happy because I existed in front of her. I loved her the same way. I slowly started understanding the problem I had and learning how to value myself as I am. I practiced how to accept my weakness and uniqueness as part of me. And this was what God wanted to say to me through all this process.
I wrote several stories related to this experience and Sugar came out. I want my daughter to learn how she values herself and treat others the same way.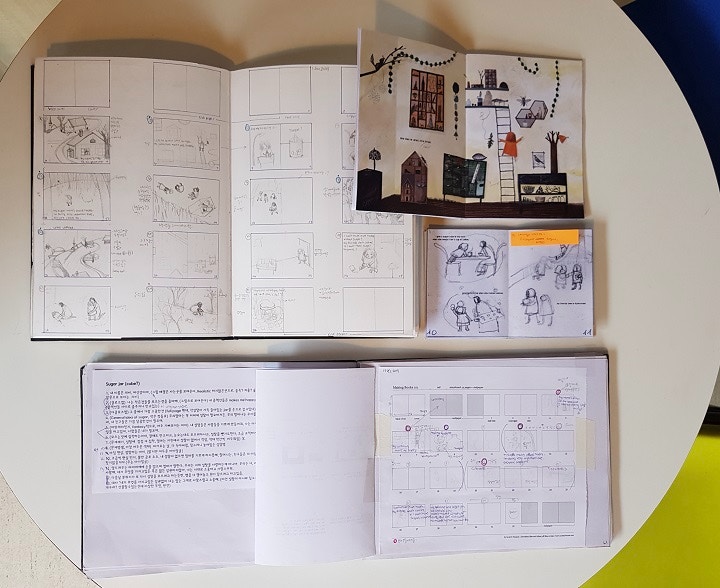 The best thing I learned from art was "it is okay to express myself as I am". The more I make artworks, the more I accept myself and know about myself. I don't need to be someone else. I just need to concentrate on what I want to draw or paint. Art helped me love myself no matter the success of output. The good thing is, the more I mature, my work also improves.
I know many artists have a lot of pressure on themselves and sometimes doubt their worth when their output is not very successful (even those who have high self-esteem). I know that feeling because I was the same before. However, I want to say that success has nothing to do with our values. We need to separate those two matters because our ability doesn't affect our value of existence. It's like why my daughter loves me, it's nothing related to my skill. No matter what you create, you are precious and beloved one the way you are. Believe in yourself and follow your instinct.
Being successful is a different subject. I think this is something we constantly strive for. We must have at least one strength as an artist. Think about your strength deeply and develop them rather than thinking about your weakness too much. If you think your artworks are different from others, that could be your visual language. We are all unique and there is no one the same as you in this world. The only thing you need to do is make your uniqueness more professional so that many people can feel the same way. Don't compare yourself to others but do your best to show your superb work.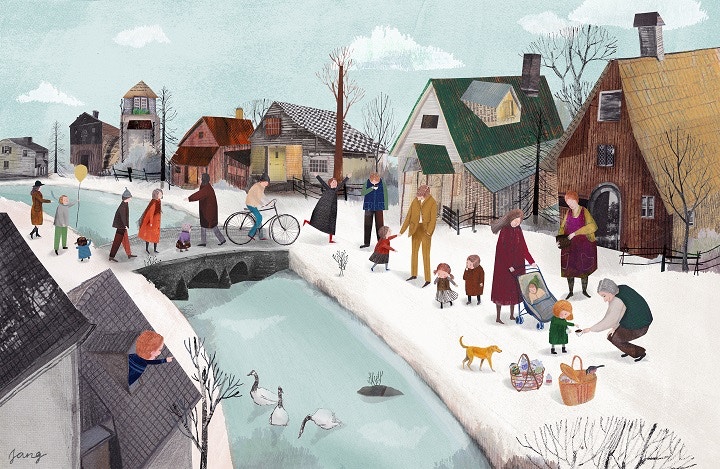 Your illustrations are really creative and detailed, there are a myriad of different marks, patterns and paint effects, and you seem to use a combination of analogue materials and digital work. Could you talk us through your process?
I always love interesting marks and textures so much, especially the marks on nature like wood, leaf, petals, rocks, butterflies, and everything. Also, mixing up materials is the most enjoyable part. I like the unexpected effect when I put the different mediums together, this is why I do collage so often. There are no rules or orders when I make illustrations, but I tried to "play" as much as I can. I make marks with different tools in my house (even Lego!) and think about what I can make with the textures.
For Sugar, I wanted to try etching or print making, but the school was closed due to the national lockdown. So, I started finding a way I can do it at home. I used a Gel plate with acrylic paint instead of a huge press to create textures, and I also did a simple monoprint with ink at home. I used oil pastels, pencils, and collage papers for characters in the book.
I make the images as much as possible with analogue materials and scan the page to my laptop, and then edit some colours or sizes in Photoshop.
Can you tell us a bit about your other work and what you are currently working on?
I am currently working with a publisher in London for a picture book which will be published this year. I'm also working on Sugar to be published! Besides commission works, I paint on large canvases for a future solo exhibition which is different from the commission projects: I think more about the theme while I am doing the personal works. Also, I make ceramics and enjoy painting on them. I always learn something from new experiences.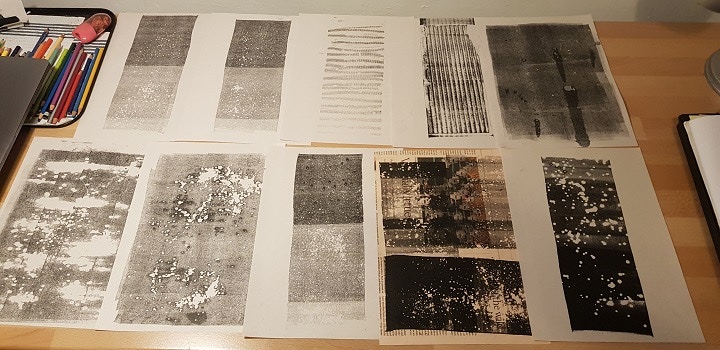 You work in such a variety of ways! What is your studio set-up like? Are there any materials you simply can't do without?
I choose slightly different materials for different projects, but my main materials are acrylic, oil pastels, colour pencils, graphite, and paper. My favourite sketchbook is
Daler Rowney Ebony Artist's sketchbook (150gsm)
, it has good paper and thick enough to use water on it. I often use
Caran D'ache Water-soluble wax pastels
which have great colours, and Holbein oil pastel for a thicker texture. Also, I use Prismacolor colour pencils and
Faber-Castell's Water-soluble colour pencils
. For Acrylics, I use Holbein and
Liquitex
. I use a sketchbook as much as my workspace, but I also use Fabriano hot press paper and Bristol paper. Now I'm using a GEL press' gel plate.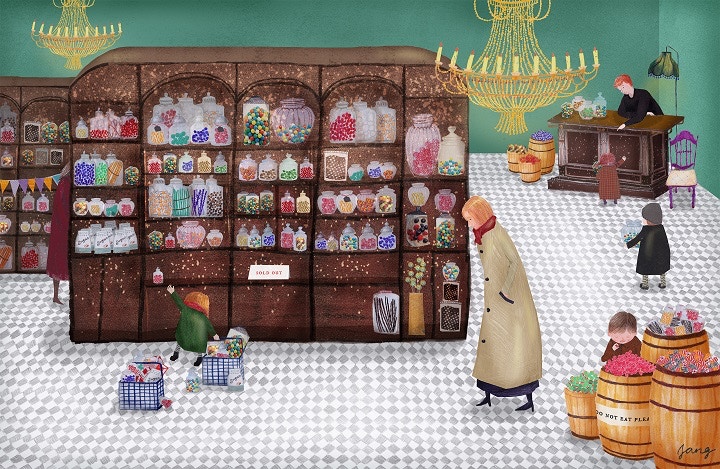 Do you have any advice for illustration students who are about to graduate?
Value yourself and be ready for a good opportunity. All artworks are part of you. So, learn how to respect yourself and try to make your best works. It is an endless journey as an artist but try to enjoy the process and be ready. You will unexpectedly meet a good opportunity.
I will work on publishing my books and commission works. And I will continue teaching students. Hopefully, I want to have the solo exhibition next year. Thank you for reading!
The Xhibit online showcase is available to view
here
.