Posted by Cass Art on 31st Jul 2020
There aren't many industries worldwide that haven't felt the impact of the Covid19 pandemic and the art world is no different. Firstly, it's good to start with defining what we mean when referring to the art world. It's the entire art industry as we know it, so not just the market - it's much broader than that. The art world is composed of all people involved in the arts, from the production, commission, and promotion to the preservation, critiquing and selling of art. Sarah Thornton described it well in her Book 'Seven Days in the Art World' that it's 'a loose network of overlapping subcultures held together by a belief in art'.
There is quite a bit of uncertainty about how the next few months and years will look for this industry. Over the coming weeks we want to explore how it will work by talking to different people within arts on their post lockdown experience of 'the new normal'. Firstly, we want to look at how our experiences of art in a gallery context will change in this new look world we're heading into as lockdown gently eases.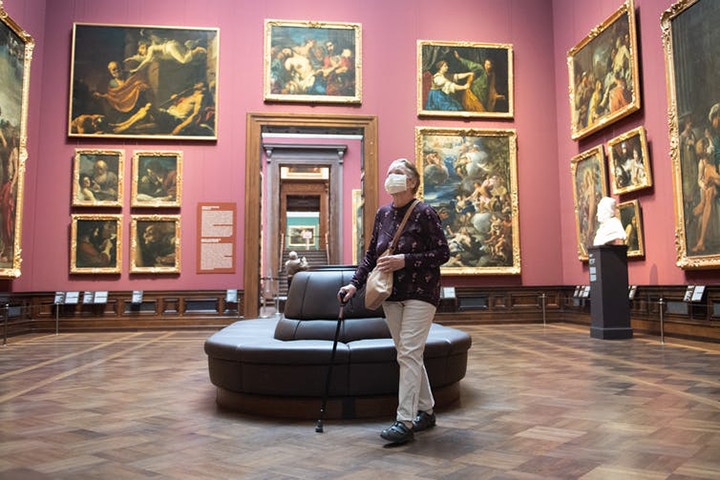 Photography: Sebastian Kahnert
One thing we can be grateful for is that it's clear that when we're unable to experience art in person, our desire doesn't diminish. We seem just as hungry to access it digitally when unable to physically. Galleries and other art institutions have been experiencing record web traffic: visitors to the British Museums website soared in the early days of the crisis, while the Courtauld Gallery's virtual tour reported a 723% spike in visitors in March. Art Fairs such as the Other Art Fair launched their online fairs to huge success. But the fact remains there's only so much satisfaction you can get from looking online at an exhibition or fair you've been waiting months to see in the flesh. The physical experience of viewing an artwork cannot be replicated with a lot of works moved onto a 2D screen reducing everything to the same size, format and texture.
Over the last 3 weeks we've seen the UK slowly getting its galleries back to some form of what will be the new normal going forward. The success of these openings still depend on how effectively the coronavirus pandemic's hold on the UK is brought under control, and much will come down to how well we can enact social distancing measures going forward.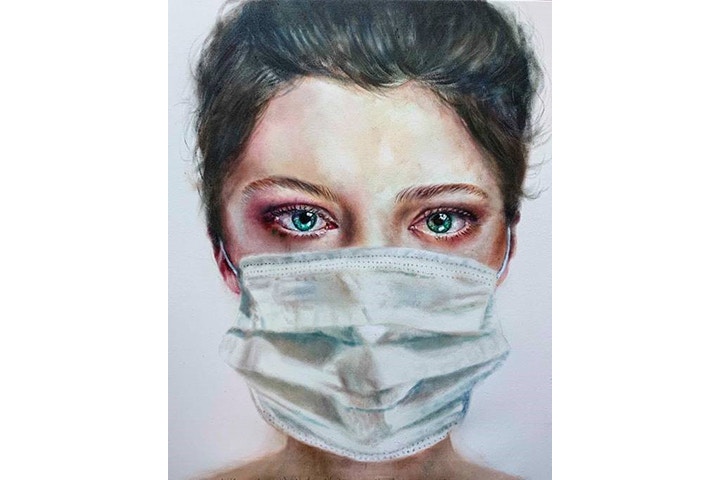 'Frontline', oil on canvas, 44" x 36" by Johan Andersson
Frances Morris, director of Tate Modern explains "It's a pivotal moment, when we speak. We're going to talk in terms of before and after. The virus will change a lot of things for art." So the question is, what are these changes we keeping hearing about and what is the art world going to look like moving forward?
Galleries and Museums all over the UK have implemented many safety measures as they begin to open. Such as the essential use of masks, hand sanitiser, reminders that social distancing is mandatory and a reduction in opening hours. Some institutions are also taking the temperatures of visitors before they enter the building and putting up signage for how far away people should be from one another. Most commercial galleries are operating an appointment only model for the first few weeks of opening with all their safety measures laid out on their respective websites.
Andy Warhol Exhibition at Tate Modern. Photopgraphy: Guy Bell
The very act of wandering around a gallery offers unique immersive experiences on many levels. Whether it's drawing your eyes around the canvas or trying to break inside the artist's mind-set to understand their process. For the time being the new way of viewing art in a gallery may limit us ever so slightly in terms of following a one way system and not being able to dart across the room with another work that catches your eye. But maybe this new way will make us think differently about the works we look at and aren't necessarily immediately drawn to. It stops you rushing around a show and looking at the highlight reel, a one way system may encourage us to have more prolonged engagements with other works in the collection.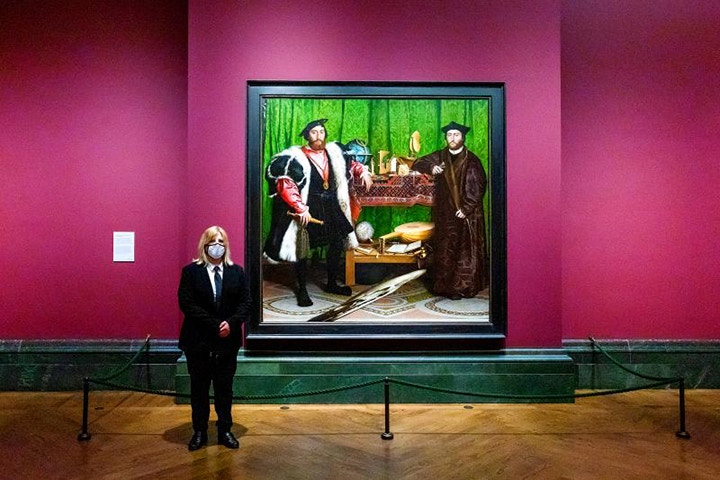 A National Gallery staff member with Holbein's The Ambassadors. Photography: Vickie Flores
This really is a unique time to experience art in surrounds so unfamiliar to us all. The director of the National Gallery Gabriele Finaldi said 'Normally, we expect around 15,000 visitors a day. Early on, we expect between a fifth and a quarter of that'. So we're actually now presented with a memorable experience. It's not that often you're able to stare alone at a Velazquez, Picasso, Van Gogh or Monet without being in stuck in a crowd of onlookers. So in a way this will bring us closer to art in the era in the era of social distancing.
A lot of gallery directors say that their reopening and rescheduling of exhibitions is actually the easiest part to plan and execute in the short term. The real issue will come in a year or two down the line. Those who rely more on international tourism remain sceptical as to whether visitor numbers will recover for some time. But there is no doubt that the recovery will be a slow process. What we have to do is view the industry as a team sport and support these institutions whether we work within it or have a passing interest as the arts are the fabric of our culture and something we need to continue to embrace.
Here's a brief overview of some of the UK and Irelands galleries that have reopened and what's on.
The National Gallery
The National Gallery was the first of the major London galleries to reopen its doors to the public on July 8th. Bookings must be made in advance even though entry does remain free. The gallery will be open seven days a week, but with shortened opening hours (11am to 4pm daily, except Fridays, when it's open until 9pm). It will be adopting a one-way system, but with a choose-your-own-adventure twist. The five-star exhibition 'Titian: Love, Desire Death', which closed with the gallery in March, has now been extended until January 2021.
Tate
All Tate galleries will reopen this Monday July 27th Tickets for a planned time slot must be booked in advance. All the pre-lockdown Tate exhibitions will be making a return, including 'Andy Warhol' and Kara Walker's 'Fons Americanusat' Turbine Hall installation at Tate Modern, and 'Aubrey Beardsley' and Steve McQueen's 'Year 3' at Tate Britain. For info on all exhibitions and adopted opening times for all Tate galleries please visit their website.
Royal Academy of Arts
The Royal Academy of Arts reopened its doors on July 16th. The first phase of their reopening is a four week (Thursday to Sunday, 11am to 4pm). The will be operating with a limited number of visitors at any one time and all are required to wear a face covering at all times. If you missed 'Picasso and Paper' exhibition it's been extended to August 2nd. 'Gauguin and the Impressionists' will now run from August 7th to October 18th. With the inaugural Summer Exhibition 2020 rescheduled for October 6th.
Whitechapel Gallery
The East End gallery opened its doors last week on July 14th. Booking is now essential for timed entry as the number of visitors to the gallery is limited with new capacity charts introduced. 'Radical Figures: Painting in the New Millennium', which shut in March has reopened until August 30th. Another group show 'The Return of the Spirit of Painting' has reopened its doors until September 27th.
White Cube
White Cube Bermondsey and White Cube Mason's Yard reopened their doors for scheduled visits on 16th June. At the Bermondsey Gallery you can see Cerith Wyn Evan's exhibition No Realm of Thought, No Field of Vision until 2nd August. Peter Schuyff's abstract paintings are on display in the Mason's Yard venue until 8th Aug. Click the link below to book your viewing appointment. Although both shows are free, the gallery is now requiring visitors to attend in pre-booked timed slots.
Serpentine Gallery
The Serpentine plans to reopen to the public from Tuesday August 4th. They will operate a one way gallery system by a timed appointment only policy with face coverings to be worn at all times. Solo exhibition from artist and filmmaker Cao Faei: 'Blueprints' will reopen and now be on display until 13th August.
Turner Contemporary
Turner Contemporary reopened its doors on 22nd July, admission is free but you are required to book a slot in advance. They are operating with a limited capacity and a one way system. Both exhibitions 'Place, Space and Who' and 'We Will Walk – Art Resistance' which shut prematurely in March reopens and will now run until 6th September.
Irish Museum of Modern Art (IMMA)
IMMA opened its doors on 30th June to the general public 6 days a week (Monday closures). No change to open hours with daily closures at 5:30pm. They have provided a full breakdown of the safety measure implemented in this the new reopening phase which you can see on their website. 'A Consummate Joy', a solo exhibition by acclaimed British-Indian artist Bharti Kher has now been extended until 17th January 2021. Also, the IMMA Archive: 1990s From the Edge to the Centre will now run until Autumn 2020 (end date TBC).
Visit each of the aboves websites for further information on all safety measures and upcoming exhibitions.
---
Shop online for everything you'll need. Don't forget to hashtag #cassart on social media to show us your creations.