Posted by Cass Art Staff on 6th Aug 2021
Recent events have forced us to scrutinize every aspect of our personal contact with other humans, in a way no other generation in living memory has experienced. The Contemporary British Portrait Painters (CBPP) collective return to Cass Art Islington with Contact; an exhibition celebrating the human proximity, interaction and face to face examinations which are the very oxygen of portraiture.
Many of the featured pieces were originally selected for the BP Portrait Award at the National Portrait Gallery in 2020 but could not be exhibited at the time. The CBPP show aims to give a platform for these and other works, created before and during the various lockdowns. Online shows have been vital for artists in recent months, but they can never be a substitute for direct contact with the original artworks.
Thanks to the amazingly talented people at The Net Gallery you can also virtually visit and view the exhibition on your tablet, phone or PC below.
About The Net Gallery
The Net Gallery uses photorealistic 3D scanning technology to turn exhibitions and art spaces into immersive virtual experiences. Their London-based team works closely with artists, galleries and curators and can capture any space, from individual studios through to entire buildings, art fairs and art schools.
Virtual Tours created by The Net Gallery include the recent British Surrealism exhibition at Dulwich Picture Gallery, degree shows at University of the Arts London, a unique series of scans of artists' studios, and exhibitions at galleries across London. The tours regularly receive thousands of virtual visitors per exhibition, significantly increasing the number of people who have access to each show.
To learn more, visit: www.thenetgallery.com
We caught up with five of the artists in the show, to find out more about their work.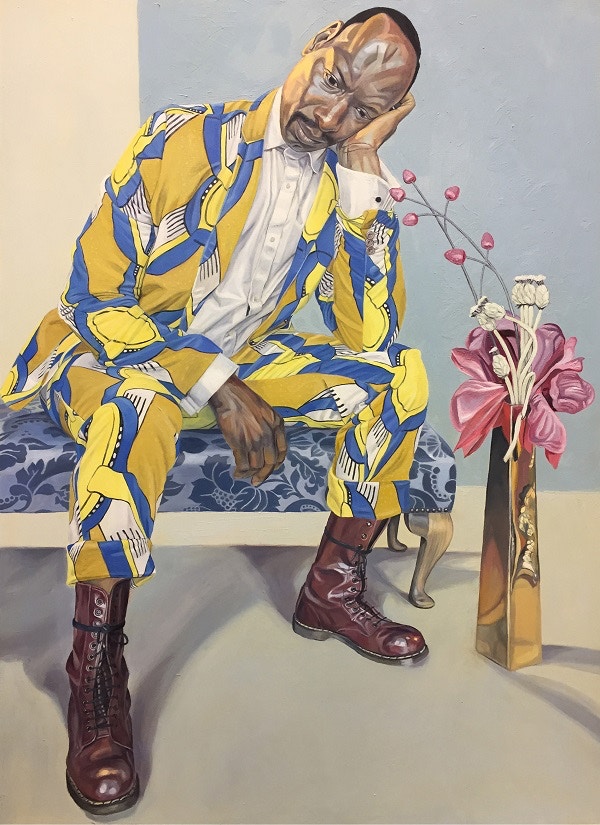 Alexander Nilere, Kilburn by Peter James Field, 2019, 68cm x 51cm, oil on panel
Peter James Field
Hi Peter, great to have you in the Contact show! Can you tell us about your creative journey so far and about your practice?
I was born in Scotland but have spent most of my life on the south coast. I studied illustration at the University of Brighton, graduating in 2005. I've remained in Brighton ever since, working full time as an illustrator for the last 16 years, with clients like the New York Times, the BBC and Penguin books. In 2017 I started to diversify my art practice toward more self-initiated works in oil paint and printmaking, with a particular interest in portraiture. My work was selected for the BP Portrait Award show in 2018 and 2020. I joined the CBPP group when it launched in late 2018.
Tell us about the piece in the show.
My portrait is of Alex, a singer I met at a wedding in 2009. He is very stylish and makes his own suits. He was in a band called Acacia in the 90s which, although not commercially successful, had members who would go on to great fame, including regular Bjork collaborator Guy Sigsworth and Grammy nominated singer Imogen Heap. I found Alex to be a pleasantly contradictory person – he dresses like a pop star but as a person he's very humble, kind and a bit shy and self-effacing. I wanted my portrait to represent both aspects of him. His garments proclaim his ostentatious streak but his pose and attitude reflect, I hope, the thinking, feeling man I know him to be.
What's next for you after the show?
I am hoping to push my work further with some larger pieces, some group compositions and perhaps more distorted or surreal compositions. In September I will finally (after over 18 months) be able to get back into printmaking and produce some new editions of etching. I'd also love to do some teaching in the near future, as I'm eager to share my passion for portraiture and painting.
Find more of Peter's work @peterjamesfield on Instagram or visit www.peterjamesfield.co.uk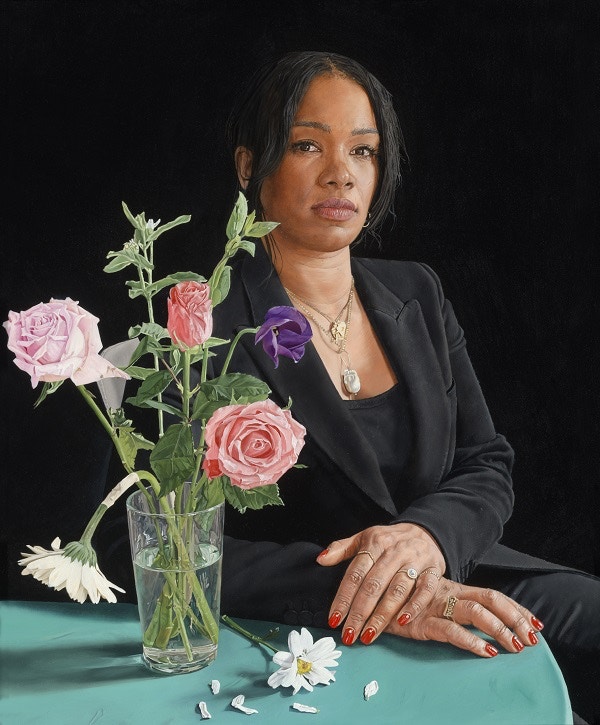 Sharmadean Reid by Charles Moxon, 2020, 30 x 25cm , oil on panel
Charles Moxon
Hi Charles, great to have you in the Contact show! Can you tell us about your creative journey so far and about your practice?
At about the age of seven I decided that I would like to be an artist. I had two fantastic art teachers when I was little who were tremendously encouraging and allowed me to spend my evenings after school in the art room drawing. When I was young I lived in the UK and then spent my teenage years in France. I studied at art school Aix en Provence for a year before attending Camberwell College of Art for my BA, graduating in 2013. Since then I've been lucky enough to paint portraits every day. I spend my time in London, New York and France, depending on commissions. The majority of my work is currently commission based which I absolutely love. There is something very special about getting to know someone through painting them. I joined the CBPP just about a year ago and I'm thrilled to be involved in this exhibition, my first with the CBPP.
Tell us about the piece in the show.
The painting in the exhibition was shown in the BP Portrait Award 2020. It is a portrait of Sharmadean Reid MBE, a British entrepreneur who is an advocate for women's empowerment and known for her impact on the beauty industry. The painting references 16th century portraiture both technically and in composition – in particular, the Hans Holbein portraits of the businessmen in the Hanseatic League. The painting is a part of a series of 'Merchant' portraits which portray prominent business men and women exploring the themes of success and power within modern day Britain. Sharmadean was the founder of WAH nails. Emphasis is placed on her hands, alluding to the source of her business success. Sittings took place in my London studio in late 2019 where the still-life and table were constructed for the sittings. In terms of materials used in this piece, I love Old Holland and Michael Harding oil paints. I also always use Kolinsky sable brushes, Da Vinci or Raphael.
What's next for you after the show?
Recently I have been shortlisted for the Federation of British Artists 'Figurative Art Now' Art prize and another art prize yet to be announced. I'm currently working on a few private commissions both for collectors in London and New York.
Find more of Charles' work at charlesmoxon.com. To commission a portrait, you can contact Charles via emailinfo@charlesmoxon.com or @charlesmoxon on Instagram.
Head of a Woman by Hero Johnson, 2019, 84 x 60cm, soft pastel on paper
Hero Johnson
Hi Hero, great to have you in the Contact show! Can you tell us about your creative journey so far and about your practice?
I'm originally from Cornwall but spent most of my school years in Devon. I started a Foundation Course at Plymouth College of Art at 18 but dropped out after the first term to take a degree in International Politics instead. I finally returned to painting at 30 and enrolled at the Cyprus College of Art where I did their Postgraduate year. I then went on to study portraiture at the Heatherley School of Art in Chelsea and I've been in South-West London ever since. I mostly make work in oils that relates to the human figure and portrait. I'm self-representing and joined the CBPP in 2019.
Tell us about the piece in the show.
This piece was made during an evening class at the Royal Drawing School lead by the superb Ishbel Myerscough. I was working on a lot of portrait commissions at the time, which for me tends to be a painstaking and drawn-out process (sometimes taking over a year for a painting). Attending these weekly life-drawing sessions served as a useful and joyful counter-weight where due to the time constraints and materials I was forced to make fast, spontaneous decisions. I used Rembrandt Soft Pastels and find them a wonderfully instinctive medium that has the best qualities of both painting and drawing.
What's next for you after the show?
I'm finishing a couple of commissions at the moment but once they're complete I'm hoping to make a start on a body of work toward a solo show.
Find more of Hero's work at @herojohnson.artist on Instagram or visit herojohnson.com.
Nawal El Saadawi by Sarah Jane Moon, 2020, 100 x 80cm, oil on linen
Sarah Jane Moon
Hi Sarah, great to have you in the Contact show! Can you tell us about your creative journey so far and about your practice?
Thanks so much - it's wonderful to exhibit again with Cass Art & the CBPP. My practice is mostly centred around large, colourful and bold portraits in oils. I've been painting full time for a decade or so after having trained in portraiture at the Heatherley School of Art in London, where I now teach once a week. Although I always wanted to be a painter as a child, the first decade of my working life was spent working and studying in different countries such as Australia, Malaysia and Japan. I did a lot of work with galleries and arts festivals and also studied art theory and curatorial practice.
Tell us about the piece in the show.
This portrait of Nawal El Saadawi was initially commissioned by TIME Magazine for the 100 Women Of The Year project. Nawal El Saadawi was a prominent Egyptian feminist, activist, physician, psychiatrist and author of over 50 books on women's rights. The commission came through in March 2020 and so it was what I was working on as the pandemic began to make its presence felt here in the UK. Sadly, Nawal passed away earlier this year. She campaigned for so much change in the world and will leave a real void.
What's next for you after the show?
I currently have a portrait of fellow painter Sadie Lee in the Rebel Dykes Art & Archives exhibition at Space Station 65 in Kennington and another of fellow CBPP member Tim Benson in the Mall Galleries' Figurative Art Now online exhibition. I'm working on a few US based commissions and my own work but will shortly be packing up my studio and heading to New Zealand to see family and spend a year painting and exhibiting there.
Find more of Sarah Jane's work at sarahjanemoon.com or on social media on Facebook @sarahjanemoonart, Twitter @sarahjane_moon or Instagram @sarah_jane_moon.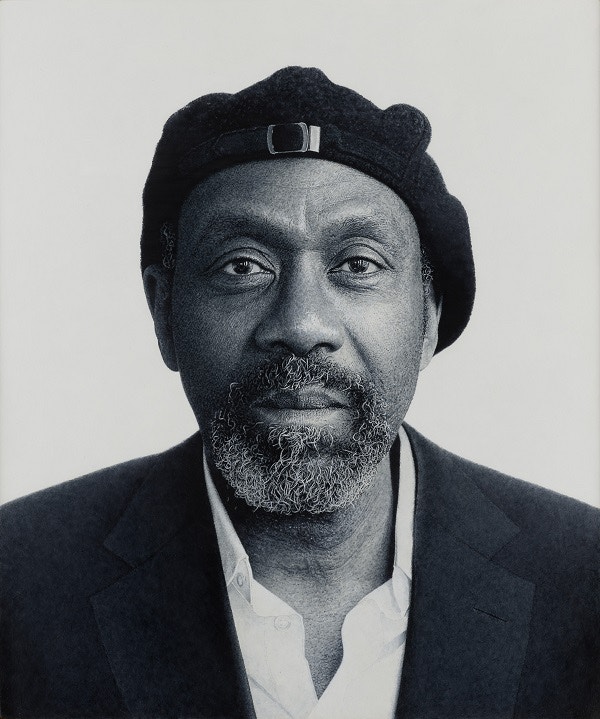 Sir Lenny Henry by Martyn Burdon, 2020, 62 x 52cm, acrylic on panel
Martyn Burdon
Hi Martyn, great to have you in the Contact show! Can you tell us about your creative journey so far and about your practice?
I was born and brought up in Bedford, I lived for many years in London, and currently live in a rural part of Buckinghamshire where I have a studio. I studied art for A level, but I'm otherwise self taught. I worked for many years as Product Designer, but fine art and more specifically portraiture has always been in my blood. I've been fortunate enough to work with and paint a number of interesting people over the years and my work has been selected for the BP Portrait award Show in 2017 and 2020. I've also exhibited with The Royal Society of Portrait Painters, and been shortlisted for the Trinity Buoy Wharf Drawing Prize. I joined the Contemporary British Portrait Painters group when it started in 2018.
Tell us about the piece in the show.
I got in touch with Sir Lenny Henry after seeing him perform in the Theatre Royal Stratford East's production of the August Wilson play 'King Hedly II'. I was very struck by his gravity and vigour, but also his sensitivity. The sittings for the painting took place at the London office of his production company, a lovely old building with large windows. It's always important to me to use natural light during a sitting as I think it roots a portrait into a particular place and moment. I think the final portrait is quite compelling, I think Lenny looks poised but there is also a vulnerability there. The work was completed using a mix of Golden Acrylics and Winsor & Newton Professional Acrylics, on a gesso primed wooden panel. The painting was selected for the 2020 BP Portrait Award Show.
What's next for you after the show?
I'm working on a couple of new commissions at the moment, but I'm always very happy to take on new work. A lot of my recent portrait work has focused in quite tightly on just the face, so I think I might like to try and open things up a bit in the future. I'd like to include more of the figure in future compositions. I like working on small canvases, there's a nice intimacy in smaller works, but I think it might be interesting to try and work on some larger paintings. I've been meaning to start using oil paints for a while, and I've recently been tempted to start experimenting with pastels. I use graphite pencils and acrylics a lot, so maybe it's time to start playing with some new mediums.
Find more of Martyn's work @martynburdon on Instagram or visit martynburdon.com.
About the Contemporary British Portrait Painters
The CBPP was founded in 2018 by artist Ian Goldsmith who realized that there was, to his knowledge, as yet no independent society to celebrate and give voice to contemporary British portraiture and figurative painting. The group seeks to find a more contemporary definition of portraiture which reflects our modern society in its diversity and celebrates the artists' ability to interpret their subject without always being reliant on monetary constraints. As a non-profit making group, the CBPP does not gear itself towards the purely commercial – celebrating instead the individual voices of its members. Follow the CBPP on Instagram @thecbpp or visit thecbpp.org.
Contact is on display at the Art Space, Cass Art Islington from 1st – 31st August. Free admission.
Feeling inspired? Take a look at our ranges of acrylic and oil colours or read more artist interviews on the Cass Art blog.