Posted by Cass Art on 10th Jun 2018
Relied upon heavily by artists and students since it first came onto the art scene, gouache is a very versatile medium. Also known as 'opaque watercolour', it's perfect for adding areas of flat and brilliant colour especially in the field of illustration. Like watercolour, the pigment is bound with Gum Arabic but the particulars are larger and the ratio of pigment to binder is higher. In some cases a chalk "body" is added to the paint to increase its opacity.
The quick drying nature of the paints means that artists have used this for plein air painting such as Turner. Gouache usually dries to a slightly different shade; in most cases lighter tones will dry lighter and darker tones darker.
It's commercially used by designers, illustrators and comic artists. Animators also used it to create cel background artwork. It's desirable because of its speed and layering capabilities. We've put together our top tips & techniques for making the most of gouache…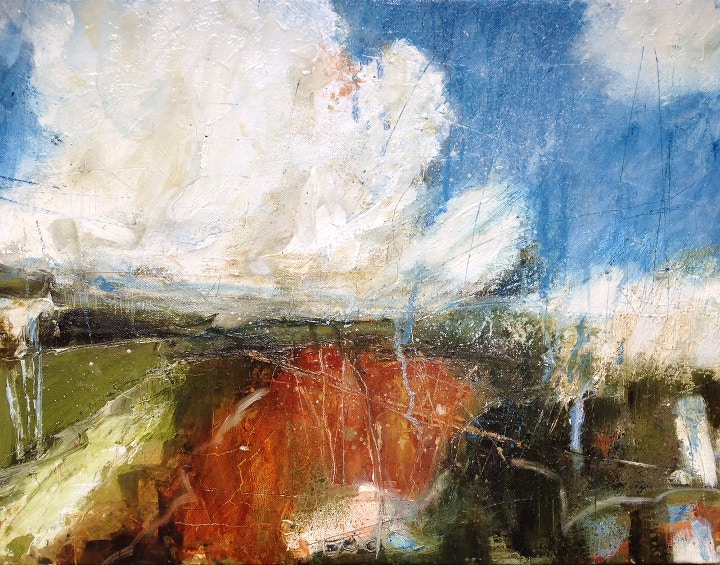 How to Start
Before you sit down to start painting make sure you've got a good starter kit made up of the basic colours. The basics are red, blue, yellow, white and black and from there you can mix almost any colour.
You'll also need a palette, ideally with wells so you can mix the colours without them spilling over. Last but not least, you'll need watercolour paper or canvas board to start painting onto. If you're just starting we'd recommend watercolour paper as it's economical and convenient. Keeping a spray bottle and a roll of paper towels is also recommended.
At the beginning, grab a scrap piece of paper to test the opacity by adding gradual amount of water to gauge the outcome of each brushstroke. You can wet the paper to help the colour spread more easily if you're making a wash. One of the advantages of gouache is the colours can be rewetted and reworked, so you can mix all your colours beforehand and rewet them on your palette to reactivate them. If you've really watered down the paints you can add a few more drops of gum Arabic to make sure the colour is secured to the paper and it won't wipe away.
Most artists prefer to lightly sketch their designs beforehand with a pencil so they can follow a rough guide.
You can also use a resist technique by covering areas with a white oil pastel – the oil will reject the water base paint and stay white. Some artists prefer to add a wash before layering up with bolder, thicker colour. This will also help to create a feeling of depth and is useful as a painting guide.
However, don't layer up gouache too thickly, as it may crack if it becomes too heavy. As with oil paint, it's important to let the first layer dry before adding a second layer. If it's still wet, the layers will mix and may become muddy or hard to control. However, if you've made any mistakes you can wait until they are dry and paint over them again. If you notice paints drying on your palette you can rewet them with a spray bottle to keep them moist.
With gouache paintings you may want to frame them when they're finished behind glass, as this will ensure it's protected from any damage. Mounting is recommended so it's not touching the glass, which decreases the risk of mould growth in humid environments. It's worth noting the paints permanence to help ensure your works lasts for a long period of time – some colours in the gouache range have a small permanence which means they'll fade quickly and aren't suitable for display. Varnishing would alter the colours and may take away some of the fine detail on gouache paintings. If you'd like to increase the permanence of your gouache you can add an acrylic matt medium while painting. However, it is recommend to test out any added mediums before you embark on a final piece.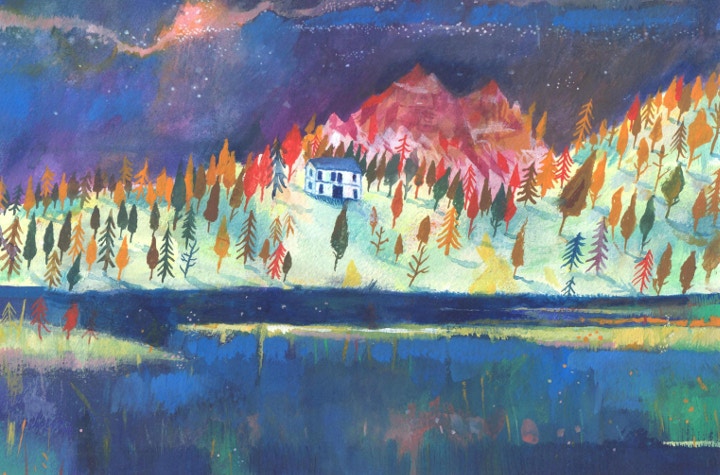 Find out more about Chris Hagan and his enchanting gouache artworks.
---
Fast Drying
Gouache dries very quickly – which means you can add many layers quickly to a piece. This is especially useful for covering up any mistakes or if you need to paint something spontaneous while out and about.
Water Soluble
These are water based so you can clean all your utensils easily with just water. They don't have the disadvantage of acrylics, which are permanent once dry so your 'on the go' brushes are safe.
All Rounder
They have the opacity of acrylic paint, the transparency of watercolours when watered down, have the long term bendability of oil colours. It's the best of all worlds in a single tube. You can use all sorts of techniques from dry brush to translucent washes.
Mixed Media
You can add gouache to almost any other medium, from highlights on watercolour paintings to pencil drawings and animation cells.
---
The History
It's regarded that gouache came about in the 16th century after artists applied oil paint over tempera to achieve a matt finish. It was also used in the 18th century for adding details to pastel paintings. In the 19th Century it was produced industrially and Chinese white tubes were added to watercolour boxes.
Later, it was used as poster paint and produced in large quantities with a much cheaper binder caller dextrin. More recently, it has been revisited by artists and refined with gum Arabic again.
We spoke to Eleanor Langton about her work for the Royal Watercolour Society.
---
Feeling Inspired?
Shop Gouache here and get your creativity on!